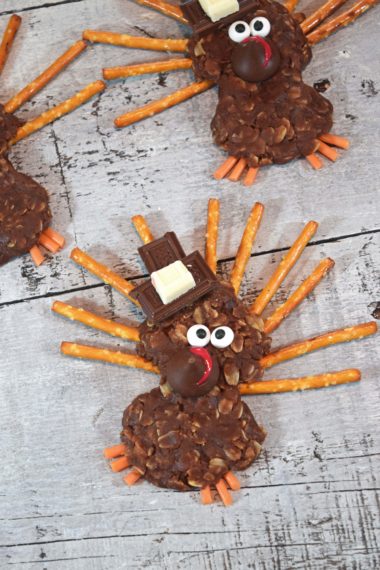 No-Bake Turkey Treats
Fall has always been my favorite time of year. I love the beautiful colors of the changing leaves, the bright crisp morning air, a toasty warm campfire, the sight of the farm fields being harvested, yummy cold apple cider, pumpkin pie, and Thanksgiving turkey with all the trimmings. 
Along with the changing season comes holiday parties and family gatherings. Since the holidays can be busy and hectic, I thought it would be fun to take an easy, no-bake recipe and turn it into a cute creation… like turkeys for instance!
These No-Bake Turkey Treats are made from a simple no-bake cookie recipe and then decorated to resemble cute little turkeys wearing Pilgrim's hats.
For the No-Bake Cookies:
In a medium size saucepan combine:
1/2 cup granulated sugar
3 tablespoons butter
3 tablespoons milk 
1 tablespoon HERSHEY'S Naturally Unsweetened Cocoa 
On medium/low heat, bring the mixture to a gentle boil. Boil for 3 minutes. Remove from heat, then add:
1 teaspoon vanilla
 3/4 cup quick-cooking

oats

 2 tablespoons creamy (or chunky) peanut butter; mix well

Stir until all ingredients are combined.
To decorate the Cookies:
HERSHEY'S Kisses

HERSHEY'S Milk Chocolate Bar

HERSHEY's Mini Candy Corn Creme Bar

HERSHEY'S Twizzlers Pull 'n' Peel Licorice

Small Edible Google Candy Eyes

Red Gel Icing

Parchment Paper
Fan out 10 straight pretzels onto parchment paper.
Make a batch of the No-Bake Cookie recipe according to the directions listed above. While the cookie dough is warm and pliable, scoop a small amount of the dough into your hands and form a ball. Place the cookie dough ball on the bottom part of the pretzels. Gently press the cookie mixture into the pretzels then flatten out the cookie dough to form a peanut shape. To make the feet, cut 6 (1/2 inch each) segments of orange HERSHEY'S Twizzlers Pull 'n' Peel Licorice. Carefully insert them into the bottom of the turkey's body.
To make the turkey's beak, place a small amount of red gel icing on the side of a HERSHEY'S Kiss to resemble a turkey snood. Place the HERSHEY'S Kiss in the center of the turkey's face. Add two small candy google eyes above the HERSHEY'S Kiss.  
To form a Pilgrim's hat, tilt two squares of HERSHEY'S Milk Chocolate Bar and 1/2 piece of HERSHEY'S Mini Candy Corn Creme Bar on top of the turkeys head.
Allow the cookie mixture to rest and set up for 20 minutes. One batch of this no-bake cookie recipe will make approximately eight No-Bake Turkey Treats. (*Feel free to secure the candies with a small dollop of frosting if so desired.)
Enjoy!
HERSHEY Sponsored Blogger
All opinions are strictly my own.