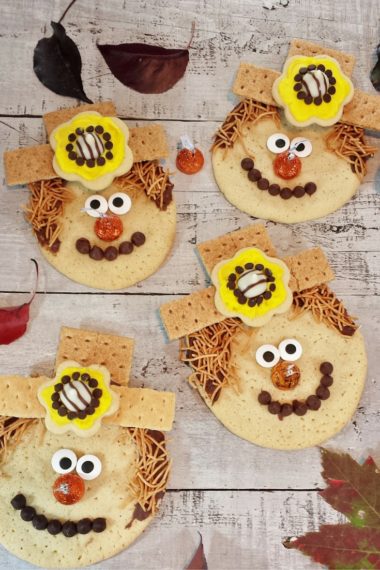 Scarecrow Cookies
Scarecrows have always been a part of my fall decor. I have several different sizes ranging from a 3-foot high floor scarecrow to a medium-size seated scarecrow and down to a small counter-top standing scarecrow. No two are exactly the same and each one is cute in its own way.
Since I really do enjoy having scarecrows adorn my house in the fall, I decided why not make an edible version? Thus, these whimsical scarecrow cookies were born.
Here is what you will need:
1 Tub HERSHEY'S Milk Chocolate Frosting

Parchment paper

Small flower-shaped cookie cutter

1 package (16.5 oz) refrigerated sugar cookie dough (one package will make 6 large sugar cookies and 8 – 9 medium-size flower-shaped sugar cookies) **If you don't feel like baking simply purchase pre-baked

cookies from your local bakery.
The following are ingredients per scarecrow cookie
2 HERSHEY Kisses (I used one HERSHEY'S Kisses and one HERSHEY'S Hugs)

5 – 10 HERSHEY's Milk or Dark Chocolate Baking Pieces 

8 – 10 HERSHEY'S Mini Semi-Sweet Chocolate Baking Pieces 

4 segments of graham crackers (cinnamon or plain)

1/8 cup rice noodles, approximately

2 large edible candy google eyes

1 tablespoon yellow frosting
These fun cookies start by baking large round sugar cookies and small flower-shaped sugar cookies.
Divide the sugar cookie dough into 8 round balls.

Set two of the sugar cookie dough balls off to the side.

Place 6 of the cookie dough balls onto a parchment paper lined cookie pan and gently press to approximately 1/4 inch flat. (You may need to use a little flour on your fingers so that the dough doesn't stick to them.)

Combine together the remaining two cookie dough balls. Between two sheets of parchment paper, press or roll out the remaining cookie dough to 1/4 inch flat.

Cut out flower-shaped cookies and place on a parchment-lined cookie sheet.

Bake according to the packaging directions. 

Cool cookies completely before assembling the scarecrows.
HOW TO ASSEMBLE A SCARECROW COOKIE:
Start by spreading HERSHEY'S Milk Chocolate Frosting around the edges of the top half of a sugar cookie.
Next, gently place two segments of graham crackers in the center of the frosting. Sprinkle rice noodles on each side of the graham crackers and gently press them into the frosting. Remove any excess rice noodles.
Place a small amount of HERSHEY'S Milk Chocolate Frosting on the bottom edge of the secured graham cracker and carefully place two additional segments of graham crackers on top (forming the brim of the hat).
Spread a small amount of yellow icing on top of the flower-shaped sugar cookie; leave the outer edges of the cookie showing. Place a HERSHEY'S Hug in the center of the cookie. Gently press HERSHEY's Mini Semi-Sweet Chocolate Baking Pieces around the bottom of the HERSHEY Hug. Place a small dollop of HERSHEY'S Chocolate Frosting at the seam where the two graham crackers meet and place the flower-shaped cookie on top of the frosting.
Next, add an unwrapped HERSHEY'S Kiss (orange or gold foil wrapper preferred) in the center of the face, securing it in place with a small dollop of HERSHEY'S Milk Chocolate Frosting placed on the bottom of the wrapper. Add two large round candy google eyes above the HERSHEY'S Kiss, securing the eyes with a dollop of icing on the bottom of each eye.
To form the mouth, place a small dot of HERSHEY'S Milk Chocolate Frosting onto the flat surface of HERSHEY's Chocolate Baking Pieces and gently place them under the center of the HERSHEY Kiss.
Congratulations! You just assembled a Scarecrow Cookie!
We hope that you have fun creating your very own Scarecrow Cookies.
HERSHEY Sponsored Blogger
All opinions are strictly my own.