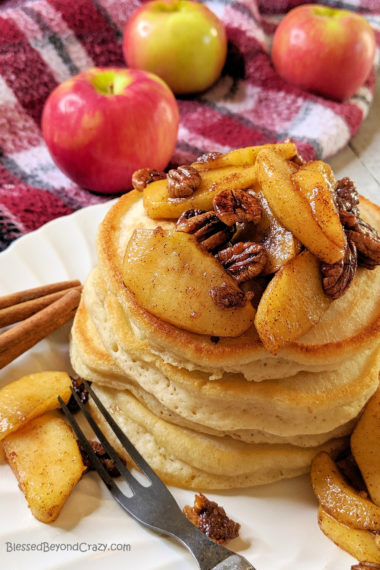 For some strange reason, whenever the weather turns cool in the fall, I find that I crave a big ole' stack of piping hot pancakes. This translates into me making fluffy Sticky Cinnamon Apple Pecan Pancakes (which are truly delightful)!!! 

---
To help support our blogging activities, our site contains affiliate links. If you make a purchase from a link on our site, we may receive a small percentage of that sale, at no extra cost to you. Blessed Beyond Crazy is a participant in the Amazon Services LLC Associates Program, an affiliate advertising program designed to provide a means for sites to earn advertising fees by advertising and linking to amazon.com.
Yummy Apples!
Fresh apples are abundant in the fall and therefore it's time to make a variety of delectable recipes that incorporate apples. Desserts such as Grandma's Favorite Apple Pie, Rustic Apple Pie Fritters, Cinnamon Apple Pecan Crumble, and Apple Pecan Dump Cake really hit the spot.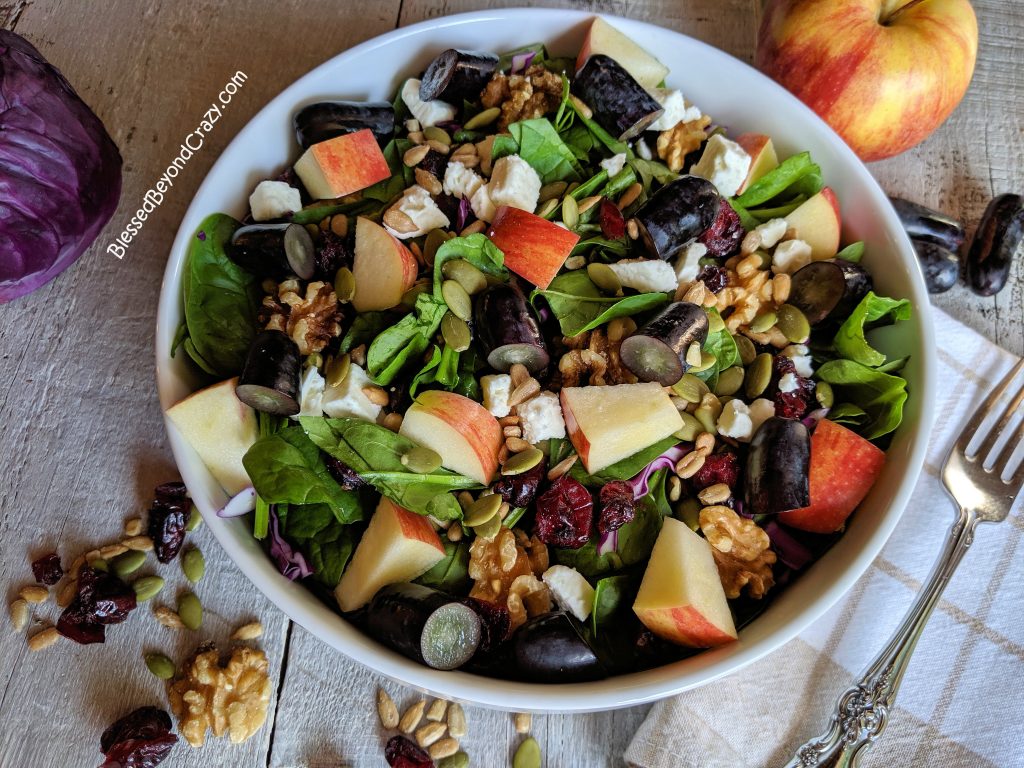 Not to mention a yummy bowl of Autumn Harvest Salad with Hot Bacon Dressing or Healthy Apple Salad.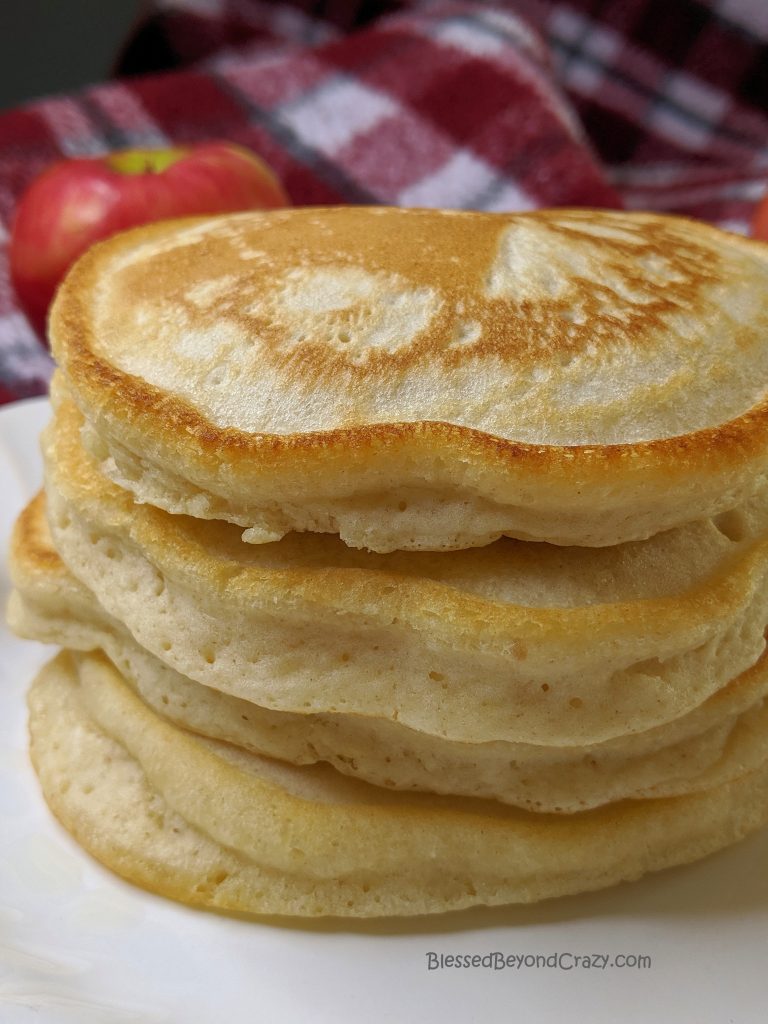 Pancakes
What is it about a tall stack of fluffy pancakes that make them such wonderful comfort food? I mean seriously… who doesn't love pancakes? Hmm? (Check out the recipe card to see how to make a basic fluffy pancake recipe.)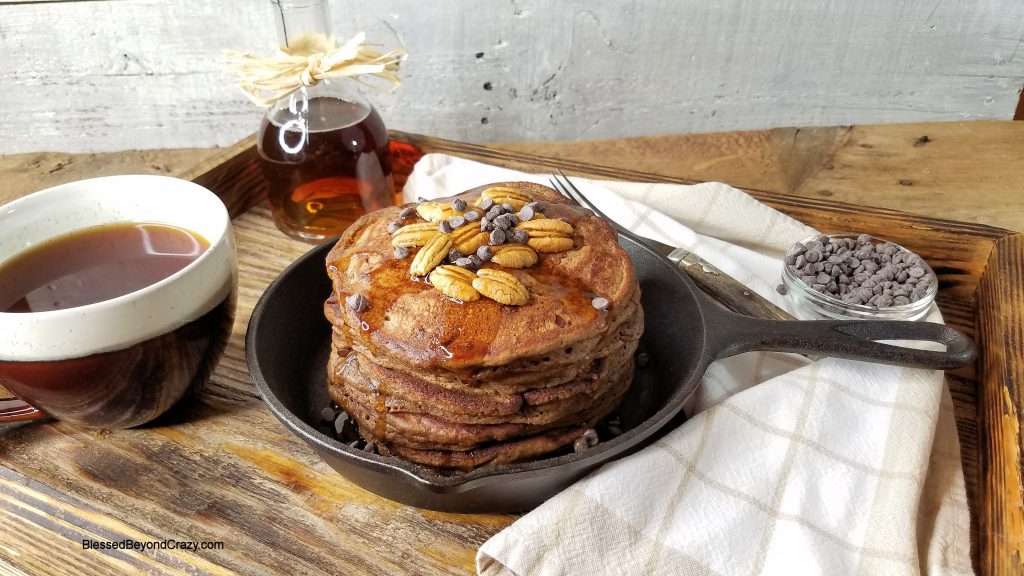 Variety
To mix things up, sometimes I make Triple Chocolate Pancakes, Good Old-Fashioned Potato Pancakes, Pumpkin Pancakes, Coconut Pancakes, or Green Low-Carb Protein Pancakes. Each recipe is delicious in its own special way.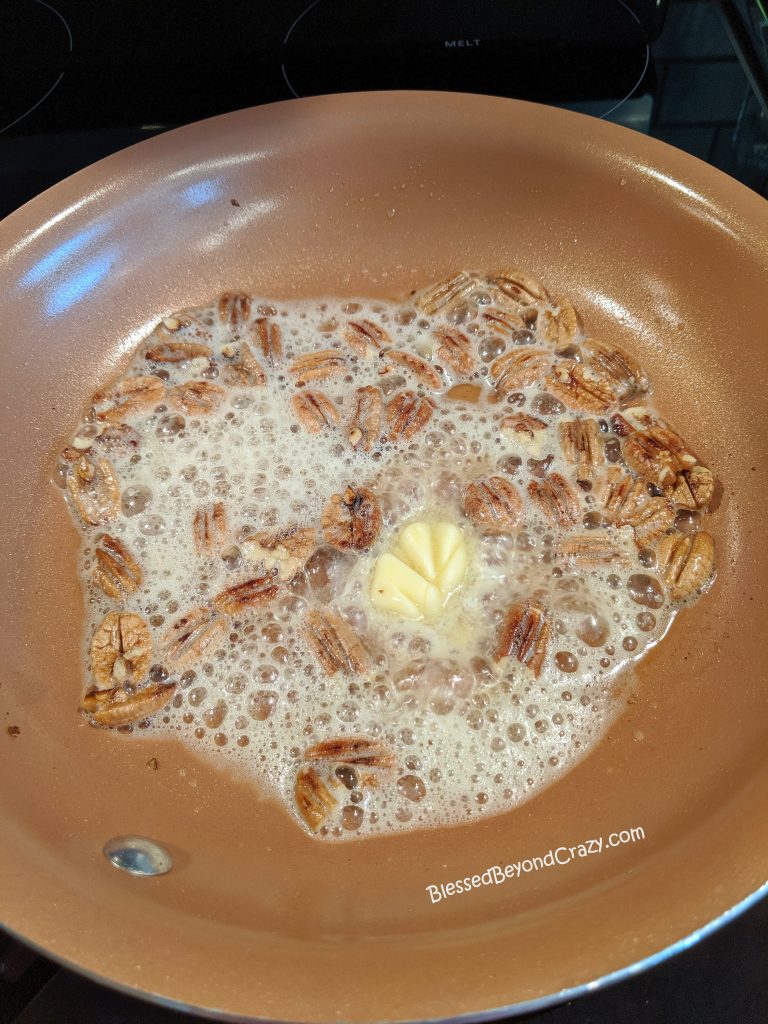 Pecans
Naturally, pecans are needed to make Sticky Cinnamon Apple Pecan Pancakes. To begin, toss a handful of whole pecans into a nonstick skillet and lightly roast over medium-low heat for a couple of minutes (or until they turn a shade or two darker). Next, add 2 tablespoons of butter and stir until it melts.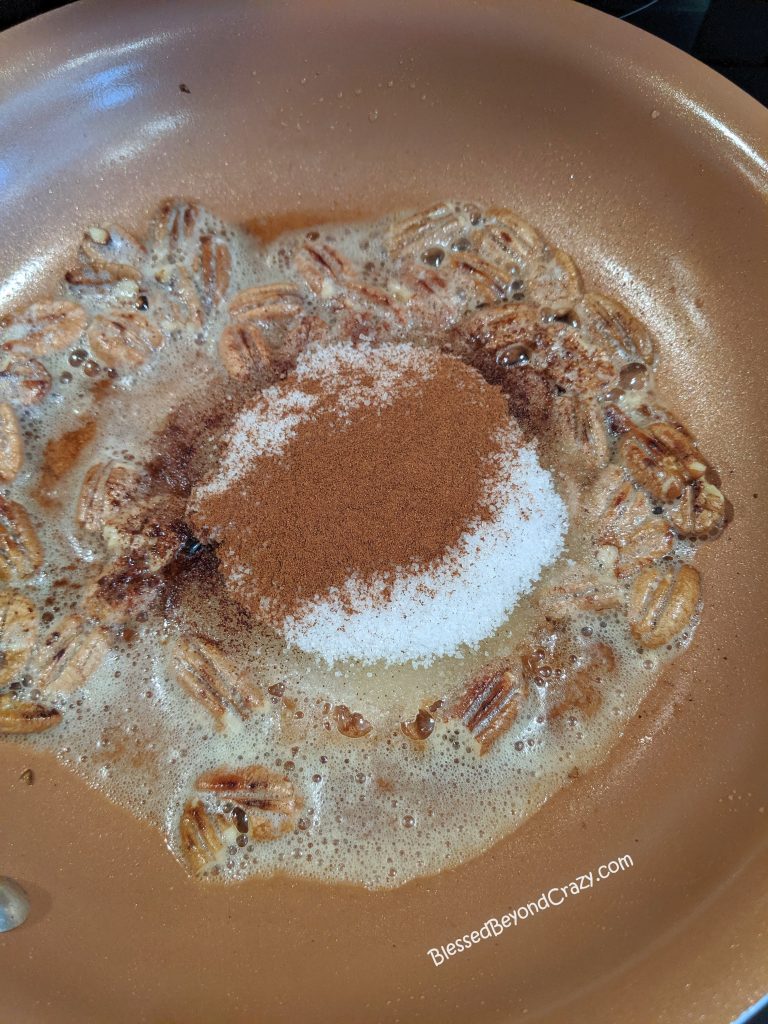 Cinnamon & Sugar
Now add 1/4 cup granulated sugar and 1 1/2 teaspoons ground cinnamon and stir into the pecans.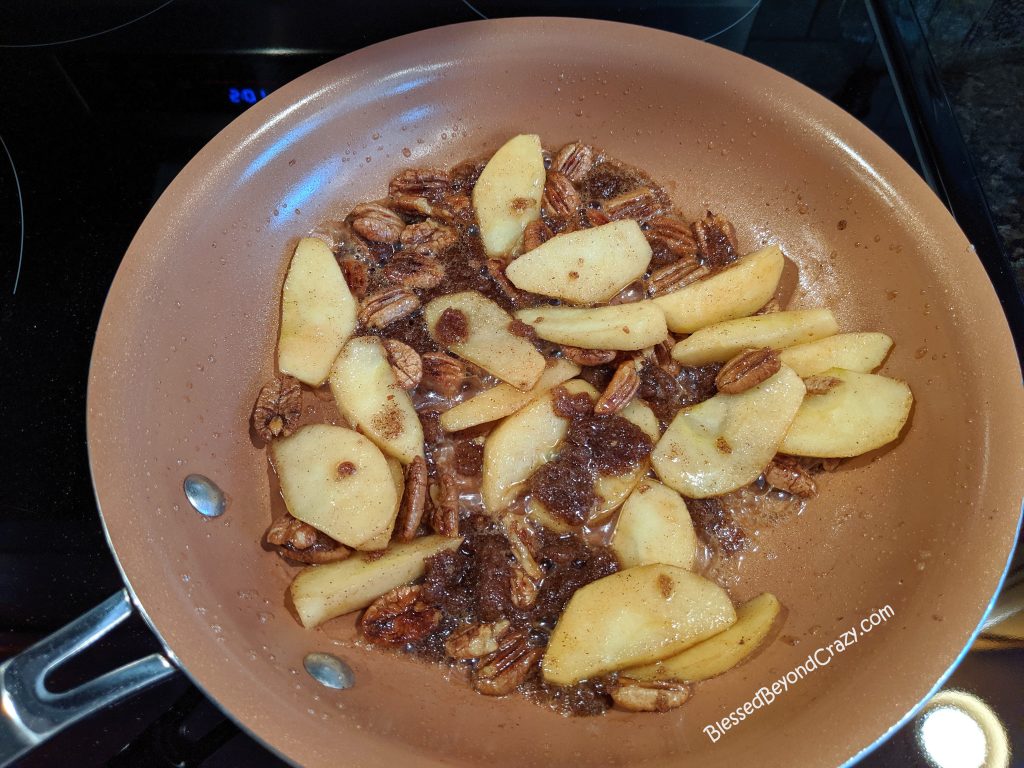 Apples
Finally, add slices of peeled apples to the mixture and stir until they turn tender and the sugar is almost caramelized. (Psst… rather than peeling the apples feel free to leave the skins on).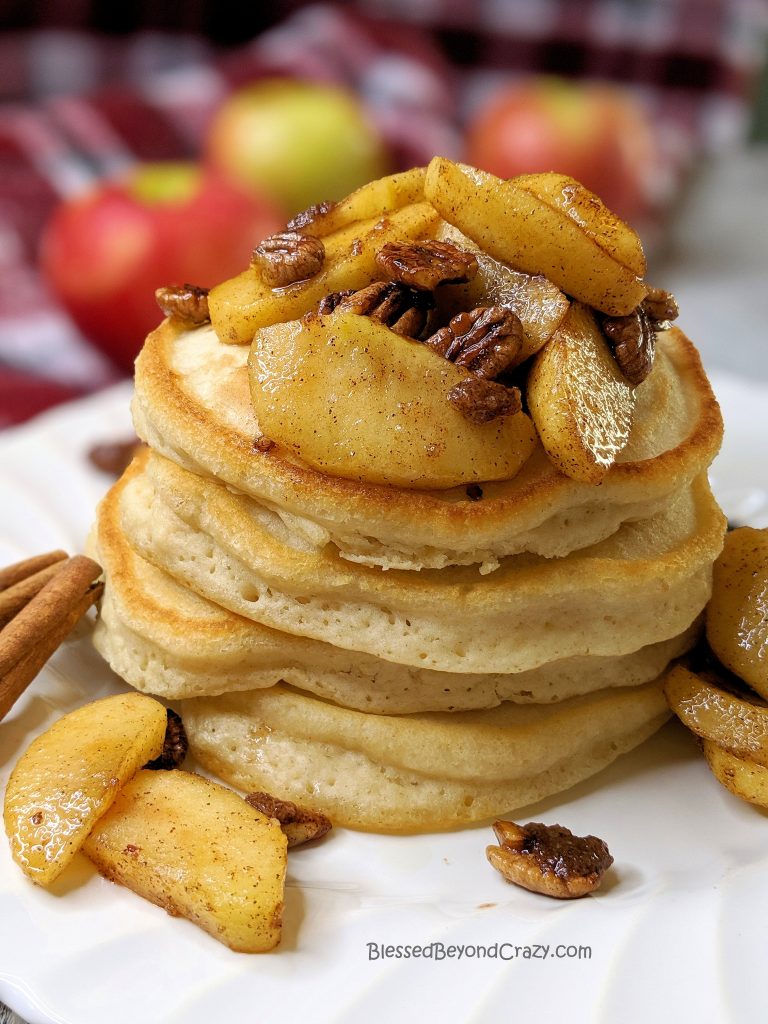 Topping
Spoon the sticky cinnamon apple pecan topping onto your stack of pancakes.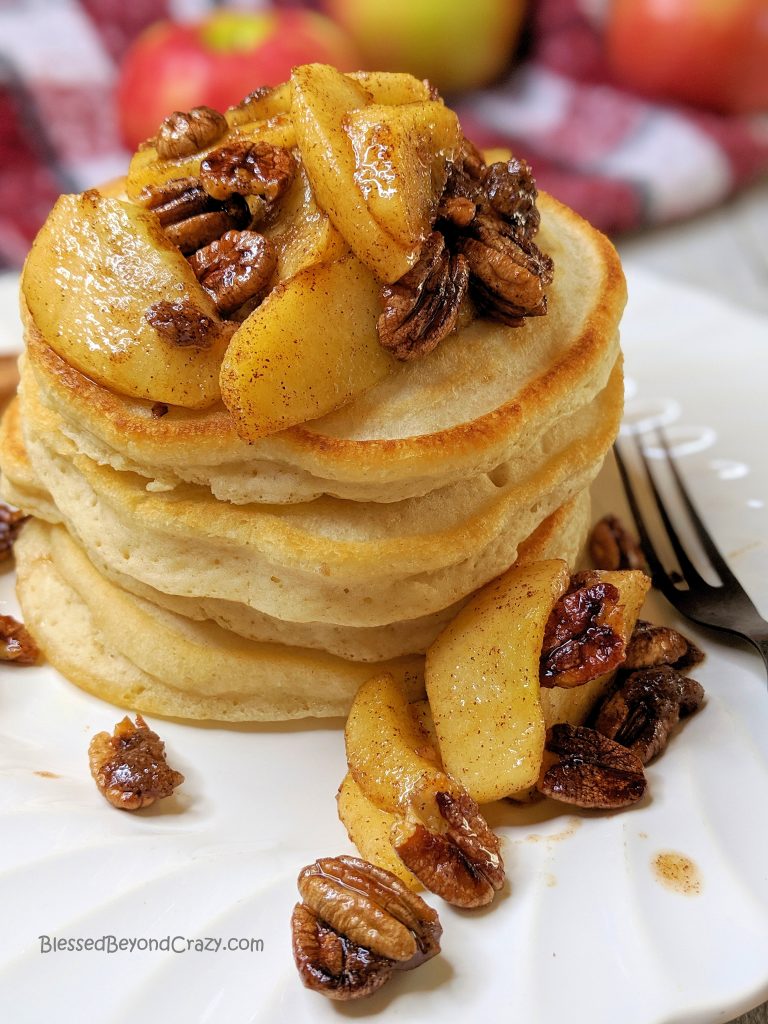 Be Generous!
Load those pancakes up with the sticky topping and don't worry if some of it falls off to the side. (Psst… this sticky topping is fabulous on ice cream… or simply eat it by the spoonful. Not like I've done that or anything, LOL!!!)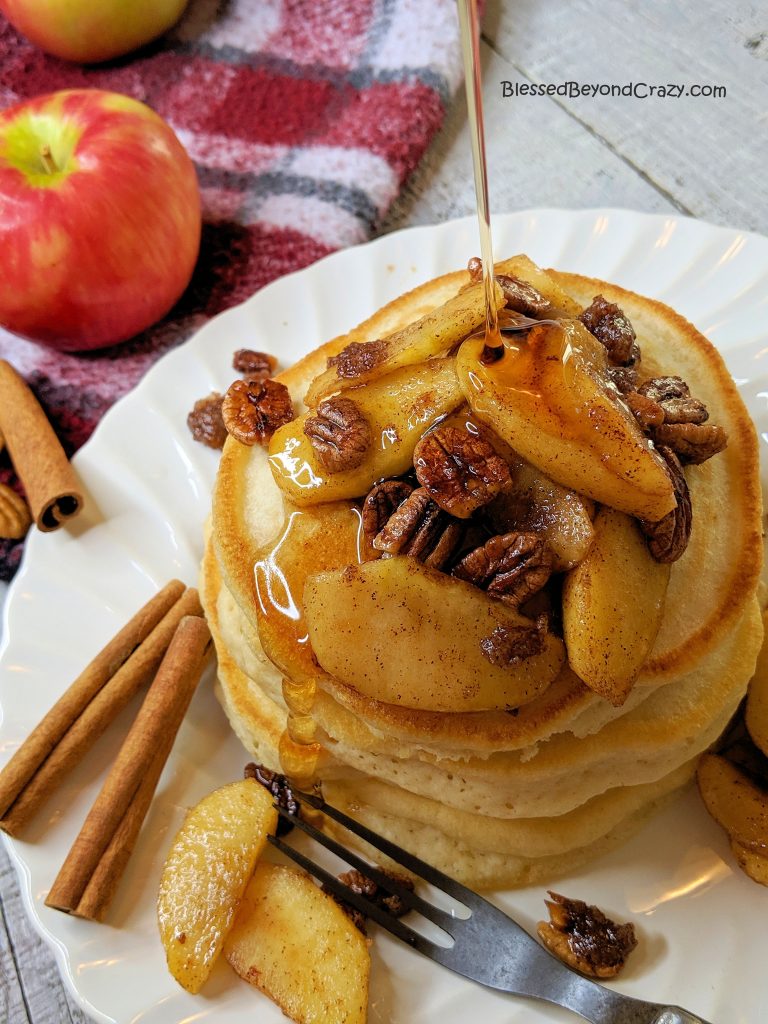 Pure Maple Syrup
Personally, I prefer pure maple syrup rather than syrup made from corn syrup and/or artificial ingredients. To me, there's no comparison and the pure maple syrup is naturally gluten-free.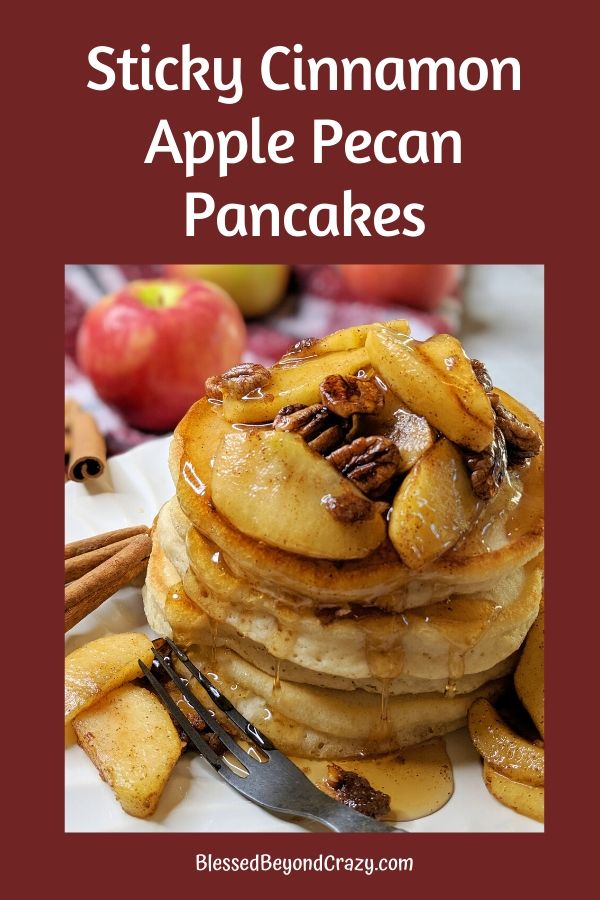 Heavenly
Side Note: my kitchen smells heavenly whenever I make Sticky Cinnamon Apple Pecan Pancakes.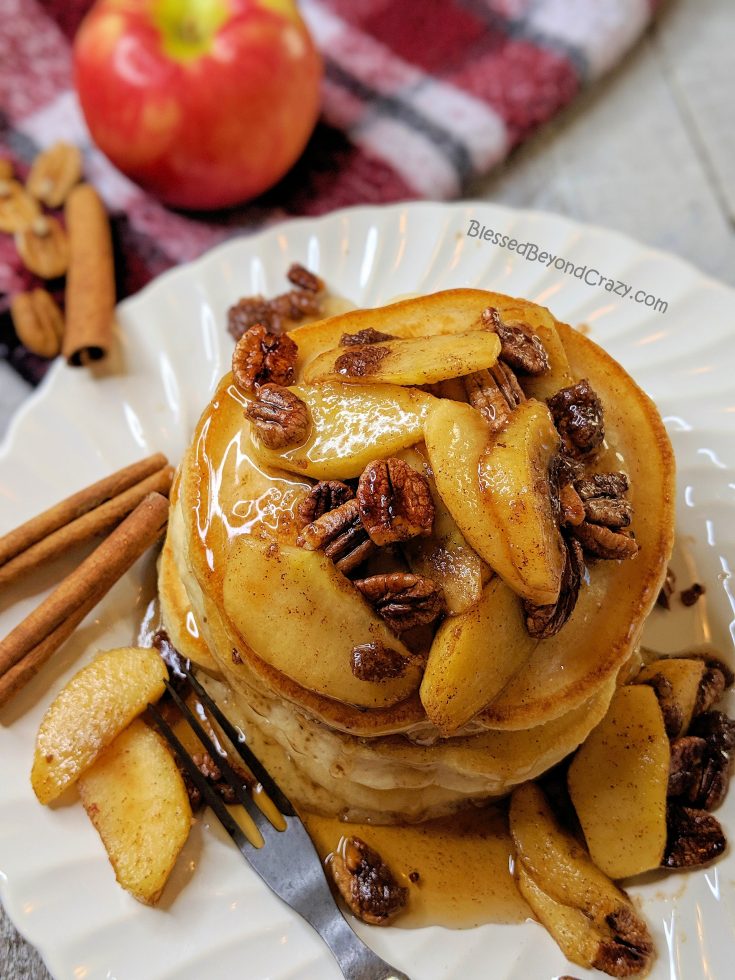 Yield:

4 - 5 Pancakes
Sticky Cinnamon Apple Pecan Pancakes
Delicious and fluffy pancakes, topped with sticky-sweet cinnamon apples and pecans, followed with a generous drizzle of pure maple syrup.
Ingredients
1 cup all-purpose flour (GF Option: use a gluten-free flour blend + 1 teaspoon xanthan gum, unless flour blend already contains it.)
2 teaspoons baking powder (GF Option: use a gluten-free brand)
1/8 teaspoon salt
2 Tablespoons granulated sugar
3/4 cup milk or buttermilk (or milk alternative such as soy, almond, coconut, etc...)
1 large egg
2 Tablespoon canola oil
1 teaspoon vanilla (GF Option: use a gluten-free brand)
Cooking spray - for cooking
Topping:
1 cup whole pecans
1/4 cup granulated sugar
1 1/2 teaspoons ground cinnamon
1 large apple, peeled (peeling is optional)
Instructions
Combine flour, baking powder, salt, sugar; make a "well" in the center.
In a separate bowl, mix together milk, egg, canola oil, and vanilla.
Pour wet ingredients into the dry ingredients; stir just until ingredients are combined. DO NOT OVER STIR. The batter should be thick and a little lumpy - without any visual sign of streaks of flour. Add a couple of additional splashes of milk if batter appears too dry or too thick. Set batter aside for 5 minutes.
Spray the bottom of a non-stick skillet with cooking spray; heat over medium-low heat.
Pour 1/4 cup of batter into the hot skillet. Flip when surface bubbles begin to pop and the bottom side is golden brown. GENTLY flip the pancake over and continue cooking until golden brown.
Serve hot with Sticky Topping and pure maple syrup.
STICKY TOPPING: Place pecans into a separate non-stick skillet; cook over medium-low heat for 2-3 minutes, or until pecans turn a shade or two darker. Add butter. After butter melts, add sugar and cinnamon; stir until sugar is dissolved. Add apples; stir until tender. Spoon hot topping over pancakes.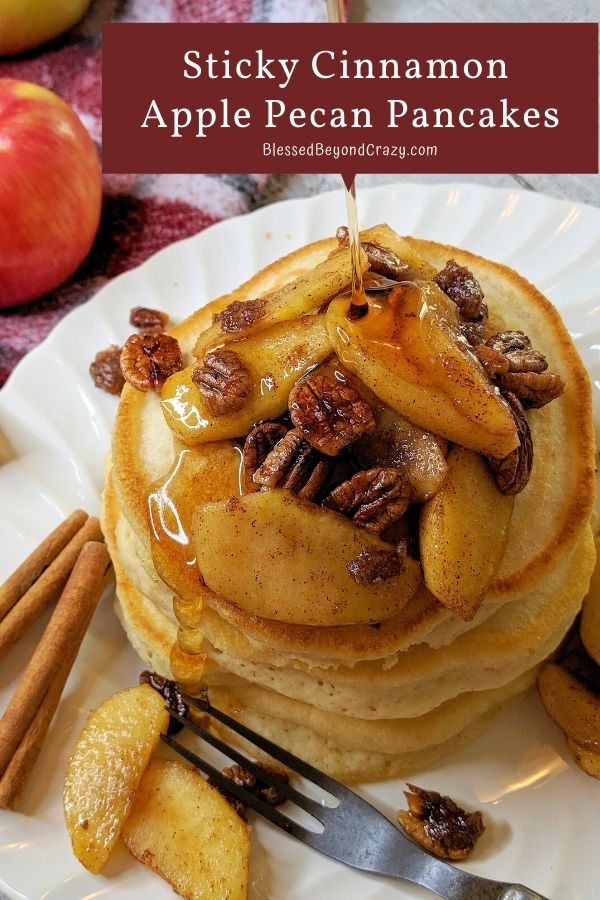 Enjoy!
Linda
More great ideas: