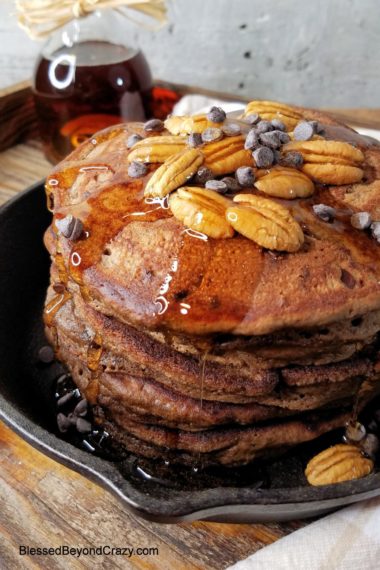 Chocolate. Why is it that this one single word can stir up so many emotions?  Perhaps it's because chocolate is commonly associated with feelings of luxury, romance, and contentment. Or, maybe it's because it just tastes so darn good! That being said… if you want to melt the heart of millions of chocolate lovers then make them a stack of scrumptious Triple Chocolate Pancakes! 

To help support our blogging activities, our site contains affiliate links. If you make a purchase from a link on our site, we may receive a small percentage of that sale, at no extra cost to you. Blessed Beyond Crazy is a participant in the Amazon Services LLC Associates Program, an affiliate advertising program designed to provide a means for sites to earn advertising fees by advertising and linking to amazon.com.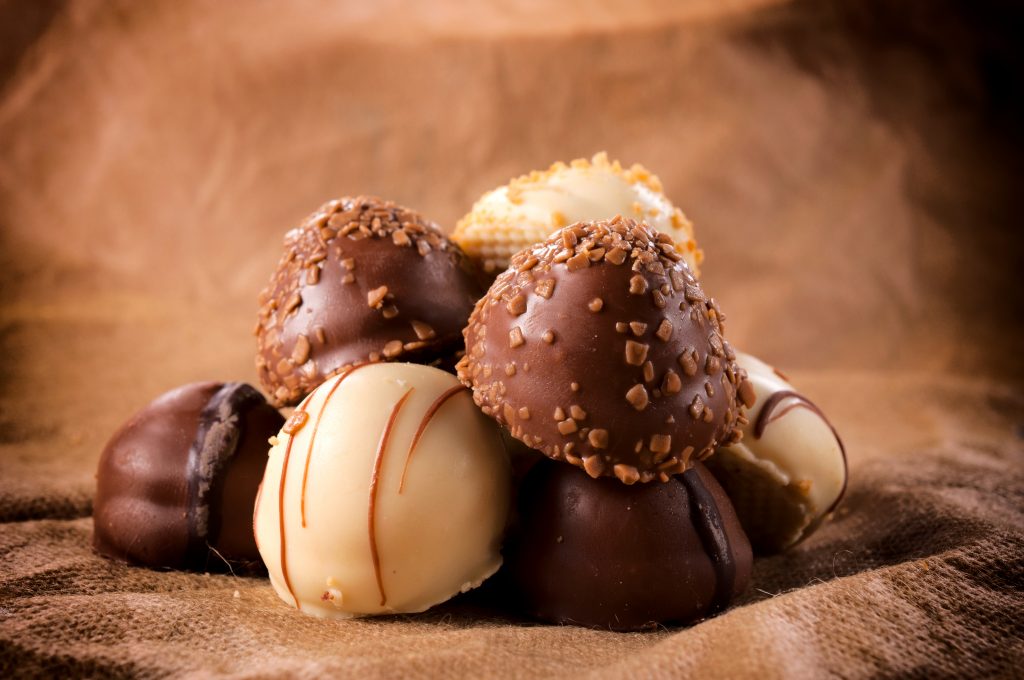 If you are a chocolate lover then you already know there are three basic types of chocolate (source: Wikipedia)
Dark chocolate is made from a blend of sugar, cocoa butter, cocoa liquor, and (sometimes) vanilla.
Milk chocolate is made from a blend of sugar, cocoa butter, cocoa liquor, milk or milk powder, and vanilla.
White chocolate is made from a blend of sugar, cocoa butter, milk or milk powder, and vanilla.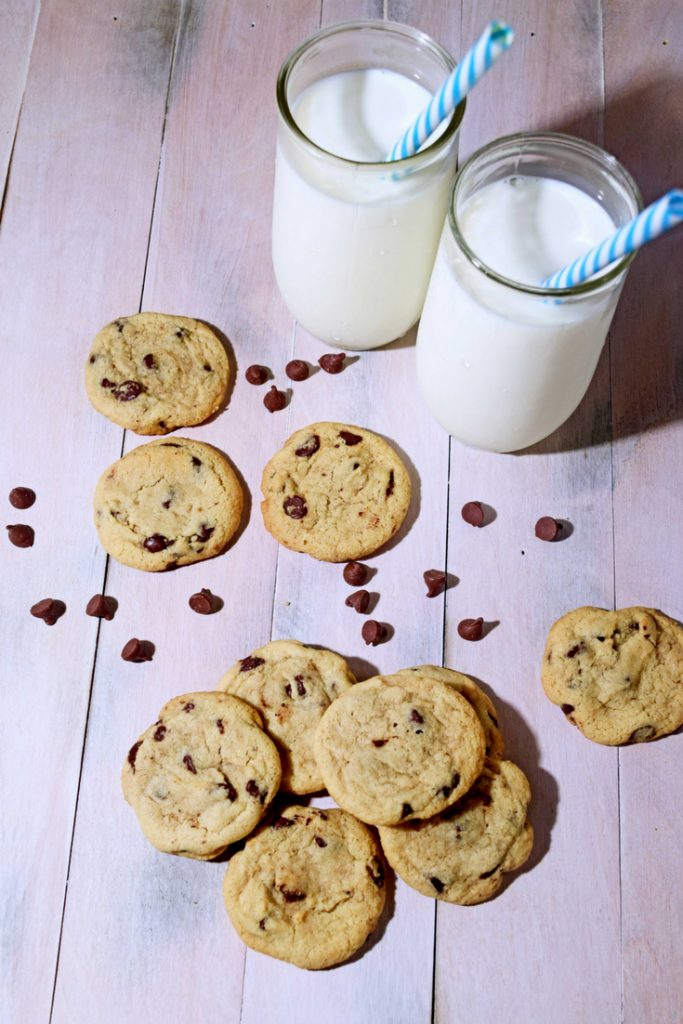 Isn't it funny how something as simple as chocolate can put a smile on one's face? I mean, seriously, who doesn't love a plate full of freshly baked chocolate chip cookies? Hmmm?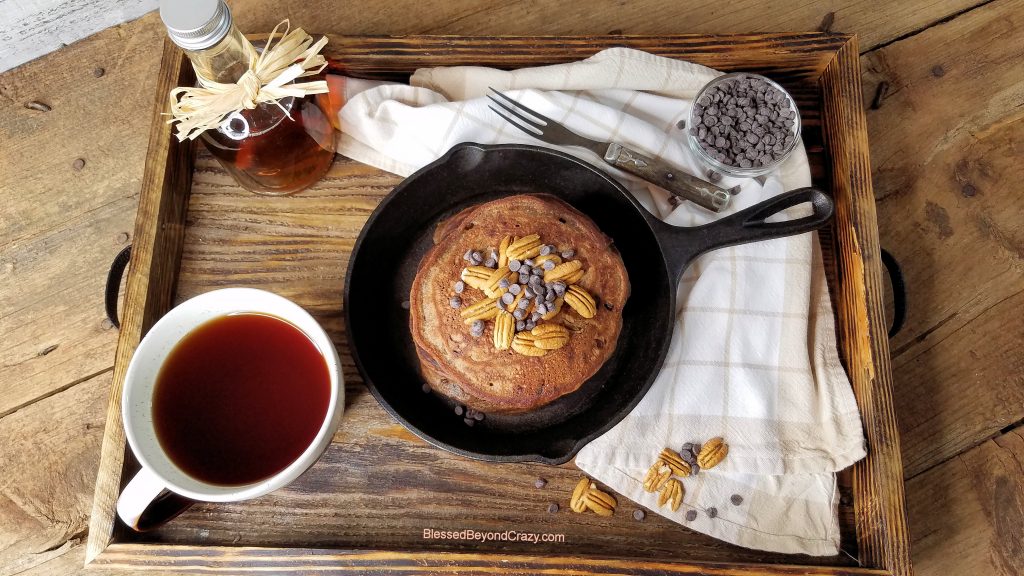 Okay. Now that we have established how we all seem to love chocolate, let's talk more about these Triple Chocolate Pancakes. (Oh, by the way… did I mention that you can easily make these pancakes gluten-free?)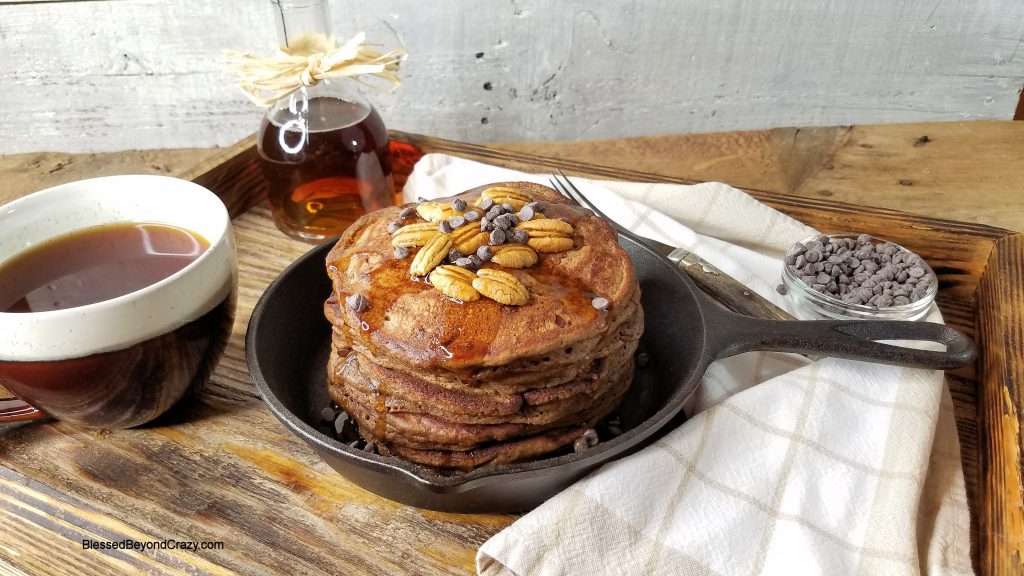 Favorite Breakfast
Whenever our grandchildren stay with us for a sleepover they ALWAYS request pancakes for breakfast. Even though I offer other options they never seem to grow tired of Grandma Linda's pancakes. 🙂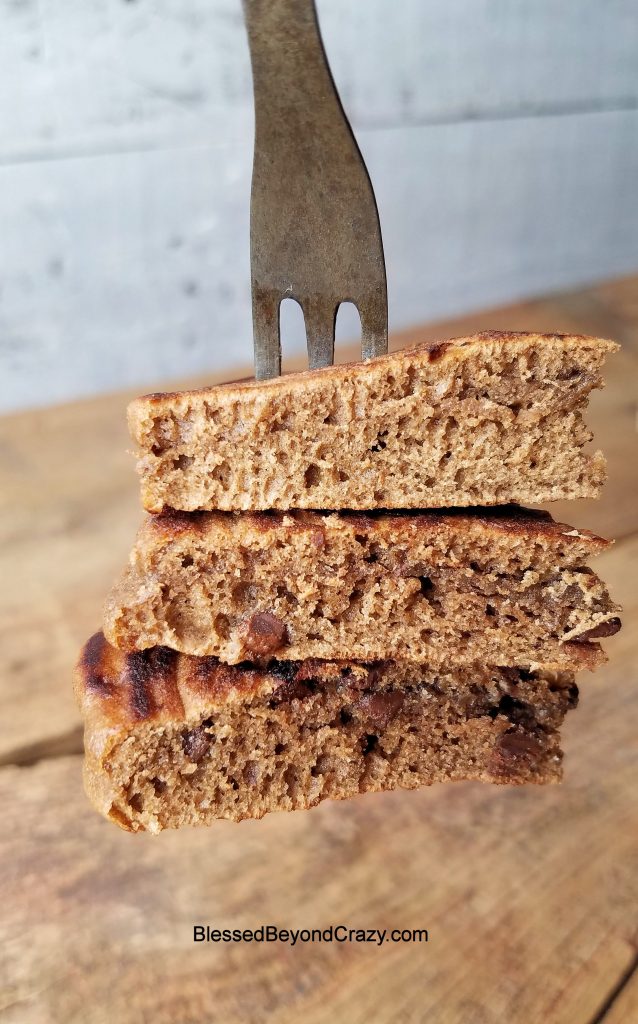 I guess it's the combination of the warm, fluffy pancakes plus the pure maple syrup that keeps them asking for more.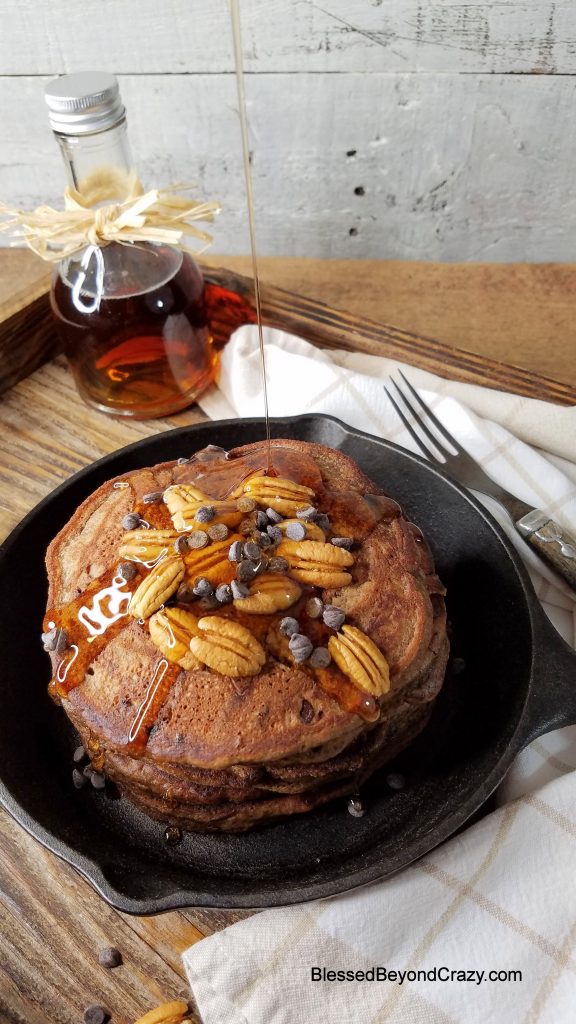 Chocolate!
So what makes these Triple Chocolate Pancakes? Well, the answer is simple. The recipe calls for unsweetened baking cocoa + chocolate milk + mini chocolate chips.
Personally, I use Enjoy Life chocolate chips because they are allergy-friendly and suitable for most special dietary needs.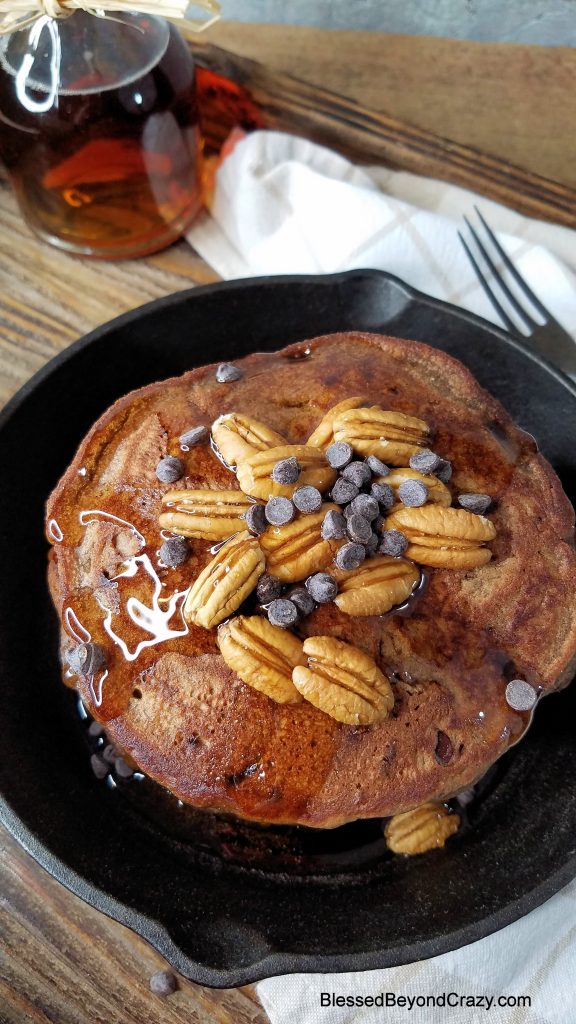 Honestly, Triple Chocolate Pancakes are fabulous all by themselves, however, adding a few toppings makes them even better. I added homegrown pecans from my parent's farm and a few extra mini chocolate chips.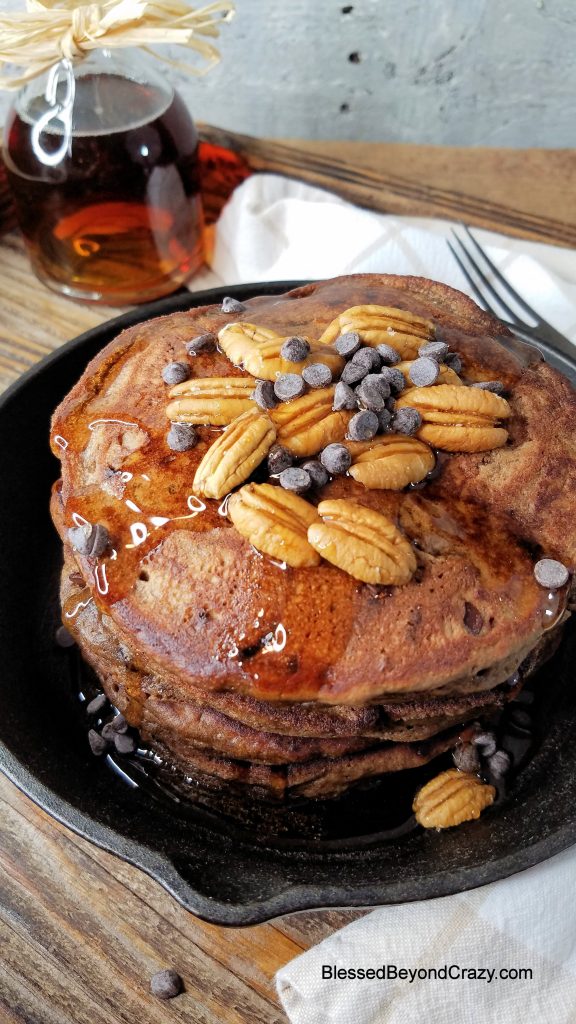 Additional Topping Suggestions:
nuts
extra mini chocolate chips
banana slices
peanut butter
caramel sauce
cream cheese glaze
fresh fruit
coconut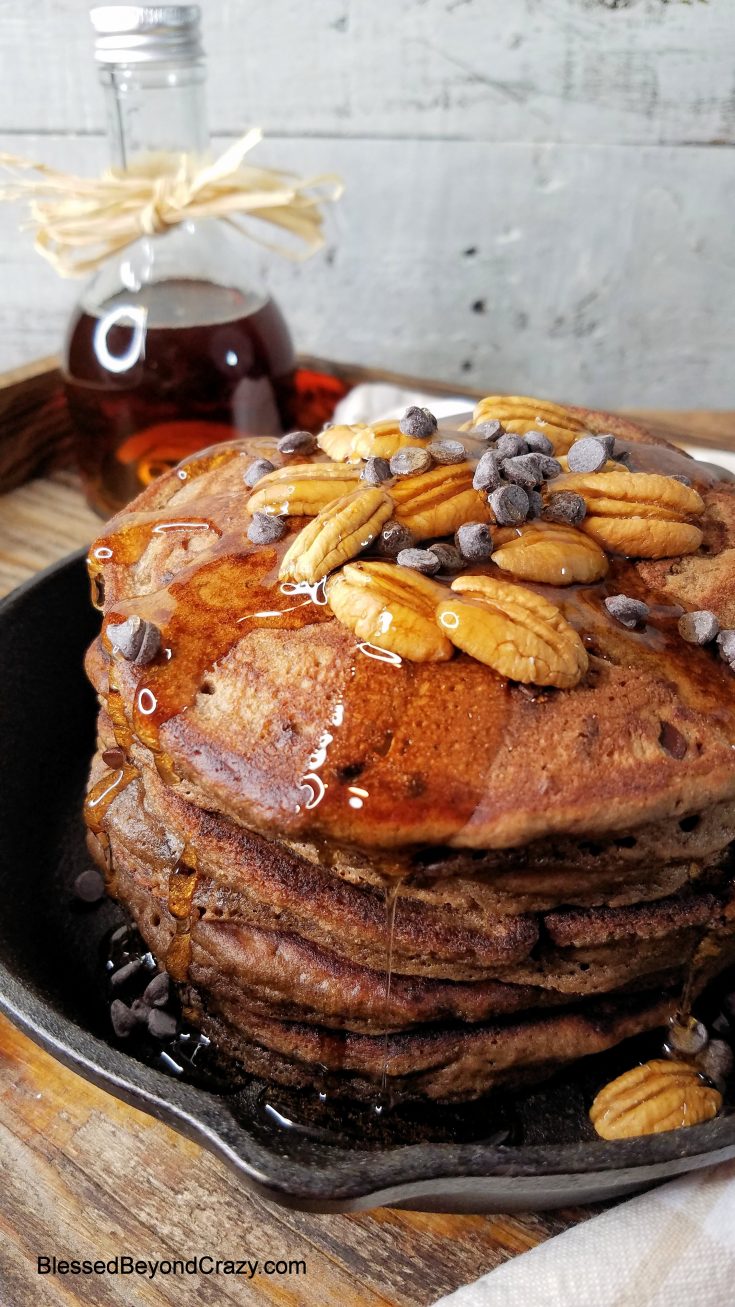 Yield:

5 Medium Size Pancakes
Triple Chocolate Pancakes
Delicious chocolatey pancakes.
Ingredients
1 cup all-purpose flour (GF Option: use a gluten-free flour blend + 1 teaspoon xanthan gum, unless flour blend already contains it)
3 tablespoons unsweetened baking cocoa
2 tablespoons sugar (or sweetener of choice)
2 teaspoons baking powder (GF Option: use gluten-free brand)
1/4 teaspoon baking soda (GF Option: use a gluten-free brand)
1/2 teaspoon salt
1 Tablespoon ground flax
1 cup mini semisweet chocolate chips (I use all-natural chocolate chips that are soy-free and gluten-free)
4 Tablespoons softened butter (Can use canola oil in place of butter)
1 teaspoon vanilla (GF Option: use gluten-free vanilla)
2 eggs
2/3 cup chocolate milk (Dairy-Free Option: chocolate almond milk) *If you feel the batter is too thick simply add 1 - 2 Tablespoons more milk.
Top with pure maple syrup and/or toppings of choice.
Instructions
Whisk together flour, cocoa, sugar, baking powder, baking soda, salt, flax, and mini chocolate chips.
In a separate bowl, whisk together butter, vanilla, eggs, and chocolate milk.
Gradually stir milk mixture into flour mixture; stir just until moistened. (To keep pancakes light and fluffy do not over stir batter)
Pour 1/2 cup batter (per pancake) onto a hot buttered griddle or nonstick skillet. Cook over medium-low heat 2 - 3 minutes or until bubbles appear and edges look dry and firm. Turn and cook another 2 - 3 miuntes or until done.
Serve with warm maple syrup and toppings of choice.
Recommended Products
As an Amazon Associate and member of other affiliate programs, I may earn a small commission from qualifying purchases at no extra cost to you.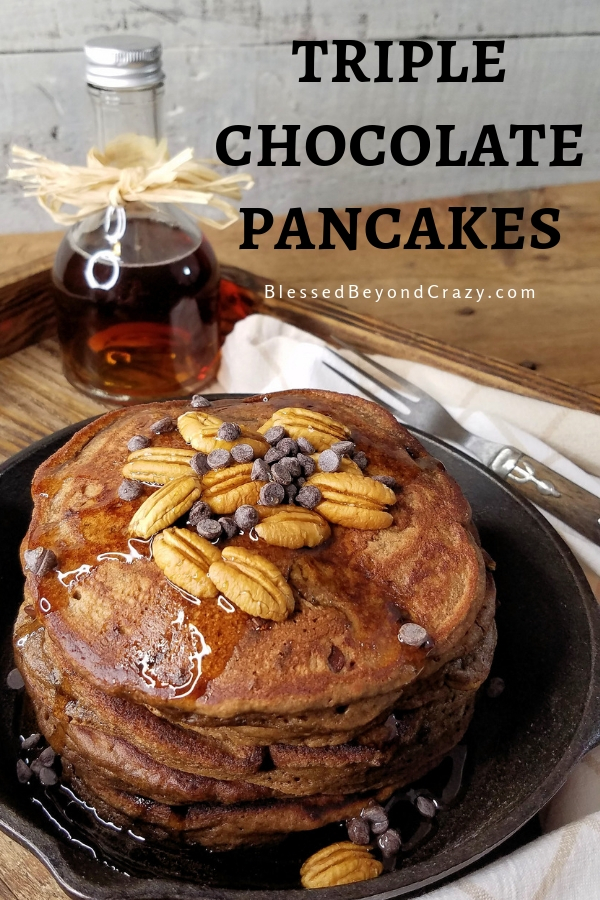 Imagine waking up to find a whole big stack of toasty warm Triple Chocolate Pancakes waiting for you!
Enjoy!
Linda
More great ideas: