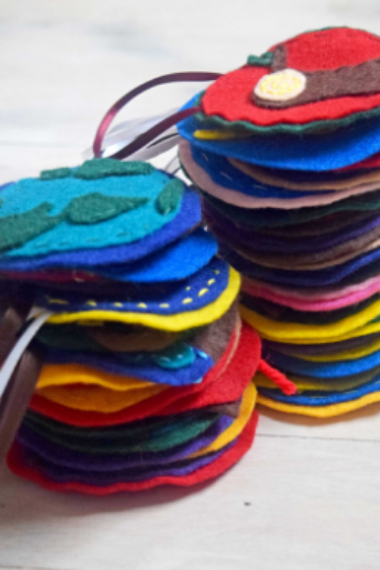 This is my family's second year of doing a Jesse Tree. In this post, I will explain my ornaments, how I made them, why I choose each picture or symbol, what stories we read, and where we find these stories.
What is a Jesse Tree?
The Jesse Tree comes from Isaiah 11:1, "A shoot will come up from the stump of Jesse; from his roots, a Branch will bear fruit."
My daughter asked me why it wasn't called a "Jesus Tree?" Honestly, I don't know, I didn't come up with the name.
During the season of Advent, we read a Bible story every day, starting with creation and ending with Jesus' birth. I have made an ornament to go along with each story. My children take turns hanging that day's ornament on our Jesse Tree, which is a small inexpensive Christmas Tree that sits on a side table in our living room.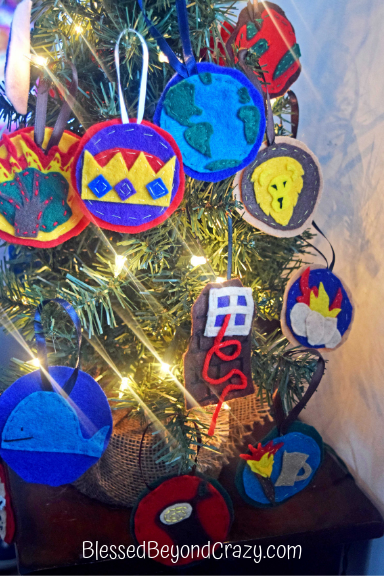 The exact number of days of Advent varies a little each year. My family likes to decorate for Christmas during the week of Thanksgiving, so that is when we start our Jesse Tree. That is also why I probably have a lot more ornaments than most people.
I also really hate skipping over Bible stories. I want to include every single one! Right now I have 34 ornaments but there are at least 6 more I want to make to include more stories.
Basic instructions: Read a Bible Story and hang up the ornament that represents that story. Repeat every day until Christmas/Jesus' birth.
If we get behind, we will read two stories in one day. Sometimes I will have my big kids read the story to my little kids.
With my older kids, I like to challenge them to put the ornaments in order and give a summary of the story it represents, like a game.
To help support our blogging activities, our site contains affiliate links. If you make a purchase from a link on our site, we may receive a small percentage of that sale, at no extra cost to you. Blessed Beyond Crazy is a participant in the Amazon Services LLC Associates Program, an affiliate advertising program designed to provide a means for sites to earn advertising fees by advertising and linking to amazon.com.
Children's Bibles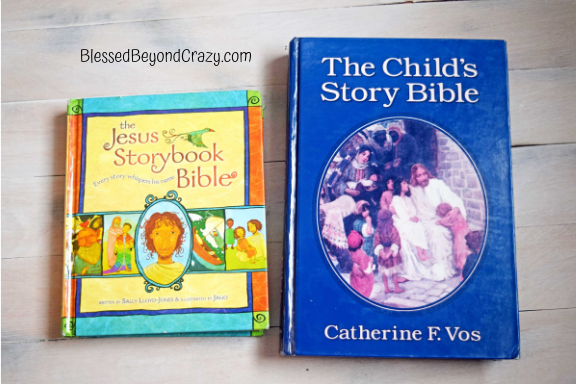 I absolutely LOVE the Jesus Storybook Bible! Every family with children should own this Bible! It has beautiful pictures and I love how they write Jesus into all the stories. I have even learned some things from reading this Bible. The only thing I don't like about this Bible is that it doesn't include even more stories! If you are doing a Jesse Tree with toddlers through young elementary then I would recommend using this book and the ornaments that go along with it.
The other children's Bible I use for our Jesse Tree is The Child's Story Bible by Catherine F. Vos. This Bible includes a lot more stories and information, yet is still easy for children to understand. I recommend this Bible for middle school-aged children.
The other Bible I use is the Bible itself. Nothing can replace the real deal, even with children. Depending on the day, how much time we have, the attention span of my children depends on which Bible I use for that day's story.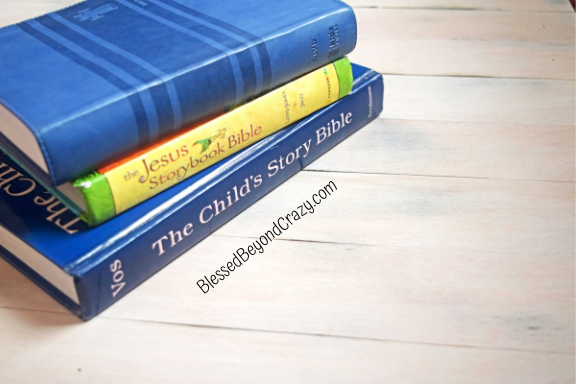 Materials I used:
Some ideas for ornaments I got from the illustrations in the Jesus Storybook Bible, other ideas I got from Pinterest, and others I came up with on my own. All of my ornaments are handmade by me.
I'm not the best at sewing, in fact, I'm a little bit terrible, but I can sew on a button and cut out some shapes. If you have those basic skills, you'll be fine!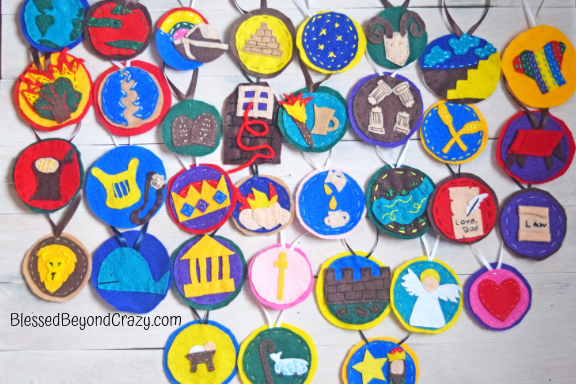 I used every color of felt that I could find–mainly primary and secondary colors, tan, brown, and white. I did not have gray or black but wished for them many times.
Ribbon to make the loop for hanging the ornament on the tree. The wider ribbon was easier to sew on, but most of the time I only had a thin ribbon.
Coordinating colors of sewing floss and thread.
Scissors
Red yarn for Rahab's window
A tiny rock for David's slingshot
A paper circle template of two different sizes. (Trust me, eyeballing it doesn't work!)
Download the Free PDF for my Jesse Tree Ornaments and Bible Reading Plan.
Days 1-4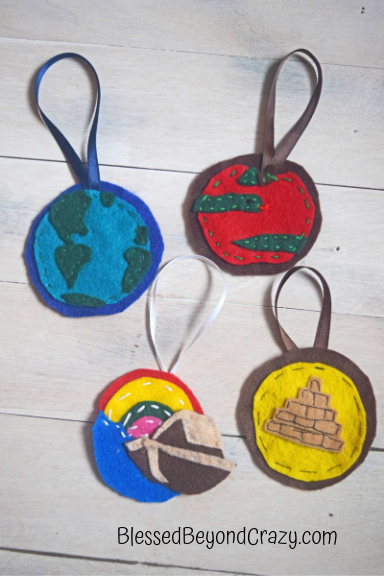 Creation — a picture of the world
Adam and Eve and the first sin — an apple or a snake, or both. Fun fact: the Bible never says it was an apple, just a piece of fruit.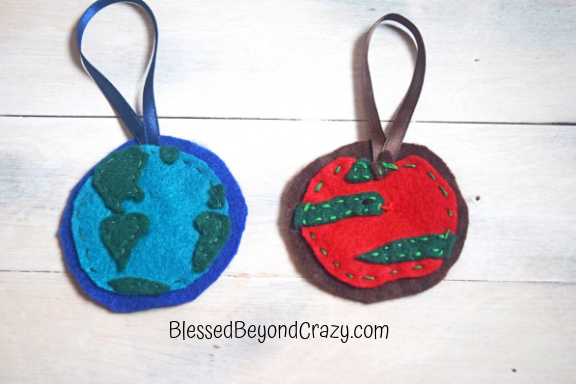 Noah's ark and the flood — an ark and a rainbow
Tower of Babel — a stack of bricks. Honestly, I'm not crazy about how I made this one. I might redo it some time and make it look more like the illustration from the Jesus Storybook Bible.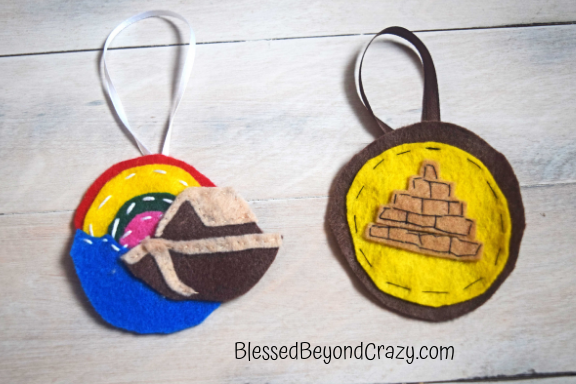 Days 5-8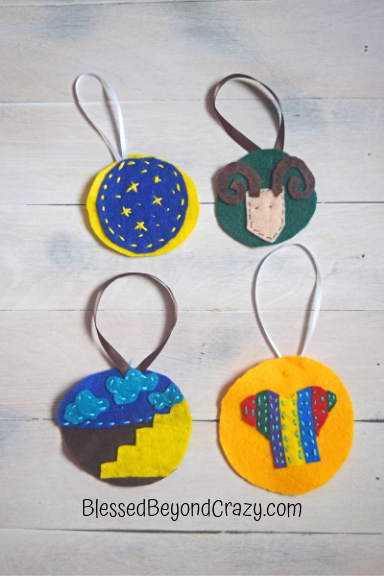 Abraham — starry sky. I choose stars to represent Abraham because God promised him his descendants would be more numerous than the stars in the sky.
Isaac — ram. The ram represents the story where God told Abraham to sacrifice his son, Isaac, but at the last minute, a ram took Isaac's place.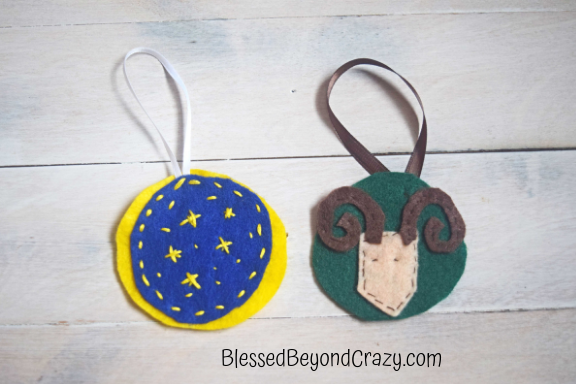 Jacob– staircase to Heaven. Jacob has a dream about a staircase going to Heaven and angels coming up and down it. Many people choose to use a ladder ornament to represent this dream, however, my Bible (NIV) says staircase, so I went with a staircase instead of a ladder.
The Jesus Storybook Bible tells the story about Jacob's wives instead of his dream. You could make an ornament that represents that story if you wish (12 stick figures for his sons, or a man stick figure with two women stick figures to represent Jacob with Rachel and Leah). I might make another ornament for Jacob next year.
Joseph — a colorful coat.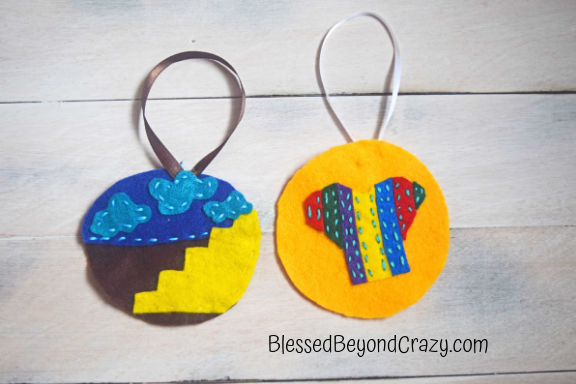 Days 9-12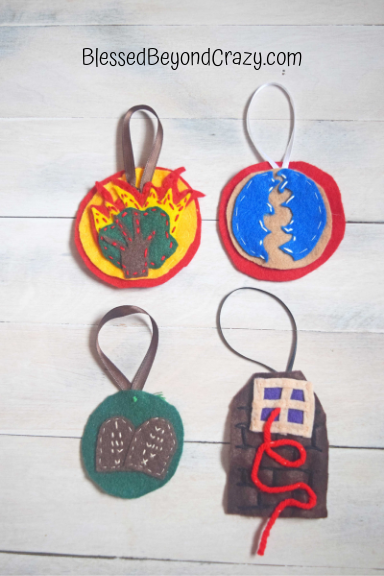 I would like to someday make an ornament for Moses' birth. A baby in a basket in a river… or maybe just a basket in a river with tall grass around it.
Moses and the Burning Bush– a bush on fire.
I would like to make another ornament for Passover — a door with blood painted on the door frame. That would represent the 10 plagues.
Exodus and the parting of the Red Sea — dry ground in between two walls of water.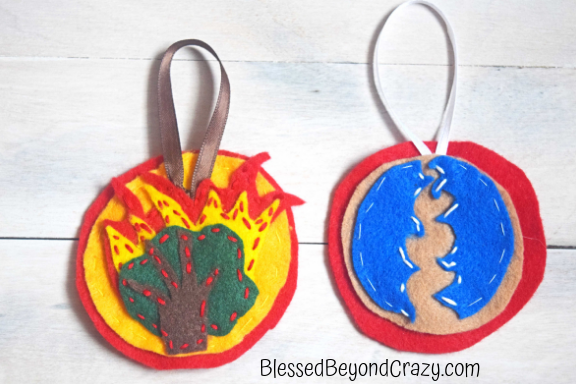 God gives Moses the 10 Commandments — two tablets with Roman numerals 1-10 on them.
I might add the 40 years the Israelites wandered in the desert. It would have a pillar of clouds and a pillar of fire, based on the illustrations in the Jesus Storybook Bible.
I would like to add the story of Balaam and his talking donkey here. Mostly because my daughter really loves donkeys a lot. It is also a good story about how you can't go against God's plan.
Joshua, Jericho, and Rahab — a window with a red string coming out. This is one of my favorite ornaments (and old Testament stories)! I don't remember why I didn't make this one a circle.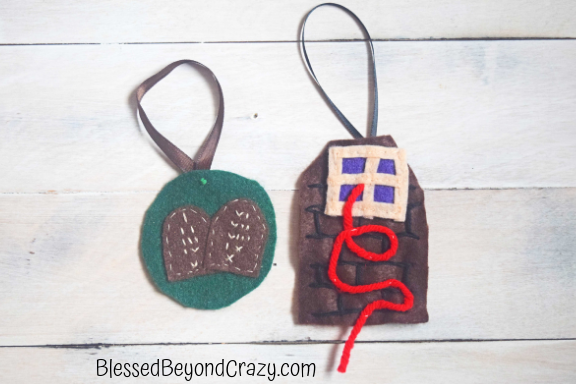 Days 13-16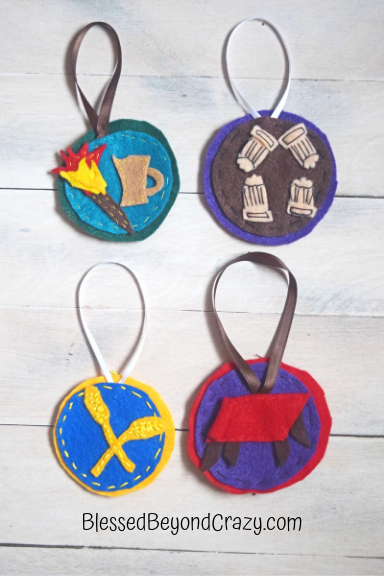 Gideon — a torch and jar. You could also add a trumpet to this.
Samson — Two columns falling down. Another option could be hair inside of open scissors. Side note: my family went to see Samson at the Sight and Sound Theater. If you ever get the opportunity to see it, it is so worth the money! It was amazing!!! And I don't think my kids will ever forget this story now!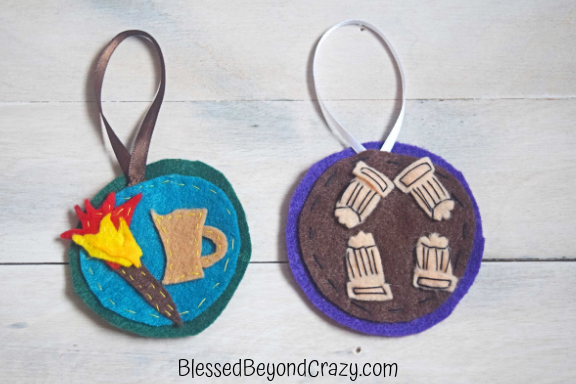 Ruth and Boaz — two pieces of wheat. It was actually a barley harvest, not wheat… whatever, close enough.
Samuel — a bed. The bed represents when God was calling Samuel in the middle of the night and Samuel thought it was Eli. After three times, Eli realized it was God calling Samuel and told him to go listen.
Another option for Samuel would be a horn of oil since it was Samuel who anointed both Saul and later David as King of Israel.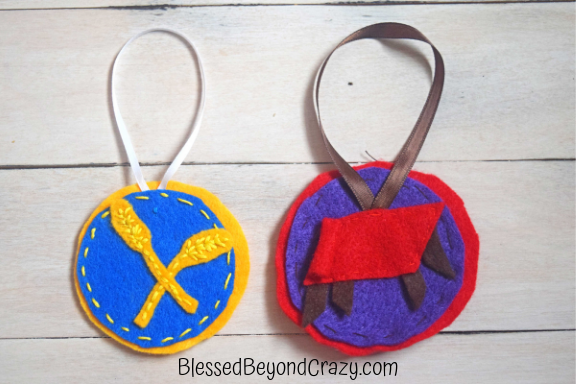 Days 17-20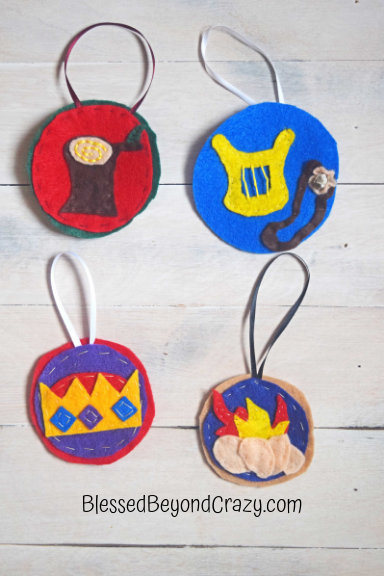 Jesse — a tree stump with a shoot growing out. Some people choose to do this for day 1 to introduce the Jesse Tree. This year, I choose not to do that but in the future, I may use this for day 1 and creation for day 2, etc.
David — a harp and a slingshot. I kinda wish I had made these two separate ornaments instead of one. I did sew a real, tiny rock into this ornament, it makes me happy. The harp represents the Psalms David wrote, and the slingshot represents the story of David and Goliath.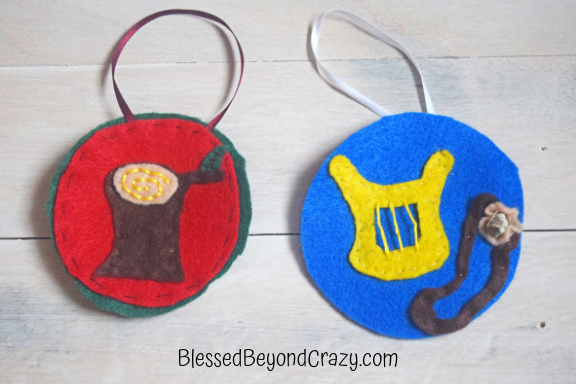 Solomon — a crown. Originally, I made a temple for Solomon, since he built a temple for the Lord. However, later I could not think of a symbol for Ezra, so the temple got moved to represent him. Since Solomon was wise and served as a judge, some people have chosen to use a scale to represent him.
Elijah — rocks with fire. This represents the competition Elijah had with the prophets of Baal and the fire God sent from Heaven to burn up Elijah's offering.
I would like to add another ornament here for Elijah and the chariots of fire.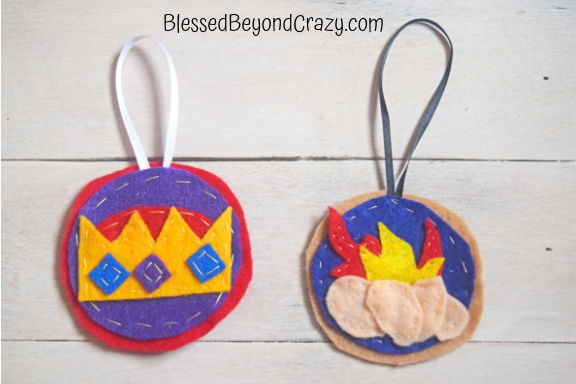 Days 21-24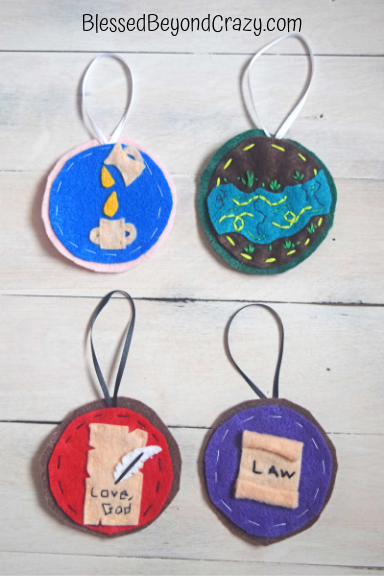 Elisha and the widow — a jar with "olive" oil being poured into another jar.
Elisha and Naaman — a "muddy" river. I tried to copy this river from the illustration in the Jesus Storybook Bible.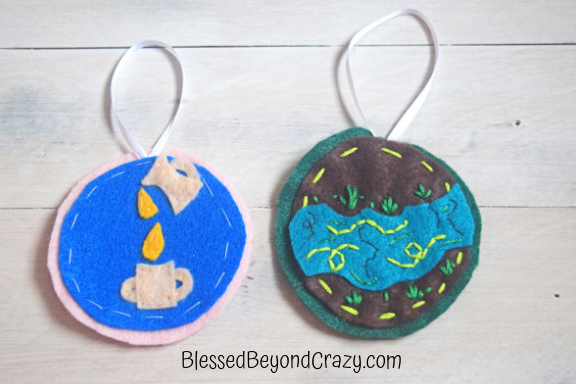 Isaiah — a "love letter" from God. I love the way the Jesus Storybook Bible tells the story of Isaiah and that illustration is what inspired this ornament.
Josiah — A scroll that says "Law."
Maybe next year I'll add Hezekiah here. His ornament would have a watchtower on it.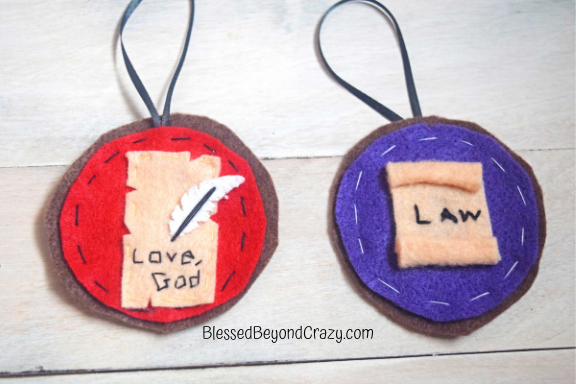 Days 25-28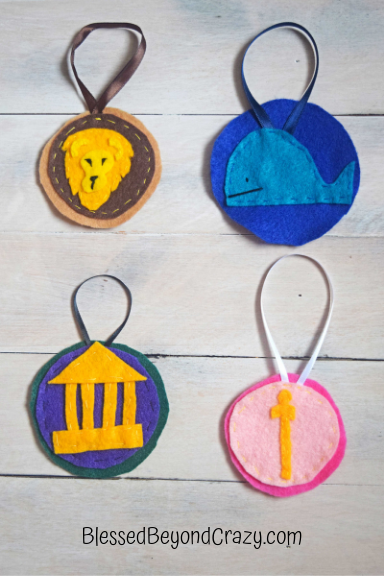 Here I could add another ornament for Shadrach, Meshach, and Abed-nego. It will probably be a door with fire inside of it. Depending on how talented I feel while making it, there might be four stick figures in the fire.
Daniel — a lion's head.
Jonah — a large fish.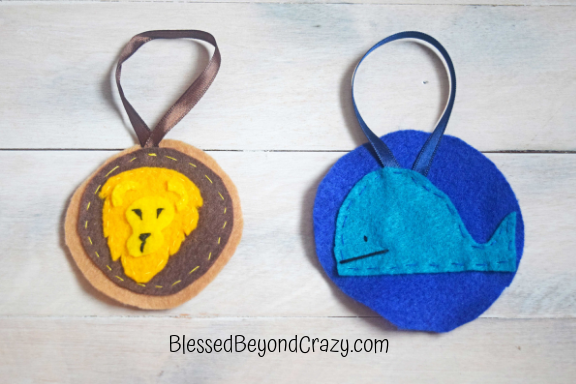 Ezra — a temple. The temple I originally made for Solomon's story, but Ezra did lead the people in rebuilding the temple, so this works for him too.
Esther — a golden scepter. The golden scepter was extended to her when she visited the King, and he spared her life.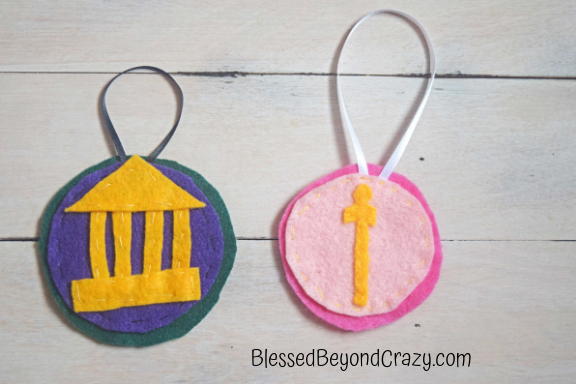 Days 29-34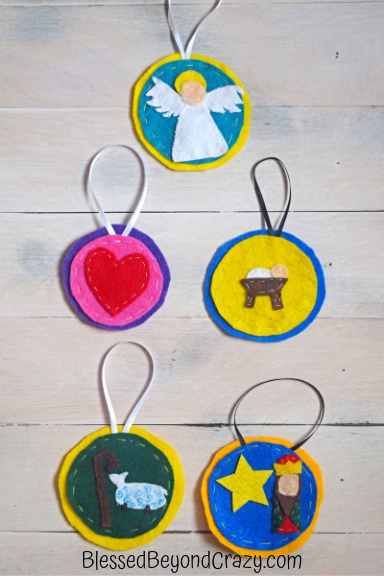 Nehemiah — Brick wall with extra bricks lying around. I forgot to add this ornament to the above photo but see the picture below.
John the Baptist — an angel. This is supposed to represent the angel telling John's parents they will have a baby (John). Although an angel could be the symbol for so many other stories coming up.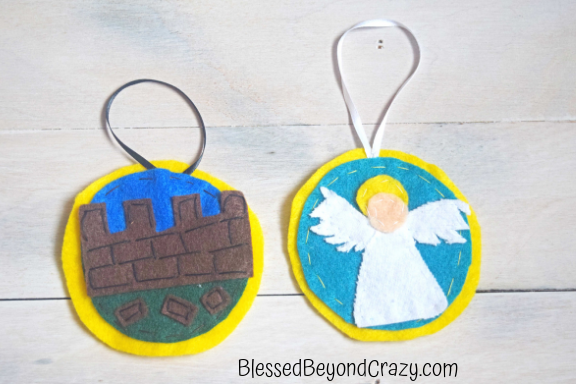 Mary — a heart. The heart comes from Luke 2:19, "But Mary treasured up all these things and pondered them in her heart."
Jesus' birth — a baby in a manger.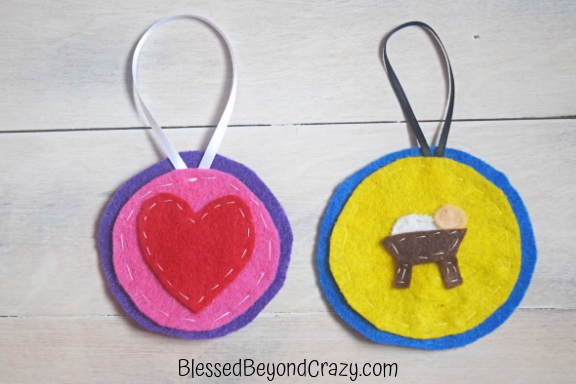 Shepherds — a staff and a sheep. My daughter told me I didn't make a very good sheep, haha!
Wise men — a star and a rich man. An ornament with three presents on it would also be a good representation of the wise men.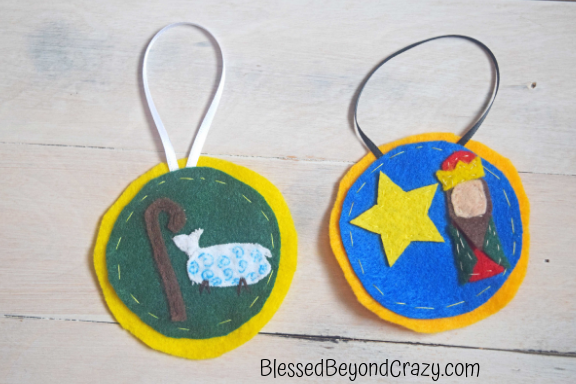 Whew! Are you still with me! That was a lot!
Don't get overwhelmed!
Please remember that it took me TWO YEARS to make this many ornaments!!! And I still haven't made as many as I want. Hit the stories that your kids know best your first year and each year add a few more! The older they get the more understanding they will have.
This is possibly my favorite Christmas tradition! I would like to find a way to do some sort of Jesse Tree all year long so it's not the entire Bible shoved into the month of December.
If you have questions, please leave them in the comment section below!
Merry Christmas!!
Anna