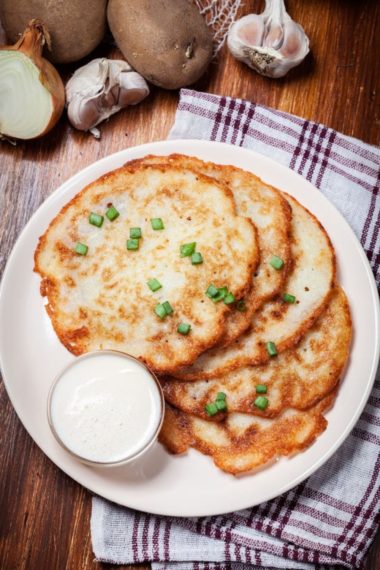 First of all, I think most people would agree that certain foods are naturally considered comfort foods. Maybe it's because they remind us of a special time, person or place. For me, a comforting bowl of homemade vegetable soup or chili, a slice of Grandma's favorite apple pie, or a stack of good old-fashioned potato pancakes. These quickly bring back fond childhood memories.

To help support our blogging activities, our site contains affiliate links. If you make a purchase from a link on our site, we may receive a small percentage of that sale, at no extra cost to you. Blessed Beyond Crazy is a participant in the Amazon Services LLC Associates Program, an affiliate advertising program designed to provide a means for sites to earn advertising fees by advertising and linking to amazon.com. As an Amazon Associate, I earn from qualifying purchases.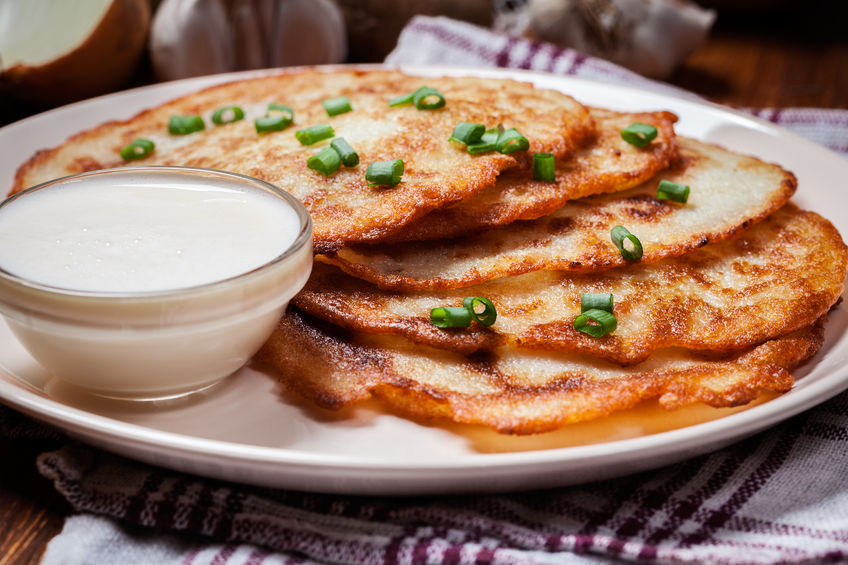 Childhood Memories
Throughout my childhood, I distinctly remember the Pancake and Sausage Supper fundraiser our church hosted every winter. Church members helped with ticket sales and food preparation, serving, and clean-up to ensure the event was successful. The menu consisted of standard pancakes, sausage patties, and good old-fashioned potato pancakes.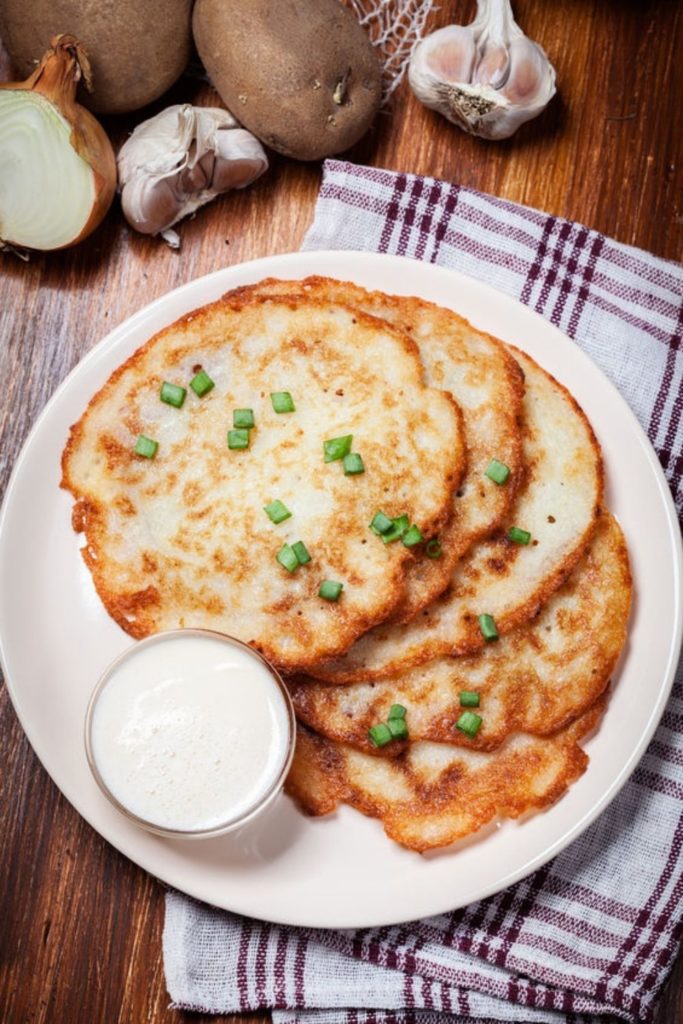 Class all by Themselves
Regular pancakes are always popular, however, potato pancakes seem to be in a class all by themselves. Consequently, many people in the community would come to the pancake and sausage supper just for the good old-fashioned potato pancakes!
These potato pancakes are super easy to make because all of the ingredients are dumped into a blender or food processor and pulsated until the batter is smooth, not lumpy.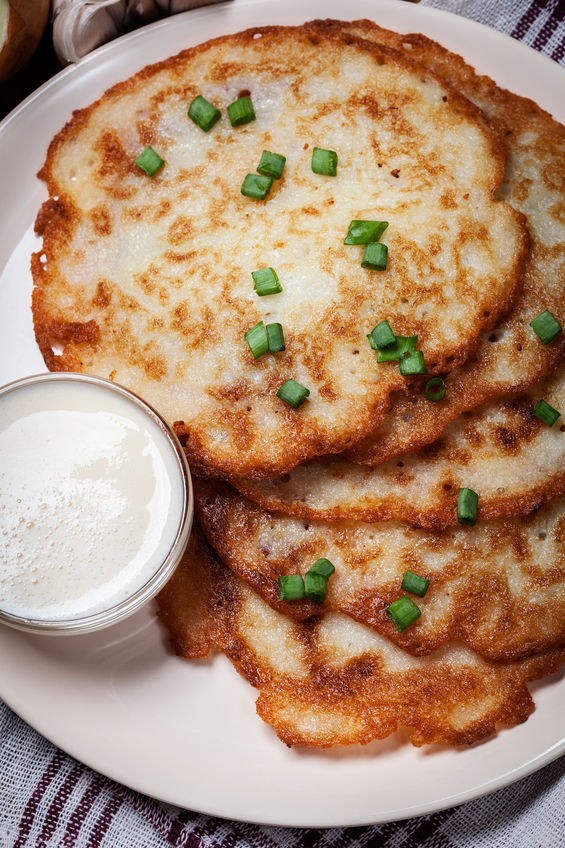 Delicious
Just like Anna's Green Low-Carb Protein Pancakes, good old-fashioned potato pancakes have their very own distinct texture, and taste. The pancakes are deliciously thin, golden brown, and have crispy edges. Almost everyone serves them with a side of maple syrup, sour cream, or apple butter. (My dad's favorite topping is apple butter.)
Good Old-Fashioned Potato Pancakes
---
Unknown
Yields 6 - 8 pancakes
A delicious and easy potato pancake recipe.
10 minPrep Time
15 minCook Time
25 minTotal Time
Ingredients
3 cups cubed potatoes
2 eggs
1/4 cup flour (GF Option: use gluten-free flour blend + 1/8 teaspoon xanthan gum, unless flour already contains a thickening agent)
1/4 teaspoon salt, or to taste
1/4 teaspoon baking powder (GF Option: use gluten-free brand)
(Optional) 1/4 cup chopped onion add/or 1 small clove garlic
Instructions
Place all ingredients into a blender or food processor; cover. Pulsate until mixture is smooth, not lumpy.
Pour small amount of batter onto a preheated, well greased griddle. Cook 2 -3 minutes or until edges are cripsy and golden brown; flip and brown the second side.
Serve immediately with applebutter, sour cream and/or pure maple syrup.
7.8.1.2
222
https://blessedbeyondcrazy.com/good-old-fashioned-potato-pancakes/
www.blessedbeyondcrazy.com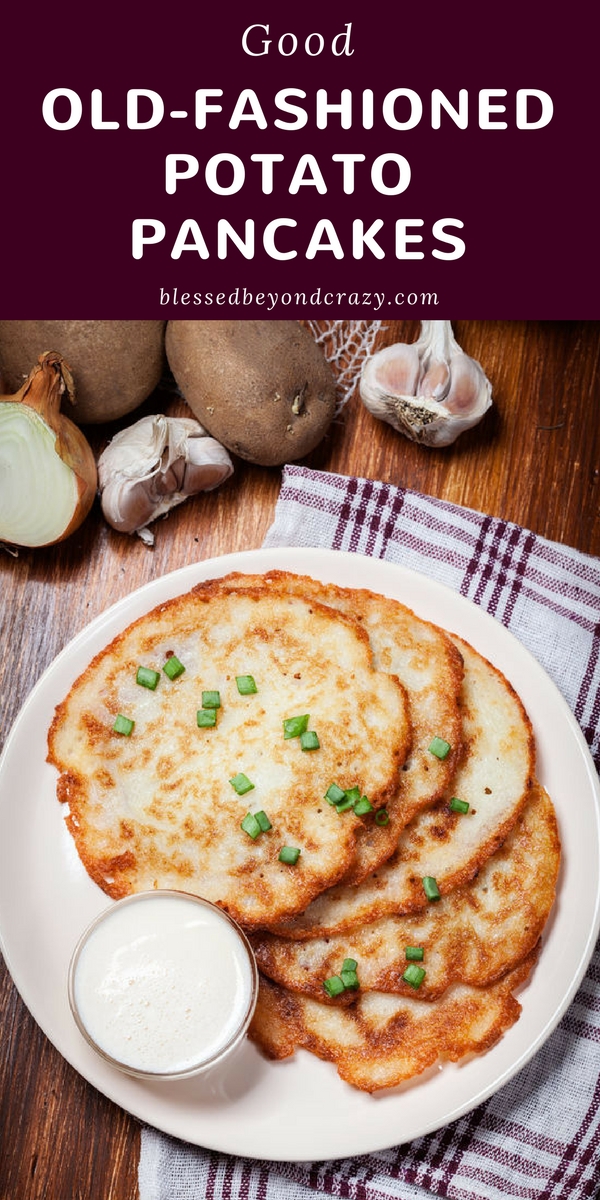 Good old-fashioned potato pancakes are quick and easy to make gluten-free. Furthermore, they are a fabulous way to use a few potatoes remaining in the bag. One full recipe yields approximately 6 to 8 medium/large size pancakes, depending on how big you make each pancake. Perfect for breakfast, lunch, or dinner!
Happy Eating!
Linda
More great ideas: