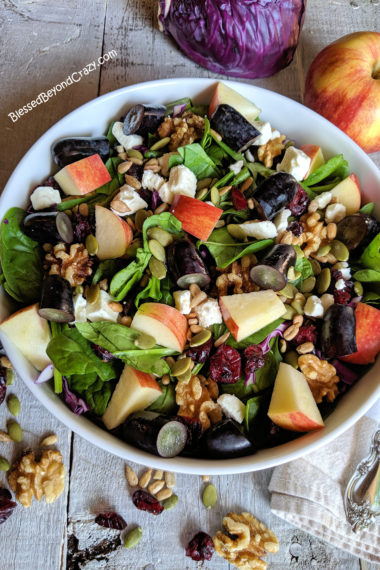 A rustic Autumn Harvest Salad with Hot Bacon Dressing is delightful and loaded with all kinds of tasty ingredients. This fabulous, naturally gluten-free salad includes food elements that are sweet-vs-salty, crunchy-vs-succulent, and… it's all topped with BACON! Mmmm… doesn't bacon make everything taste better?!?!?
I'm so excited because today is the first day of autumn and therefore it's an excellent time to make this fabulous salad!
To help support our blogging activities, our site contains affiliate links. If you make a purchase from a link on our site, we may receive a small percentage of that sale, at no extra cost to you. Blessed Beyond Crazy is a participant in the Amazon Services LLC Associates Program, an affiliate advertising program designed to provide a means for sites to earn advertising fees by advertising and linking to amazon.com.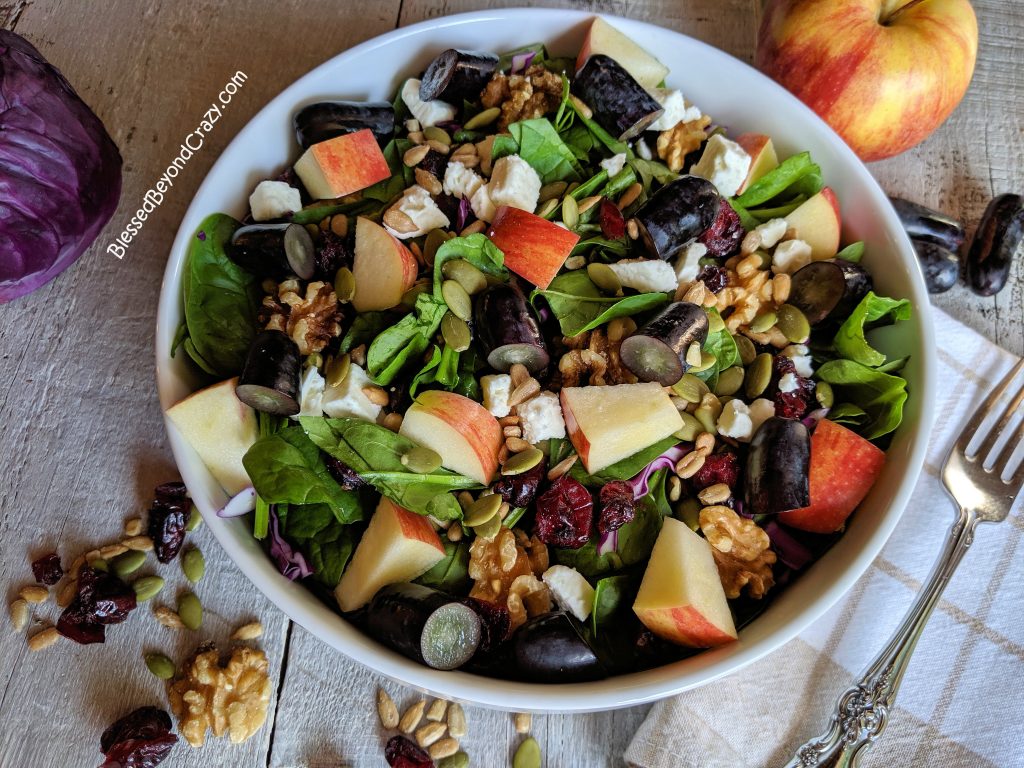 Delicious Salad
You may not know this about me but I'm a person that brings my lunch to work every single workday. (No, I'm not exaggerating! Every single workday!) One reason I do this is that I have a lot of food allergies and am gluten-intolerant. I also like making my own meals because I know exactly what the ingredients are and I'm not ingesting something that's loaded down with preservatives, dyes, and artificial ingredients.
One of my favorite things to bring for lunch is a delicious salad. Probably because salad is easy to make, healthy, and loaded with nutrition and natural fiber. In addition to all of that, it's easy to add and/or omit ingredients such as nuts, seeds, fruit, beans, or meat.
Right along with Autumn Harvest with Hot Bacon Dressing, some of my favorite salads are: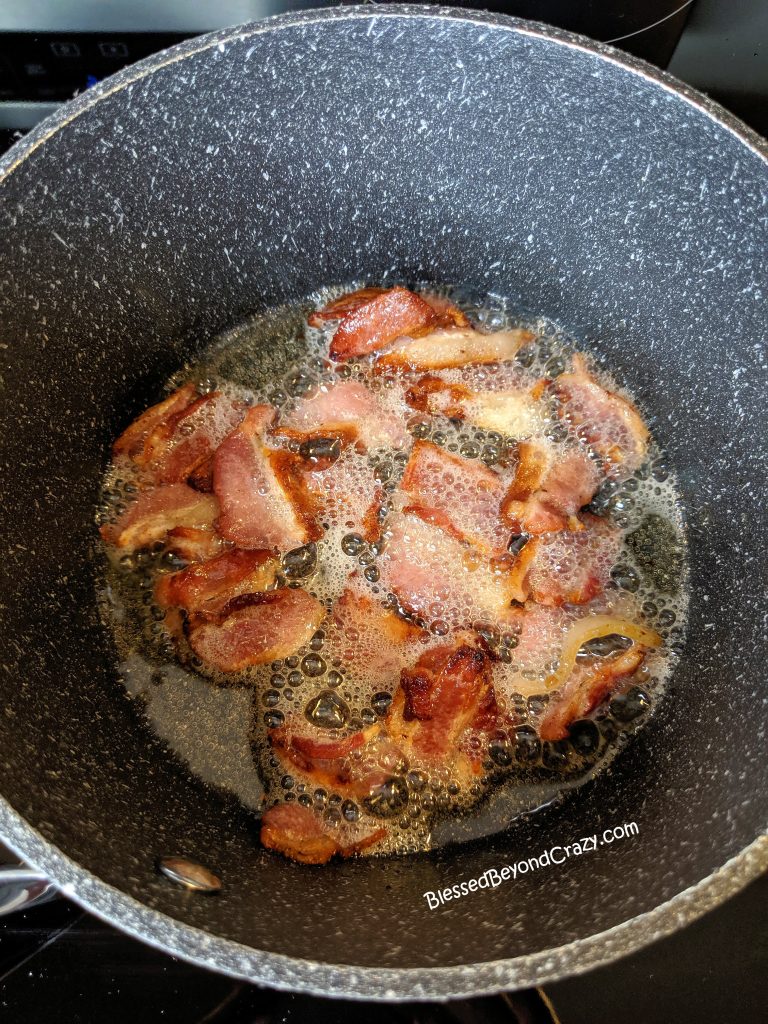 Hot Bacon Dressing
Bacon is something that I generally do not eat a lot of but when I do, I buy a brand that is free from gluten, nitrites, and preservatives. It may cost a few cents more but it's definitely worth it in the long run.
Hot Bacon Dressing first starts by cutting up a few slices of bacon and frying it in a medium-size saucepan. Cook the bacon over medium-low heat until it turns nice and brown. (Note: Do not drain the grease!)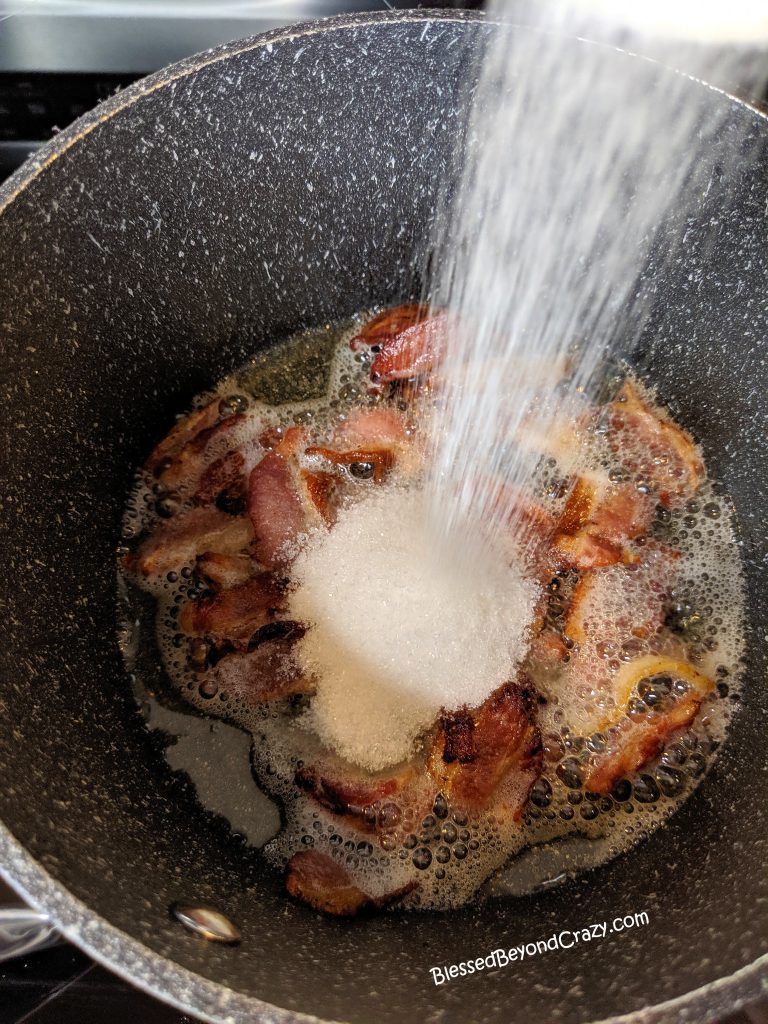 Sugar
Next, add sugar to the pan and stir until it dissolves. (NOTE: I haven't tried using any other sweetener other than sugar, but feel free to try something else.)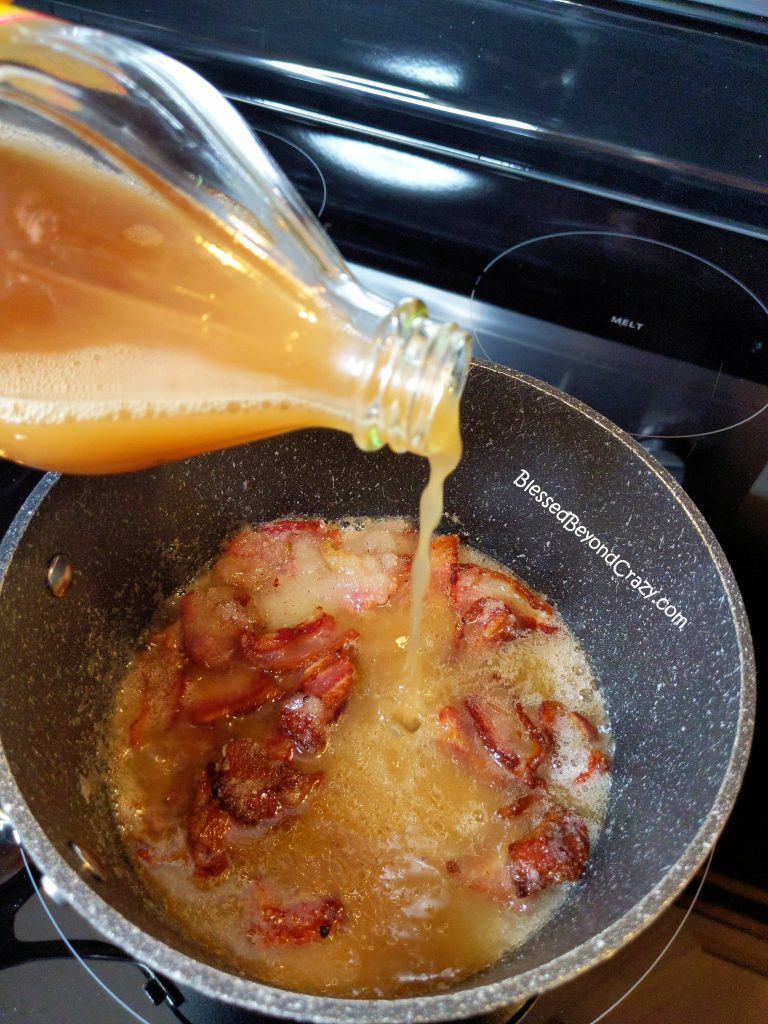 Apple Cider Vinegar & Himalayan Sea Salt
The next ingredients are raw unfiltered apple cider vinegar and a pinch of salt, (I like to use Himalayan sea salt).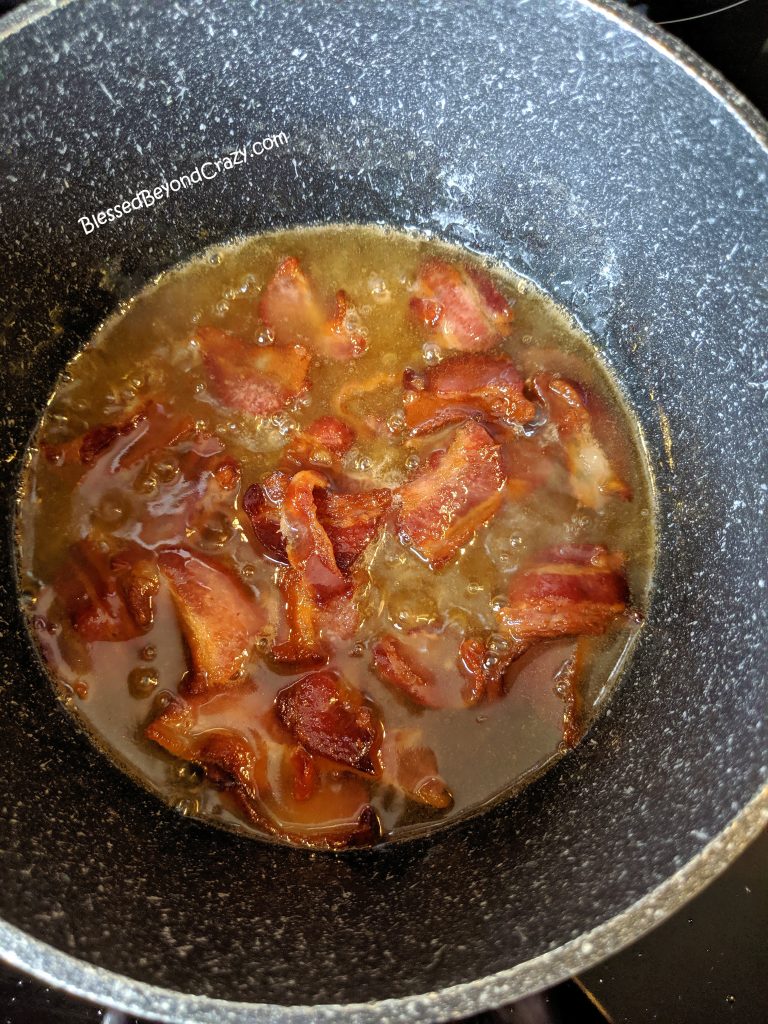 Cook
Cook the mixture at a low boil for one minute, then turn off the heat. Allow the Hot Bacon Dressing to rest on a warm burner, stirring it occasionally. (Psst… keep the dressing nice and warm until you are ready to serve this salad.)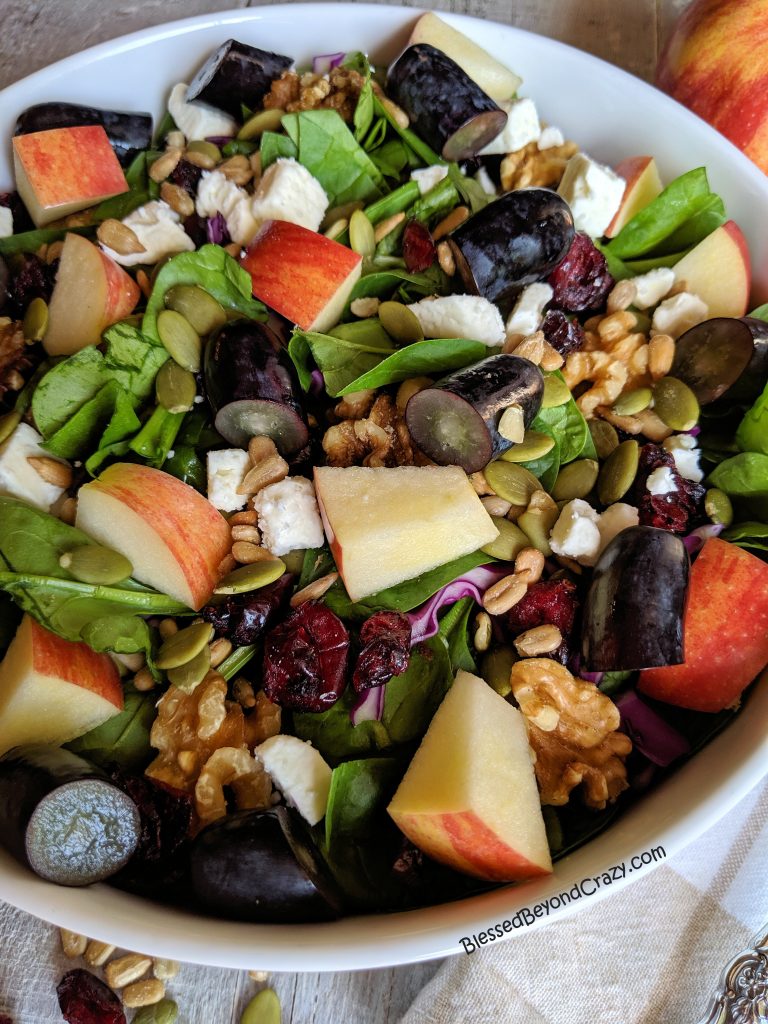 Salad Ingredients
Personally, I find that my salad creations are often a result of using leftover ingredients, as well as whatever I seem to have on hand at the moment. However, for this particular salad, I did want to use ingredients that remind me of our midwest harvest season.
For this Autumn Harvest Salad I used the following ingredients: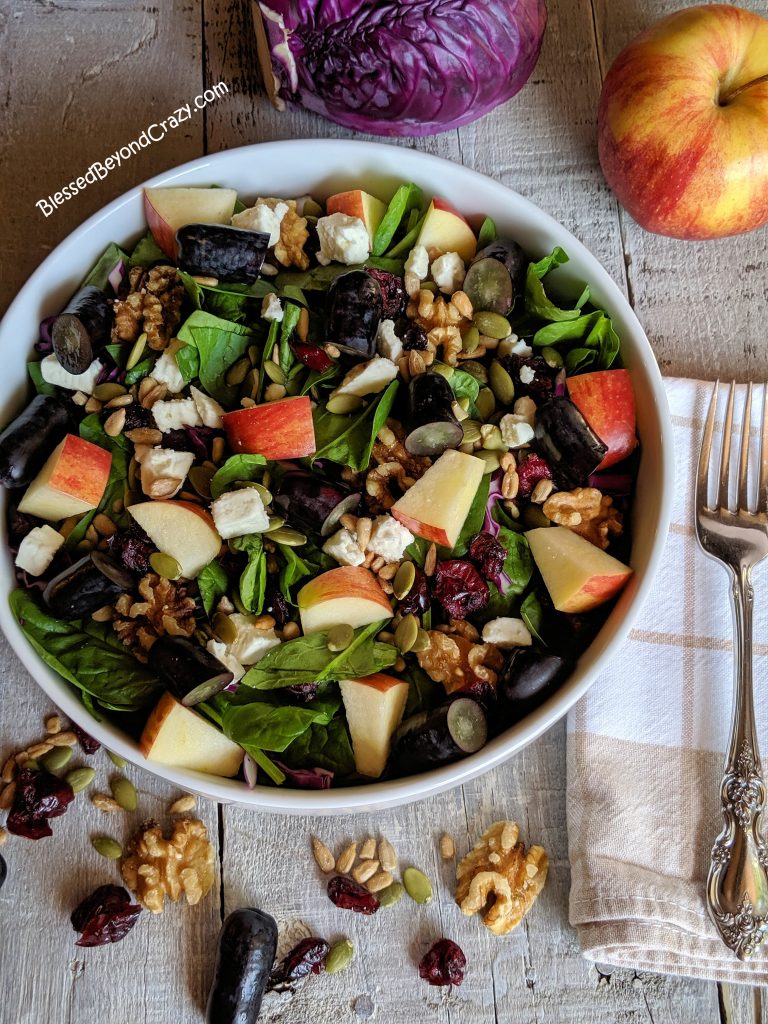 Options
As I previously mentioned, salads can almost always be modified and this salad is certainly no exception. Additional ingredient options could include dried cherries, Sugar & Spice Pecans, fresh blueberries, slices of fresh pears, chunks of blue cheese, or a variety of dried fruit chips.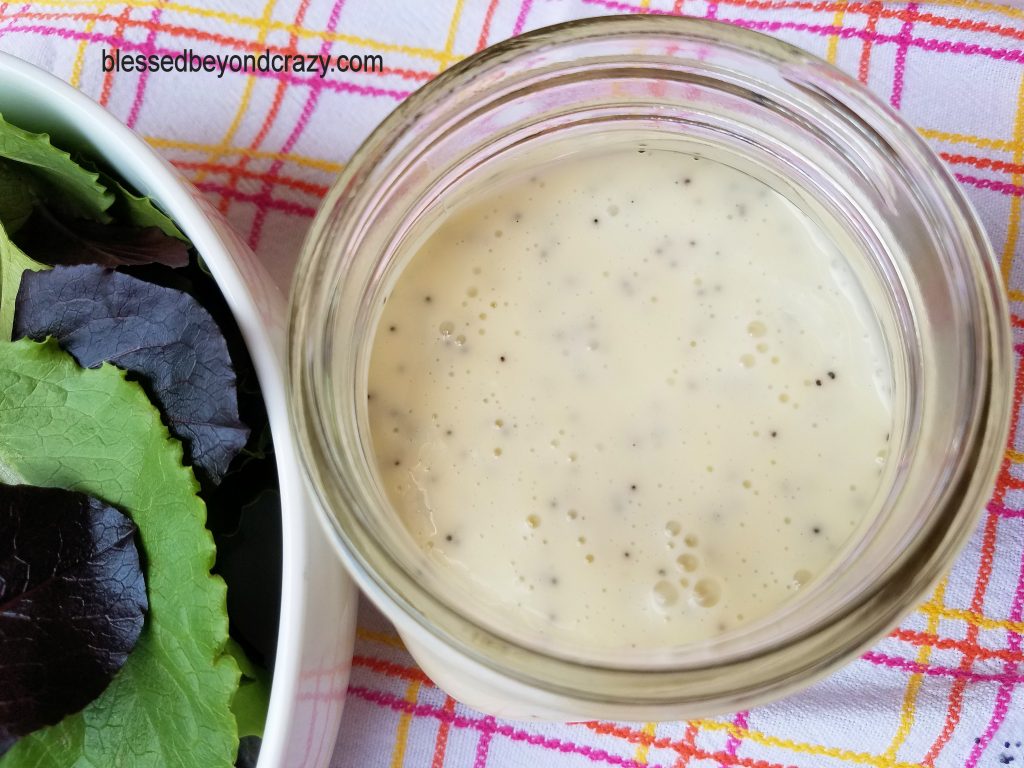 Easy Poppy Seed Dressing and Pomegranate Vinaigrette Poppy Seed Dressing can also be interchanged for the Hot Bacon Dressing.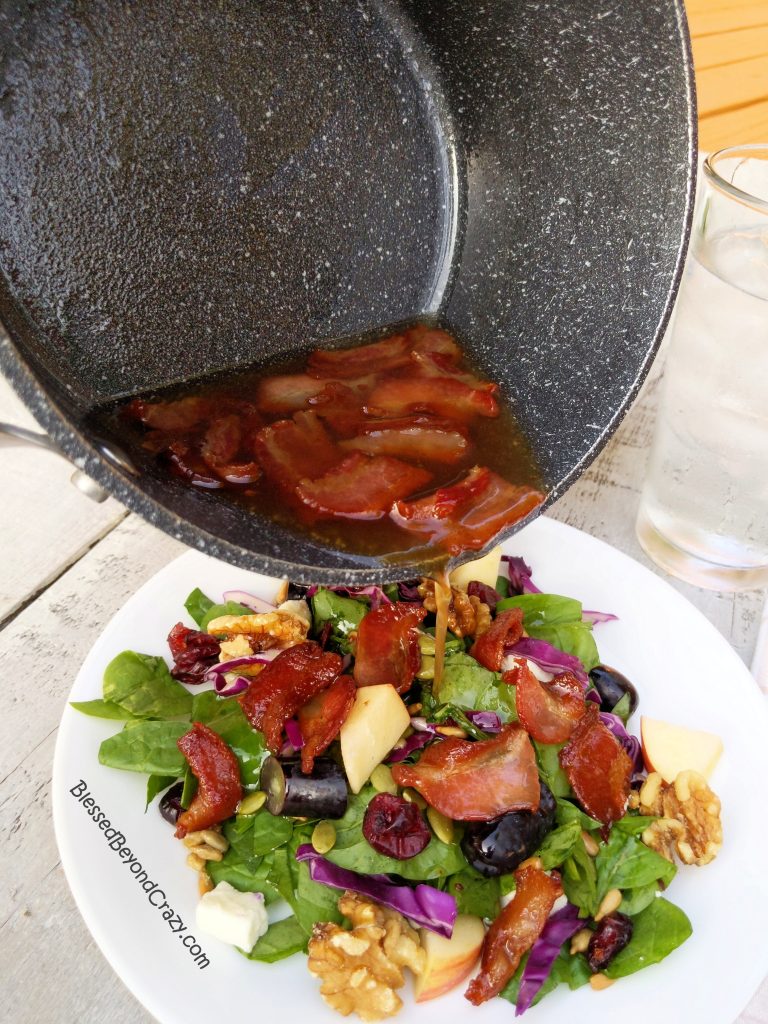 Serve It Up!
Unless you and your family plan on consuming the entire salad in one setting I suggest pouring (or spooning) the Hot Bacon Dressing onto each individual serving. That way the remaining dressing can be stored in a glass container/jar (with a lid) and kept in the refrigerator until the next day. Simply reheat it when ready to serve. Also, any leftover salad keeps better without dressing on it.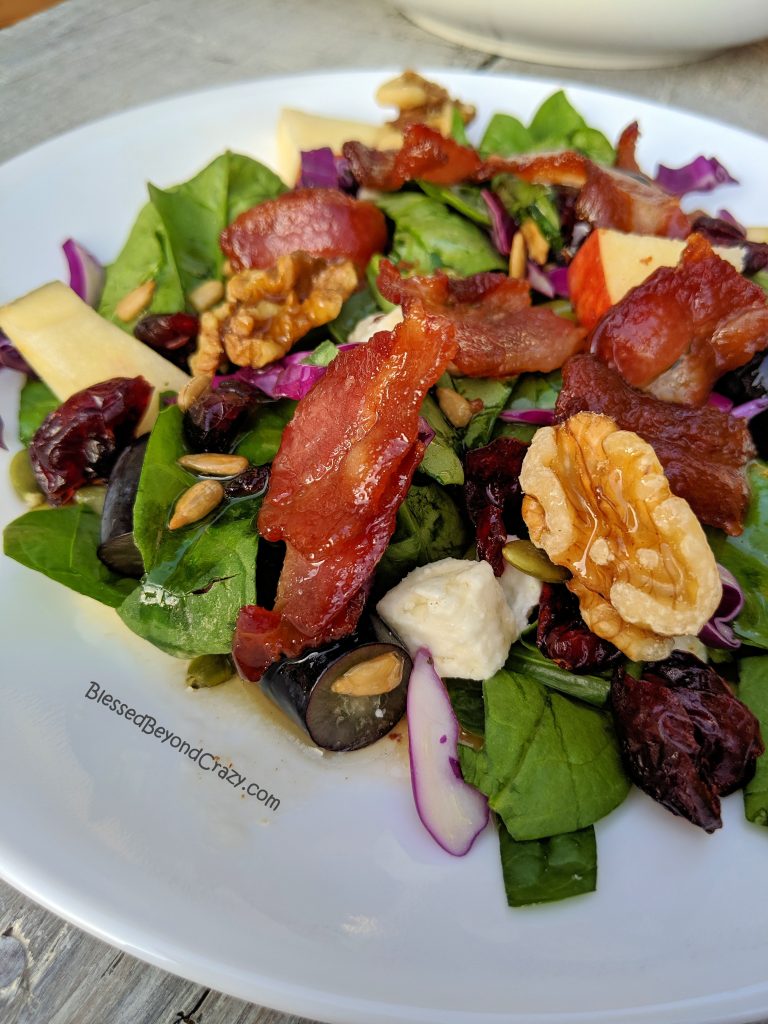 Just look at all of those yummy ingredients drenched in savory Hot Bacon Dressing!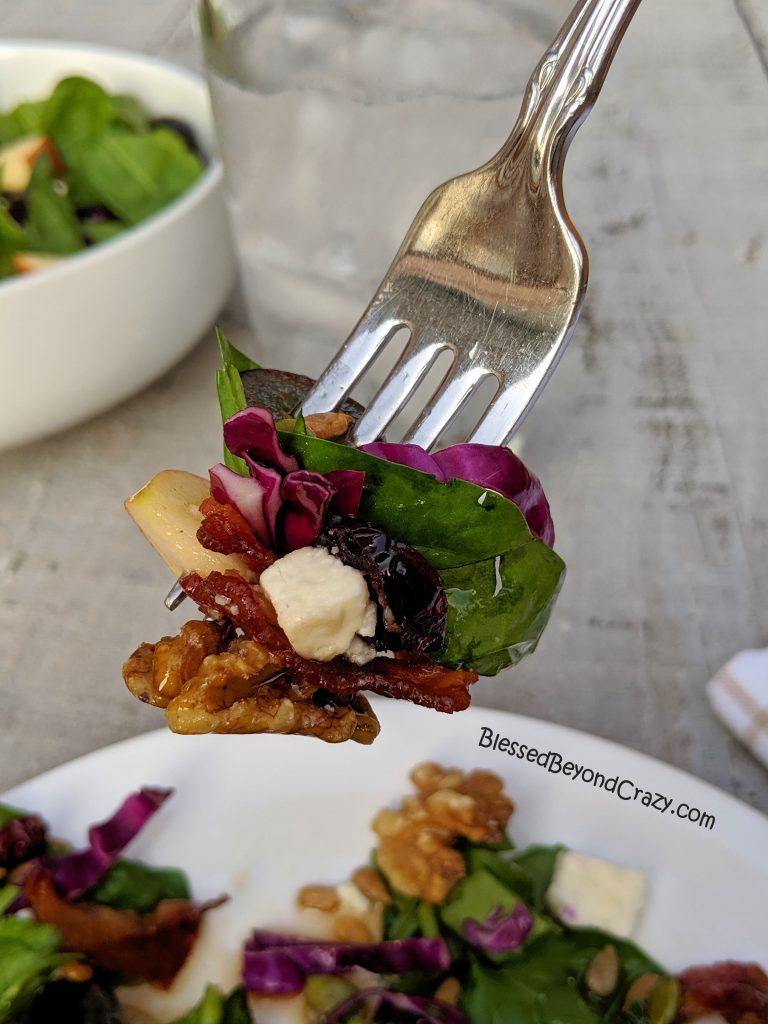 Every bite is heavenly.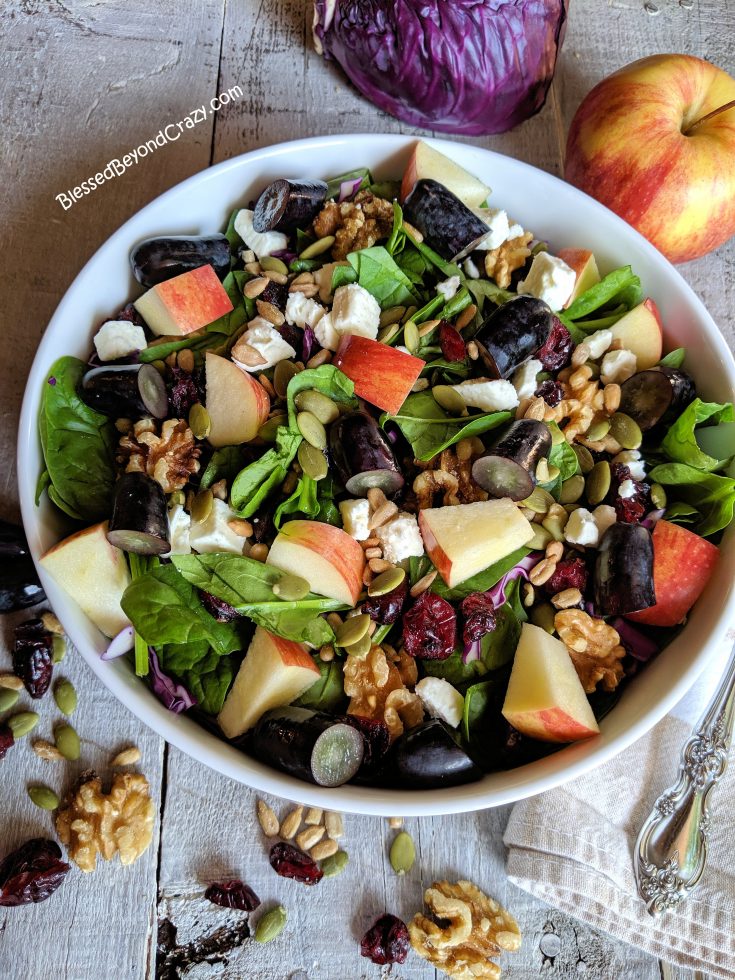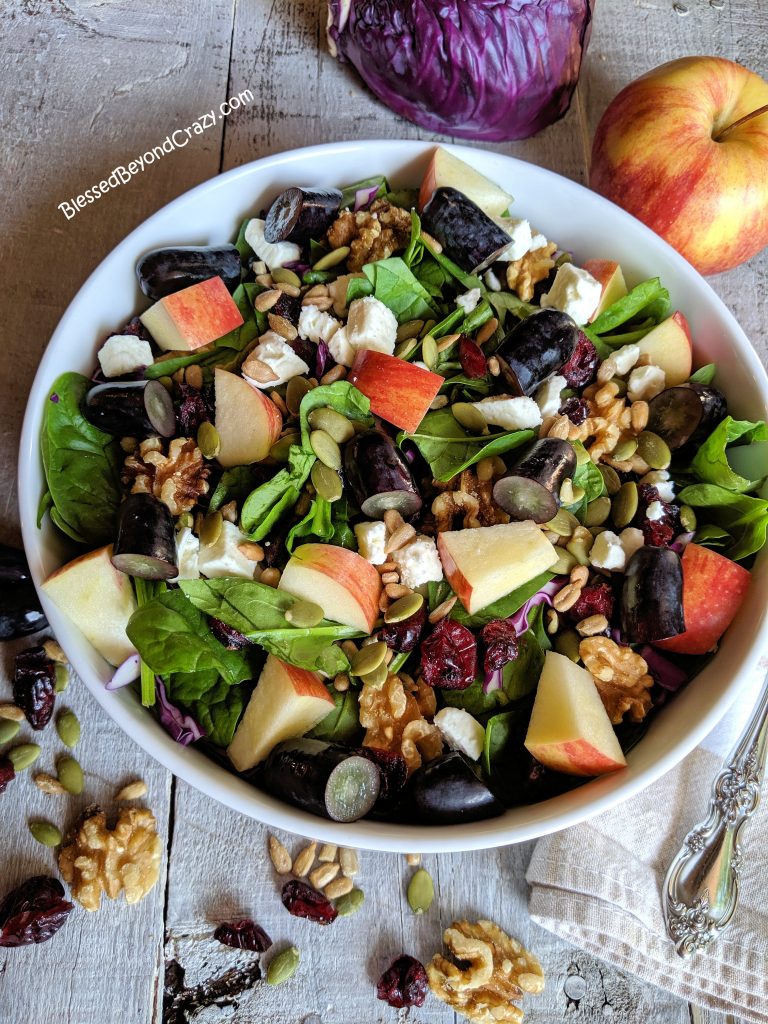 Yield: 4 Servings
Fall Harvest Salad with Hot Bacon Dressing
Prep Time: 15 minutes

Cook Time: 5 minutes

Additional Time: 5 minutes

Total Time: 25 minutes

A delicious naturally gluten-free and rustic salad that's loaded with texture, flavor, and fiber. It's a salad that truly reminds me of harvest-time.
Ingredients
SALAD:
5 to 6 large handfuls of fresh baby spinach, roughly chopped
1/2 cup red cabbage, roughly cut/shredded
1 large Honeycrisp apple, washed, cored and chopped into bite-size chunks
8 Moon Drop black grapes, washed and cut into bite-size chunks
1/2 cup dried cranberries
1/2 cup whole walnuts
1/4 cup shelled sunflower seeds
1/4 cup raw pumpkin seeds
3/4 cup Feta cheese crumbles
DRESSING:
4 - 5 slices bacon (I use gluten/nitrite/preservative-free bacon), cut into large bite-size pieces
1/4 cup sugar (or to taste)
1/2 cup raw unfiltered apple cider vinegar
pinch of sea salt
Instructions
Place all of the salad ingredients in a serving bowl; toss with salad tongs.
Cut bacon into bite-size pieces; place in a medium-size saucepan. Cook over medium-low heat until bacon is brown and slightly crispy. (Do not drain off grease!)
Add sugar; stir until completely dissolved.
Add apple cider vinegar and sea salt; stir. Cook mixture at a low boil for 1 minute. Turn off heat but allow saucepan to remain on a warm burner; stirring occasionally.
Pour warm bacon dressing over salad; toss and serve immediately. NOTE: Unless you plan on consuming the entire salad at one time I suggest pouring the hot bacon dressing over individual servings. Store remaining dressing in a glass jar with a lid in the refrigerator. Reheat when ready to serve.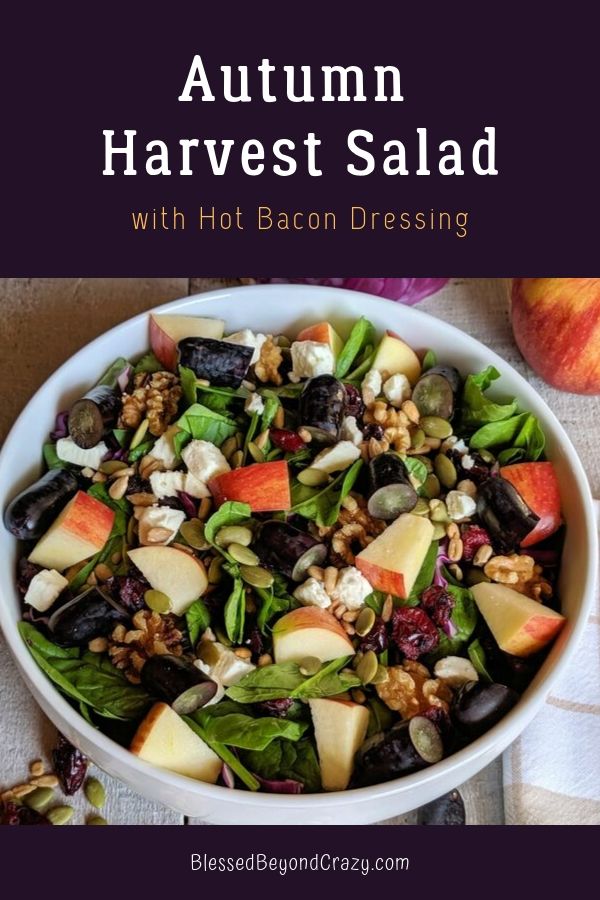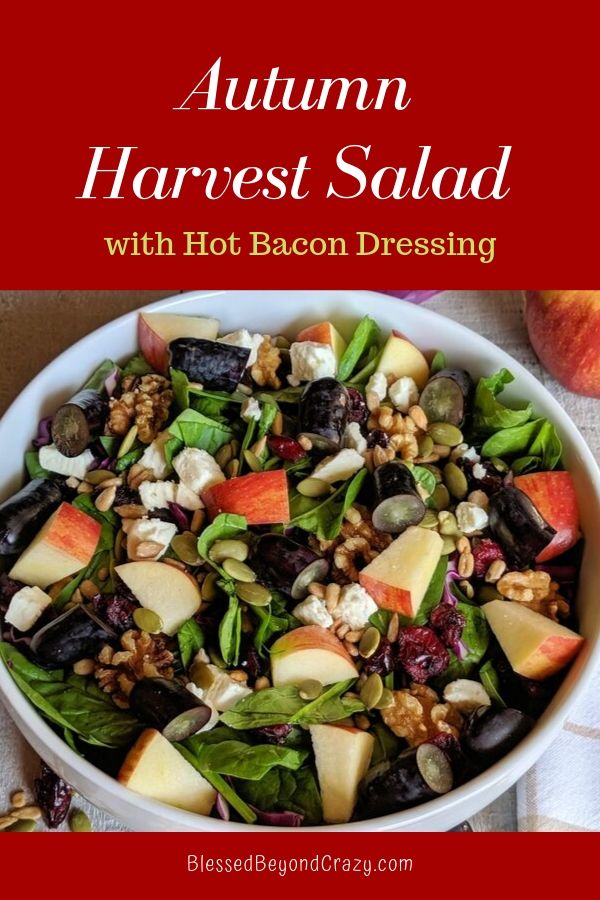 You may not be ready for the Fall season, but with a bowl of Autumn Harvest Salad with Hot Bacon Dressing in hand, I sure am!
Bon Appetit!
Linda
More great ideas: