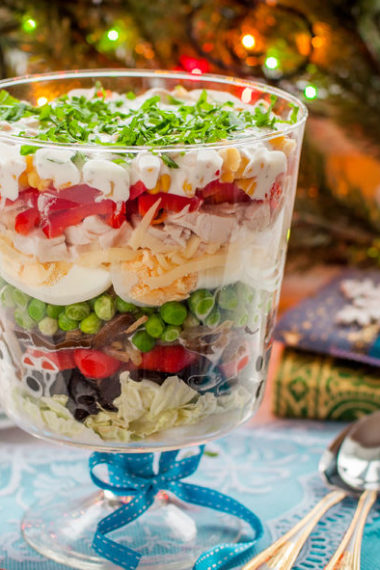 First of all, I think we can all agree that the holidays are an extremely busy time of the year. Therefore an easy, tasty yet stunning dish is always a welcomed addition to the menu. So perhaps you will agree with me that this Christmas Layered Salad fits the bill!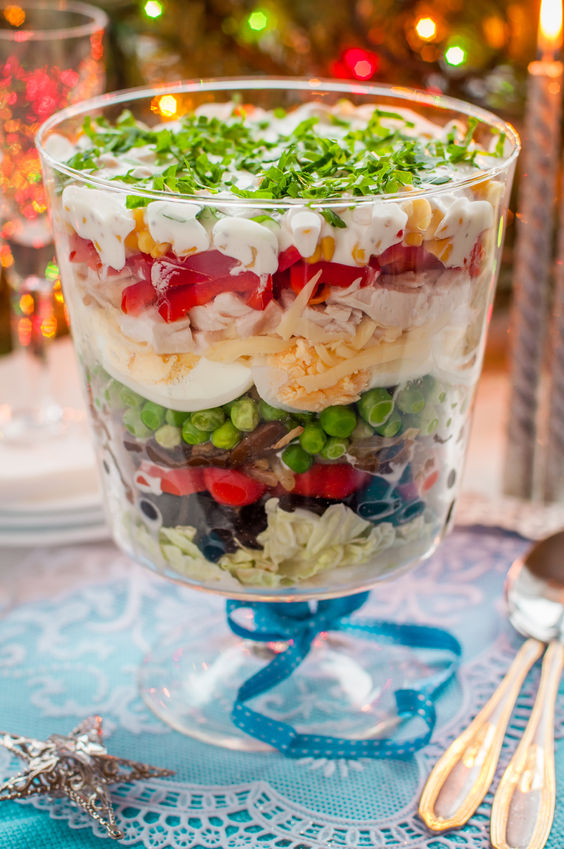 To help support our blogging activities, our site contains affiliate links. If you make a purchase from a link on our site, we may receive a small percentage of that sale, at no extra cost to you. Blessed Beyond Crazy is a participant in the Amazon Services LLC Associates Program, an affiliate advertising program designed to provide a means for sites to earn advertising fees by advertising and linking to amazon.com.
While many people enjoy spending a lot of time baking and preparing for the holidays, this is one recipe that does not require a lot of time. Because this Christmas Layered Salad is a festive and colorful side dish, it's also a perfect side dish for all of your holiday entertaining. Just grab a pretty glass trifle bowl and start layering the ingredients. The amount of each ingredient will obviously vary depending on the size of the trifle bowl.
lettuce

black olives

tomatoes

mushrooms

peas

eggs

cheese

cooked chicken

red peppers

corn

salad dressing
garnish
Garnish Options:
chives

fresh basil

fresh parsley

lettuce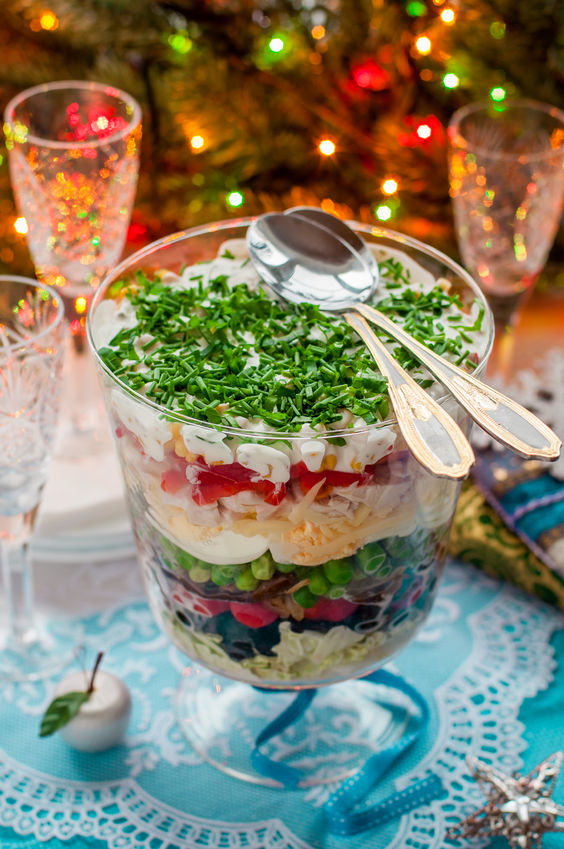 Finally, refrigerate the Christmas Layered Salad for at least one hour before serving. Rather than try to cover all of the salad with dressing, just fill a small glass bowl with additional dressing and serve on the side. Feel free to use your favorite salad dressing although I like Ranch or a creamy Italian salad dressing. In addition, if you need the salad dressing to be gluten-free, be sure to use a gluten-free brand or make your own homemade gluten-free dressing (see recipe below).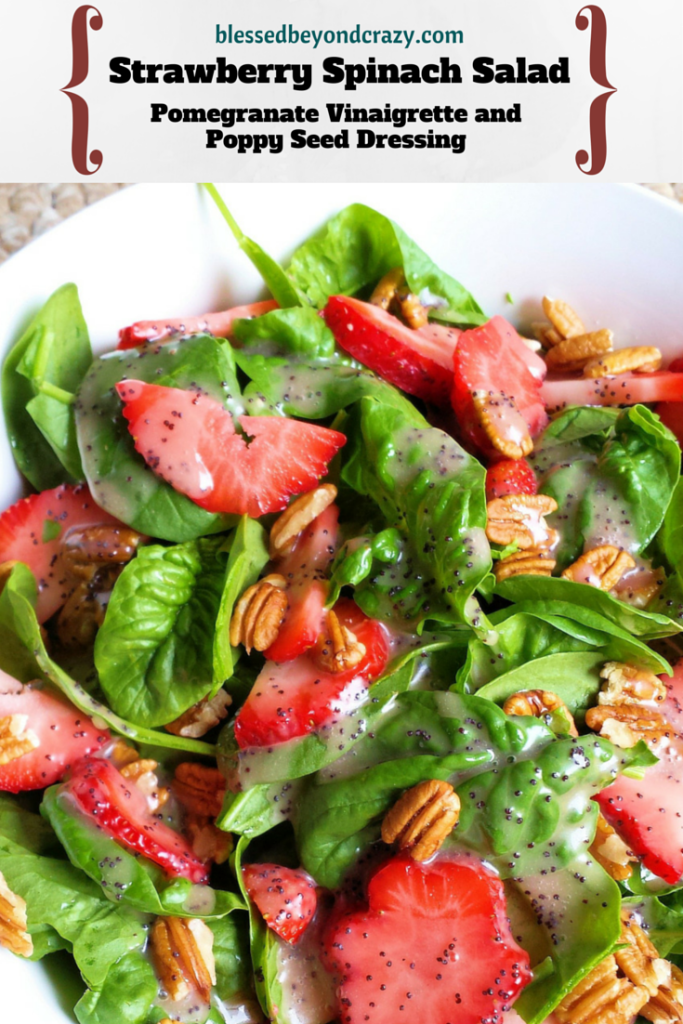 Another fabulous salad is this Strawberry Spinach Salad. It's also healthy, a very pretty salad, and naturally gluten-free. The tasty recipe for homemade Pomegranate Vinaigrette and Poppy Seed Dressing would work great drizzled over the Christmas Layered Salad, plus is gluten-free too! 
A delicious, healthy, and festive salad that's simply perfect for the holidays.
Ingredients
lettuce
black olives
tomatoes
mushrooms
peas
eggs
cheese
cooked chicken
red peppers
corn
salad dressing
Garnish options: chives, basil, parsley or lettuce.
Instructions
Layer all ingredients in a trifle bowl.
Refrigerate for 1 hour before serving.
Serve with additional salad dressing on the side.
*GF Option - use a gluten-free salad dressing. All other ingredients are naturally gluten-free.
Notes
The amount of each ingredient will depend on the size of the trifle bowl that you use.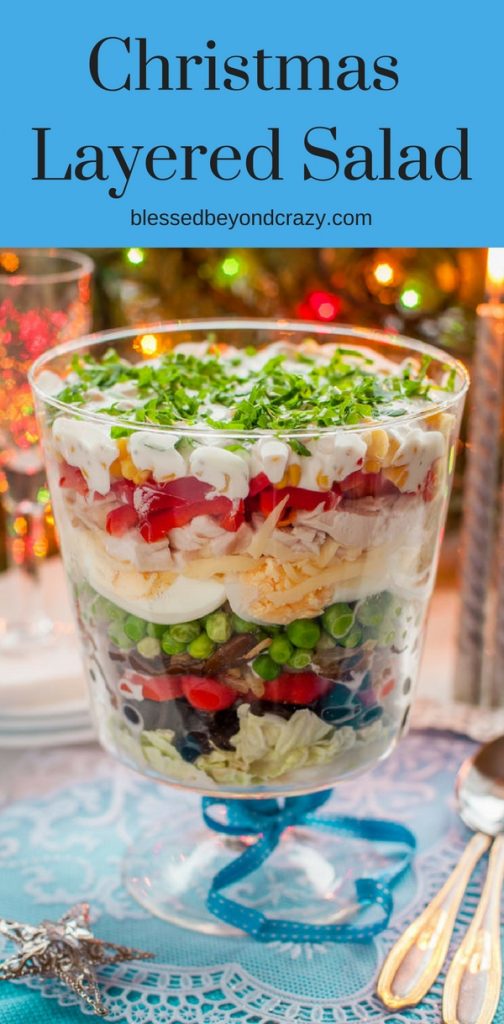 In conclusion, I'm sure you can see how simple this Christmas Layered Salad is to create. It will certainly be a great addition to your food selection this holiday season.
Merry Christmas!!!
Linda
More great recipes: