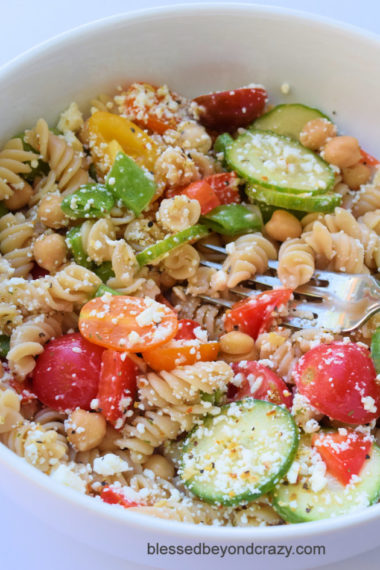 It's summertime and that means that the temperatures have been soaring in my neck of the woods. Today my car thermometer reads 101 degrees. Not a good day to heat up the kitchen! Therefore, I decided it was a great time to make a quick and easy gluten-free pasta salad. 

To help support our blogging activities, our site contains affiliate links. If you make a purchase from a link on our site, we may receive a small percentage of that sale, at no extra cost to you. Blessed Beyond Crazy is a participant in the Amazon Services LLC Associates Program, an affiliate advertising program designed to provide a means for sites to earn advertising fees by advertising and linking to amazon.com.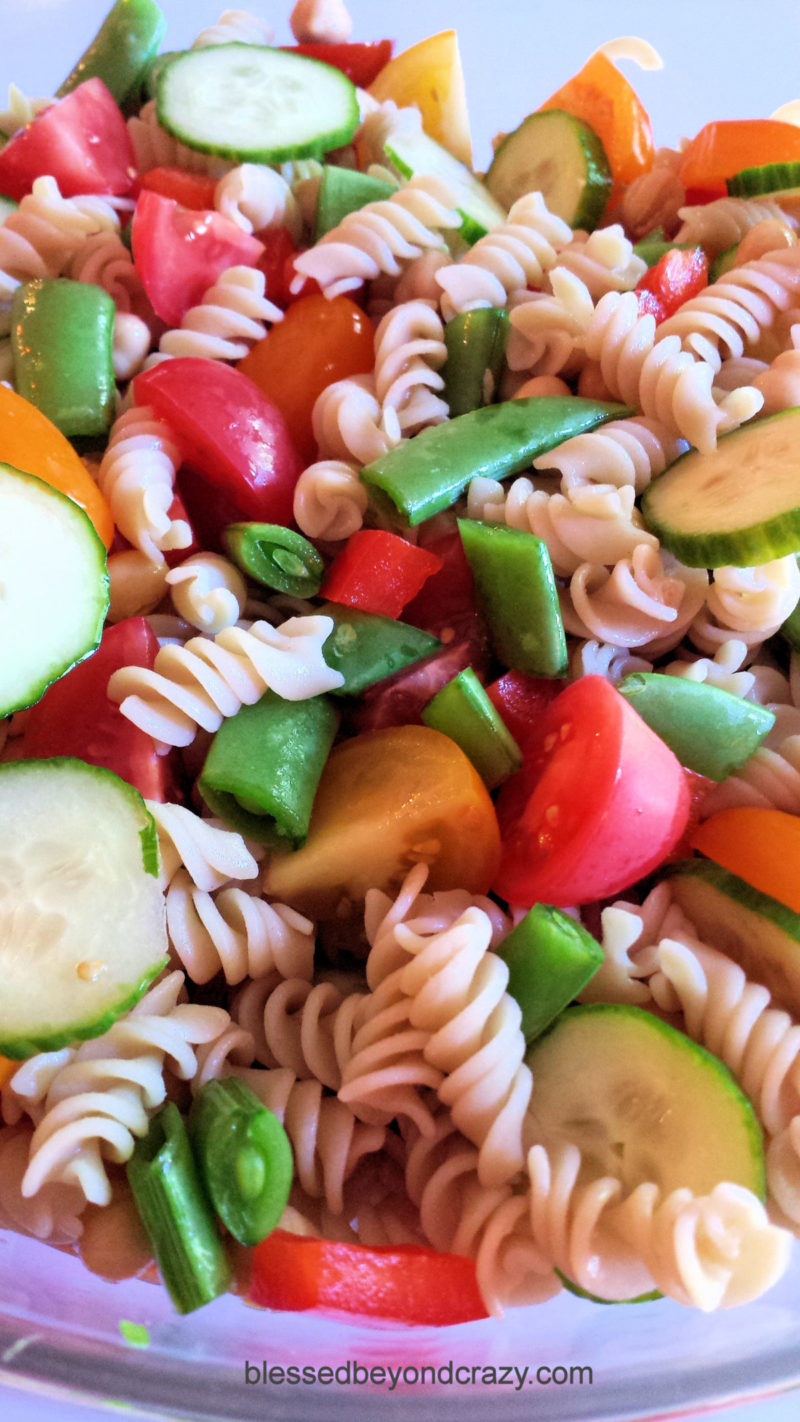 Pantry Supplies
Last week I went on a mission to stock up on some food items for my pantry.
Along with being gluten intolerant, I am also allergic to corn, which is a real bummer. Corn itself does not contain gluten, so brands often use corn as an ingredient when manufacturing their gluten-free products. Therefore, I am always thrilled to find gluten-free products that are not only free of gluten but free from corn as well.
When I stumbled upon a package of gluten-free/corn-free Organic Brown Rice & Quinoa at Aldi's, I had a private party right there in the store aisle! (I actually did a little happy dance!!) This yummy pasta became the basis for this gluten-free pasta salad recipe.

Salad
Next, I began chopping, slicing, and dicing a variety of fresh, organic vegetables to go into this salad. I used fresh cucumbers, a variety of grape tomatoes, red bell peppers, snow peas, and some chickpeas.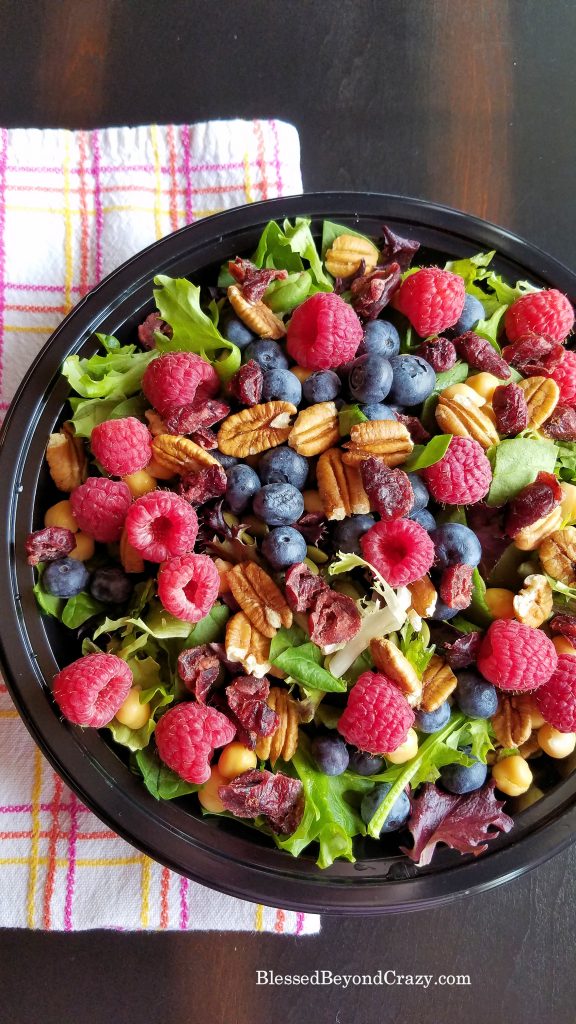 Don't you just love a good salad? I sure do! Some of my favorites are Make-Ahead Healthy Travel Salad, Autumn Harvest Salad with Hot Bacon Dressing, Strawberry Spinach Salad, Go Green Salad, and Gluten-Free Veggie Bacon Feta Salad, (just to name a few).
Pasta
When the pasta was finished cooking (it only takes 7 – 10 minutes to cook), I used my stainless steel colander to drain the pasta, then lightly rinsed the pasta and drained it again. After the pasta noodles were cool I added them to the vegetable medley and tossed everything together.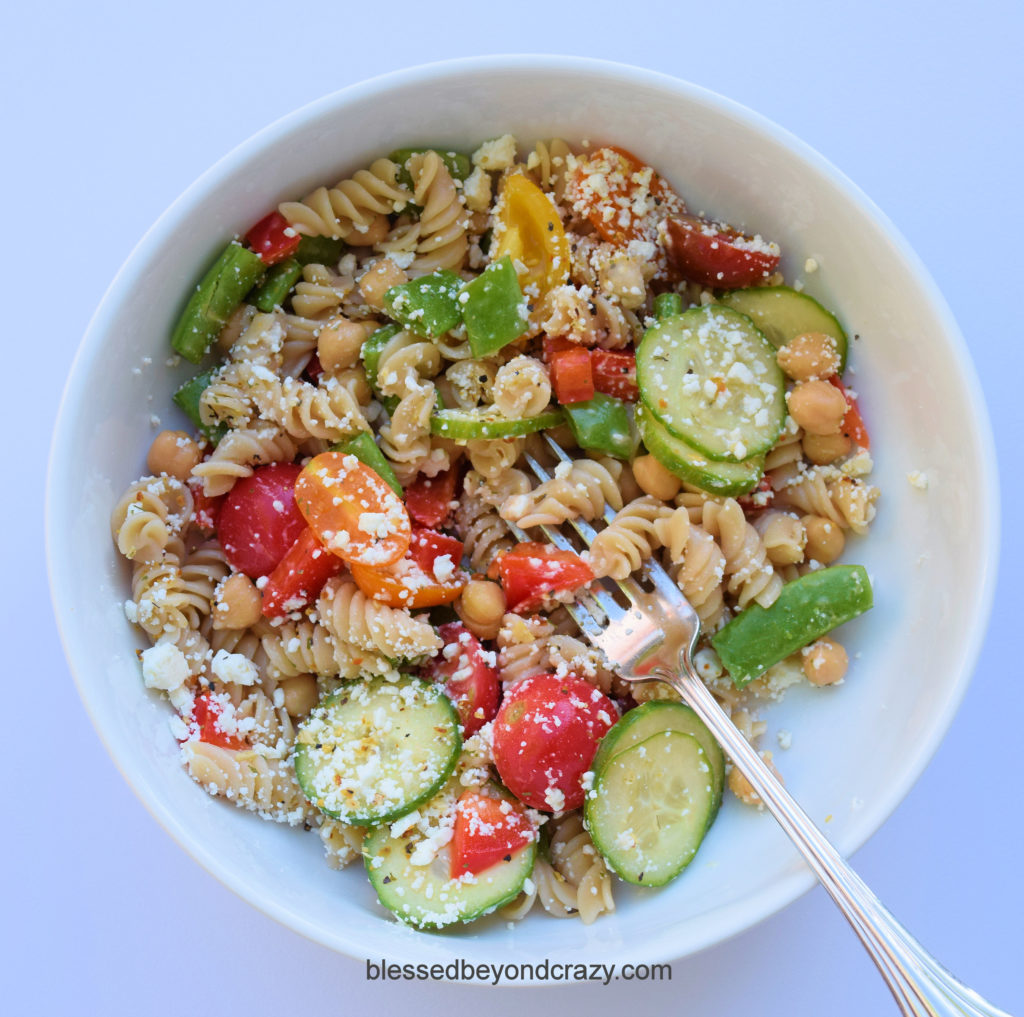 Seasoning
For the final touch, I sprinkled on some Salt-Free Mrs. Dash Seasoning, then lightly tossed the salad again and placed it in the refrigerator to chill. Rather than sprinkling feta cheese at this point, I suggest adding a generous sprinkle right before serving it.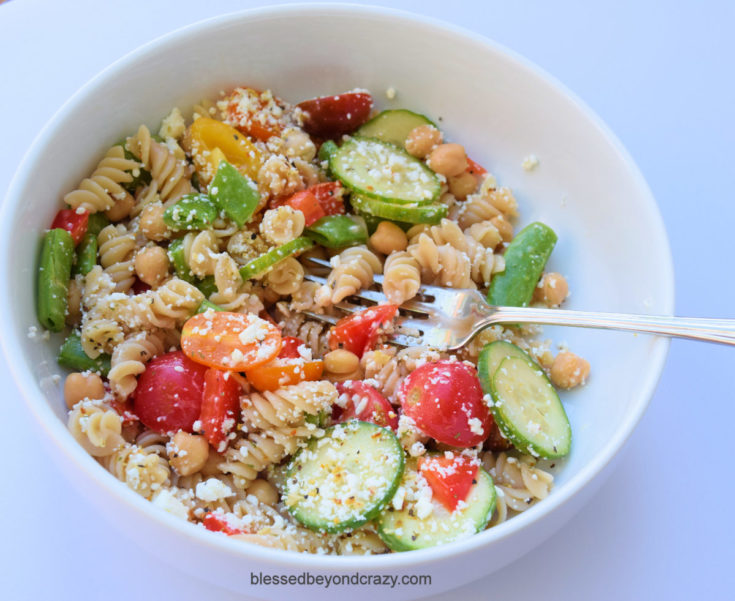 Yield:

Yields Approx. 2 quart
Gluten Free Pasta Salad
A deliciously healthy and filling salad.
Ingredients
1 (16 ounce) package Gluten Free Organic Brown Rice and Quinoa Pasta
1 cup fresh grape tomatoes, cut into
1 cup fresh cucumbers, sliced
1 cup red peppers, diced
1 cup snow peas, diced
1 1/2 chick peas
1 Tablespoon Mrs. Dash Salt Free Original Blend Seasoning
1/2 cup Feta cheese
Optional: 1 cup Gluten Free Hormel Natural Choice Salami, diced
Additional optional ingredients: red onion, yellow and green squash, radishes, carrots, celery, asparagus and fresh mushrooms.
Dressing:
2/3 cup Gluten Free Pompeian Red Wine Vinegar
2/3 cup olive oil
2/3 cup granulated sugar OR 4 - 5 Tablespoons honey
3 teaspoon dry mustard
1 teaspoon salt
Instructions
Cook pasta according to the package directions.
Drain and rinse with cool water. Allow to thoroughly drain.
Wash vegetables and cut, slice, or dice them. Place in a large mixing bowl.
Add chickpeas, and mix well.
Add drained pasta to vegetables.
To make the dressing:
Place red wine vinegar, olive oil, honey, salt, and mustard into the blender. Blend well.
Pour over pasta and vegetables.
Sprinkle Mrs. Dash over the mixture.
Gently toss to coat pasta mixture.
Chill for 1 hour, or overnight.
Right before serving, generously sprinkle feta over pasta salad.
Serve
This gluten-free pasta salad can make a great "meatless" meal, or feel free to add some diced gluten-free Hormel Natural Choice Salami. Either way, this recipe is good.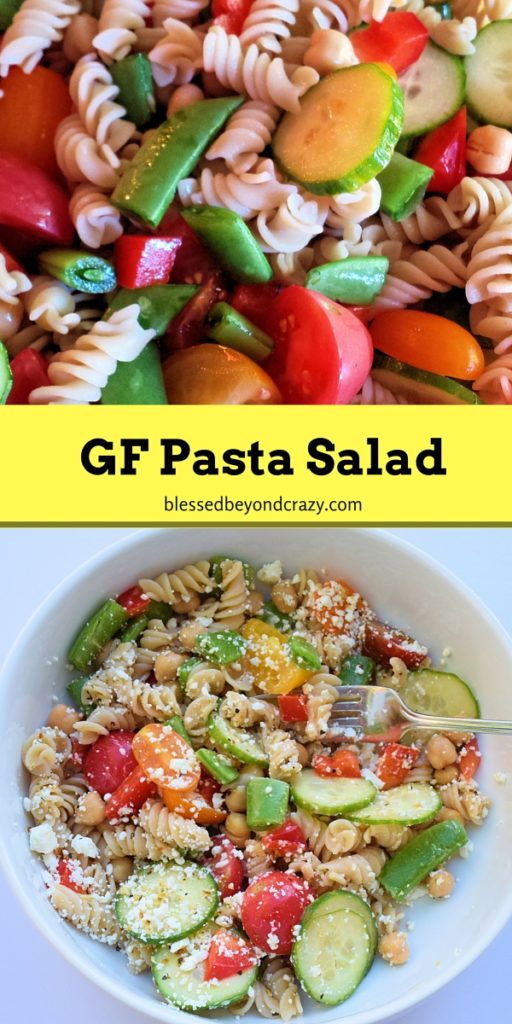 As much as I love a good lettuce salad, I'm always game for a good pasta salad. Excuse me while I grab my bowl and fill it full of this tasty gluten-free pasta salad!
Enjoy!
Linda
More great recipes: