Summer is the perfect time to make frozen desserts, but this No-Bake Frozen Fruit Salad is a great recipe to make any time of the year! This recipe requires only 6 ingredients, it's super easy to make, it's scrumptious, and it is naturally gluten-free! How's that for a win-win!
To help support our blogging activities, our site contains affiliate links. If you make a purchase from a link on our site, we may receive a small percentage of that sale, at no extra cost to you. Blessed Beyond Crazy is a participant in the Amazon Services LLC Associates Program, an affiliate advertising program designed to provide a means for sites to earn advertising fees by advertising and linking to amazon.com.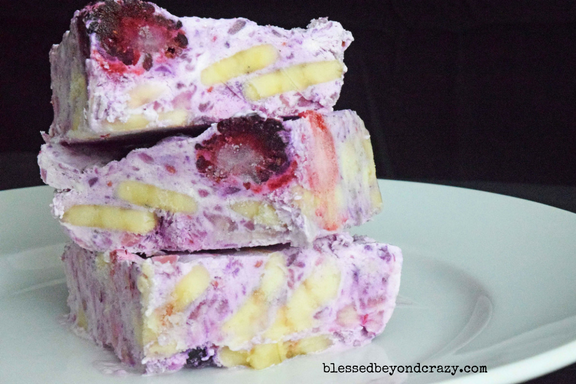 What makes the perfect summer dessert? I would definitely say something that is:
Cool and refreshing.
Full of summer fruit!
Doesn't require heating up the oven! A.K.A no-bake.
Super easy and fast to make!
Another thing that makes this recipe perfect is that it is naturally gluten-free!
That is what makes this Frozen Fruit Salad perfect for summer! Although, honestly my family makes and eats this all year round not just in the summer!
To prove to you just how quick and easy this Frozen Fruit Salad is I have included a short "How To" video. Just whip it up, freeze until firm and it's ready to serve your family and guest.
This Frozen Fruit Salad does not require very many ingredients—only six! The recipe calls for bananas and frozen berries but you could add any fruit you like! My mother-in-law likes to add halved grapes. I think mangos or peaches would be pretty delicious too!
All of these fruits are mixed together to make this a very pretty dessert to serve!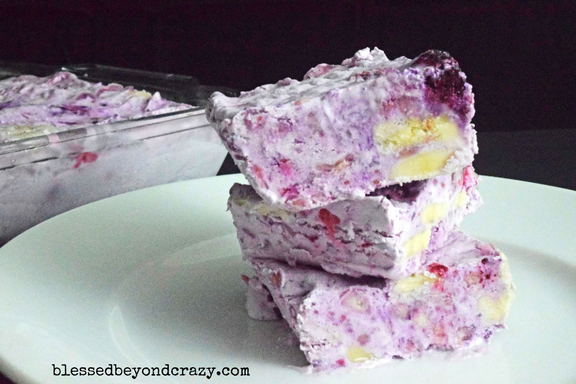 Ingredients:
8 ounces cream cheese, softened
3/4 cup sugar
1 large can of crushed pineapple (20 ounces)
3-4 bananas, sliced
1 bag of frozen berries, or other preferred fruit
8 ounces Cool Whip
Directions:
Using a hand mixer, beat together the softened cream cheese and sugar.
Add crushed pineapple, bananas, and frozen berries. Using a spatula, stir together until well combined.
Fold in Cool Whip.
Pour into a 9 x 13 cake pan. No need to grease your pan.
Cover and freeze overnight.
Cut into squares and enjoy! Depending on your freezer settings you may want to let it sit out for a few minutes to let it soften just a bit before cutting it into squares.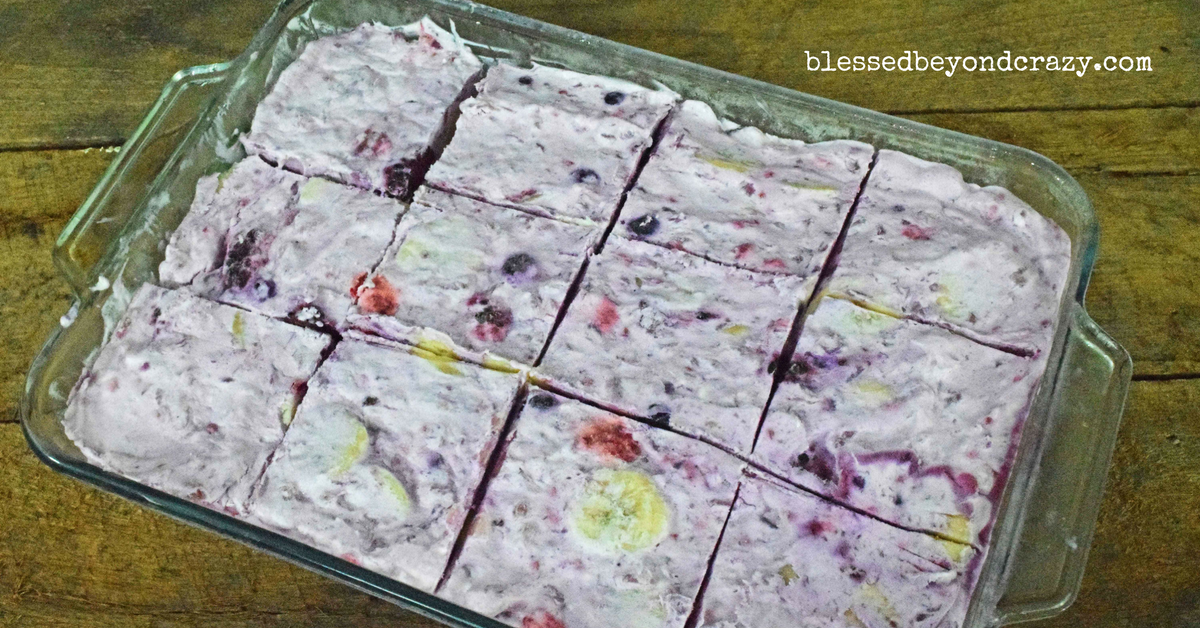 This recipe is super easy to make! As you can see in the video if you know how to stir and mix then you can make this recipe! Because this is such an easy and simple recipe it is a perfect recipe to have your kids jump in the kitchen and help!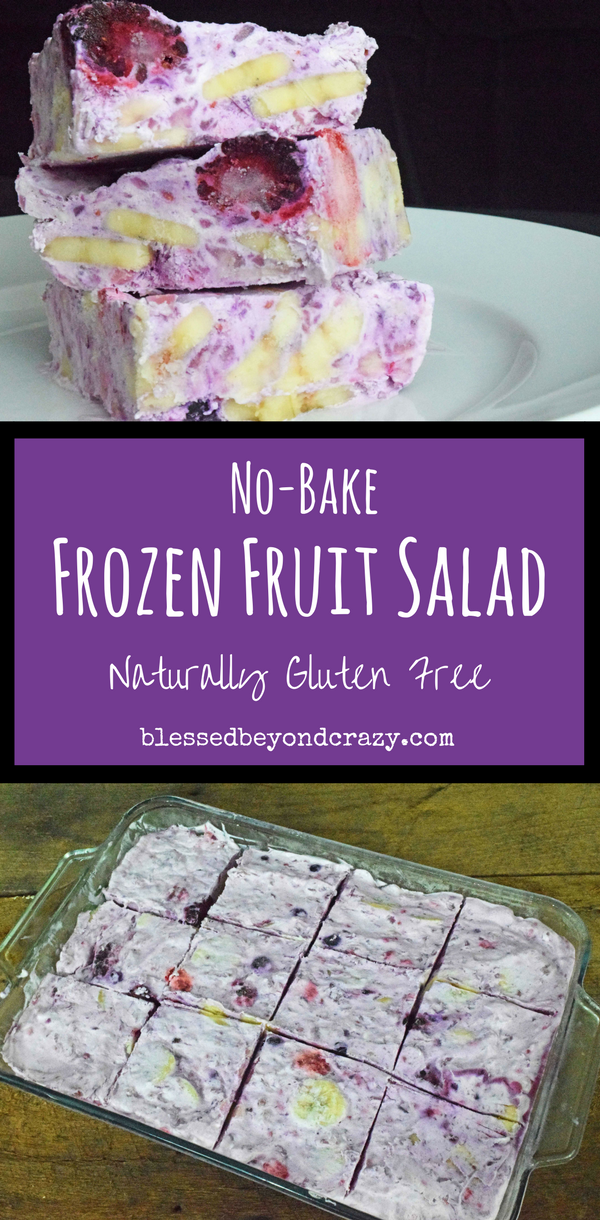 Enjoy!
Anna
Want more frozen summer desserts? Check these out!