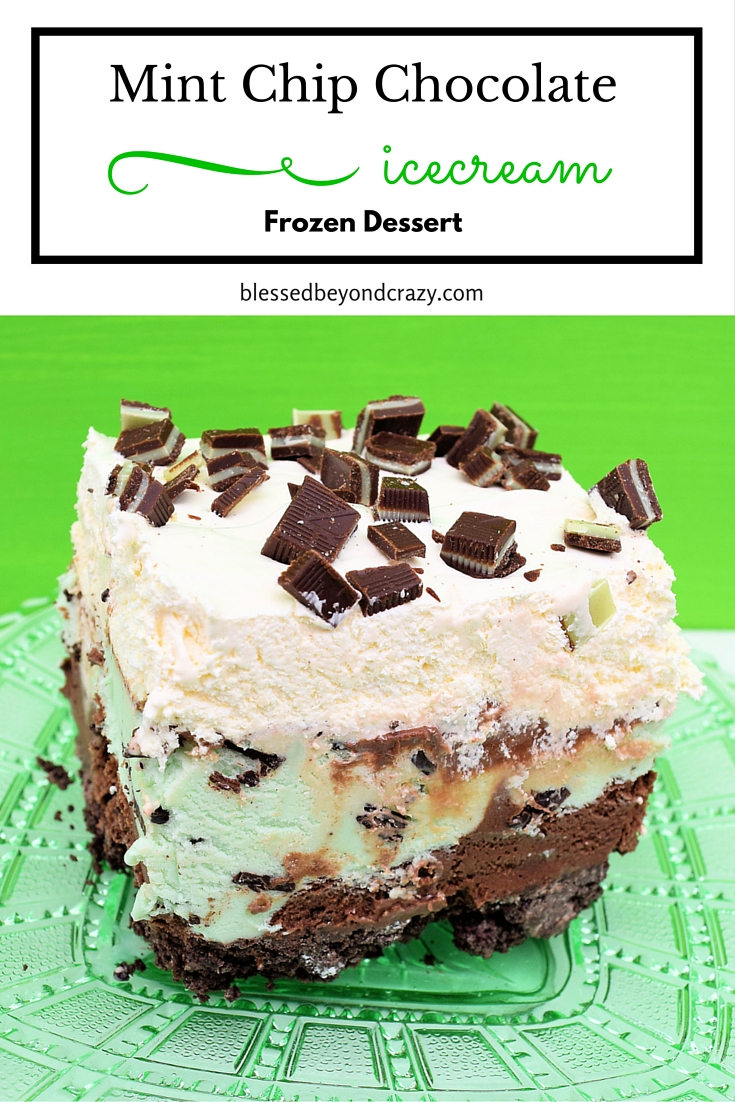 If you are someone who enjoys mint + chocolate + cookies + more chocolate + more mint…. well, you are going to love this Frozen Mint Chip Chocolate Dessert! This recipe is a mint chocolate lover's dream! Yep, and you can also make it gluten-free, so it's a definite win-win!

To help support our blogging activities, our site contains affiliate links. If you make a purchase from a link on our site, we may receive a small percentage of that sale, at no extra cost to you. Blessed Beyond Crazy is a participant in the Amazon Services LLC Associates Program, an affiliate advertising program designed to provide a means for sites to earn advertising fees by advertising and linking to amazon.com.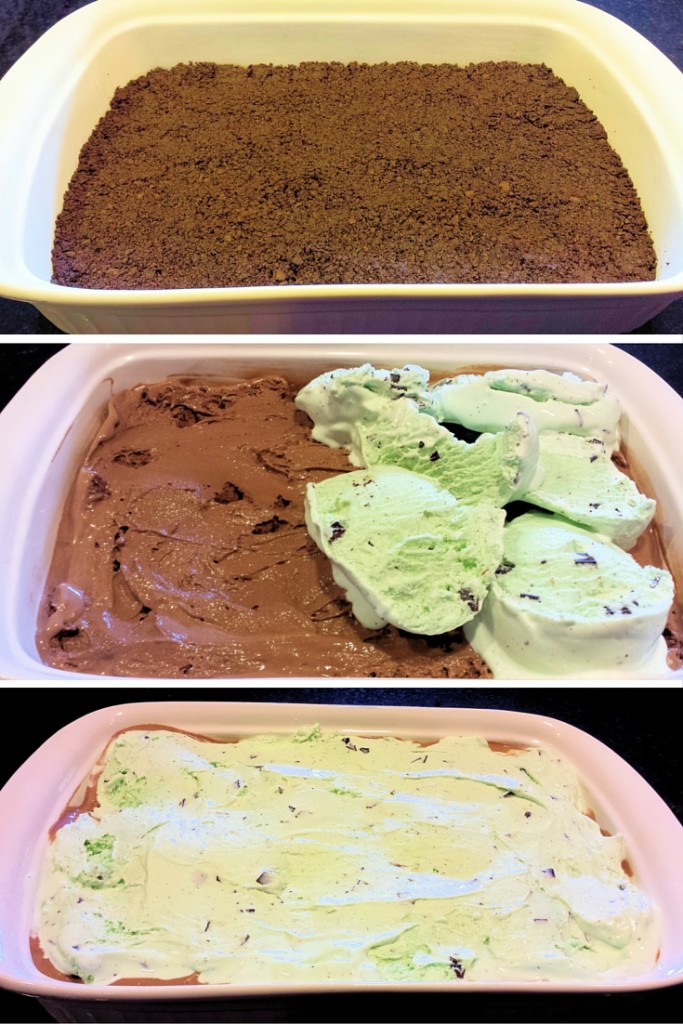 The recipe starts with a bottom crust made from crushed mint chocolate cookies. Next, the crushed cookie layer is topped with a layer of softened chocolate ice cream, then another layer of softened mint chip ice cream.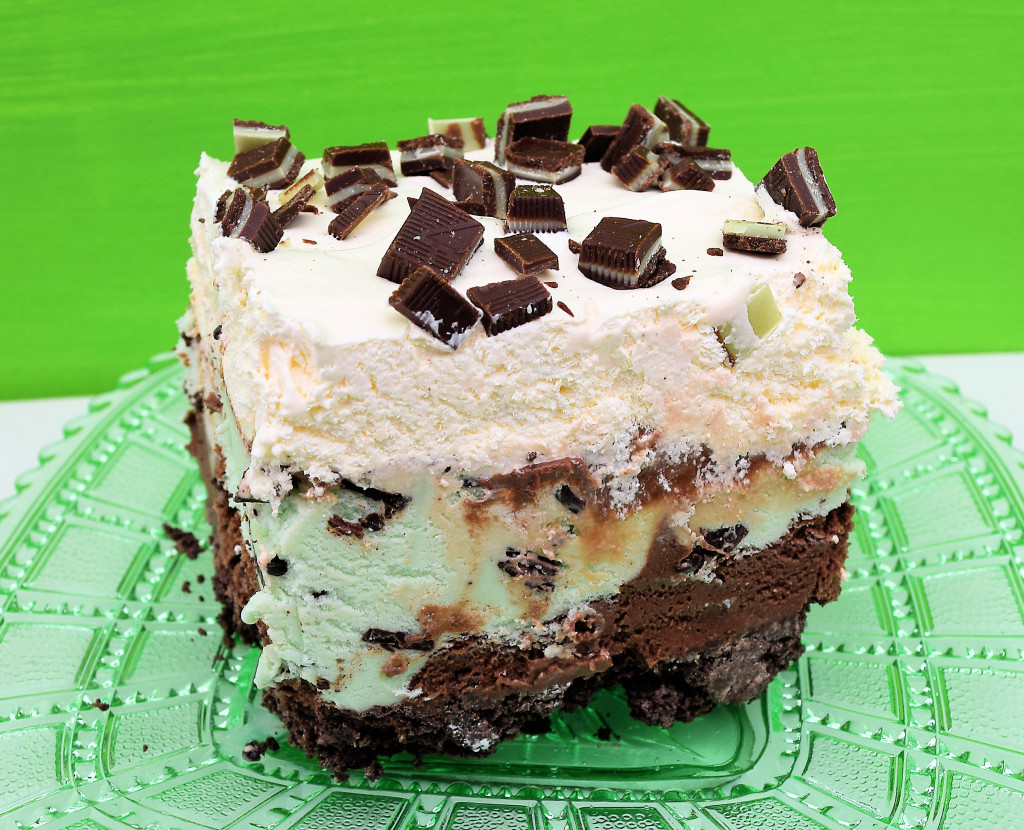 Next comes a layer of hot fudge sauce and a final layer of freshly whipped cream; garnish with chopped Andes Chocolate Candy.
It's always fun to serve delicious desserts on pretty dessert plates. I borrowed pretty vintage dessert plates from my mother. I think the green color in the glass plates goes splendidly with the colors of this dessert!
Frozen Mint Chip Chocolate Dessert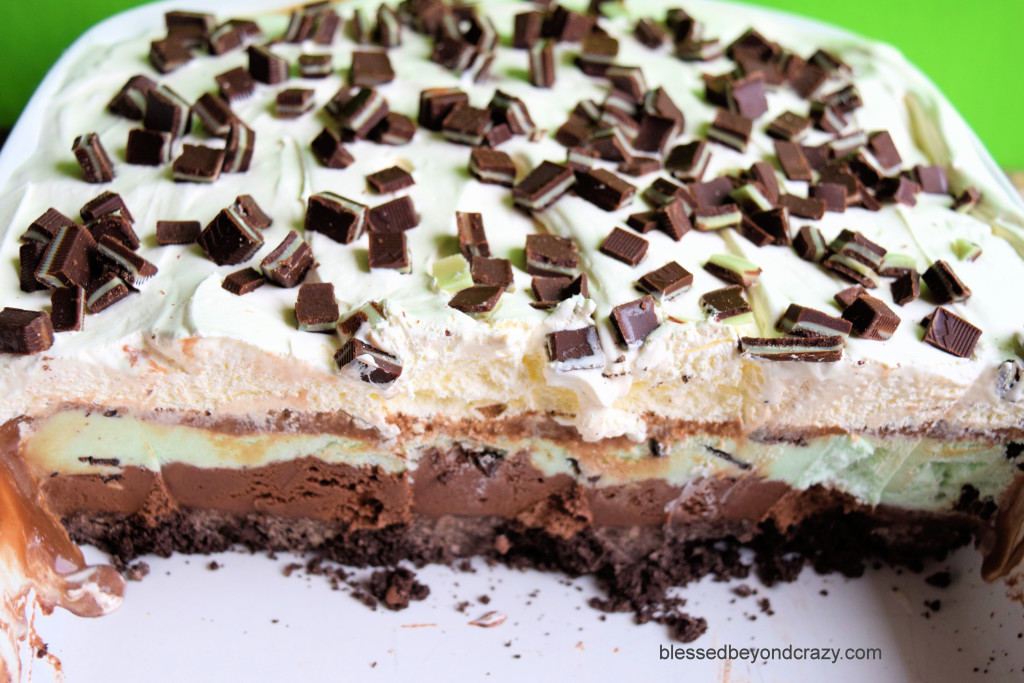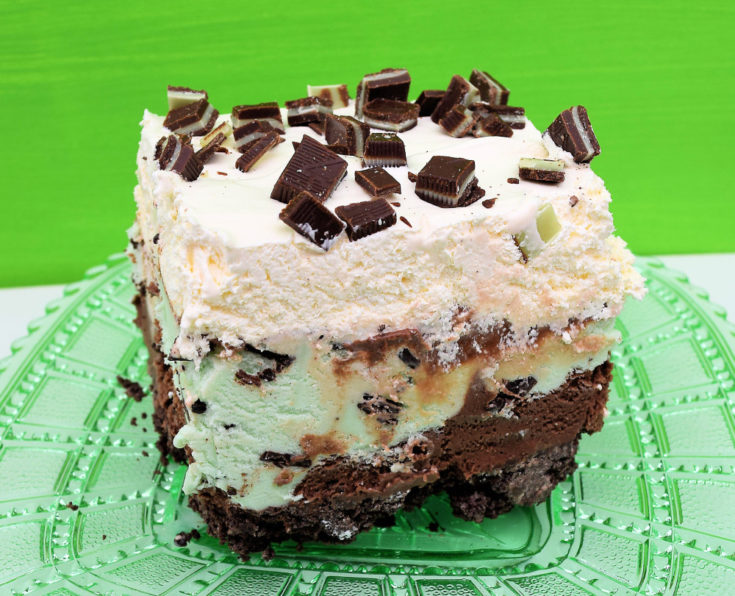 Yield:

Serves approx. 12
Frozen Mint Chip Chocolate Dessert
Ingredients
2 packages (14 ounces, each) mint flavored chocolate cookies (GF version: use a gluten-free brand of cookies)
1/2 cup butter, softened
1 (12.8 ounce) jar hot fudge topping (GF version: use a gluten-free brand)
1/2 gallon chocolate ice cream, softened
1/2 gallon mint chip ice cream, softened
*(GF version: use a gluten-free brand)
1 1/2 cups heavy cream, whipped
1 cup chopped Andes Chocolate Mints (GF Option: use a gluten-free brand of candy)
Instructions
Crush cookies in a food processor. Combine cookie crumbs and butter. Press into a lightly greased 13" by 9" baking dish. Freeze for 30 minutes.
Spread softened chocolate ice cream over the crust and freeze until firm (about 30 minutes).
Spread softened mint chip ice cream over crust and freeze until firm (about another 30 minutes). Drizzle chocolate sauce over top of ice cream.
Whip heavy cream until stiff peaks form; spread on top of frozen dessert. Garnish with chopped Andes Chocolate Mint candies. Freeze until firm, or overnight.
When ready to serve, remove from freezer and allow to set for 5 minutes. Cut and serve.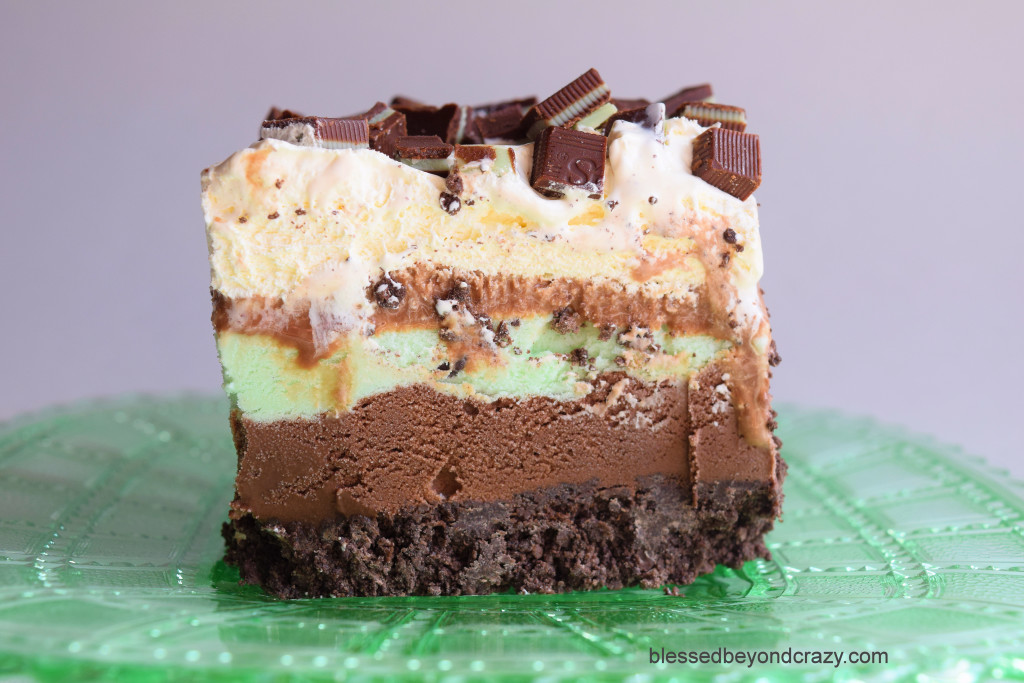 This dessert makes enough for a crowd so it's perfect to serve at a party or for the holidays. (Think St. Patrick's Day!) For smaller parties or gatherings, feel free to divide the recipe in half.

What's your favorite minty dessert?
Linda
More great ice cream recipes: