Looking for an easy dessert? If so, try making a No-Wrap Ice Cream Burrito! Not only is it delicious, but it is also a fun dessert to eat.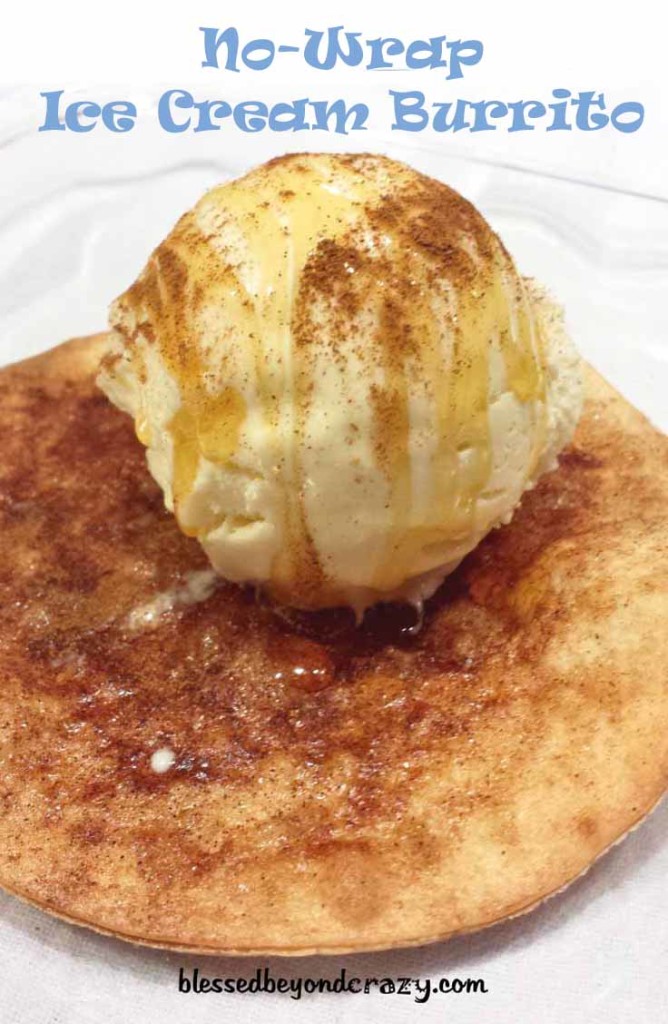 Burrito Wrap
This delicious concoction starts with a simple flour burrito wrap. Since I am on a gluten and corn free diet, I used Udi's GF burrito wraps to make my dessert.
Butter & Cinnamon
Place the burrito wraps on a large cookie sheet, making sure the wraps do not overlap. Brush a thin layer of melted butter over the top and make sure it goes all the way to the ends.
Sprinkle a generous amount of cinnamon and sugar over the top of the butter. Bake in a 350 degree preheated oven for approximately 10 – 15 minutes; or until the burrito wraps turn a golden brown.
Bake
Don't be alarmed when the wraps get a few 'bubbles' in them. This is normal. As the wraps bake, you can pop the 'bubbles' with a toothpick if you like. Remove the wraps from the oven and cool completely.
Cool & Garnish
Add a scoop of your favorite vanilla ice cream, drizzle with honey and top with a dash of ground cinnamon.
Serve
Now comes the fun part! Rather than using a spoon, break off pieces of the baked burrito wrap and use them as a spoon. Adults have almost as much fun as kids scooping-up bite-size portions of ice cream.
Have Fun!
Finally, don't be afraid to get your hands a little messy. A No-Wrap Ice Cream Burrito is meant to be eaten without utensils.
No-Wrap Ice Cream Burritos are probably one of the easiest desserts to make. It also seems like a perfect dessert for a sleepover!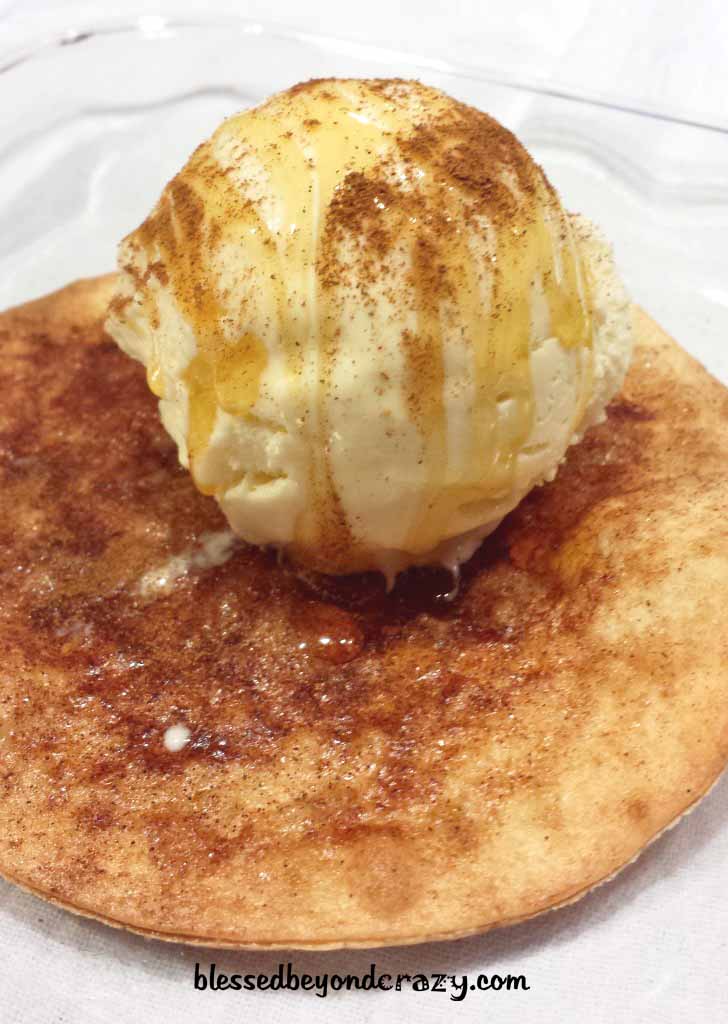 Additional topping ideas:
Coffee flavored ice cream with chocolate and/or caramel drizzle.

Strawberry ice cream with whipped topping and fresh chopped strawberries.

C

hocolate ice cream with caramel drizzle, chopped nuts and/or heath bits.
Another great idea is to turn the wraps into "nacho" chips first.
Use your imagination. What would you add to your No-Wrap Ice Cream Burrito?
Have fun making this quick and easy dessert.
Enjoy!
Linda
More great ideas: