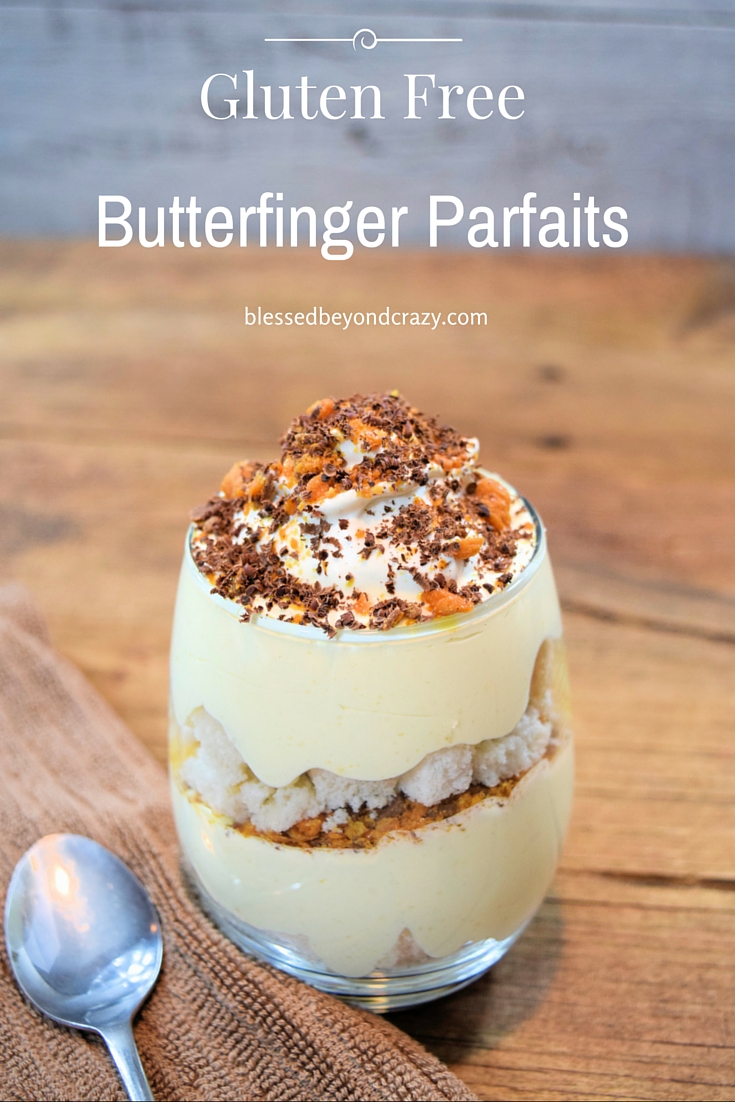 It's interesting to me that all of my grandchildren seem to love Butterfinger candy bars. Oftentimes, when they come for a visit they ask me if they can top their ice cream with Butterfinger crumbles. Maybe that's just one reason why Gluten-Free Butterfinger Parfaits were born.

---
To help support our blogging activities, our site contains affiliate links. If you make a purchase from a link on our site, we may receive a small percentage of that sale, at no extra cost to you. Blessed Beyond Crazy is a participant in the Amazon Services LLC Associates Program, an affiliate advertising program designed to provide a means for sites to earn advertising fees by advertising and linking to amazon.com.
A couple of weeks ago, I hosted a birthday party for my mother who turned 83. I served a light lunch consisting of sandwiches, chips, a veggie tray, a fruit tray, and a fresh strawberry spinach salad to our guests. For dessert, I served an angel food cake and ice cream.
Since several guests must be on a gluten-free diet (myself included), I made an additional gluten-free angel food cake. I froze the remaining leftover angel food cake, until last night… when I decided to make these delicious Gluten-Free Butterfinger Parfaits!
NOTE: Disclaimer: Manufacturers formulations and policies may change at any time, therefore it's important to always read product labels yourself and contact the manufacturer with concerns. We have found that most companies are eager to help answer your questions.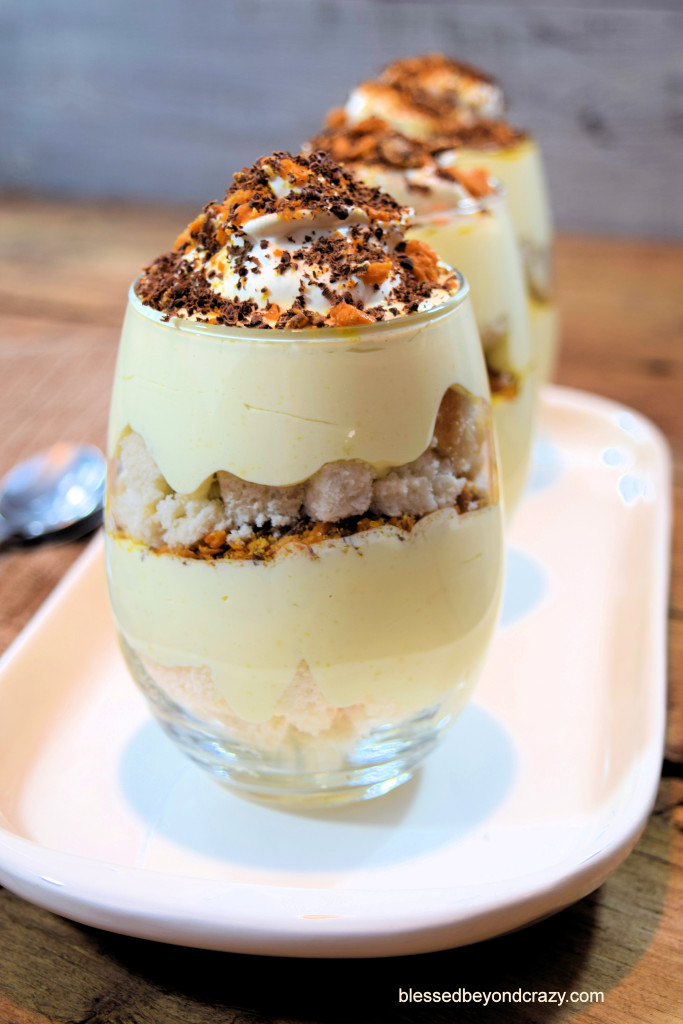 Gluten-Free Butterfinger Parfaits are fun to make and fun to eat!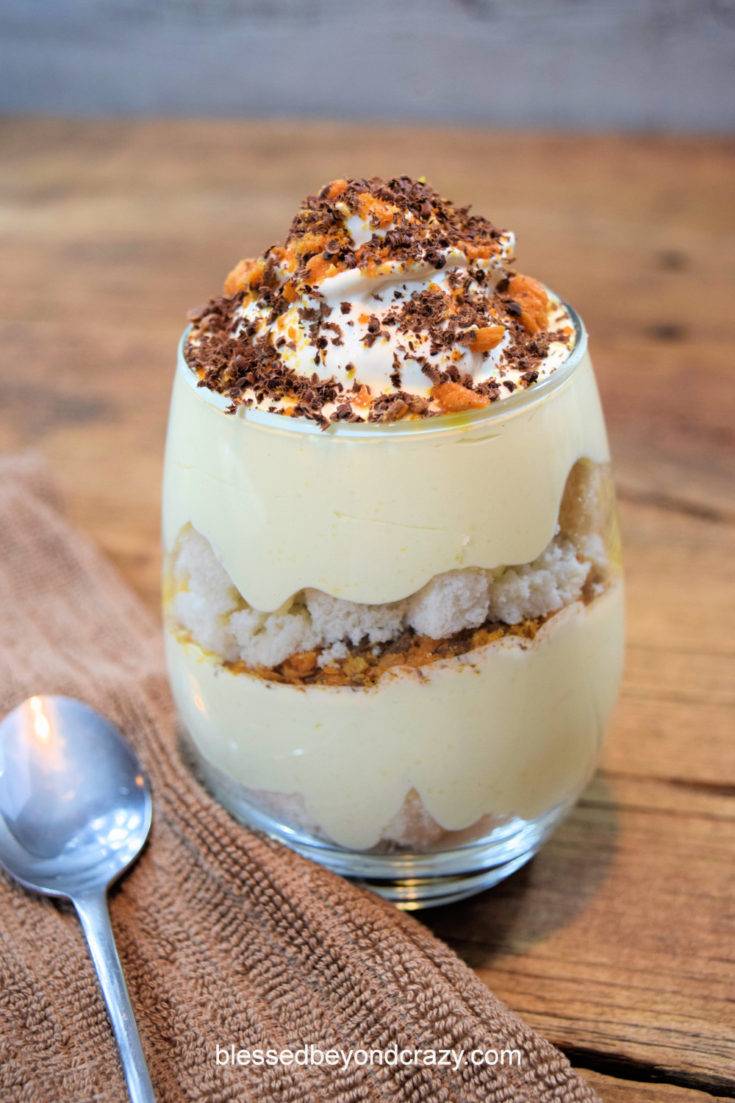 Yield:

Yields 6 parfaits
Gluten Free Butterfinger Parfaits
Ingredients
1 1/2 cups cold 2% milk
1 package (1 ounce) gluten free instant vanilla pudding mix
8 ounce heavy cream, whipped
6 - 7 cups prepared gluten free angel food cake, cut into bite-size chunks (*I personally like Kinnikinnick Gluten Free Angel Food)
1 - 2 large Butterfinger candy bars, crushed
Optional: finely grated unsweetened dark chocolate
Instructions
In a large bowl, whisk milk and pudding mix for 2 minutes. Let stand for 2 minutes, or until soft-set.
Whip heavy cream until stiff peaks form.
Fold whipped cream into pudding.
Place a layer of cake cubes in the bottom of 6 parfait glasses, then a layer of pudding, topped with crushed candy bars.
Repeat the layering process.
Garnish with a dollop of whipped cream, crushed Butterfinger candy bars, and finely grated unsweetened dark chocolate.
Cover and refrigerate for at least 2 hours before serving.
Yields 6 parfaits.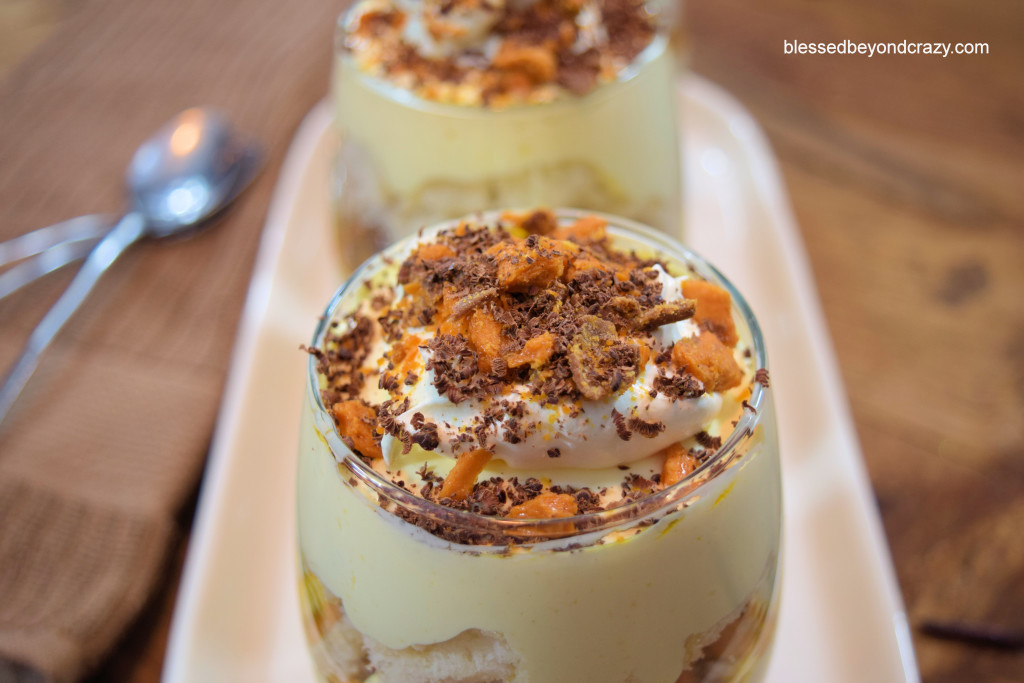 Last weekend we had a sleepover with some of our grandchildren. I served these parfaits for dessert and boy they were a hit! When my daughter and son-in-law came to pick up the kids, I had two parfaits left. I asked Anna and Seth if they would like to try them, and they both loved them as well.
As a matter of fact, Seth asked told me I should blog about these parfaits. Since I received two thumbs up from my grandchildren AND my daughter and son-in-law, that makes this recipe a double winner!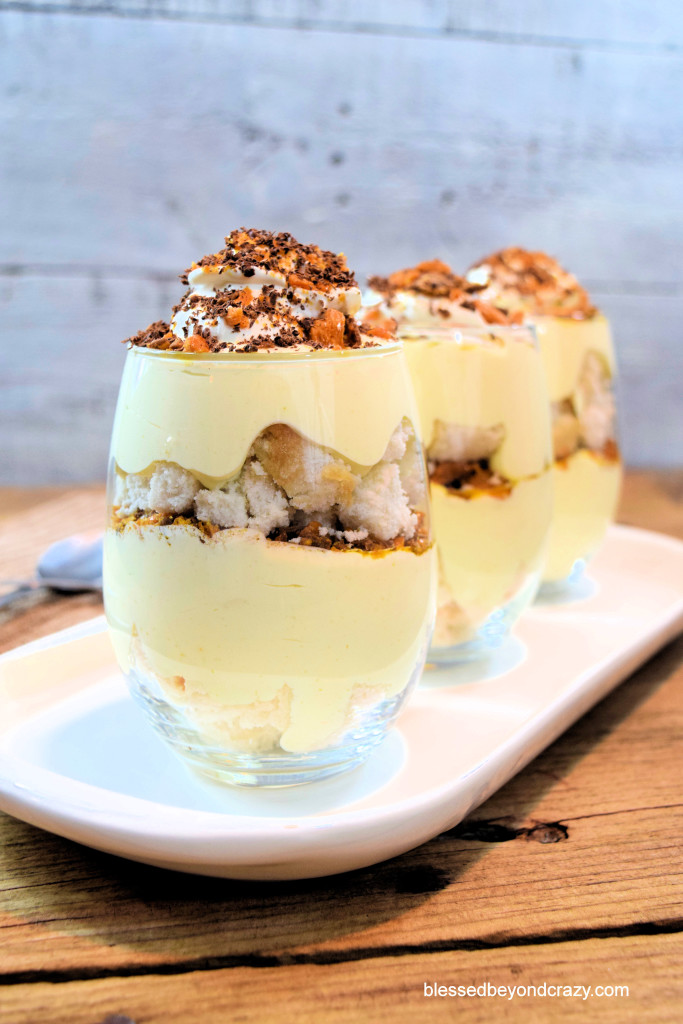 These parfaits are light and creamy and the individual portion size is perfect.

Don't you just love an easy no-bake dessert, especially on a hot summer day? You can also get creative and use other gluten-free candy bars in place of the Butterfingers. I always think it's fun having options. 🙂
I hope that you enjoy these yummy parfaits as much as my family does.
Linda
More great ideas: