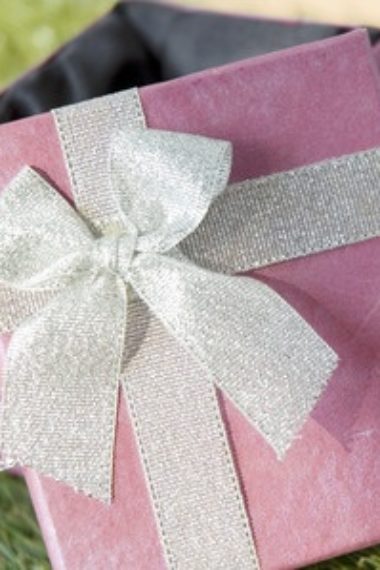 It's not too early to think about a special gift for Mom. In today's post, we are featuring a great selection of Mother's Day Gifts She'll Love! 
To help support our blogging activities, our site contains affiliate links. If you make a purchase from a link on our site, we may receive a small percentage of that sale, at no extra cost to you. Blessed Beyond Crazy is a participant in the Amazon Services LLC Associates Program, an affiliate advertising program designed to provide a means for sites to earn advertising fees by advertising and linking to amazon.com.
Just for Mom, three of the most darling little pears she'll ever lay eyes on. Hand stamped with words and made of polymer clay, painted, and finished with a coat of high-quality clear varnish. Mom can line them up on her mantle, a window sill, on her desk, or just about anywhere for instant cuteness. She will instantly fall in love with these handmade sculptured pears.
After a long day, Mom can slip into a toasty warm bubble bath with this bamboo bathtub shelf. She can have her favorite book, an e-reader, wine glass, cell phone, or whatever else she would like to keep in easy reach without fear that it'll actually fall into the tub. The extendable arms ensure a snug fit so that this bathtub caddy with reading rack doesn't slide or slip. It's the ultimate Bamboo Bathtub Caddy.
Give Mom a gift of 100% natural African Black Soap by Better Shea Butter (handmade according to African tradition). Just one 1 pound block will last for months and can be used as a face wash, body wash or shampoo. Contains unrefined Shea Butter that leaves skin soft and moisturized. When used regularly, it helps reduce acne, redness, and eczema.
For the new Mommy! A personalized aluminum ring with the baby's name, a heart, and a date hand-stamped (You can also have it without the heart). The letters/symbols are etched into the metal by striking a hammer on steel stamps to leave a permanent indentation. While similar to engraving, metal stamping leaves a much deeper groove, which is then filled in with black permanent ink (it's not just "written on"). Read more about the New Mommy Ring.
Help Mom relax in her own backyard with this fun, unique and comfortable outdoor swinging lounge chair. Built from thick brown meshed wicker and complete with cushions, this Thompson swinging chair will make Mom's day… any day!
Have some fun and remind Mom that you are her favorite child with this Mom's Best Coffee Mug.
This unique salt lamp is made from natural Himalayan salt crystals. Heating the salt with the included 25-watt bulb releases negative ions into the air. This creates an effect similar to an ionizer, purifying the surrounding air. Mom will simply love this Himalayan Natural Air Purifying Salt Lamp.
Give Mom a gift of Swiss gold! A box of assorted Swiss gourmet chocolate pralines, made from exquisite milk or dark chocolate and blended with the finest almonds and hazelnuts. Goldkenn Fine Swiss Chocolate will be sure to put a smile on her face.
If Mom likes to cook, then she'll love this beautiful set of aqua blue ceramic mason jar-themed kitchenware: including measuring cups, measuring spoons, and spoon rest. This chic Mason Jar Ceramic Kitchenware set captures the look of vintage mason jars with stylish embossing while still performing necessary kitchen functions.
Help Mom enjoy her morning coffee or favorite beverage. These cute cat mugs make a great novelty gift, especially if she is a cat lover!
Mom will treasure this "LOVE YOU MOM" vintage silver plated Hand Stamped Vintage Coffee Spoon. She will be reminded of your love for her every time she uses this charming spoon.
Help Mom keep her youthful glow with this 100% Natural Sponge + 100% Coloring & Additive Free + 100% Biodegradable + Naturally Sustainable, Vegan, PETA, Leaping Bunny (cruelty-free) and Halal certified sponge. It gently exfoliates skin & cleanses pores, promotes skin cell growth, eliminates blackhead, dirt & oil and helps prevent blemishes. Read more about this Konjac All Natural Sponge with Activated Bamboo Charcoal.
Now, Mom can organize her cosmetics and accessories with a handy dandy Cosmetic Organizing Carousel. The Lazy Susan base rotates 360 degrees so she can easily find the item she's looking for.
Mom will adore a 100% cotton, screen print Indian Mandala Boho Tapestry Throw. This beautiful throw can be used as a wall hanging, tablecloth, beach throw, cover-up, or window curtain.
Mom can create a relaxing environment with this ultrasonic Aromatherapy Essential Oil Diffuser. It is whisper-quiet and diffuses aroma oil creating a relaxing and lovely aromatic environment. Features 4 timer and 2 mist options, auto shut-off. Each color is adjustable between bright and dim.
If Mom likes to travel, then she will love this elegant, yet powerful 10x magnification Compact Glass Mirror. It's perfect to carry in her purse or luggage and comes in handy when applying makeup or tweezing eyebrows.
Let her know that you are thankful that she's your Mom with this darling rustic jute throw pillow case.

Create an exquisite spa experience for Mom in her own bathroom with a Luxury Bath Pillow (eye mask included). She can rest her head, neck, and shoulders on the pillow and find relief from stress, tight muscles, and/or chronic pain associated with fibromyalgia and occipital neuralgia.
Don't forget Grandma!!! She'll be sure to love this charming "Only the Best Moms get promoted to GRANDMA" Coffee Mug. Fill it full of her favorite chocolates or a bag of her favorite coffee/herbal tea.
Help your Mother, grandmother, your wife, aunt, sister, etc… feel extra special and loved this Mother's Day. Fill a NoteCube with loving notes for that special someone to cherish. Visit NoteCube
We hope that your Mother feels extra special and extra loved this Mother's Day!
Linda
More great ideas: