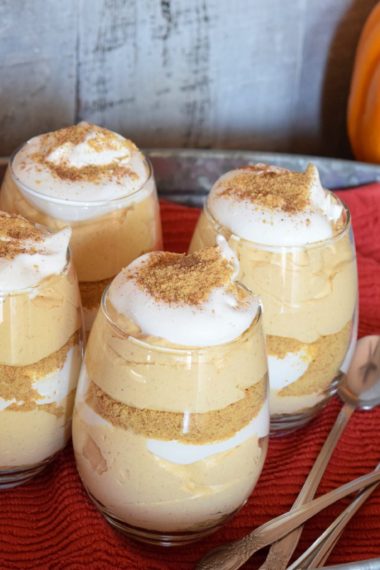 As soon as autumn arrives, my mind naturally starts to focus on all things pumpkin. Therefore, today I'd like to share a yummy pumpkin recipe with you. Pumpkin Mousse Parfaits have a creamy and light texture and are loaded with delicious pumpkin spice. Because these scrumptious parfaits are extremely easy to make, they are the perfect dessert to make on a busy day.

To help support our blogging activities, our site contains affiliate links. If you make a purchase from a link on our site, we may receive a small percentage of that sale, at no extra cost to you. Blessed Beyond Crazy is a participant in the Amazon Services LLC Associates Program. (An affiliate advertising program designed to provide a means for sites to earn advertising fees by advertising and linking to amazon.com.)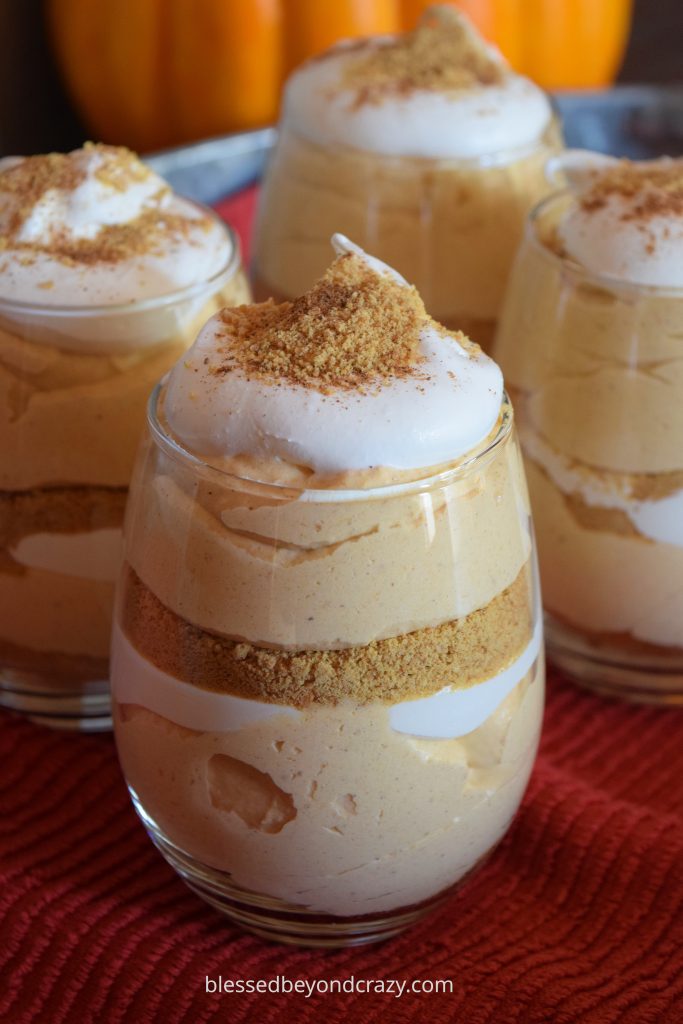 Gluten-Free Option!
Need a gluten-free dessert option this Thanksgiving for your gluten-free guests? You guessed it! Simply tweak Pumpkin Mousse Parfaits to be gluten-free (see the recipe for details)!
Delicious Breakfast Parfaits
I personally love it when I can make a tasty treat ahead of time. Since the holidays are super busy, 7 Healthy Overnight Breakfast Parfaits may be just what you need to start the day. These delicious parfaits can also be modified to be gluten-free, paleo, vegan, and vegetarian and make a nice little addition to breakfast for overnight guests.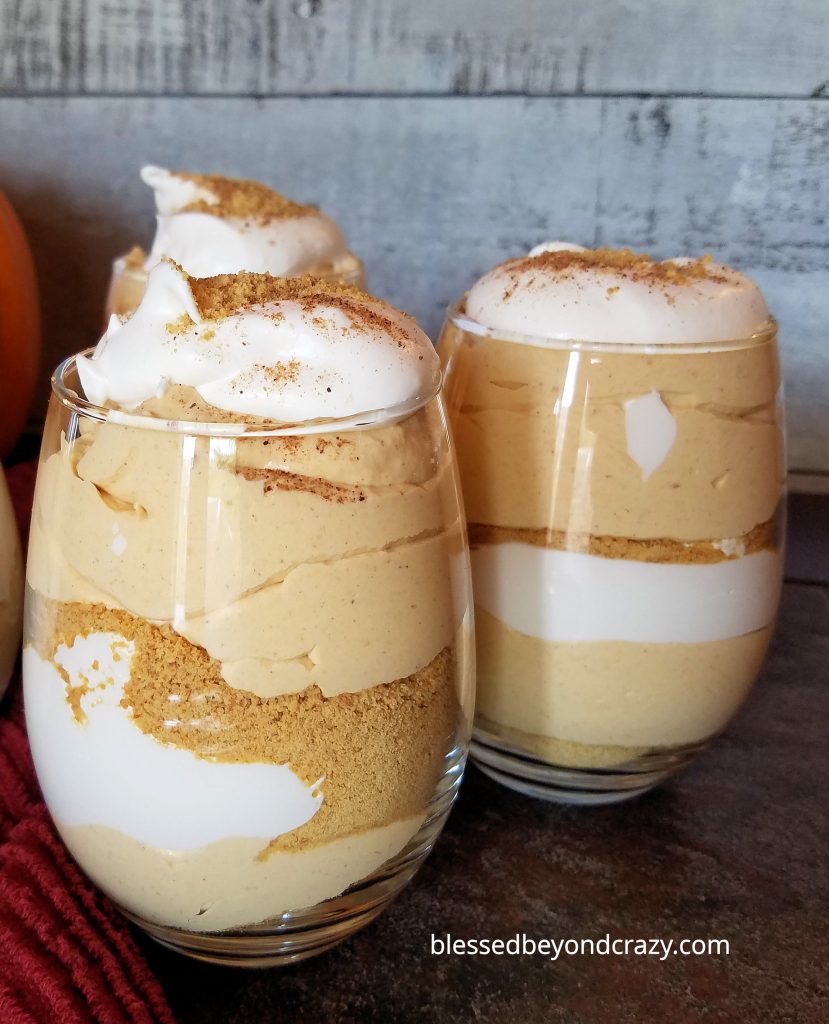 Ready!
One recipe for Pumpkin Mousse Parfaits will yield four (2 cups each) parfaits and require only 1 hour of refrigeration before serving. However, another option is to simply refrigerate them overnight.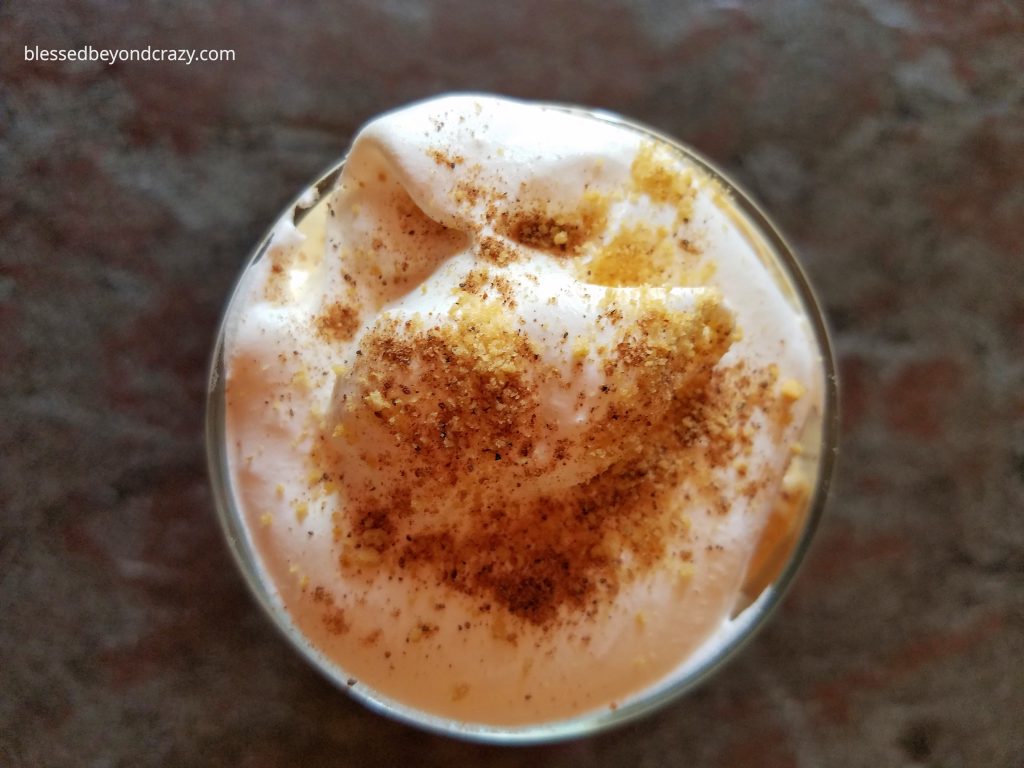 Garnish
I like to garnish each parfait with a sprinkle of ground nutmeg and a few graham cracker crumbs.
Pumpkin Mousse Parfaits
---
Linda Wiseman
Yields 4 parfaits
A light and creamy pumpkin dessert.
15 minPrep Time
1 hr, 15 Total Time
Ingredients
1 cup graham cracker crumbs (GF Option: use gluten-free graham cracker crumbs)
1 (1-ounce sugar-free OR 3.56-ounce regular) package instant white chocolate pudding mix (GF Option: use gluten-free brand of pudding)
1 cup fat free milk
15 ounce canned pumpkin (without spices added)
1 1/2 teaspoons pumpkin pie spice
16-ounce carton whipped topping; divided (GF Option: 2 cups heavy cream, whipped)
Dash of ground nutmeg
Instructions
Place pudding mix into a large mixing bowl. Whisk milk into pudding mix until mixture starts to thicken.
Whisk pumpkin spice and pumpkin puree into the pudding mixture.
Fold in 8 ounce of whipped topping.
Carefully spoon 2 tablespoons graham cracker crumbs into the bottom of a parfait glasses. Spoon in 4 - 5 tablespoons pumpkin mixture, followed by 2 tablespoons whipped toppping. Repeat the layering process until the glass is full.
Garnish with a dollop of whipped topping, a spinkle of nutmeg and/or graham cracker crumbs.
Refrigerate for 1 hour before serving, (or overnight).
7.8.1.2
208
https://blessedbeyondcrazy.com/pumpkin-mousse-parfaits/
www.blessedbeyondcrazy.com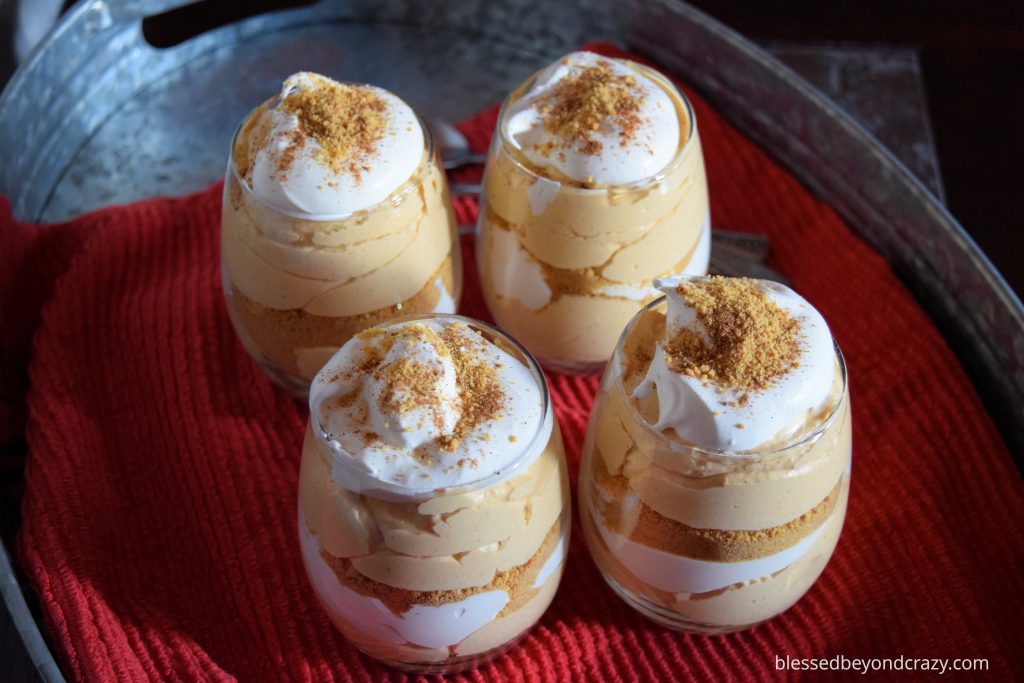 A Fabulous Dessert!
Dessert parfaits are always crowd-pleasing little treats and are suitable for any holiday.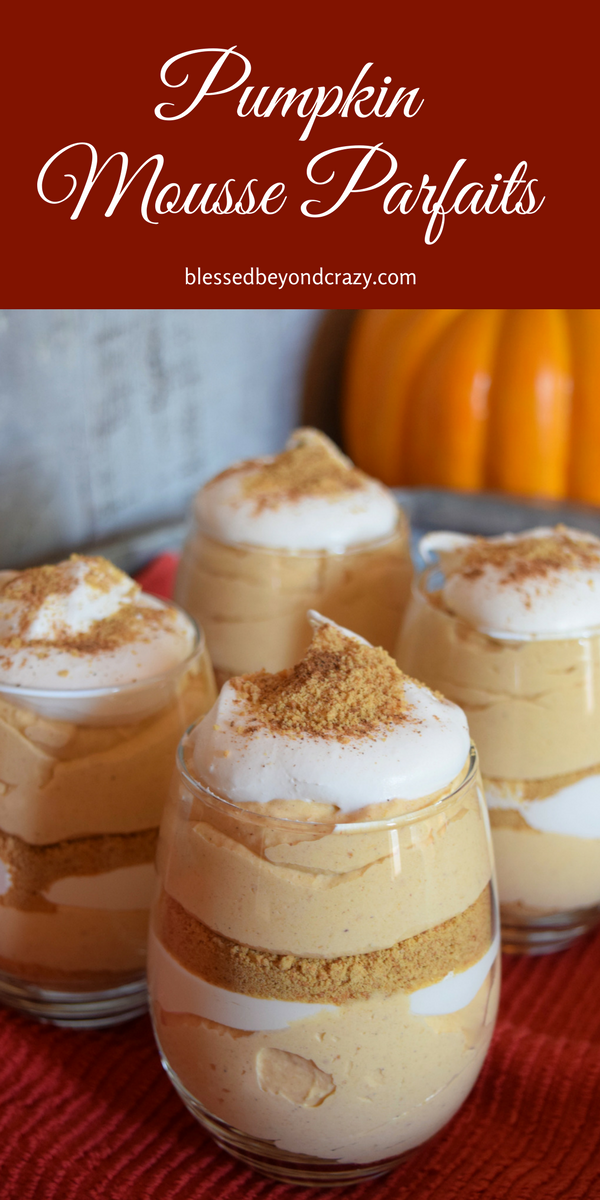 Now's a perfect time to grab your parfait glasses and start creating your very own Pumpkin Mousse Parfaits.
Happy holidays!
Linda
More great ideas: