It's funny how a slight nip in the night air generates excitement about the fall season. Probably because that means it's time for hayrack rides, bonfires, hot chocolate, and scarecrow cookies. Since both Anna and I are huge pumpkin enthusiasts, we are super ecstatic about today's post! Yes, ma'am! Let's look at how to make Pumpkin Pie Smoothies 3 Different Ways!
---
To help support our blogging activities, our site contains affiliate links. If you make a purchase from a link on our site, we may receive a small percentage of that sale, at no extra cost to you. Blessed Beyond Crazy is a participant in the Amazon Services LLC Associates Program, an affiliate advertising program designed to provide a means for sites to earn advertising fees by advertising and linking to amazon.com.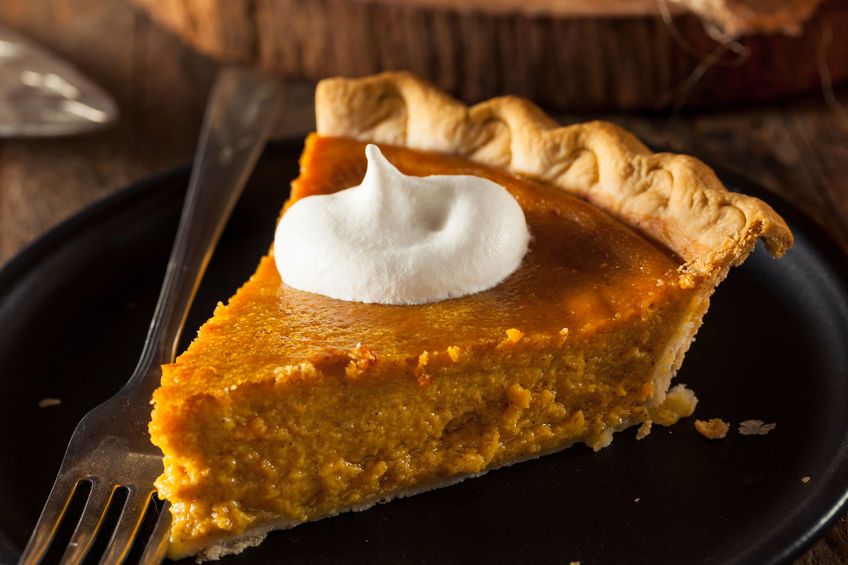 It really doesn't matter whether it's pumpkin muffins, cakes, cookies, cheesecakes, pancakes, fried pumpkin blossoms, or a pumpkin trifle, we simply love them all! And, of course, everyone knows that Easy Thanksgiving Pumpkin Pie is one of the most beloved desserts of all-time.
Now, let's have fun and make 3 different pumpkin pie smoothies!!!
Note: with a few slight variations, each recipe can be made gluten-free, dairy-free, paleo, vegan, and vegetarian.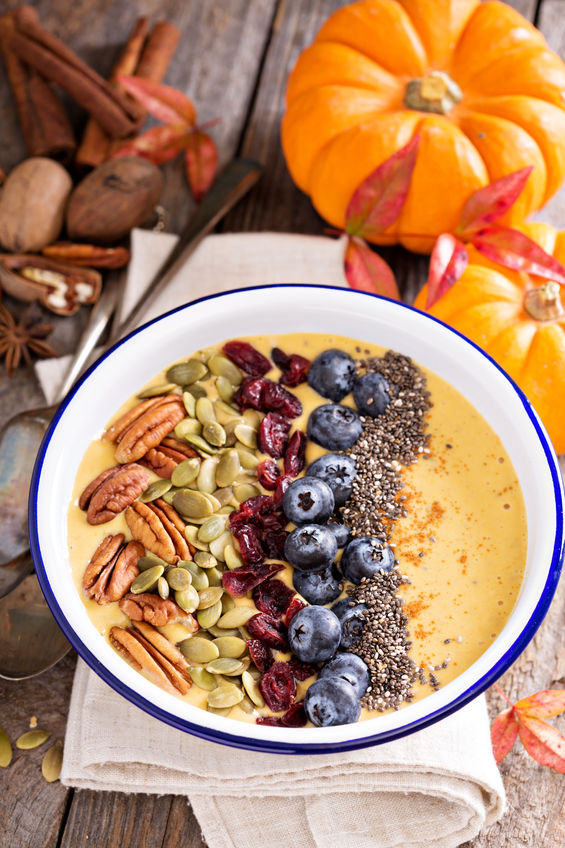 This first recipe is not only delicious, it's an absolute work of art! It's Pumpkin Pie Smoothie in a Bowl! Simply make the following pumpkin pie smoothie recipe and pour it into a bowl. Garnish with a sprinkle of ground cinnamon and rows of chia seeds, fresh blueberries, dried cranberries, pumpkin seeds, and pecans. Doesn't this smoothie look delicious?!?!?!?
Pumpkin Pie Smoothie in a Bowl
---
Adapted from HyVee
Yields Approx. 4 cups
Satisfy your craving for pumpkin with a delicious pumpkin pie smoothie.
15 minPrep Time
15 minTotal Time
Ingredients
1 banana, peeled and frozen
1/2 cup vanilla nonfat Greek yogurt (GF, Diary-free, Paleo, Vegan, & Vegetarian diets use coconut yogurt)
1/4 teaspoon ground cinnamon, plus additional for garnish
1/4 teaspoon pumpkin pie spice
1/2 cup 2% milk (Dairy-free, Paleo, Vegan, & Vegetarian diets use almond, cashew, or coconut milk)
2/3 cup 100% pure canned pumpkin, unsweetened and without spices
1/3 cup sweetened condensed milk (Dairy-free, Paleo, Vegan, & Vegetarian diets use a 15-ounce can Cream of Coconut)
1 cup ice
1 Tbsp. chia seeds
1/4 cup fresh blueberries
1/8 cup dried cranberries (Omit, or use fresh cranberries for Paleo diet)
2 Tbsp. pumpkin seeds
6 -8 pecan halves
Instructions
Combine frozen banana, yogurt, cinnamon, pumpkin pie spice, milk, pumpkin, sweetend condensed milk, and ice into a blender. Pluse until smooth. (Add more milk if you feel smoothie is too thick.)
Transfer to a bowl and garnish with chia seeds, blueberries, cranberries, pumpkin seeds and pecans.
Serve immediately.
7.8.1.2
202
https://blessedbeyondcrazy.com/make-pumpkin-pie-smoothies-3-different-ways/
www.blessedbeyondcrazy.com
Click on link to find > Cream of Coconut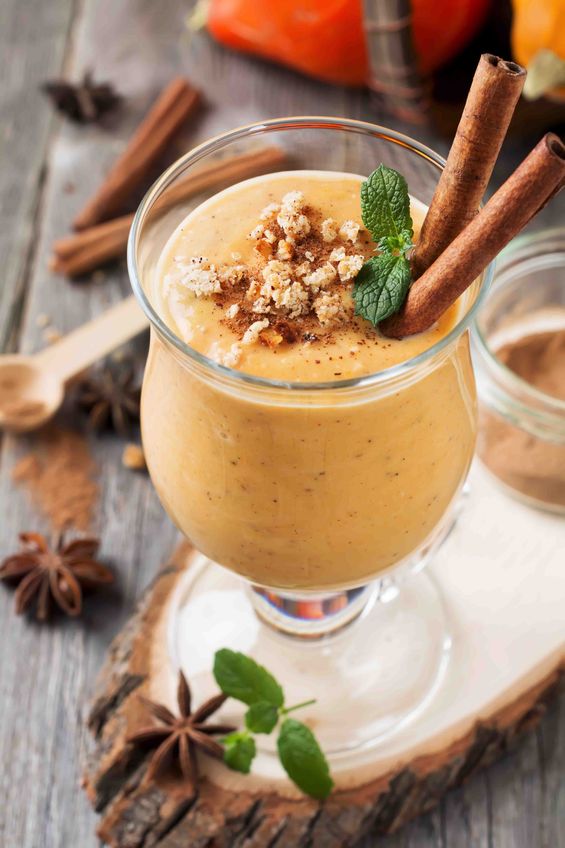 Next on the list is a Frosted Pumpkin Smoothie.
Here is what you'll need:
First, place serving glasses in the freezer to chill.
1 (15-ounce) 100% pure canned pumpkin, chilled
1 (12-ounce) can fat-free evaporated milk, chilled (use 12-ounces organic coconut milk for Dairy-free, Paleo, Vegan, & Vegetarian diets)
1/4 cup honey, (use agave or pure maple syrup for Paleo, Vegan, & Vegetarian diets)
1/2 teaspoon pumpkin pie spice, or to taste
Shot of espresso powder (optional)
1 cup ice
Garnish options – a sprig of fresh mint, a sprinkle of ground nutmeg, cinnamon sticks, chopped pecans, and a sprinkle of granola. (For GF diet use a gluten-free brand of granola or make your own Old-Fashioned Homemade Gluten-Free Granola.)
Combine pumpkin, evaporated milk, honey, pumpkin pie spice, espresso, and ice in a blender. Pulse until smooth. (If you feel the smoothie is too thick, add a little extra milk or coconut milk.) Pour mixture into chilled serving glasses. Garnish with mint, nutmeg, cinnamon sticks, pecans and granola. Serve immediately. This recipe makes approximately 4 cups.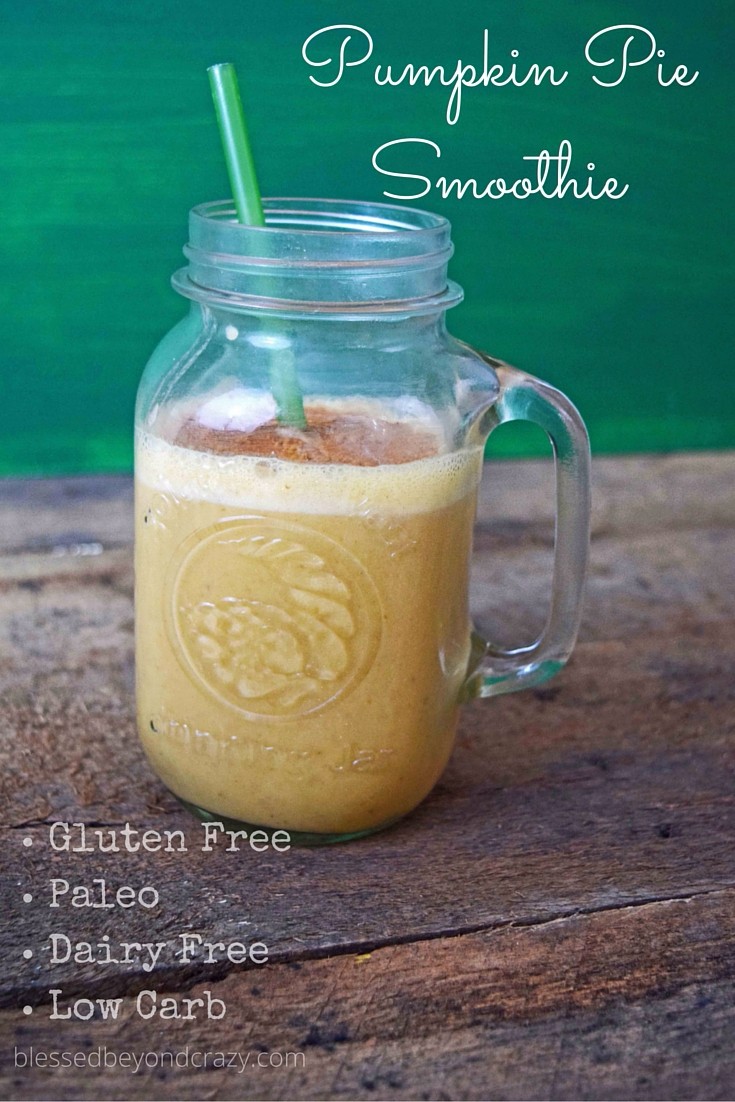 Finally, this classic Pumpkin Pie Smoothie requires few ingredients and is extremely easy to make. It's naturally gluten-free, dairy-free, paleo, and low-carb. To make this recipe vegan and/or vegetarian simply use almond, cashew, or coconut milk for regular milk. Since Anna already published this recipe in a previous blog post, rather than writing out the recipe, I'm simply going to redirect you to it by clicking on the link > HERE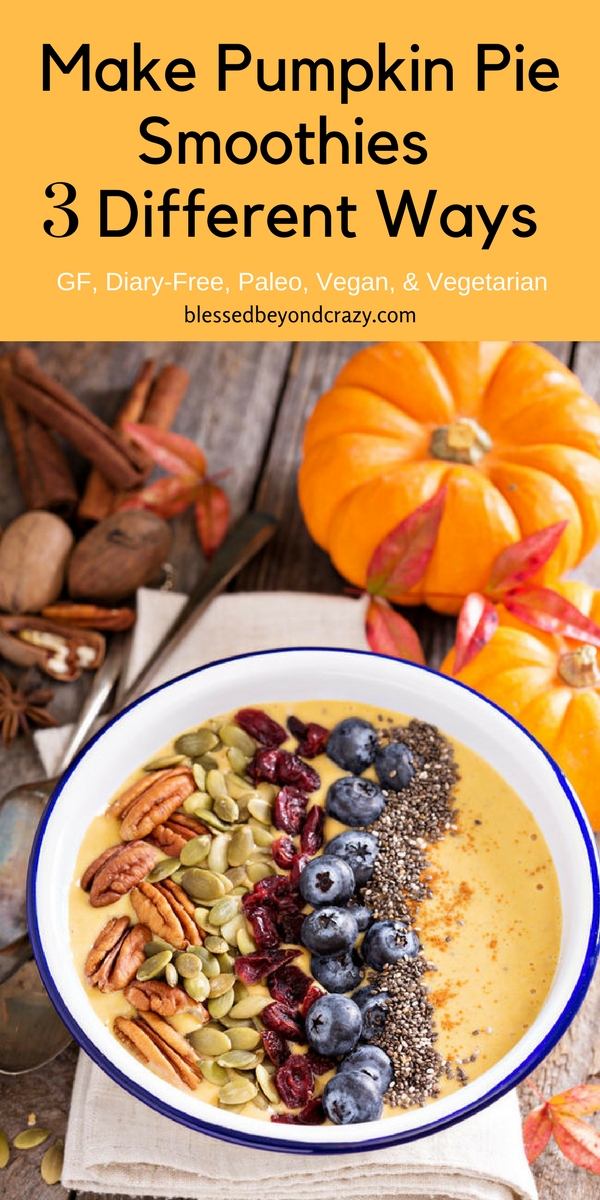 For more dairy-free options click on > 12 Non-Dairy Milk Alternatives.
I'd say now is a good time to make a visit to the pumpkin patch!
Enjoy!
Linda
Disclaimer: Manufacturers formulations and policies may change at any time, therefore it's important to always read product labels yourself and contact the manufacturer with concerns. We have found that most companies are eager to help answer your questions.
More great ideas: