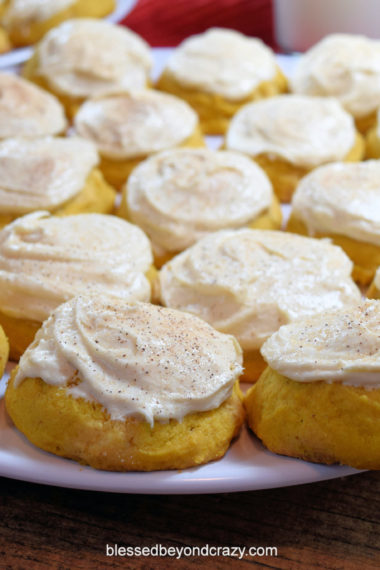 Whenever I hear the words "pumpkin" and "white chocolate" in the same sentence I instantly crave Pumpkin White Chocolate Drop Cookies!

To help support our blogging activities, our site contains affiliate links. If you make a purchase from a link on our site, we may receive a small percentage of that sale, at no extra cost to you. Blessed Beyond Crazy is a participant in the Amazon Services LLC Associates Program, an affiliate advertising program designed to provide a means for sites to earn advertising fees by advertising and linking to amazon.com.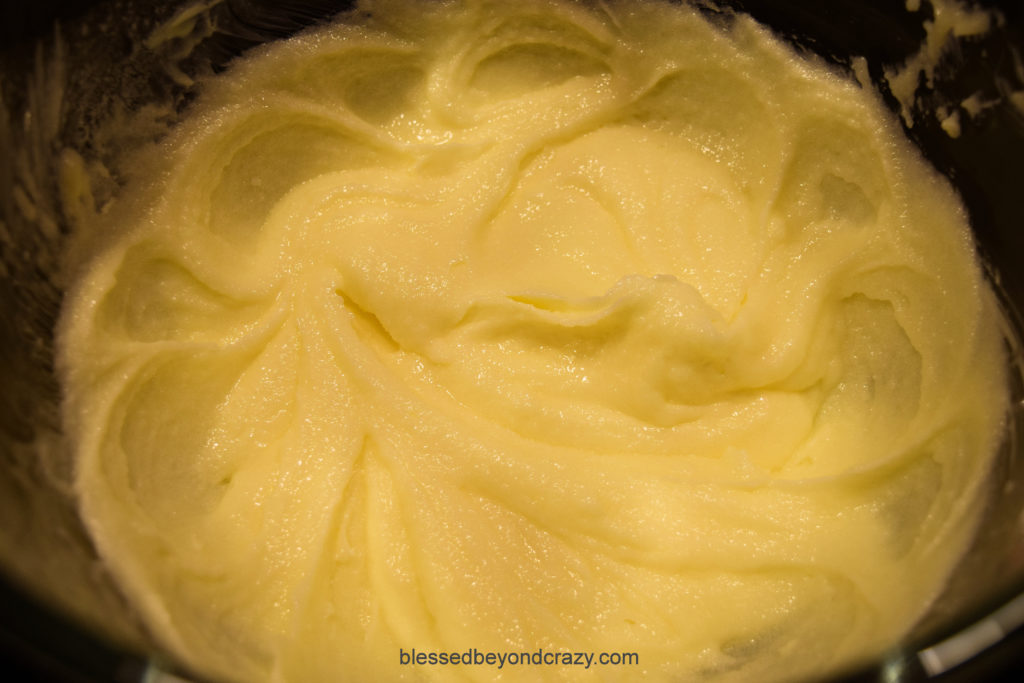 Anytime I'm in the mood to bake I grab my handy-dandy Empire Red KitchenAid mixer. Let me tell ya, this mixer is one of the BEST kitchen appliances I have ever owned. You'll probably see random pictures of it throughout our many of my blog post.
Okay, onward ho!
This recipe for Pumpkin White Chocolate Cookies begins by mixing butter and sugar together until it's light and fluffy (as seen in the picture above).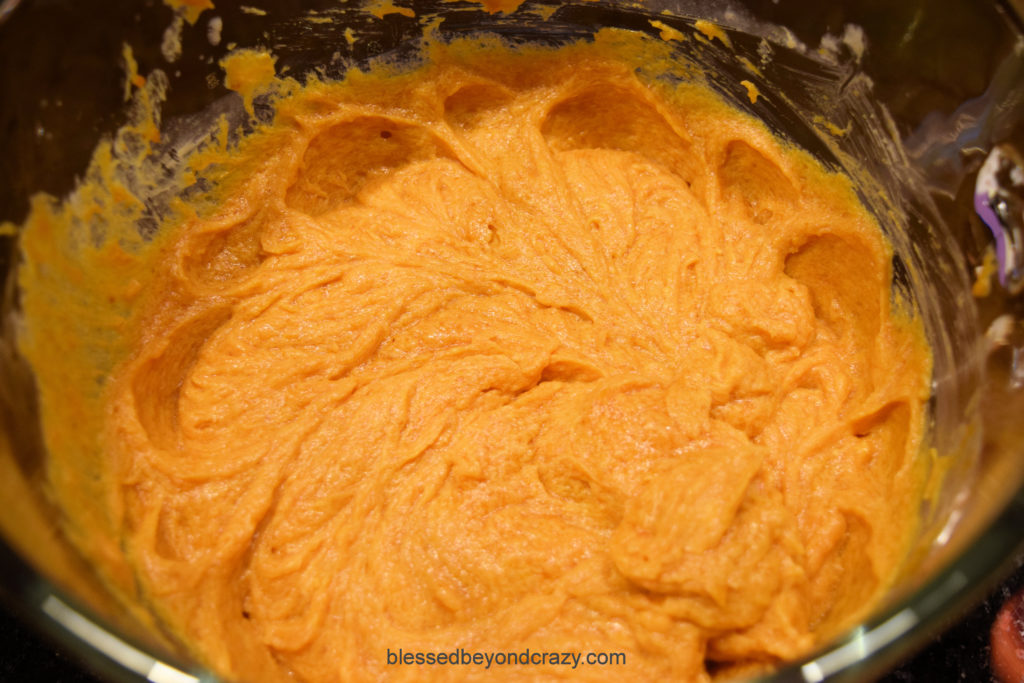 Next, it's time to add pumpkin and eggs and as a result, the batter turns a pretty orange color.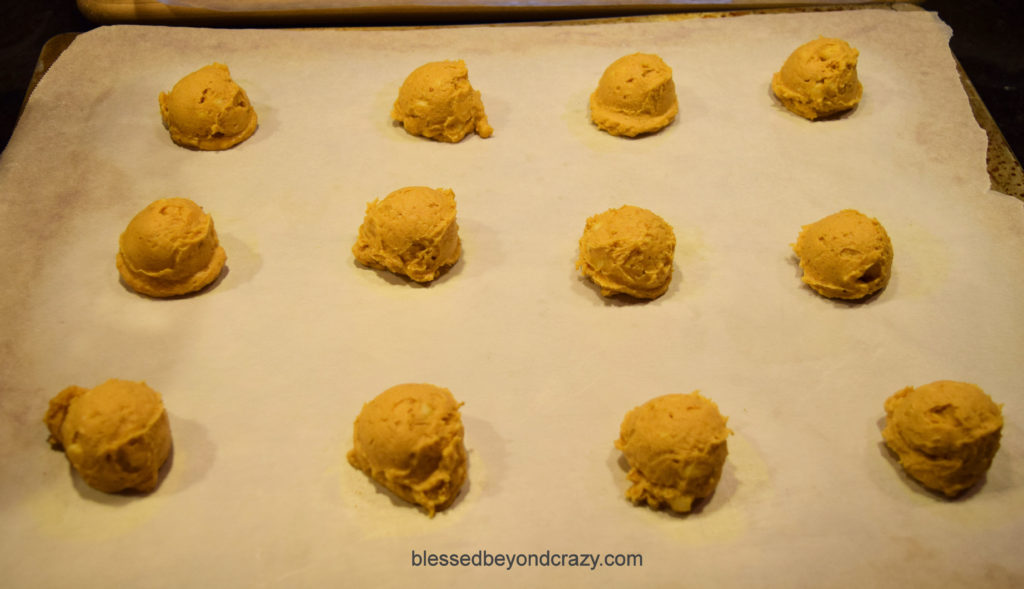 After adding all of the remaining ingredients using a 4 cm cookie dough scoop or a teaspoon to drop the batter onto a parchment-lined cookie sheet. Either the scoop or a teaspoon will work fine, however, using a cookie dough scoop will provide cookies both uniform in size and shape.
Bake the cookies in a preheated 375 degrees F oven for approximately 16 minutes.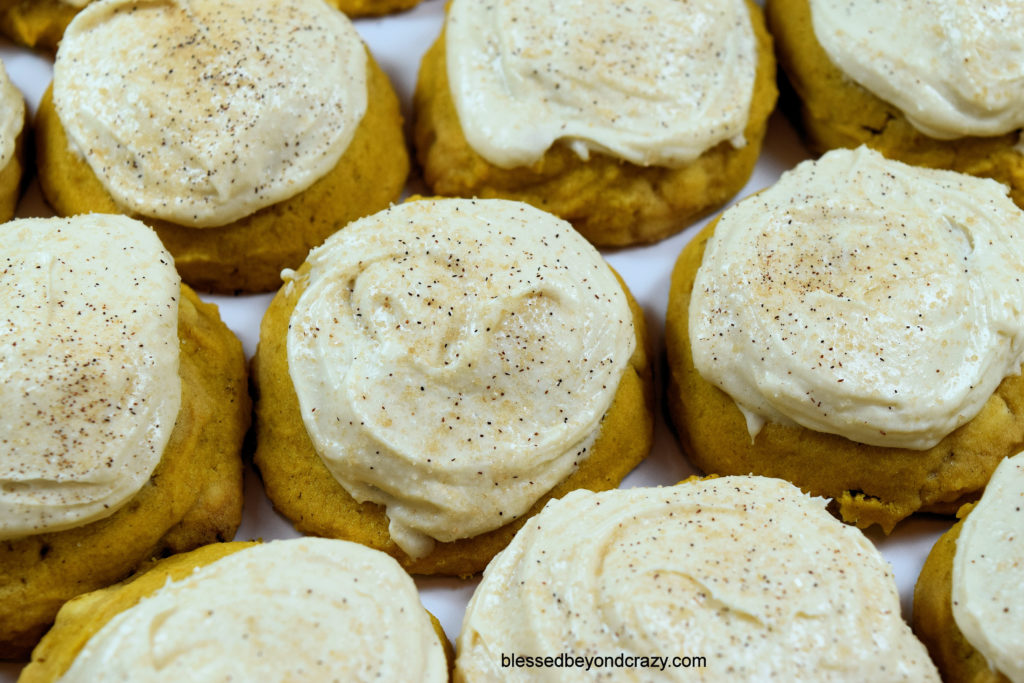 While the Pumpkin White Chocolate Cookies are still warm, add cream cheese frosting combined with brown sugar to the top of each cookie. Garnish with a sprinkle of cinnamon or a combination of cinnamon and sugar. Either way, they are delicious!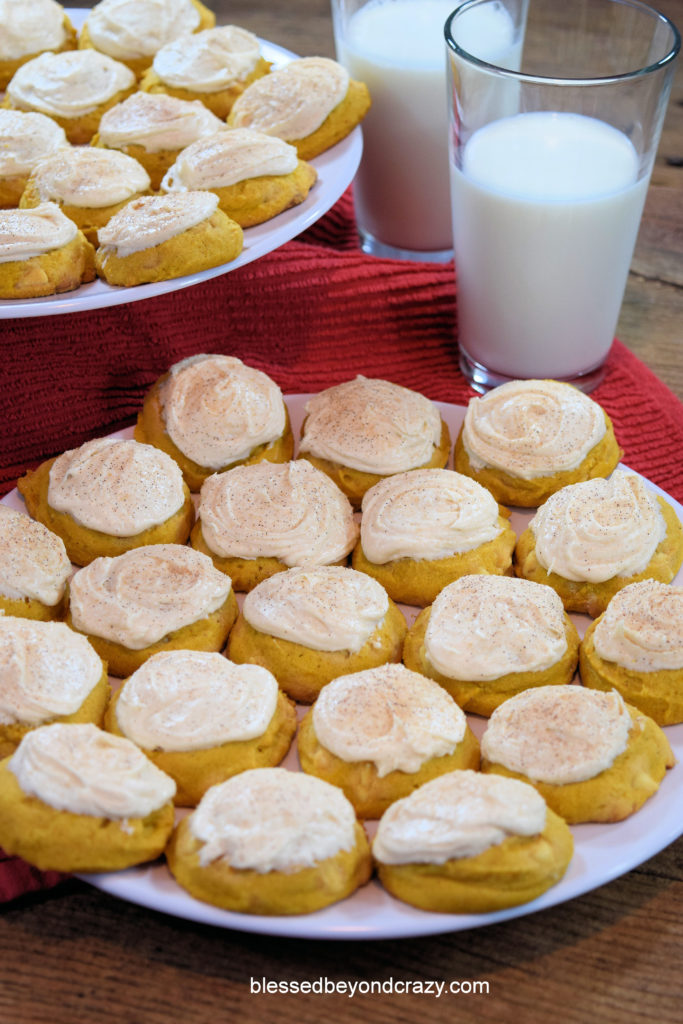 Because the cookies are small (each cookie is about two bites), one recipe makes approximately 6 dozen cookies. Therefore, simply divide the recipe in half if you do not want that many cookies. Another idea is to freeze part of the cookies and simply thaw and serve them whenever you need a dessert.
These golden little gems are perfect for small hands, and that's especially relevant for small children. Maybe it's because little people are attracted to small, bite-sized treats.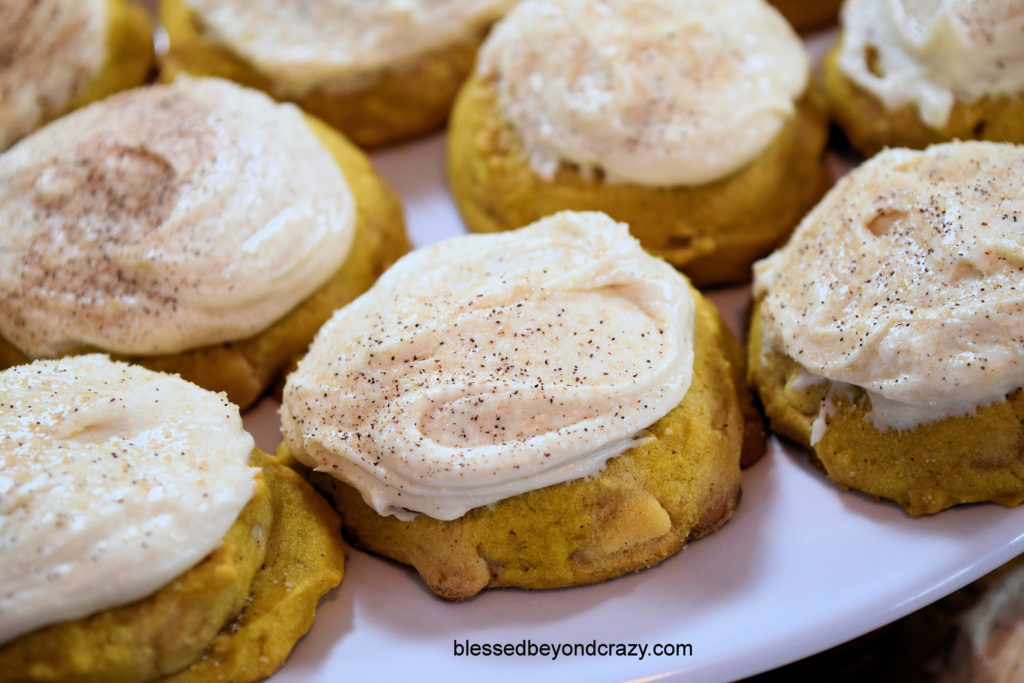 Pumpkin White Chocolate Drop Cookies practically melt in your mouth and therefore it's easy to eat several in one sitting. (Not that I know this from experience or anything! lol)
TIP: My favorite gluten-free baking powder is a brand called HAIN Featherweight baking powder. It's sodium-free, gluten-free, and works great in any baked goods.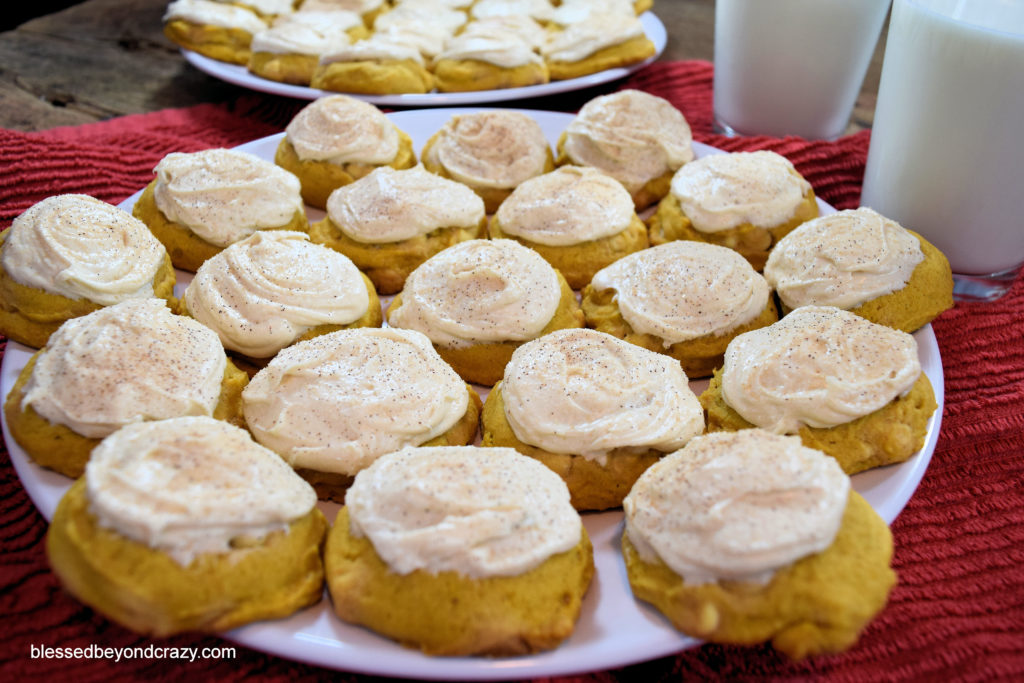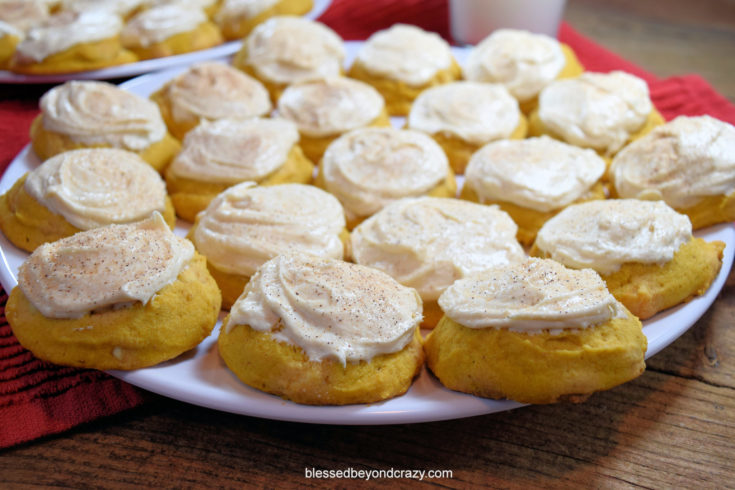 Yield:

Approx. 6 dozen
Pumpkin White Chocolate Drop Cookies
A simple and delicious pumpkin drop cookie recipe.
Ingredients
2 cups butter, softened
2 cups granulated sugar
1 can (16 ounces) canned pumpkin (without spices)
2 eggs
4 cups all-purpose flour (GF Option - use gluten-free flour blend + 1 teaspoon xanthan gum, unless flour blend already contains a thickening agent)
2 teaspoons pumpkin pie spice
1 teaspoon baking powder (GF Option - I use HAIN Featherweight baking powder that is sodium-free and gluten-free)
1/2 teaspoon baking soda
1 bag (12 ounces) white chocolate chips (GF Option - use a gluten-free brand of chips)
1 container (16 ounces) ready-to-spread cream cheese frosting (GF Option - use a gluten-free brand)
1/4 cup packed brown sugar
Instructions
Preheat oven to 375 degrees F.
Place butter and sugar in large mixing bowl; beat until light and fluffy.
Add pumpkin and eggs; beat until smooth.
Add flour, pumpkin pie spice, baking powder and baking soda; beat just until well blended. Stir in chips.
Drop dough by teaspoonfuls about 2-inches apart onto parchment-lined cookie sheets.
Bake for approximately 16 minutes or until set and bottoms are brown.
Cool 1 minute before removing from cookie sheet, then place cookies on wire rack to cool.
Combine frosting and brown sugar in small bowl. Spread on warm cookies.
Notes
Optional toppings: mini chocolate chips or chocolate shavings, chopped pecans or walnuts, or sprinkles. Cookies freeze well up to 4 weeks.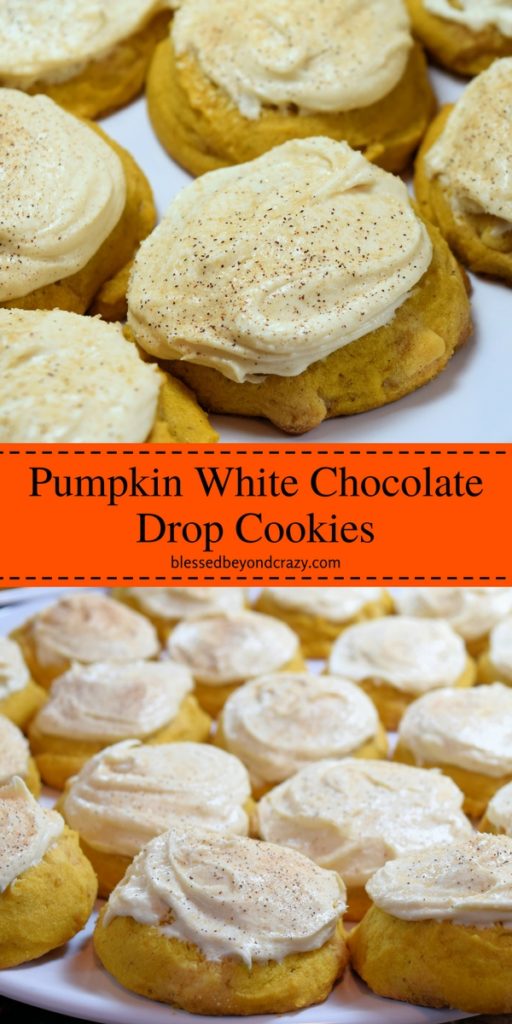 While any Cookie Monster would love to keep these cookies all for themselves, I am pretty confident they would probably share. So grab your friends and enjoy some yummy Pumpkin White Chocolate Drop Cookies!

Linda
Disclaimer: Manufacturer's formulations and policies may change at any time. Therefore it's important to always read product labels yourself and contact the manufacturer with concerns. We have found that most companies are eager to help answer your questions.
More great ideas: