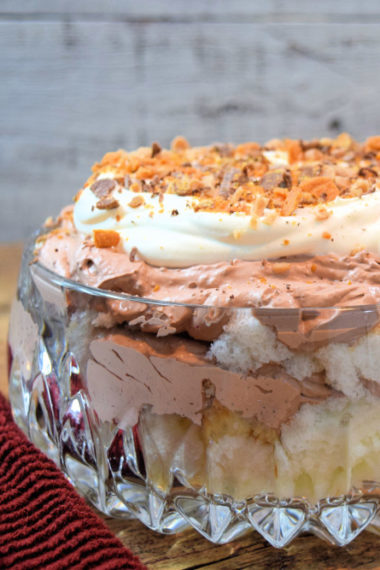 What do you do with leftover angel food cake? You make delicious Chocolate Mousse Dessert of course. 

Recently I hosted a birthday party for my mother. I served angel food cake and ice cream for dessert. I wanted to make sure we had plenty of dessert for everyone. Especially since we were going to have several attending that are gluten intolerant. Therefore, the day before the party, I baked one regular angel food cake, one Funfetti angel food cake, and one gluten-free angel food cake.
To help support our blogging activities, our site contains affiliate links. If you make a purchase from a link on our site, we may receive a small percentage of that sale, at no extra cost to you. Blessed Beyond Crazy is a participant in the Amazon Services LLC Associates Program, an affiliate advertising program designed to provide a means for sites to earn advertising fees by advertising and linking to amazon.com.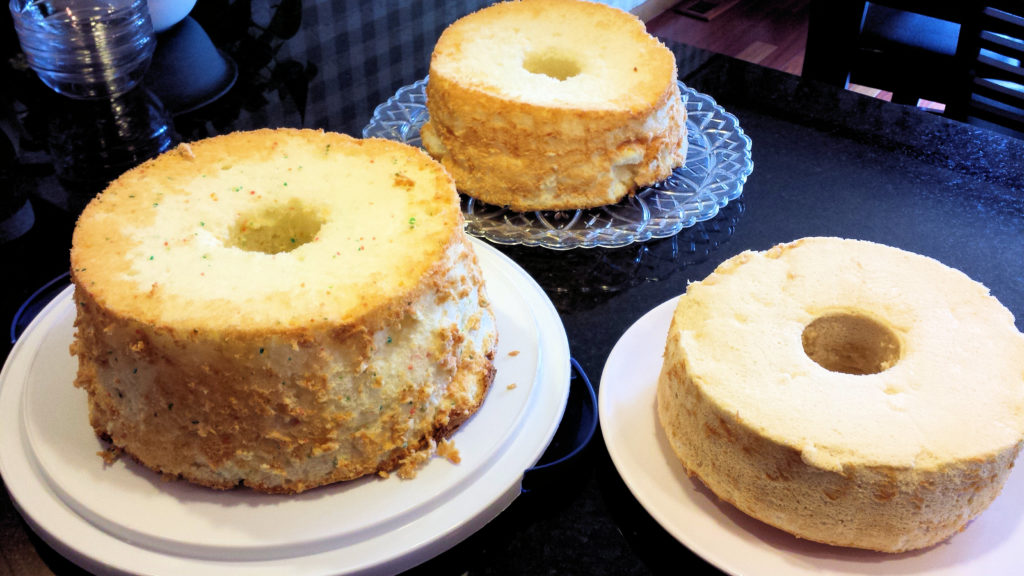 In the end, we had a little regular angel food cake and gluten-free cake leftover. I placed the leftover cakes in separate, labeled containers and stuck them in my freezer. A week later, I thawed the leftover gluten-free cake and made yummy individual Gluten Free Butterfinger Parfaits. Today I made this creamy Chocolate Mousse Dessert using the remaining leftover regular angel food cake.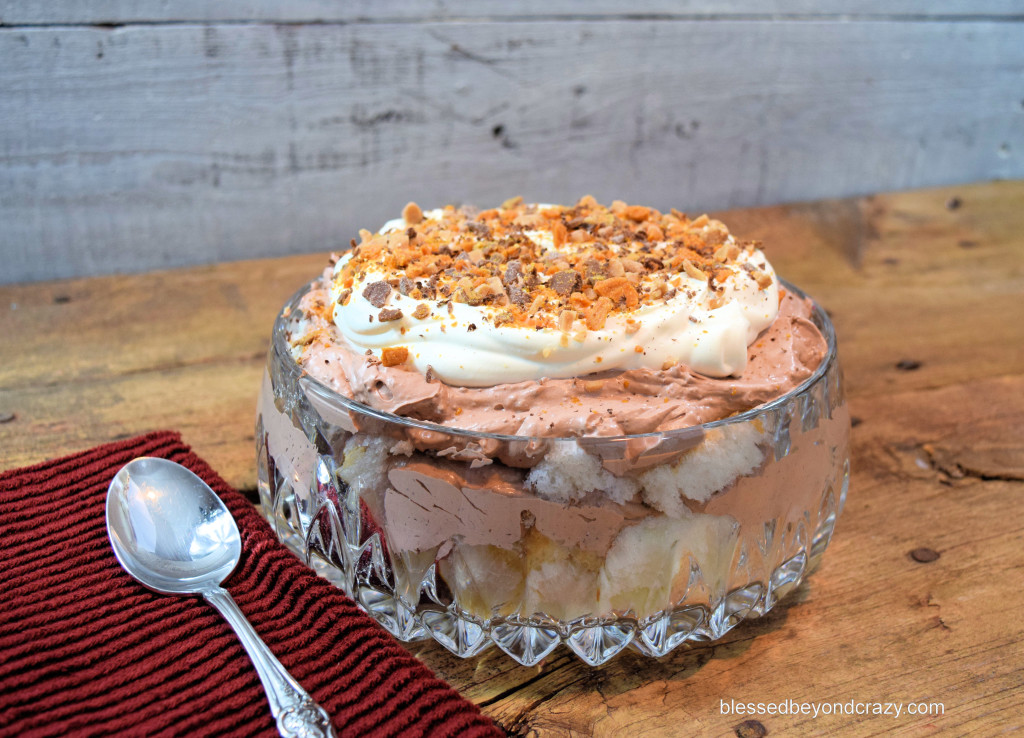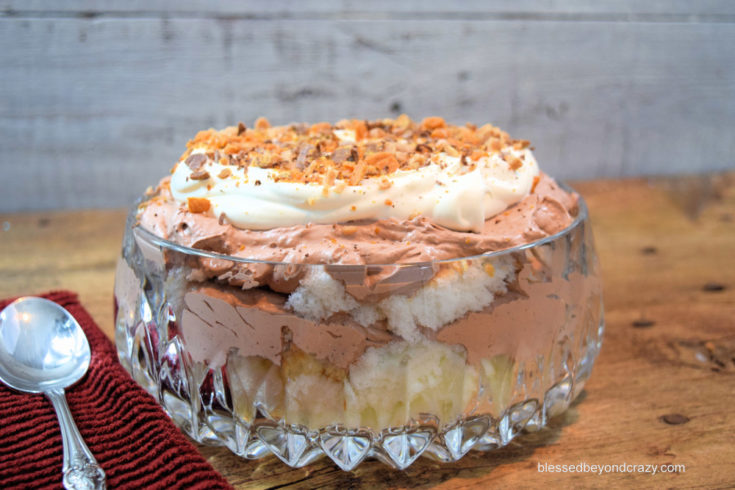 Yield:

Serves 6 - 8
Chocolate Mousse Dessert
Ingredients
1-1/2 cups cold milk
1 package (1 ounce) sugar-free instant chocolate pudding mix (*GF version - use gluten free pudding mix)
1-1/2 cup heavy cream, whipped
6 cups prepare angel food cake (16 ounces), cubed (*GF version - use gluten free angel food cake. I use Kinnikinnick Gluten Free Angel Food Cake Mix
(Optional) 2 large Butterfinger candy bars (2.1 ounces each), crushed (*GF - read that Butterfinger candy bars are gluten free HERE)
(Optional) Unsweetened dark chocolate, finely grated
Instructions
In a large bowl, whisk milk and pudding mix for 2 minutes. Let stand until soft-set, (approximately 2 minutes).
Whip heavy cream until stiff peaks form. Reserve 2 cups of whipped cream; set aside.
Fold remaining whipped cream into pudding.
In a round 9-inch glass bowl, layer half of the cake cubes, pudding mixture, and crushed candy bars.
Repeat layers.
Top with set-aside whipped cream and a final sprinkle of crushed candy bar and grated unsweetened dark chocolate.
Cover and refrigerate for at least 2 hours before serving.
This gorgeous Marquis by Waterford Markham Crystal Glass Bowl is similar to what I used. My crystal bowl was given to me as a gift and I use it for all kinds of salads and desserts.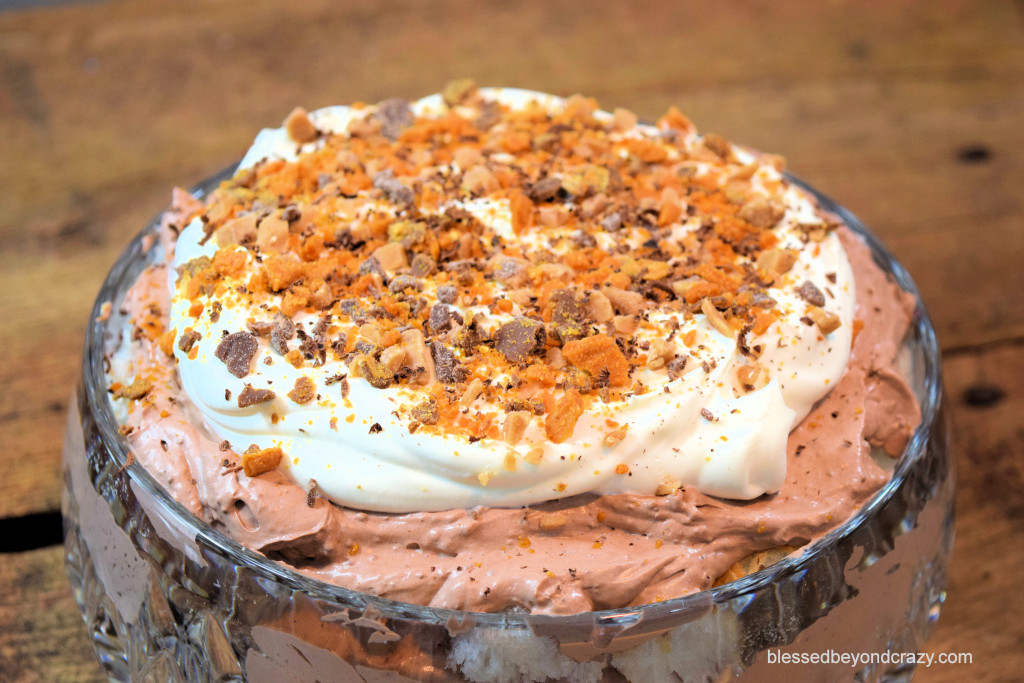 This dessert is super simple to make and has a nice creaminess to it. You can easily turn this dessert into individual parfaits. In addition, feel free to garnish them with various other toppings that you have may have on hand. I'm all about creatively using up leftovers.
I need to throw another party and make more angel food cake because I want to whip up this tasty Chocolate Mousse Dessert again sometime soon!!!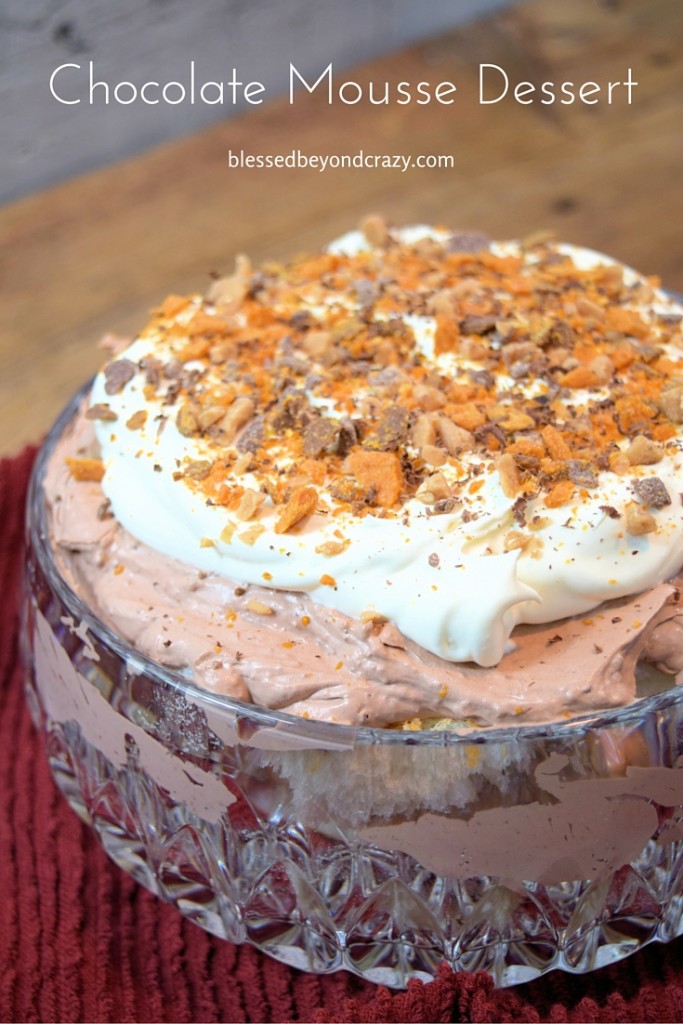 Enjoy!
Linda
More great recipes: