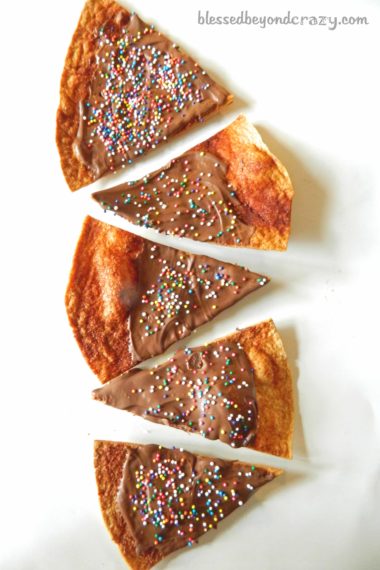 I'm not sure how your family will react when you tell them you're having nachos for dessert, but I bet they won't be disappointed when they see these!
These are so easy to make and you can make them as healthy or sinful as you like!
Top these with whatever goodies you already have in your kitchen.
Since these only take about 15 minutes to make, maybe you don't need to wait until after a meal to indulge…
My five-year-old had no complaints about sharing this with me. I'm thinking I'll have to make these for his birthday party in the summer. 
How to make the Chips:
This is really the only cooking involved. You can make these ahead of time and keep in an air-tight container, or sealed baggie. 
You will need:
3 flour tortillas — Use as many as you want, 3 will make 4-5 boats of nachos. You can also corn tortillas if you are gluten-free, or if you just want to.
1 Tablespoon coconut oil or butter, melted
Cinnamon and Sugar (1:3 ratio)
Brush oil onto both sides of the tortillas. 
Sprinkle cinnamon and sugar onto one side
Cut into 6 slices– a pizza cutter worked well for this.
Arrange strategically (don't overlap) onto a cookie sheet.
Bake 350 degrees for 12 minutes (if they are chewy bake longer). Corn tortillas will take a few minutes longer.
Let chips cool before topping–this makes them great for making ahead of time, but really it only takes about 5 minutes to cool.
Now for the fun part: Toppings!!
Just some suggestions, use whatever you want.
Ice cream (duh!)
Yogurt (if you would rather be healthy)
Honey
Strawberries
Bananas
Blueberries
Raspberries
Peaches
Kiwi
Cherries
…Okay really any fruit you can think of, or find in your kitchen
Sprinkles
Melted chocolate, drizzled on top
Cool Whip
Chocolate chips
Caramel topping
Nuts: peanuts, pecans, almond slivers, etc.
Cookie crumbs
I think these would make the perfect dessert for a party! Especially for kids (or for those of us that are kids at heart 😉 )
Chocolate Nacho Chips
These came about by accident!
After my son and I enjoyed these delicious nachos, I had leftover chocolate. Honestly, there is no way I can throw chocolate away, so I had to do something with it (I had no choice, I was forced really). 
I grabbed some of the extra chips and spread the chocolate on top of them, added some sprinkles, and let the chocolate harden. 
You could use these as the base for the nachos, but honestly, these are like a whole other dessert by them-self!
I think I might keep these in a container, and just grab one whenever I need some chocolate.
Yummmm!!!
Enjoy! I know I did!!
Anna
Find me on Facebook!