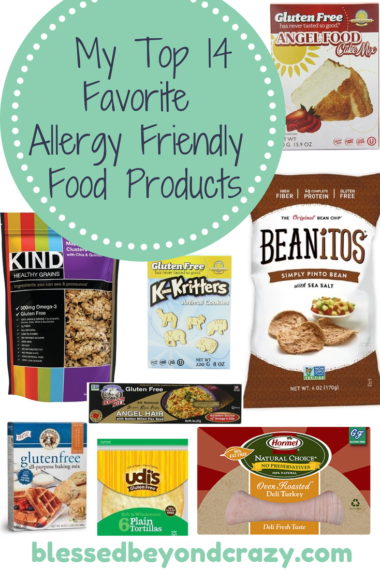 Do you, or someone you know, have food allergies? If so, you know how frustrating it can be to find allergy-friendly food products that are tasty and affordable. In today's post, I am sharing My Top 14 Favorite Allergy Friendly Food Products.
As you know by now, I have some food-related issues. I am gluten-intolerant, and dairy, soy, and yeast intolerant. I also have allergies to corn, peanuts, onions, garlic, bananas, and kiwi. Besides that, I also avoid all processed meats and foods with chemical preservatives and dyes. Although I have discovered that I am sensitive/allergic to these items through allergy skin testing, I've also kept a food diary.
First of all, if I am strict about my diet I feel good, however, if I cheat I always pay a price and feel horrible for two or three days. I will exhibit flu-like symptoms, have a terrible migraine and sometimes I will break out with hives or an itchy rash. My diet ultimately forces me to eat healthier foods, however, I truly do not miss most of the unhealthy things I use to eat. So today, I thought that I would share with you just a few of my favorite allergy-friendly food items. This list certainly does not contain everything I like or use, but I tried to highlight those things I use on a regular basis.

Whenever I need a quick, yet healthy and nutritious breakfast I turn to Enjoy Life Foods cereal.  They have a variety of flavors and the cereal is crunchy, filling, and free of the 8 most common allergens. Since flax is one of the main ingredients it is wonderful for anyone who suffers from constipation and kids love this stuff.  It's great with fresh fruit; plus it is tasty on top of ice cream. If you are looking to try this cereal you can find it here: Enjoy Life, Perky's Crunchy Flax Cereal.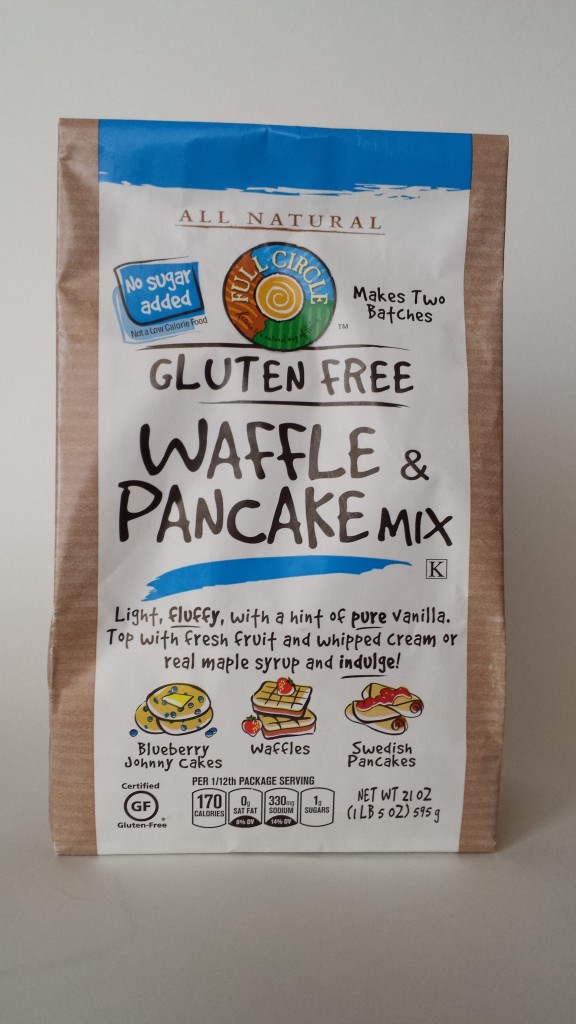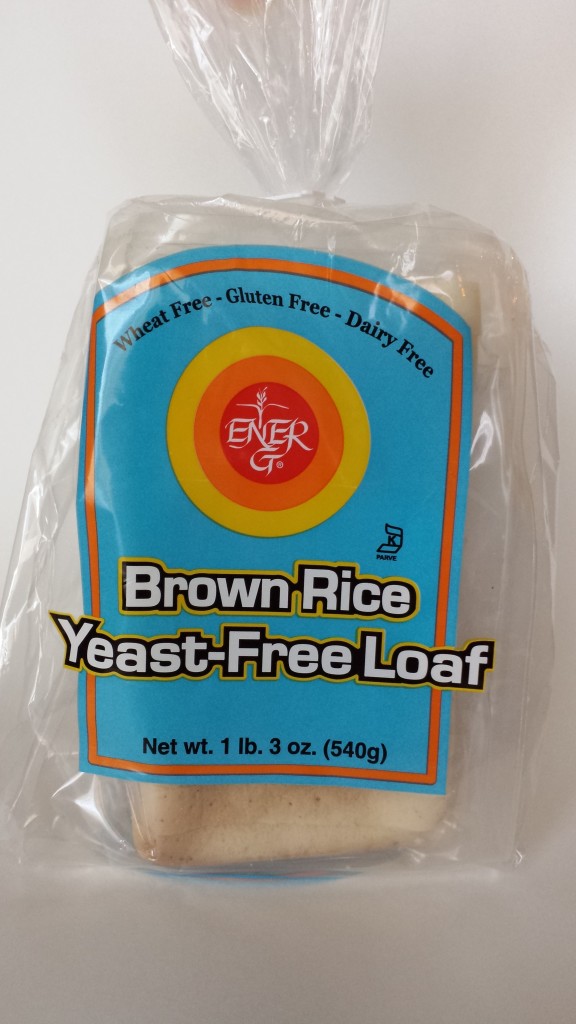 If I am hungry for pancakes or waffles I can easily whip up a batch with this Gluten Free Waffle and Pancake mix from Full Circle.  No one can tell the difference between these pancakes and pancakes made with flour. So far, this is my all-time favorite pancake mix.  You can find this product here: Full Circle Waffle and Pancake Mix.
If I am hungry for granola I grab a bag of KIND Granola. This stuff is great as a granola cereal, in parfaits – see here: Gluten Free Maple Chia Quinoa Parfaits, Nutella Parfait, or you can munch on it alone. There are many delicious flavors to choose from and Kind also makes yummy granola bars too. You can find it here: KIND Healthy Grains Clusters, Maple Walnut with Chia and Quinoa.

Another great allergy-friendly product I love is Ener-G bread. Since I am sensitive to yeast as well as gluten and dairy, I buy a loaf that is wheat-free, gluten-free, dairy-free, and yeast-free. This makes wonderful toast, grilled cheese sandwiches, BLT's, bread pudding, homemade croutons (as seen here: Homemade Croutons), etc… My 3-year-old granddaughter loves this bread too and almost always asks me to make her cinnamon and sugar toast whenever she visits me. You can find this bread here: Ener-G Foods Yeast-Free Brown Rice Loaf.

I love Hormel Natural Choice Gluten-free and Preservative-free shaved deli meat. If I find this on sale I will buy a few extra packages and freeze it for later. I use it as a pizza topping, in omelets, in a wrap or in a stir-fry. There are many different types of meat to select from so you can pile it high on a sandwich. You can find this product here: Hormel Natural Choice Deli Meat.
I love this gluten free baking mix from King Arthur because it is so versatile. I use this to make pizza crust, biscuits, roll-out sugar cookies, cinnamon streusel coffee cake, fruit cobbler, etc… You can find it here: King Arthur Flour All-Purpose Gluten Free Baking Mix.

I love Udi's Gluten Free Tortilla Wraps. These work great for a variety of meals. For breakfast, I make a breakfast burrito with scrambled eggs, roasted red peppers and tomatoes, spinach and a slice of Hormel's ham, (as mentioned above), all wrapped in one of Udi's Tortilla wraps. Sometimes for lunch, I make a chicken wrap with leaf lettuce, tomato slices, grilled chicken and broccoli sprouts. For dessert, I like to make a quick and easy ice cream dessert called No-Wrap Ice Cream Burrito or Dessert Nachos. This dessert is one of my family's favorites and it's so fun to eat. You can find them here: Udi's Gluten Free 6″ Plain Tortillas.

Who doesn't like pasta? My favorite pasta is made by Hodgson Mill. They have all of my favorite noodles such as elbow macaroni, penne, spaghetti and fettuccine noodles. This pasta has flax right in it and it cooks up wonderfully without clumping; just following the directions. You can find them here: Hodgson Mill Gluten Free Brown Rice All Natural Angel Hair with Milled Flaxseed.


I love Beanitos chips. These are fabulous for nachos, with dips or simply straight out of the bag! They have many different flavors to select from but my personal favorites are Beanitos Simply Pinto Bean Chips with Sea Salt.
Every now and then I have a craving for Angel Food Cake. This mix from Kinnikinnick is amazing! It also freezes well if you want to make it ahead of time. I serve this with sliced fresh strawberries and blueberries with a dollop of whipped cream. Another favorite dessert – 2 Gluten Free Trifles – Chocolate or Coconut Cream. My family practically inhales these trifles! You can find this cake mix here: Kinnikinnick Angel Food Cake Mix, Gluten Free.
I also love these animal cookies from Kinnikinnick. They have three flavors: chocolate, graham cracker, and vanilla. My grandchildren count on me to keep these yummy bite-size cookies in my pantry and they always look for them on my shelf. You can find these here: Kinnikinnick Foods KinniKritters Animal Cookies, Gluten Free, Wheat Free.

These chocolate chips from Enjoy Life are really good and perfect for making chocolate chip cookies. In addition, here are a couple tasty recipes using these chocolate chips: Ultimate Gluten Free Chocolate Chip Cookies, Chocolate Zucchini Brownies. You can find these chocolate chips here: Enjoy Life Semi-Sweet Chocolate Chips, Gluten, Dairy, nut & Soy Free, Mini Chips.

I also really like Betty Crocker cake mixes, although they usually contain soy. They make wonderful desserts and are easy to and quick to make. I have used their cake mixes in trifles, cupcakes or for a regular cake. You can find these mixes here: Betty Crocker Gluten Free Yellow Cake Mix.
Because I occasionally need help in the fiber department, I like to munch on preservative-free prunes from Sunsweet. You can find these here: Sunsweet Naturals – Organic D'Noir Pitted Prunes.
In conclusion, I hope that you enjoy My Top 14 Allergy Friendly Food Products as much as I do.
What are some of your favorite allergy-friendly foods?
Linda
This post contains affiliate links. If you make a purchase from one of these links, I may earn a small percentage of the sale, at NO extra cost to you. Thank you for supporting this blog!