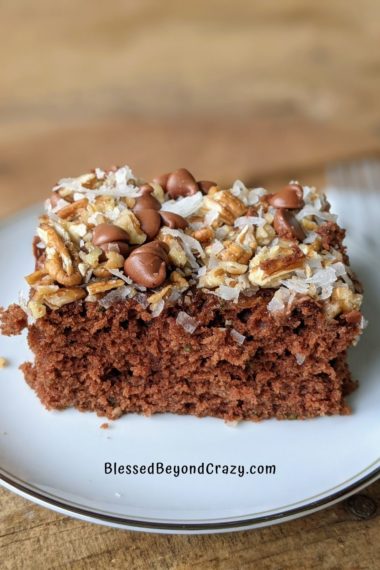 If you love deliciously moist and fudgy desserts then you're gonna fall in love with these Chocolate Zucchini Brownies (Gluten-Free Option).
NOTE: the photos in this post are of the gluten-free version.

To help support our blogging activities, our site contains affiliate links. If you make a purchase from a link on our site, we may receive a small percentage of that sale, at no extra cost to you. Blessed Beyond Crazy is a participant in the Amazon Services LLC Associates Program, an affiliate advertising program designed to provide a means for sites to earn advertising fees by advertising and linking to amazon.com. As an Amazon Associate, I earn from qualifying purchases.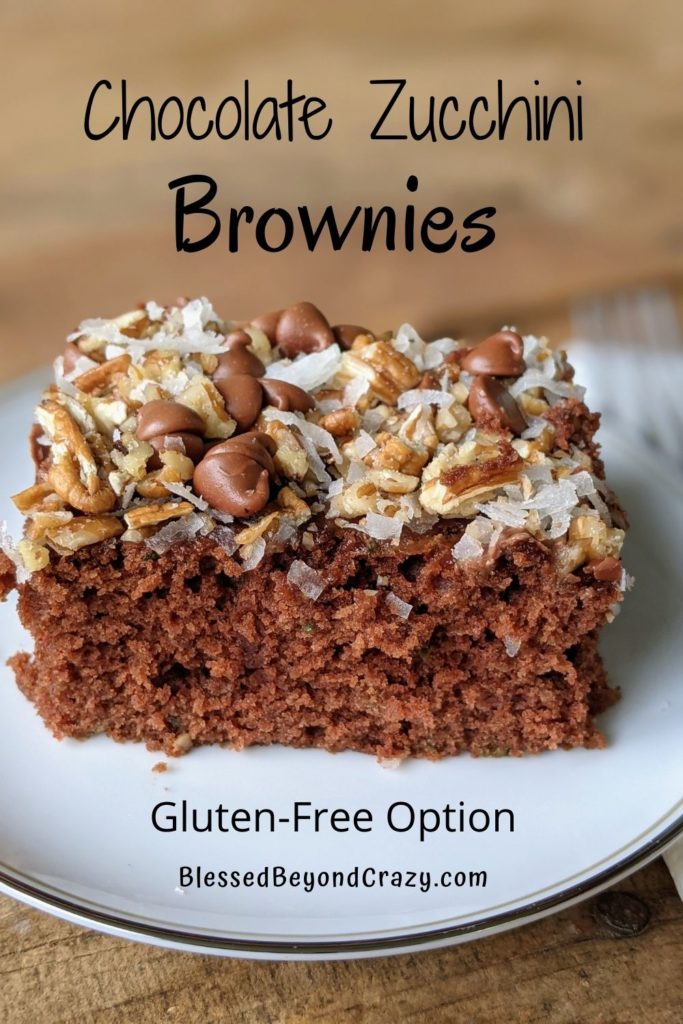 Thanks for Sharing!!!
I love whenever a recipe incorporates healthy fruits or vegetables and this recipe is a great way to use any extra zucchini you may have on hand this time of year. When you take a bite of these brownies you will never know that they have shredded zucchini in them. The zucchini adds valuable nutrients and helps make the brownies deliciously moist.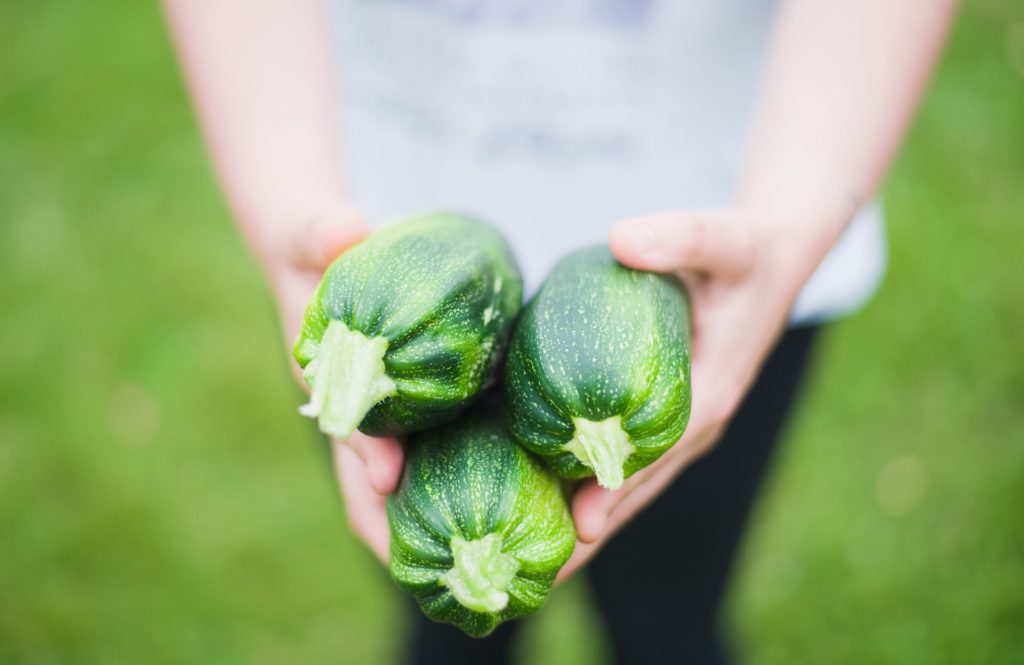 Zucchini
Zucchini squash is one of the most popular summer squashes in America. It is also one with very low calories; providing only 17 calories per 100 g. and contains no saturated fats or cholesterol.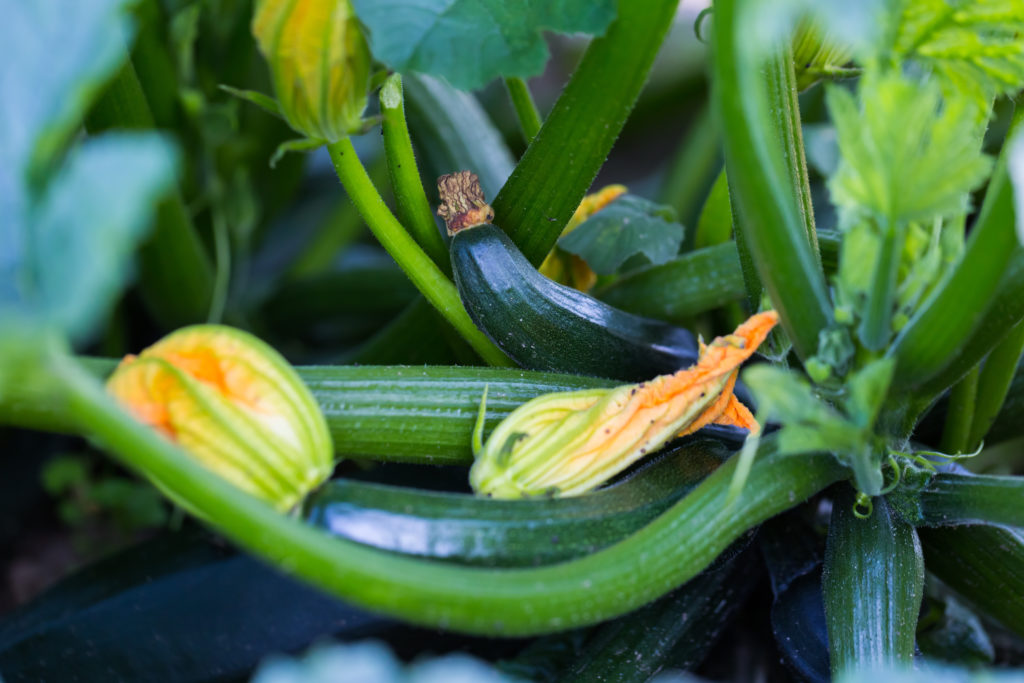 Healthy
Zucchini is a good source of dietary fiber, potassium, and vitamin A and C. It also contains moderate levels of folates, B-complex group vitamins such as thiamin, pyridoxine, riboflavin, and minerals such as iron, manganese, phosphorus, and zinc.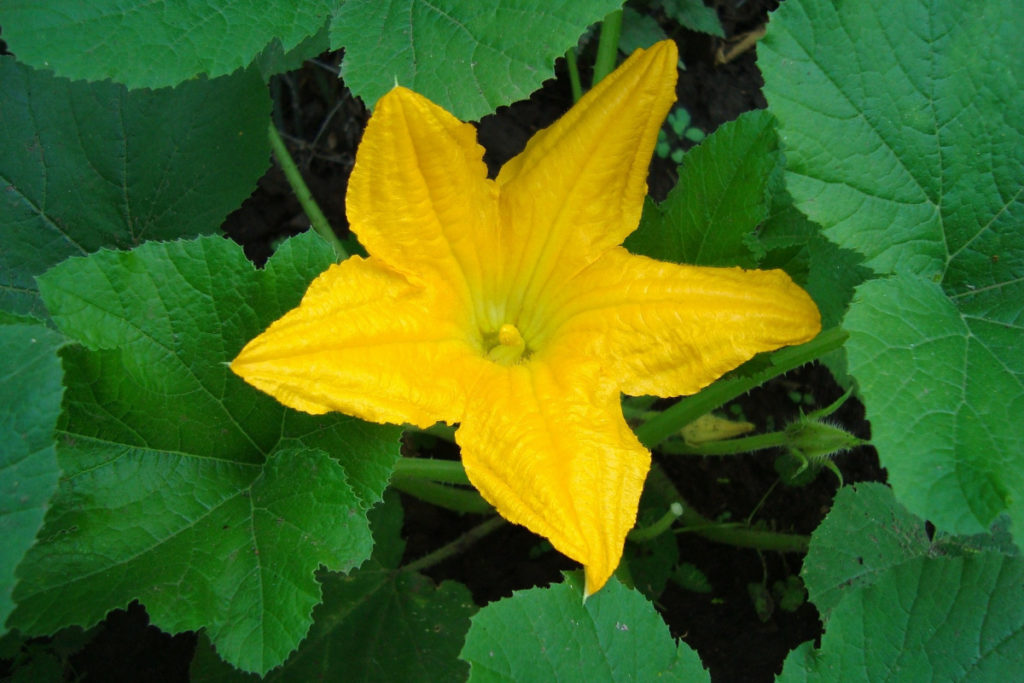 Blossoms
Zucchini blossoms are also an edible delicacy and are similar to eating Fried Pumpkin Blossoms. The blossoms are picked during the morning hours when they are fresh, soft, and open. If you pick them later in the day, the blossoms close up and aren't as tender.
Other zucchini recipes we love:
Simple Pan-Fried Zucchini
Cream Cheese Zucchini Bread
Healthy Gluten-Free Zucchini Muffins
Chocolate Espresso Zucchini Sheet Cake
Zucchini Fritters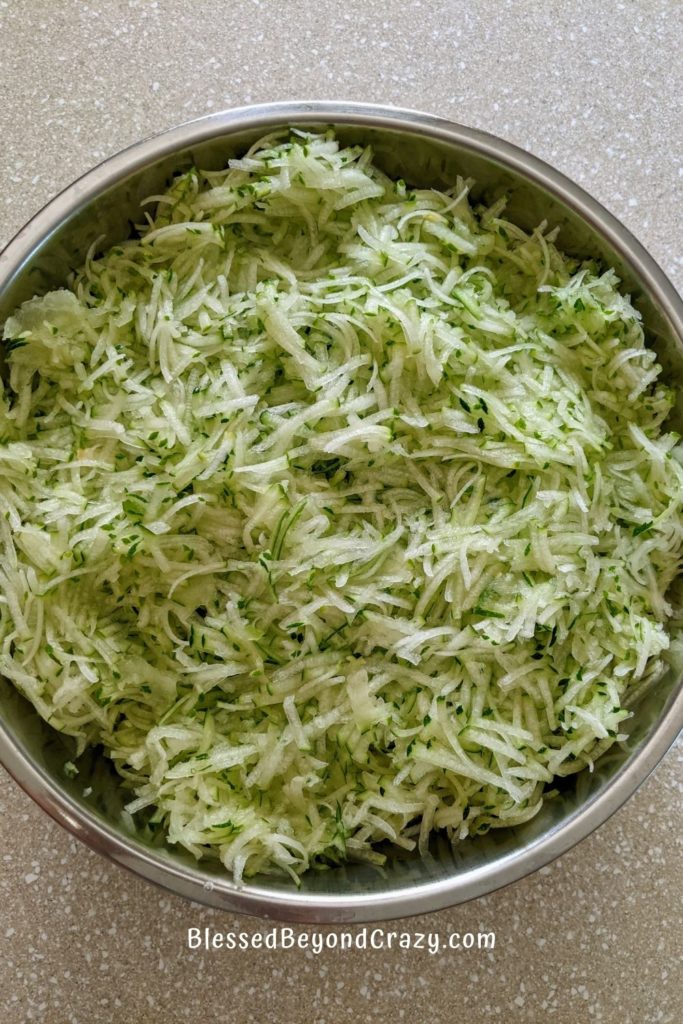 Grated zucchini
Chocolate Zucchini Brownies begin with grating 2 cups of fresh zucchini.

Batter
Next, combine the ingredients and pour the batter into a greased 9×13 baking pan. Bake at 350 degrees F for 30 minutes.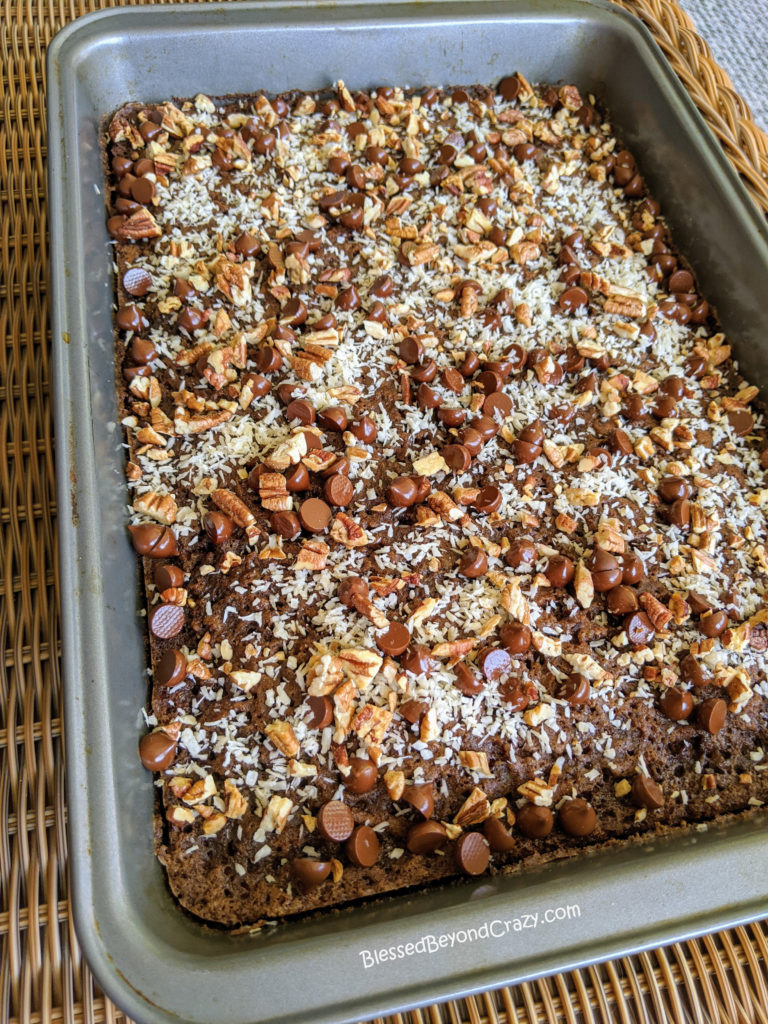 Garnish
Once the brownies are finished baking, remove them from the oven and immediately top with chocolate chips, chopped pecans, and shredded coconut.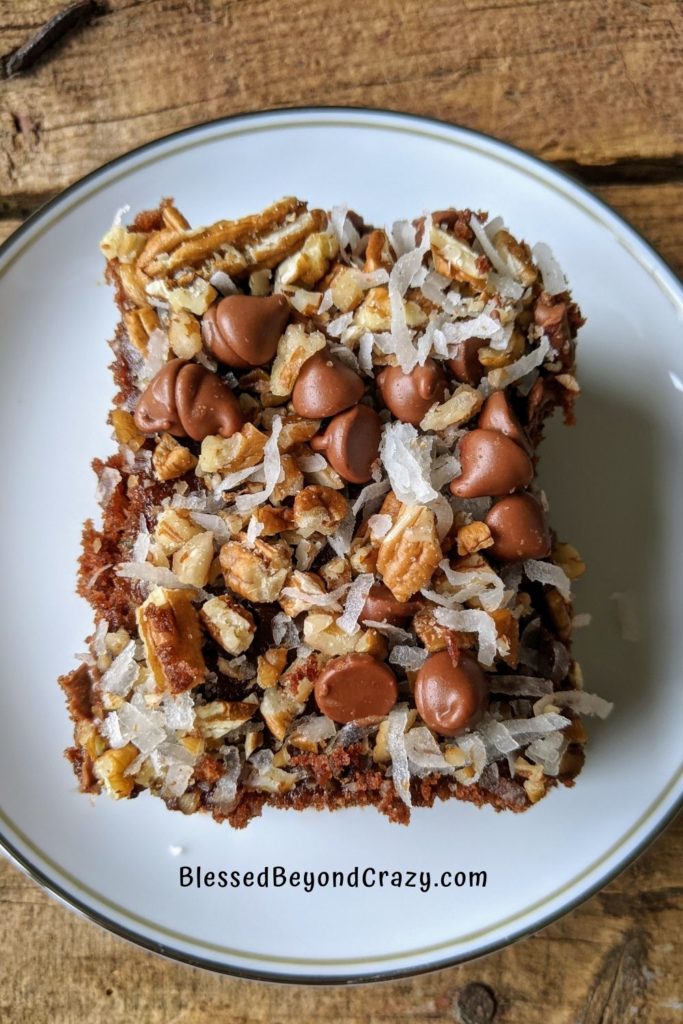 Feel free to get creative with your toppings. Other options are candy sprinkles, toffee bits, butterscotch chips or peanut butter chips,
a drizzle of caramel sauce, chopped almonds or walnuts, or mini marshmallows, etc…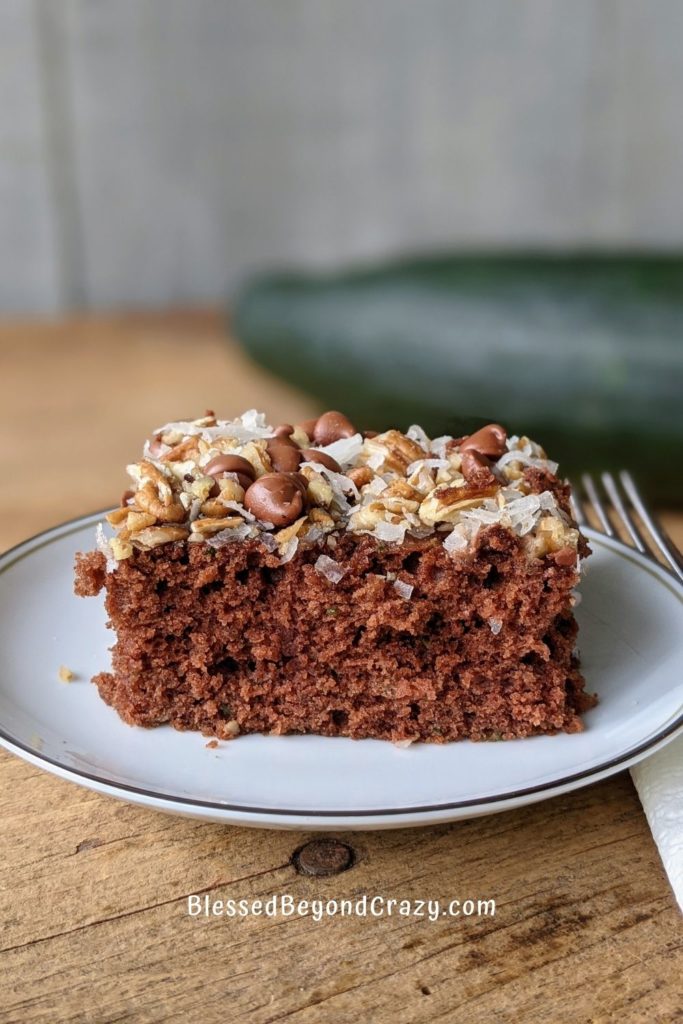 Serve
Finally, cool the brownies for 15 minutes, cut, and serve. For additional garnish feel free to add a scoop of your favorite ice cream.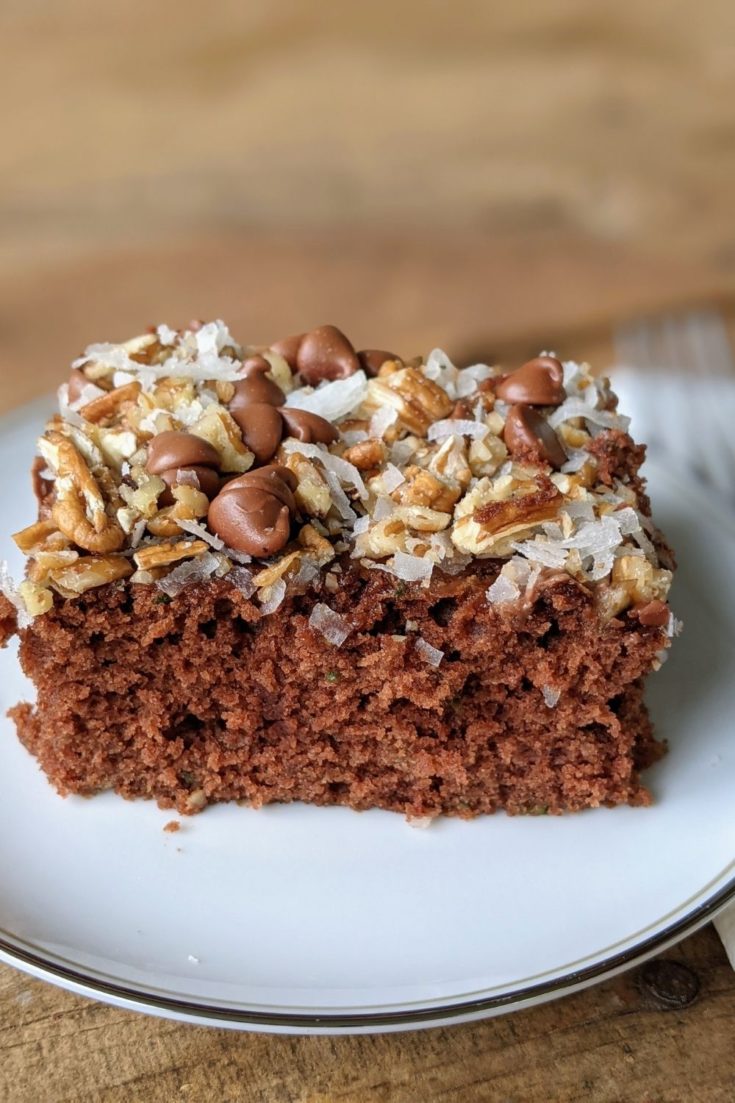 Yield:

12 - 14 Servings
Chocolate Zucchini Brownies (Gluten-Free Option)
Additional Time:
15 minutes
Total Time:
1 hour
5 minutes
Deliciously moist and chocolate brownies that are easy to make gluten-free.
Ingredients
BROWNIES:
2 cups grated zucchini
2 eggs
1/2 cup butter, softened
1 1/2 cup granulated sugar
1 tsp vanilla extract
2 heaping tablespoons cocoa
2 cups all-purpose flour (GF Option: use gluten-free flour blend + 2 teaspoons xanthan gum - unless flour blend already contains it)
1 tsp baking soda
1 tsp cinnamon OR pumpkin pie spice
1/2 tsp salt
TOPPING:
1 cup chocolate chips
1/2 cup chopped nuts
1/2 cup coconut
(Optional: 1 cup butterscotch chips or mini marshmallows)
Instructions
In a large mixing bowl combine zucchini, eggs, butter, sugar, and vanilla.
In a separate mixing bowl combine cocoa, flour, baking soda, cinnamon (or pumpkin pie spice), and salt.
Add dry ingredients to wet ingredients. Pour into a greased 9x13 baking pan.
Bake in a preheated 350 degrees F oven for 30 minutes. Remove from oven and immediately top with chocolate chips, chopped nuts, and a sprinkle of coconut.
Cool for 15 minutes. Serve.
Store in an air-tight container.
Notes
Gluten-Free Option - Always check to make sure any additional toppings, ice cream, or toppings are gluten-free.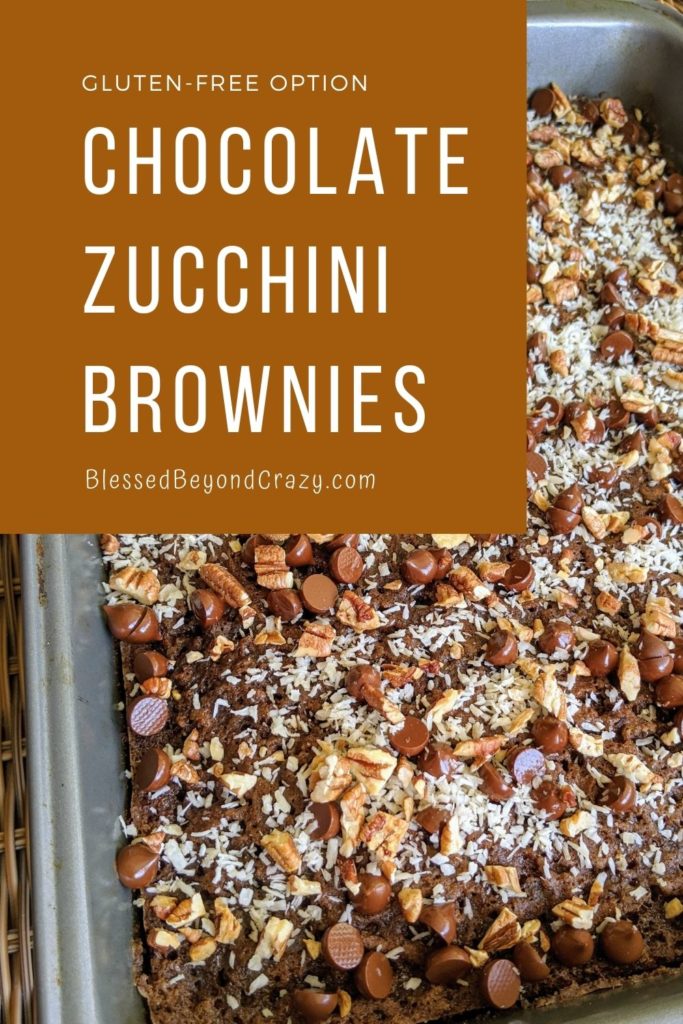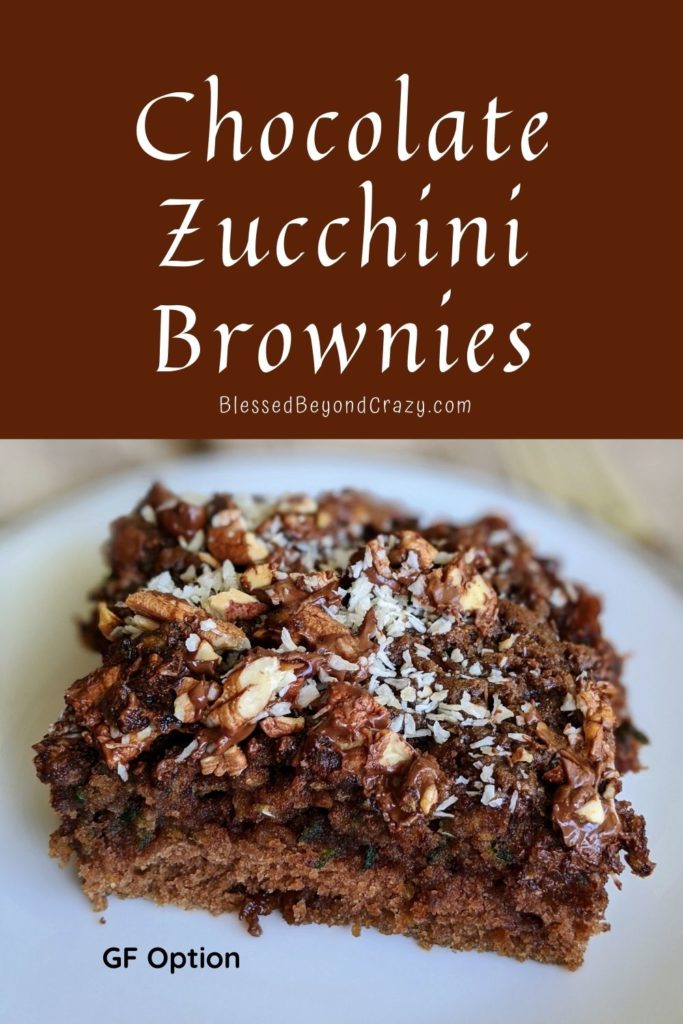 Thanks for sharing!!!
I hope that you enjoy these Chocolate Zucchini Brownies (Gluten-Free Option) as much as we do! Enjoy!
Linda
More great ideas: