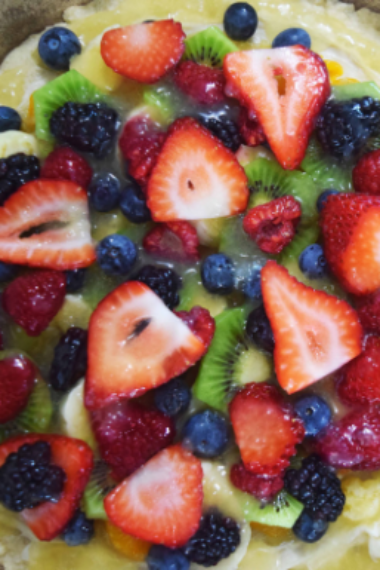 This Ultimate Loaded Fruit Pizza is a favorite dessert for many, many people in our family — both immediate and extended family.
Summer is the perfect time to make this dessert which is full of fresh fruit! 

To help support our blogging activities, our site contains affiliate links. If you make a purchase from a link on our site, we may receive a small percentage of that sale, at no extra cost to you. Blessed Beyond Crazy is a participant in the Amazon Services LLC Associates Program, an affiliate advertising program designed to provide a means for sites to earn advertising fees by advertising and linking to amazon.com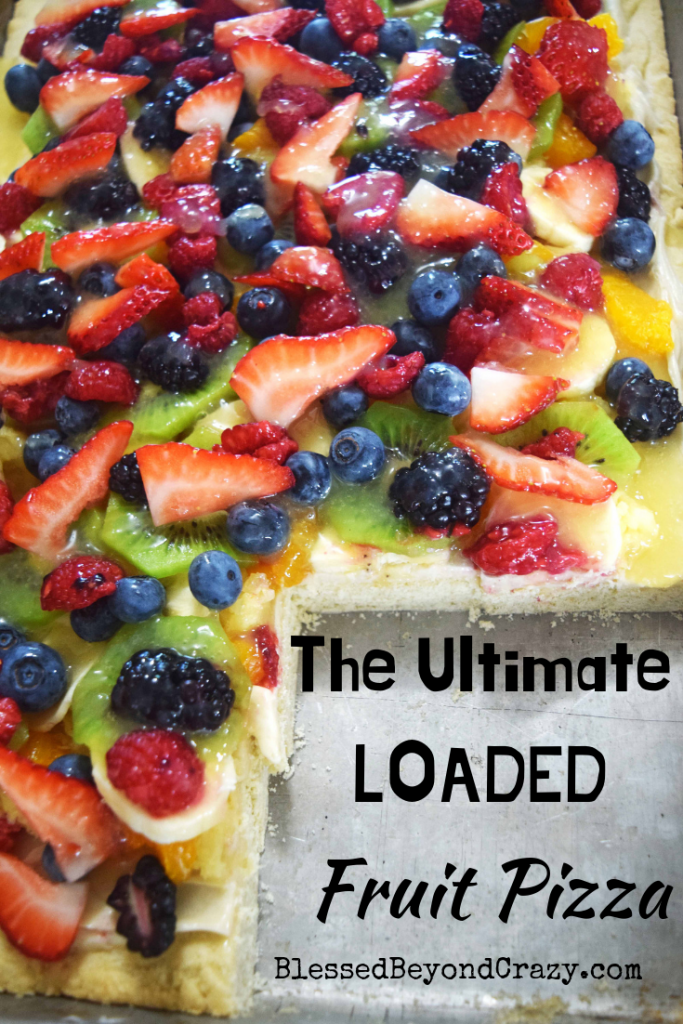 My daughter requested a fruit pizza for her birthday party instead of a birthday cake. I made two fruit pizzas, one was gluten-free (the round one) and the other had a regular crust (the rectangle). Pictures of both are included in this post.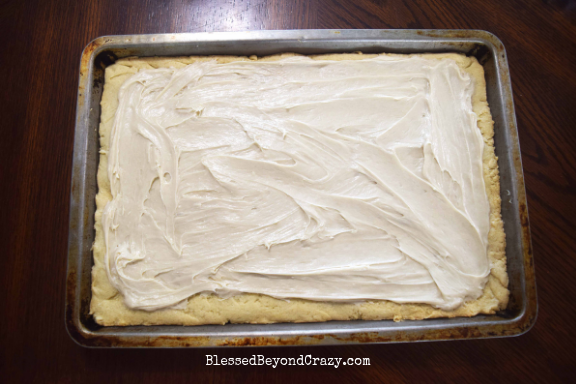 First of all, make the sugar cookie crust. If you need a gluten-free sugar cookie recipe, here is a link to the one I made, which turned out delicious and worked perfectly for a fruit pizza!
Here is the recipe for Grandma's Old Fashioned Sugar Cookies, which can be used for those who do not need to be on a gluten-free diet.
Once your cookie crust is baked and has cooled, then it is time to ice it!
The cookie crust and icing can be made a day in advance, just be sure to refrigerate the icing.
To make the Fruit Pizza icing:
8-ounce package cream cheese softened
1/2 cup granulated sugar
1 teaspoon vanilla (GF Option: use a gluten-free brand)
Combine all the icing ingredients and mix together until well combined, then spread over the top of the cooled cookie crust.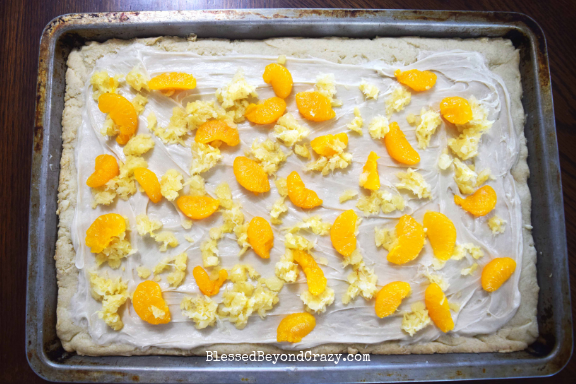 The order of the fruit is not really important, so long as there is enough of each kind of fruit to cover the whole pizza. If there is a fruit included that you don't like, then feel free to leave it off your fruit pizza. There might be another type of fruit you really enjoy that you think would taste great on this, so feel free to add it!
However, one of the reasons this is the best fruit pizza of all time is because of the amount of fruit, so be sure you do not go light on the fruit!
First, I added the crushed pineapple and mandarin oranges. Save the juice from both of these to use later for the glaze. Dump the pineapple onto some paper towels and squeeze to get more moisture out. You don't want the pineapple to be juicy, or it could make your crust soggy.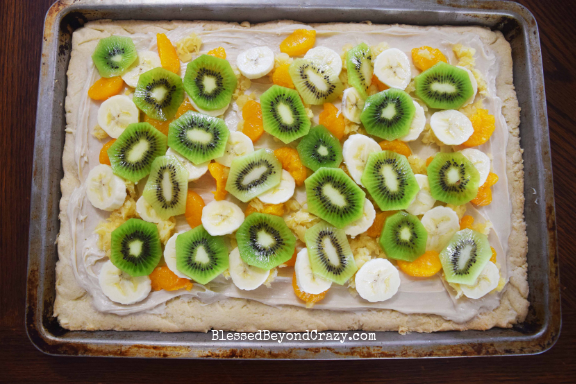 Next, I added sliced bananas and sliced kiwis, only because they are flat fruits and I thought it would layer nicely. If you are not serving this pizza within a few hours, then wait to add the bananas until right before you serve it, so they do not turn brown.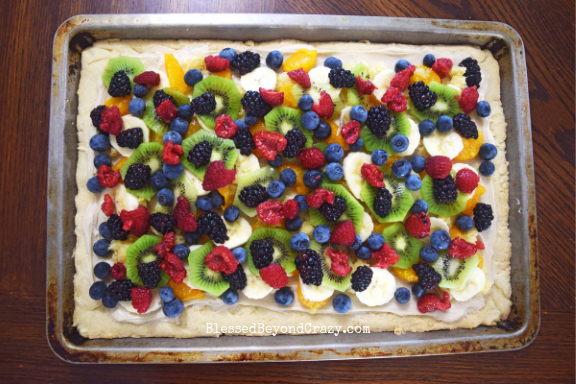 The next layer was the beautiful berries: blueberries, raspberries, and blackberries.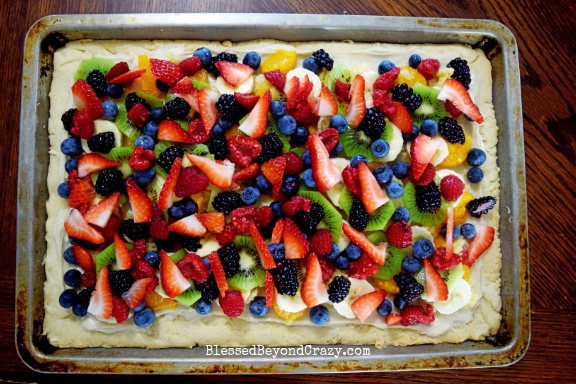 Then came the sliced strawberries! Is this not the most beautiful dessert ever!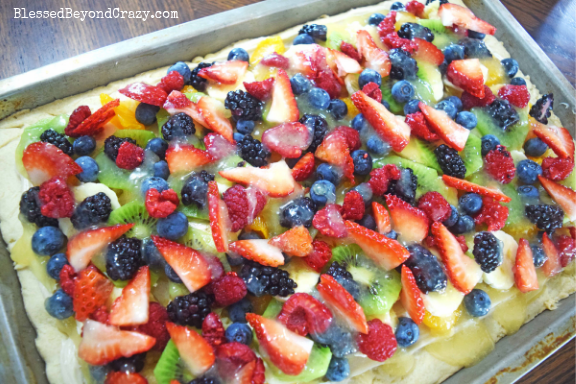 Lastly, top with the fruit pizza glaze!
To make the glaze, pour the leftover juice from the canned pineapple and the canned Mandarin oranges in a saucepan, and heat over medium-low heat until it reaches a low boil. Then, add 2 tablespoons of instant tapioca, while stirring continuously until mixture thickens (almost to a paste consistency). Remove from heat and allow the glaze to cool to room temperature, while you stir occasionally as it cools.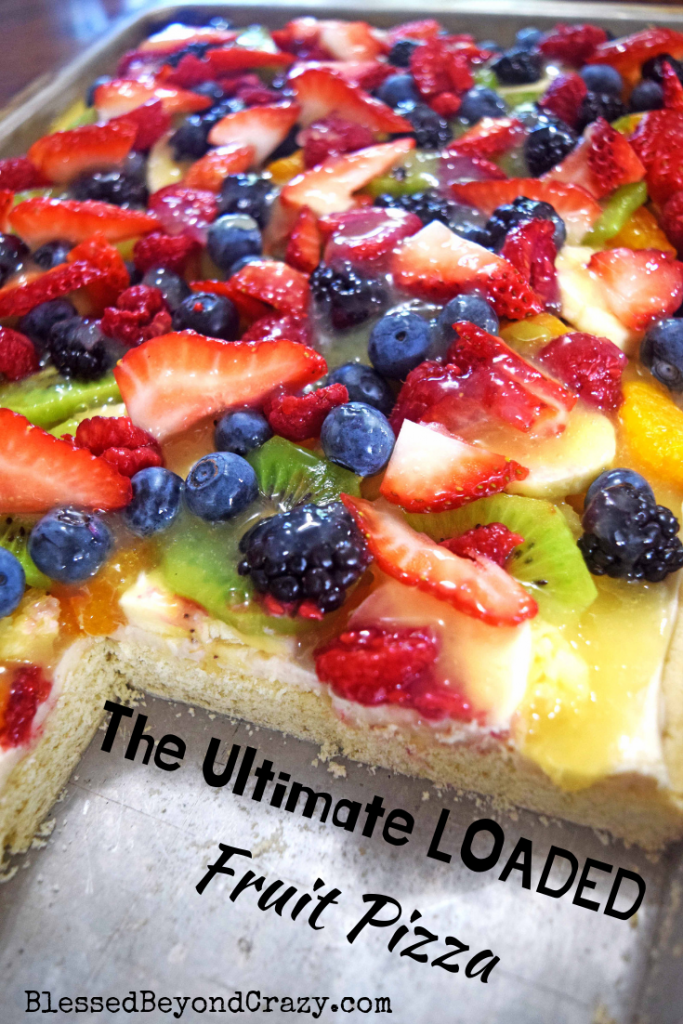 Now, try your best not to make yourself sick by eating way too much of this loaded fruit pizza all at once, like we usually do!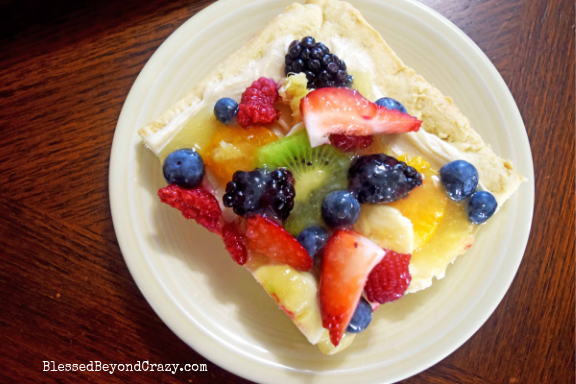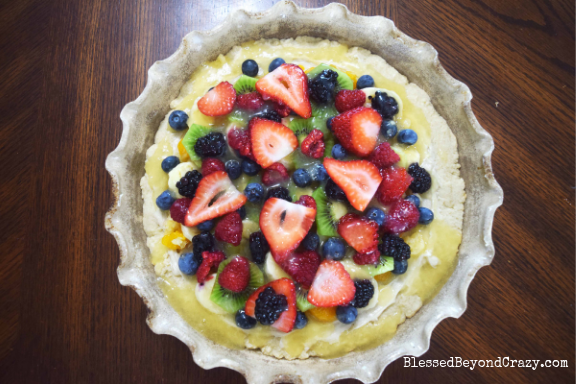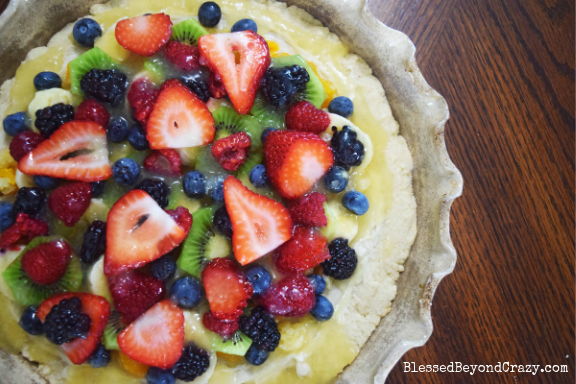 Yield:

Approx. 15 servings
The Ultimate Loaded Fruit Pizza
Additional Time:
20 minutes
Total Time:
1 hour
5 minutes
A delicious and satisfying dessert that's loaded with a combination of fruity flavors and tantalizing texture.
Ingredients
1 (16.5 ounces) package sugar cookie dough or make a homemade sugar cookie recipe (GF Option: use gluten-free sugar cookie dough)
1 (20 ounces) can crushed pineapple, drained (reserve juice)
2 (15-ounces each) canned mandarin oranges, drained (reserve juice)
2 Tablespoons of instant tapioca
8-ounce package cream cheese
1/2 cup granulated sugar
1 teaspoon vanilla (GF Option: use a gluten-free brand)
Fresh strawberries, sliced
1 pint fresh blueberries
1 pint fresh blackberries
2 - 3 fresh kiwis
1 - 2 bananas
Instructions
Make cookie dough according to package directions. Press into a 12-inch pizza pan or rectangle pan; bake according to directions. Cool completely.
While the cookie dough is baking, place a fine-mesh strainer over a medium-size saucepan. Pour crushed pineapple into the strainer. To drain as much juice as possible from the pineapple, use the back of a large spoon and press on the pineapple until no more juice runs out. Place drained pineapple into a bowl and set aside.
Pour the Mandarin oranges into the same strainer and allow the juice from the oranges to drain into the same saucepan that contains the pineapple juice (do NOT press the oranges). Place drained oranges into a separate bowl. Set aside.
Heat the pineapple and orange juice until it reaches a low boil. Add instant tapioca; stir continually until mixture thickens (almost to a paste consistency). Remove from heat. Allow mixture to cool to room temperature, stir occasionally as it cools.
Soften cream cheese in the microwave just until it is easy to stir. Add sugar and vanilla, stir until well incorporated. When the cookie dough has cooled to room temperature, spread the cream cheese mixture over the entire surface of sugar cookie.
Cover the entire surface of the cookie with a layer of drained pineapple, followed by drained Mandarin oranges, followed by layers of the remaining fresh fruit.
When tapioca mixture reaches room temperature, evenly drizzle the mixture over the layered fruit.
Refrigerate for at least two hours or overnight.
Serve.
We hope you enjoy this ultimate loaded fruit pizza as much as we do!
Anna and Linda