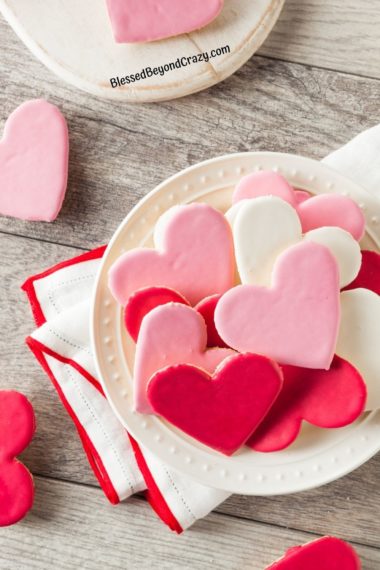 I'm going to state the obvious: Kids love holidays and cookies, heart-shaped cookie cutters, icing, and sprinkles! Therefore it's a great time to make delicious Valentine's Day Sugar Cookies!
To help support our blogging activities, our site contains affiliate links. If you make a purchase from a link on our site, we may receive a small percentage of that sale, at no extra cost to you. Blessed Beyond Crazy is a participant in the Amazon Services LLC Associates Program, an affiliate advertising program designed to provide a means for sites to earn advertising fees by advertising and linking to amazon.com. As an Amazon Associate, I earn from qualifying purchases.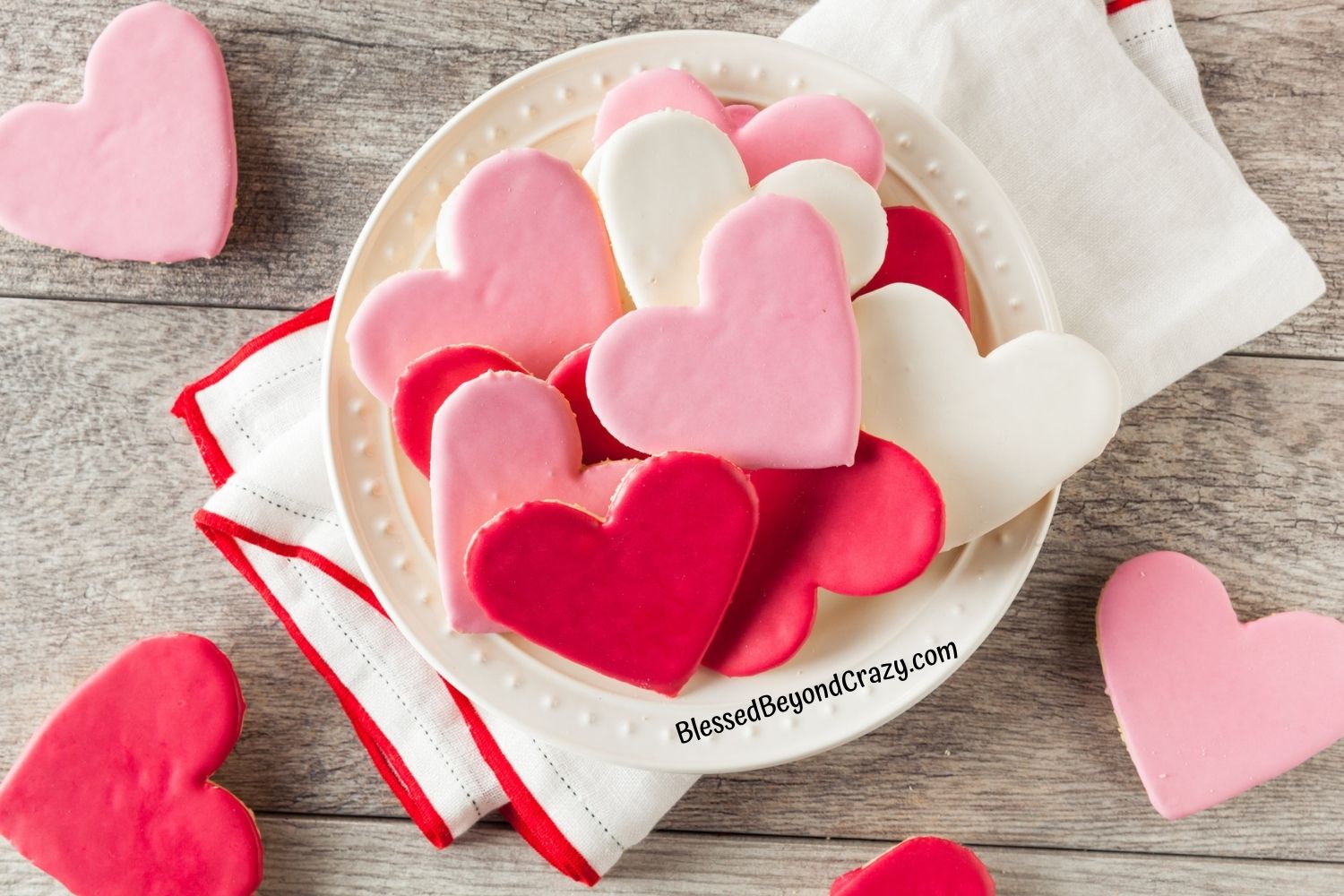 Homemade Goodies!
First of all, when you bring all of those fun things together, your children basically think you're the best mom (or dad, or aunt, or grandma) in the world! Homemade goodies always seem to make things better! Besides that, it's a fantastic way to spend quality time with the ones you love.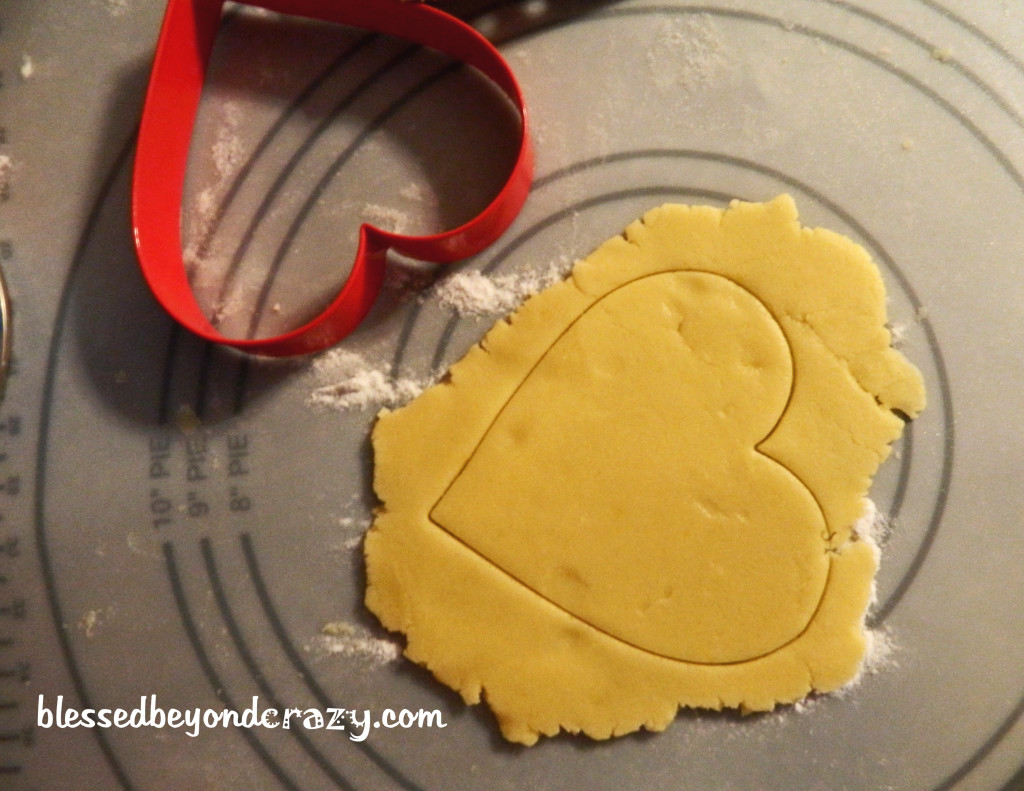 Gluten-Free Option
Up until recently, my 2-year-old daughter (who is gluten-free) had to live with plain-non-holiday cookies. Because I had never made gluten-free holiday/sugar cookies before, it certainly was time! It seems like denying my children beautiful, fun-shaped, icing-covered cookies on every holiday… well let's just say that I won't stand for that!!
Because Valentine's Day is right around the corner it was time to tackle this cooking obstacle and make gluten-free Valentine's Day cookies. I'm pleased to say that they turned out amazing!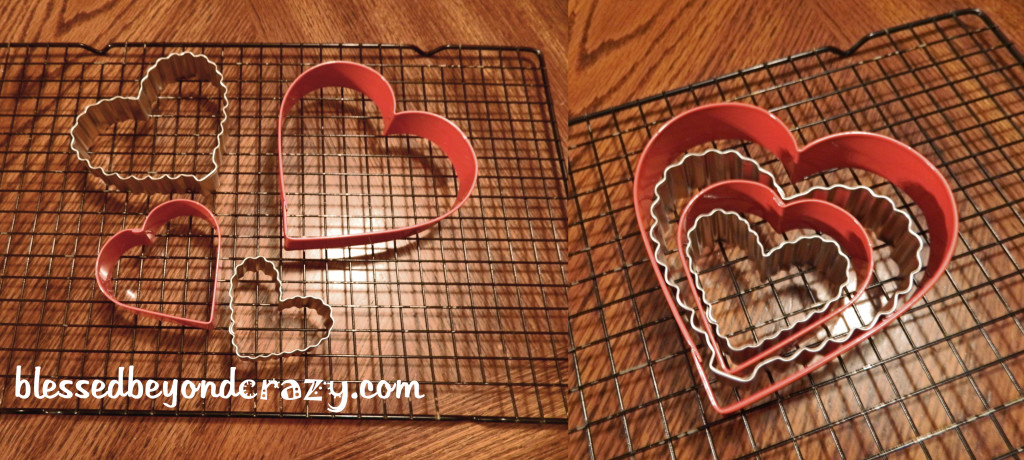 Both Educational and Fun!
I have to admit that it took me a few tries to get it right. My first attempt, well, let's just say modifying the recipe wasn't such a good idea. However, my second attempt turned out amazing! (I may or may not have eaten three cookies while typing this.)
TIP: It's fun for the kids to use different heart-shaped cookie cutters and make a variety of sizes.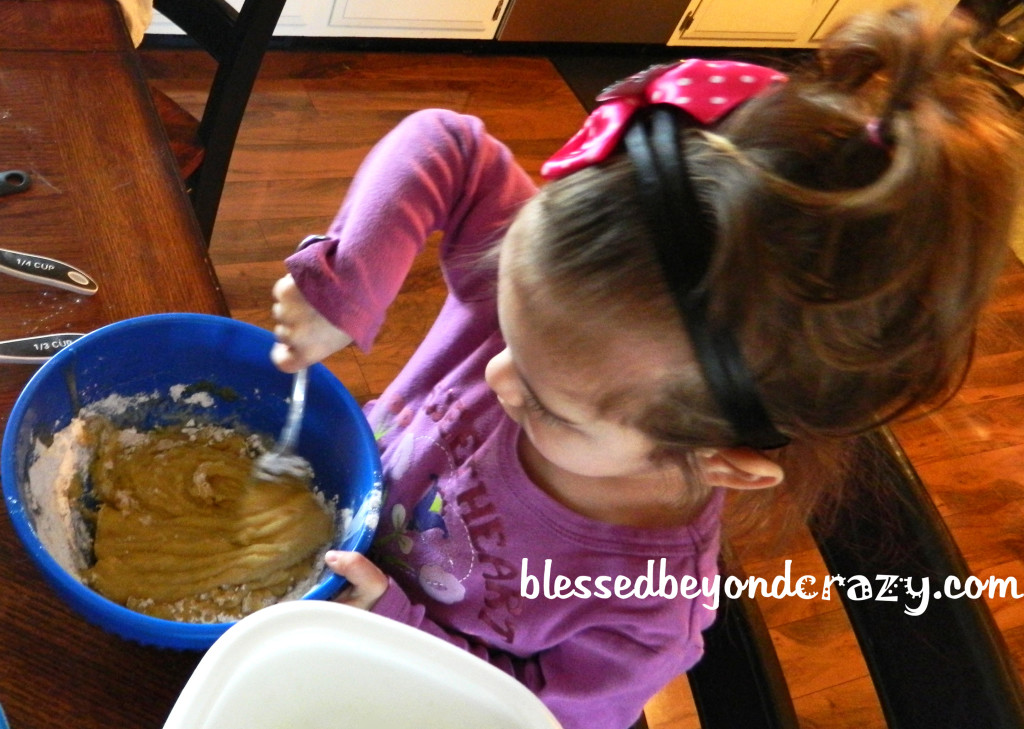 My daughter had fun stirring the cookie dough!
2 cups butter, softened

2 cups sugar

3 eggs

5 tablespoons milk

1 teaspoon vanilla

6 1/2 cups all-purpose flour OR

gluten-free flour + 1/4 teaspoon xanthan gum
1 teaspoon (each) gluten-free baking powder, baking soda, and salt.

Cream butter and sugar until light and fluffy.

Add eggs, one at a time, beating well after each.

Add milk and vanilla.

Milk flour, baking soda, baking powder, and salt.

Gradually add flour to creamed mixture and mix well.

Use a cookie scoop and place on a greased cookie sheet, or refrigerate for one hour. Roll out on a floured surface until dough is 1/4 inch in thickness then use cookie cutters.

Bake for 350 degrees F for 8-10 minutes.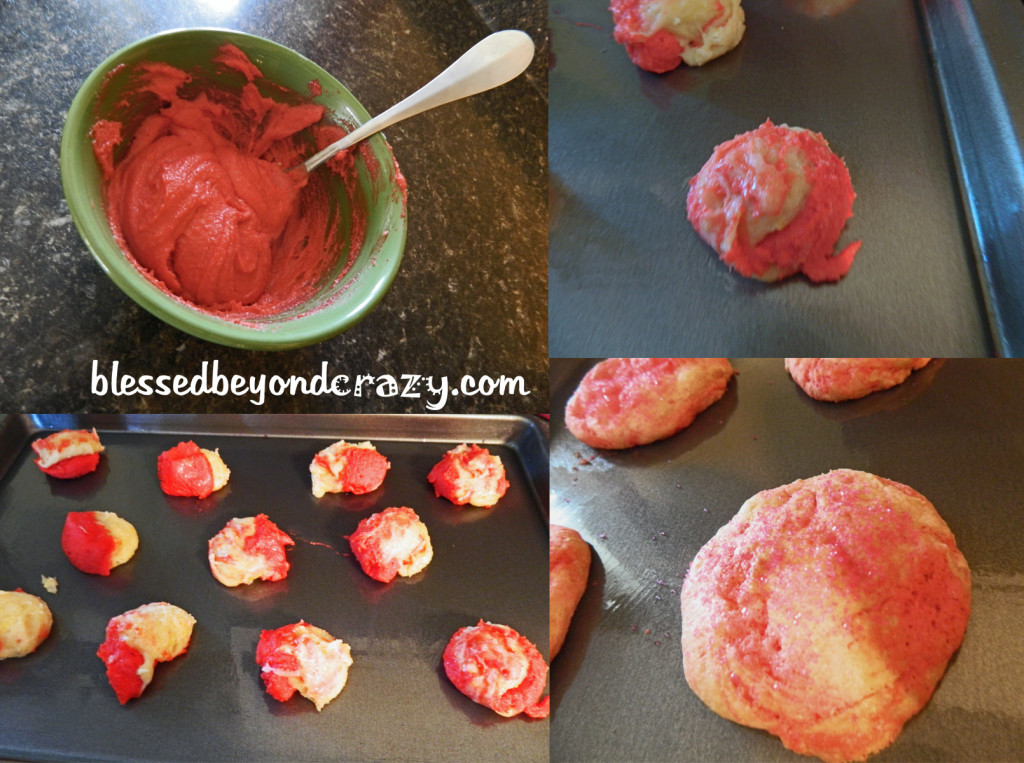 Drop vs Rolled Cookies
Yet another fun thing I've tried is to make my favorite regular sugar cookie recipe and turn it into a gluten-free recipe. After the batter was ready, I tried something new. I tried making a drop cookie instead of a rolled cookie. Consequently, no cookie cutters for these!
Food coloring was added to turn half the batter red, then the two were swirled together and topped with pink sugar!
I can honestly say that both recipes are delicious, however, drop cookies certainly are a lot less work.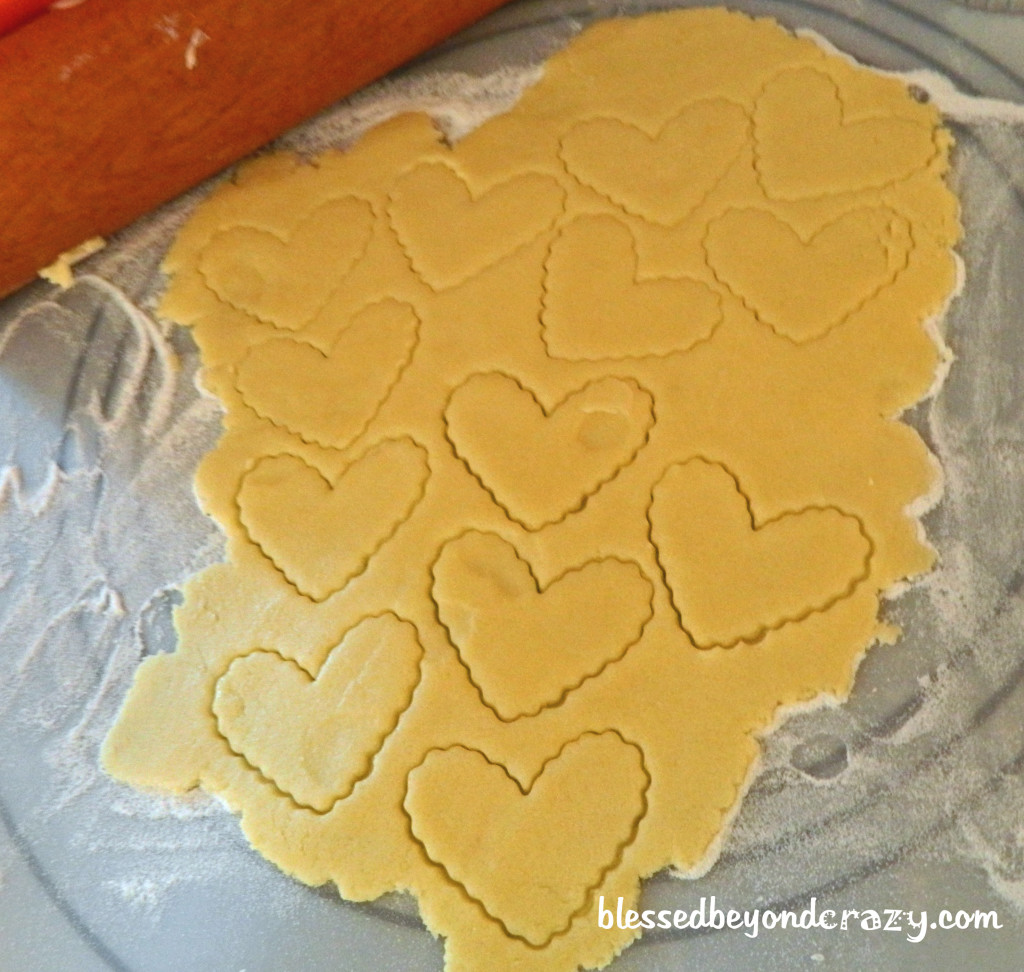 In the end, shaped cookies are cute and fun but they can be time-consuming. On the other hand, drop cookies are much faster. And as much as I like shaped sugar cookies, I try to avoid a rolling pin whenever possible, (hence, that is probably why I have never made holiday shaped cookies before!!)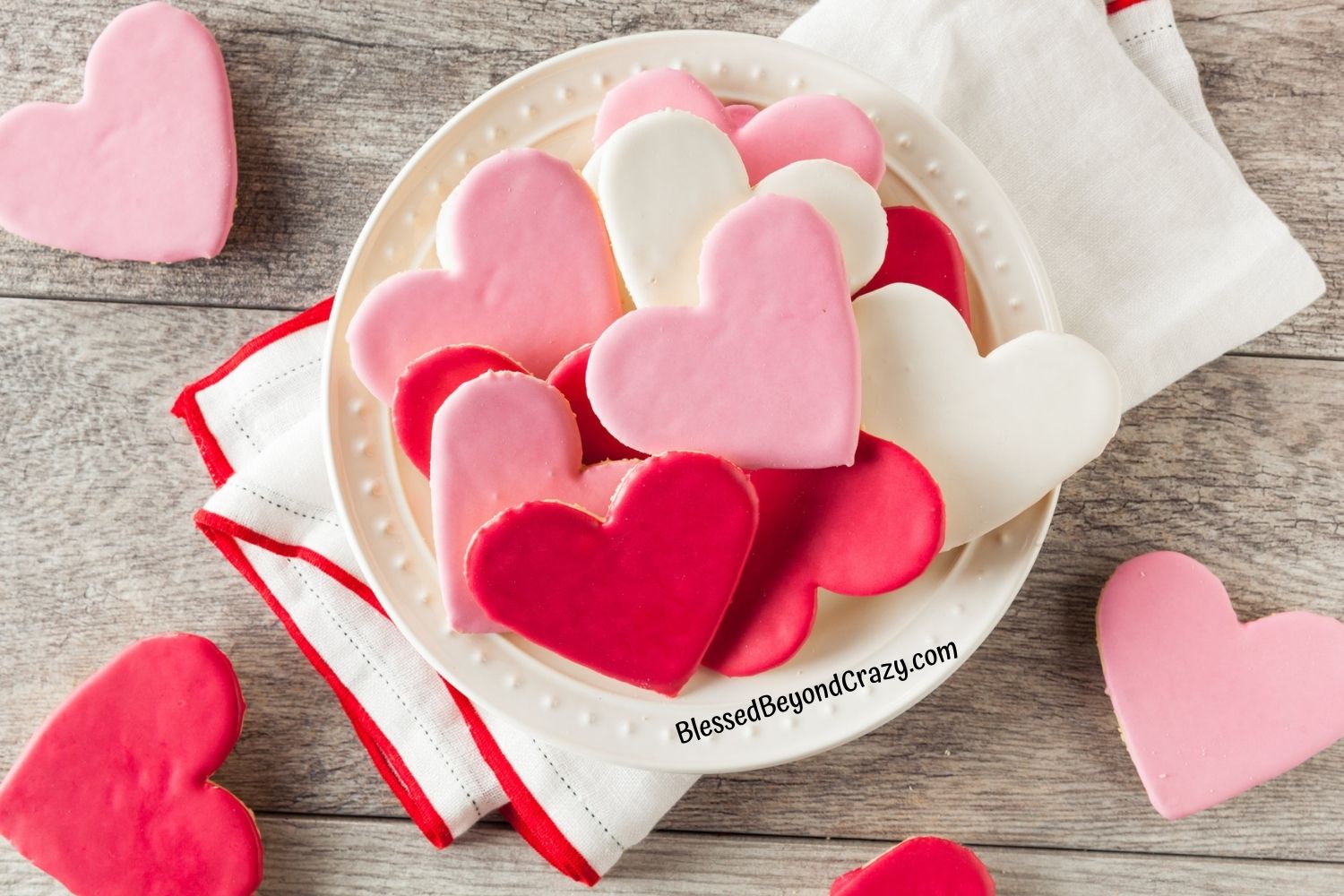 Valentine's Day Sugar Cookies
Additional Time:
30 minutes
A delicious sugar cookie recipe and one that's easy to make gluten-free.
Ingredients
1 1/2 cups butter, softened
1 1/2 cups sugar
2 eggs
3 teaspoons vanilla
4 cups all-purpose flour (GF Option: use gluten-free flour + 1/4 teaspoon Xanthan gum (unless flour already contains it)
1 teaspoon baking soda
1 teaspoon cream of tartar
1 teaspoon salt
Frosting:
6 Tablespoons butter
3 cups powdered sugar
1/4 cup milk
3 teaspoons vanilla
food coloring
Beat all ingredients together until smooth.
Instructions
Cream together butter and sugar until light and fluffy.
Add eggs, one at a time, beating well after each egg is added.
Add vanilla.
Combine flour, baking soda, cream of tartar, and salt.
Gradually add flour to creamed mixture and mix well.
Cover and refrigerate for 30 minutes.
On a floured surface, roll out dough to 1/4 inch thickness. Cut with cookie cutters. Place on an ungreased cookie sheet and bake at 350 degrees F for 8-10 minutes.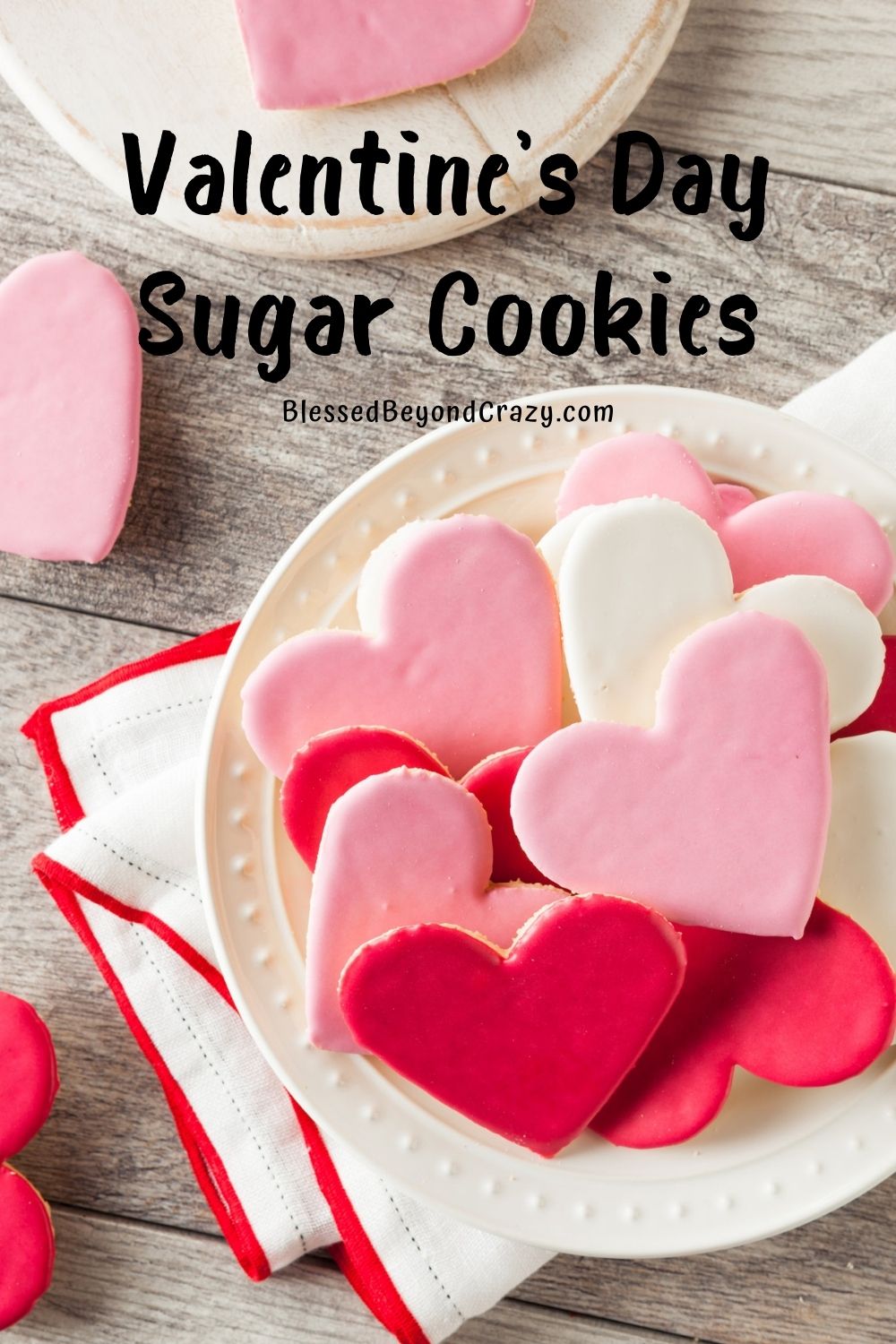 Finally, it's time to have tasty Valentine's Day Sugar Cookies with my kiddos and hubby!
Enjoy 😉
Anna
Disclaimer: Manufacturers' formulations and policies may change at any time, therefore it's important to always read product labels yourself and contact the manufacturer with concerns. We have found that most companies are eager to help answer your questions.
More fun ideas!