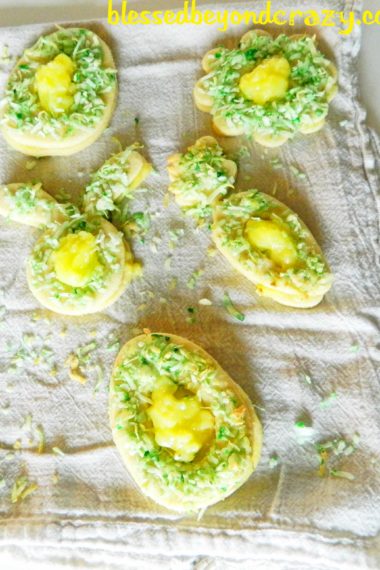 Yesterday was the first day of Spring (and Easter is right around the corner) and I celebrated by making these easy and delicious Coconut Lemon Crisps. I adapted the recipe to make them gluten-free for my daughter and husband. Honestly, these gluten-free cookies taste so good, no one would ever guess that they are gluten-free!
To help support our blogging activities, our site contains affiliate links. If you make a purchase from a link on our site, we may receive a small percentage of that sale, at no extra cost to you. Blessed Beyond Crazy is a participant in the Amazon Services LLC Associates Program, an affiliate advertising program designed to provide a means for sites to earn advertising fees by advertising and linking to amazon.com. As an Amazon Associate, I earn from qualifying purchases.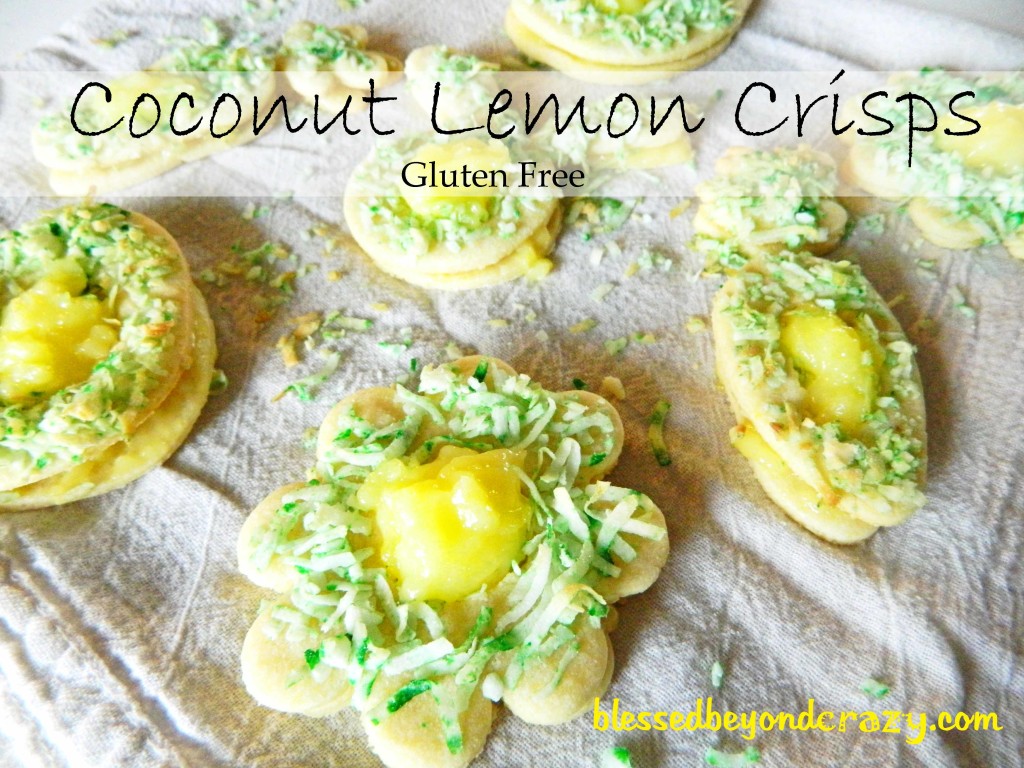 When we first became a gluten-free family, I made it my personal challenge to make anything and everything gluten-free.
There are very few desserts that are naturally gluten-free so my daughter rarely gets dessert. I try to always have some gluten-free cookies on hand for her so she isn't left out. After all, she is only 2 and that is just cruel to eat dessert and not have any for her!
This recipe isn't normally gluten-free–so if you are not on a gluten-free diet I'll inform you of how to make them without the weird ingredients.
If you are gluten-free I'll inform you of how I adapted it to make it gluten-free. Also, be sure to check out Gluten-Free 101 for more great tips on this lifestyle.
If you remember back at Valentine's Day, I let you all in on my little secret that I do not like making shaped cookies because… well… I'm lazy… there I'll admit it. So you'll all be proud of me that I actually made shaped cookies!!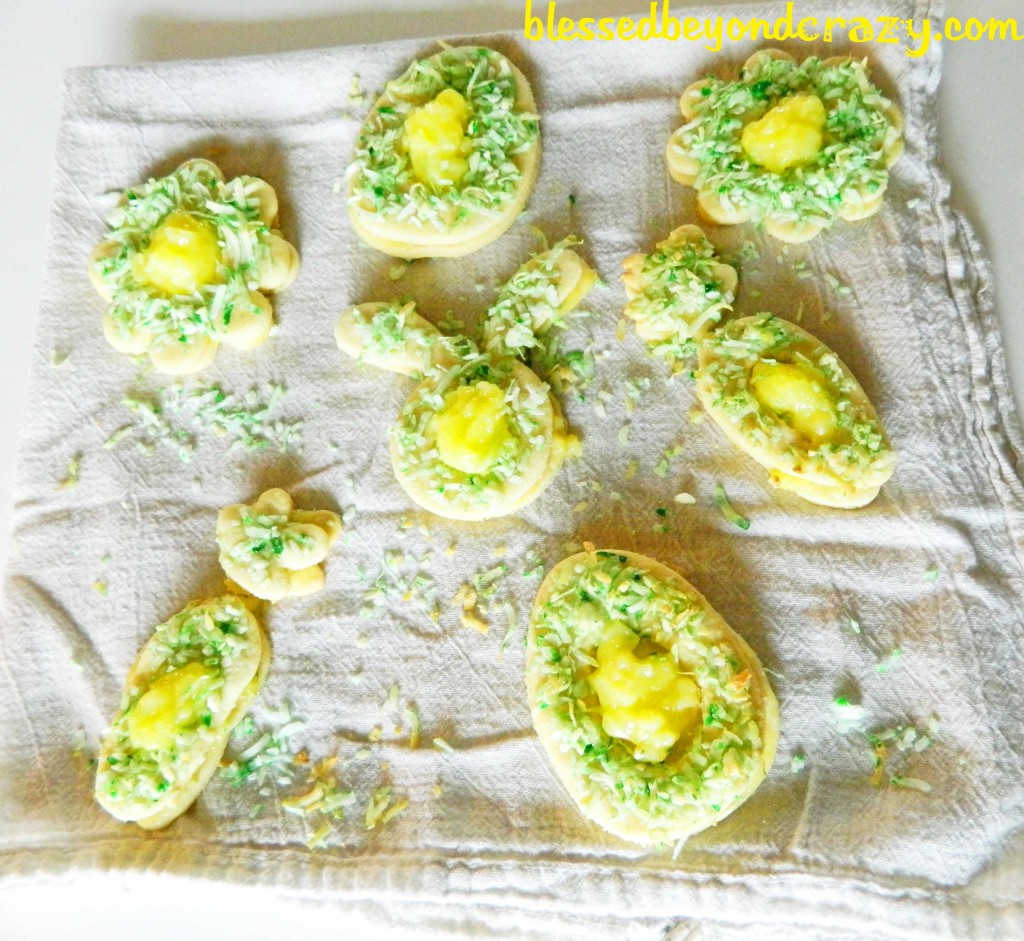 These cookies are perfect for spring. I died the coconut green with food coloring to look like grass. I think I could have added a bit more green to it because when the coconut cooked it lost some of its vibrancy.
These would be perfect for Easter… after all, I did use Easter cookie cutters.
These are two cookies stacked on top of each other with lemon filling in between them. The top cookie is topped with coconut before cooking and has a hole cut in it for the filling to come through. So make sure you make an even number of cookies with half of them having holes in the middle–Every cookie gets a buddy!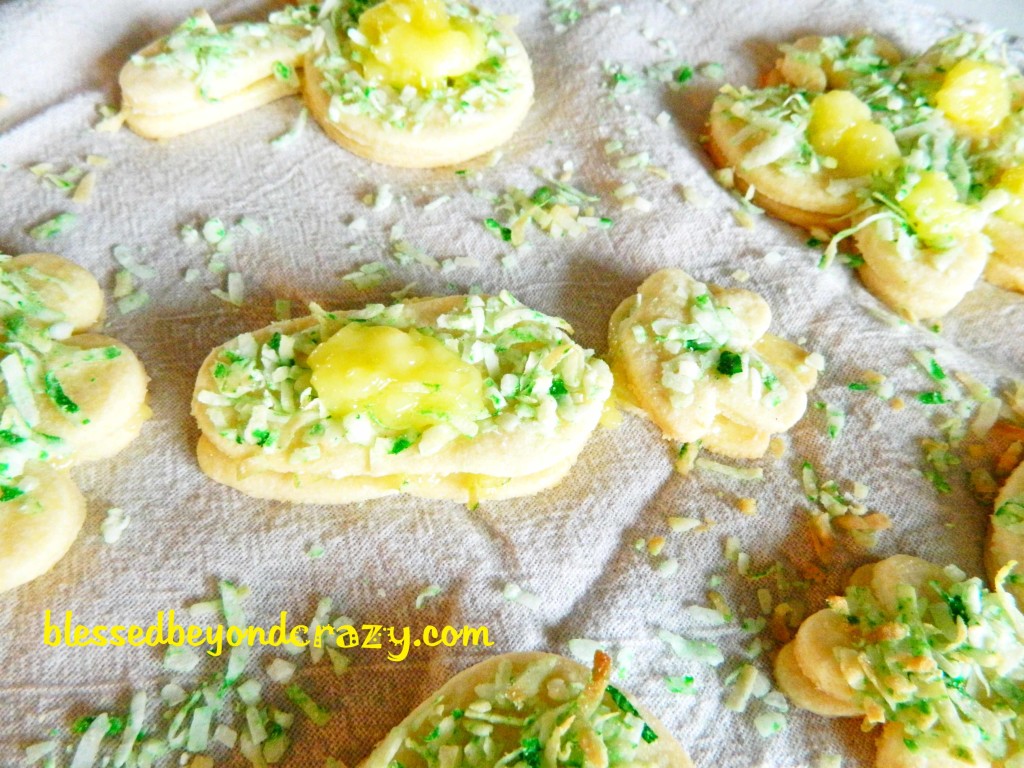 So to make these gluten-free I used 1 cup of the gluten-free flour blend.
2 parts white rice flour
2/3 part potato starch
1/3 part tapioca flour
I also add 1/2 teaspoon of xanthan gum. This helps holds the cookies together and prevents them from being so crumbly.
7 tbsp Butter
1/4 cup Sugar
1/2 tsp Vanilla extract
1 cup Gluten-free flour blend
1/2 tsp Xanthan gum
1 Egg white
1/2 cup Coconut, flaked
Filling:
1/3 cup sugar
1 Egg yolk
2 tbsp Lemon juice
4 1/2 tsp Cornstarch
1 Drop Lemon essential oil (optional)
3/4 cup Water
In a bowl cream butter, sugar, and vanilla.
Gradually add flour and xanthan gum and mix well.
On a lightly floured surface, roll out dough to 1/8 in. thick.
Cut out cookies with cookie cutters, make an even number of every shape. In half of the cookies of each shape cut out the center of each cookie.
Brush egg white over cookies with the center cut out and sprinkle with coconut.
Bake at 350 degrees F for 8-10 minutes.
For the filling, combine sugar and cornstarch in a saucepan.
Stir in water until smooth. Cook and stir over medium-high heat until sauce is thick and bubbly.
Reduce heat to low and continue cooking for 2 minutes.
Remove from heat.
Stir in 1 tablespoon of filling into the egg yolk, then add back into the pan, stirring constantly.
Bring to a boil and continue cooking for 2 minutes.
Remove from heat and stir in butter and lemon juice and lemon essential oil.
Let cool.
Spread a teaspoonful of filling on the bottom of each solid cookie. Place coconut topped cookie over lemon filling.
Store in fridge.
Enjoy!!
Anna