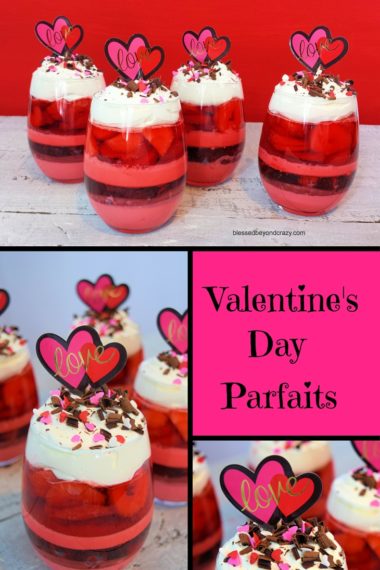 Surprise your family with layered Valentine's Day Parfaits! They're visually appealing, super festive, absolutely delicious, and easy to make gluten-free!

To help support our blogging activities, our site contains affiliate links. If you make a purchase from a link on our site, we may receive a small percentage of that sale, at no extra cost to you. Blessed Beyond Crazy is a participant in the Amazon Services LLC Associates Program, an affiliate advertising program designed to provide a means for sites to earn advertising fees by advertising and linking to amazon.com.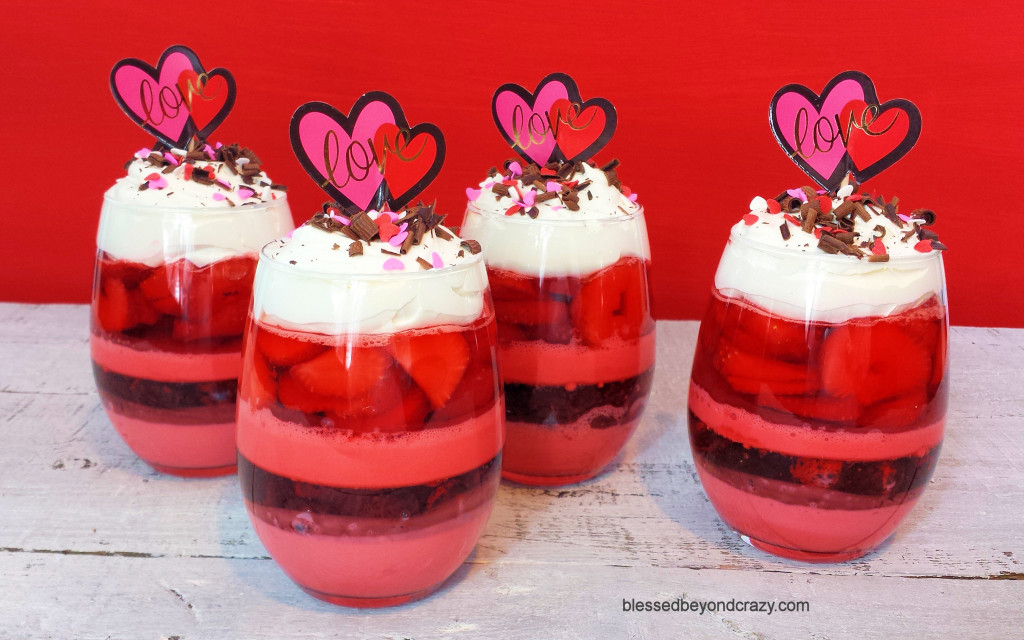 Festive and Pretty!
Over the weekend I experimented with a new recipe for this upcoming Valentine's Day. As I was creating these yummy Valentine's Day Parfaits, I kept thinking to myself, "These parfaits are turning out super pretty. I wonder what they will actually taste like?" Well… I wish there would have been a video camera rolling as I took my first "taste-test" bite! Mmm, Mmm! My eyes lit up as I declared, "Wow, these babies are GOOD!!!"
Time Factor
This recipe does require a little time to assemble, however, it is easy to do and the finished product is definitely worth it! Each layer requires a refrigeration time of approximately 35 minutes, so while I created/assembled the parfaits, I was in the kitchen working on other recipes, doing laundry, and watching The Pioneer Woman (don't you just love that show?)! Nothing like multi-tasking, huh?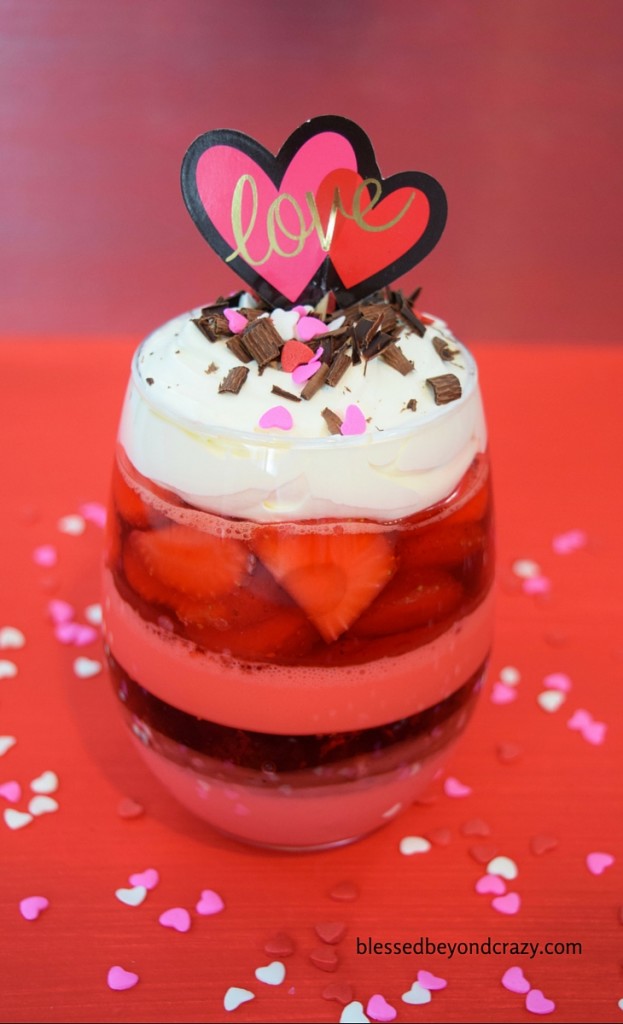 Presentation
Food presentation is always important and therefore I added cute little Love toothpicks and garnished each parfait with a dollop of whipped topping, shaved chocolate, and edible heart sprinkles. However, feel free to use your favorite shape/style of parfait glasses and toppings.

So Colorful!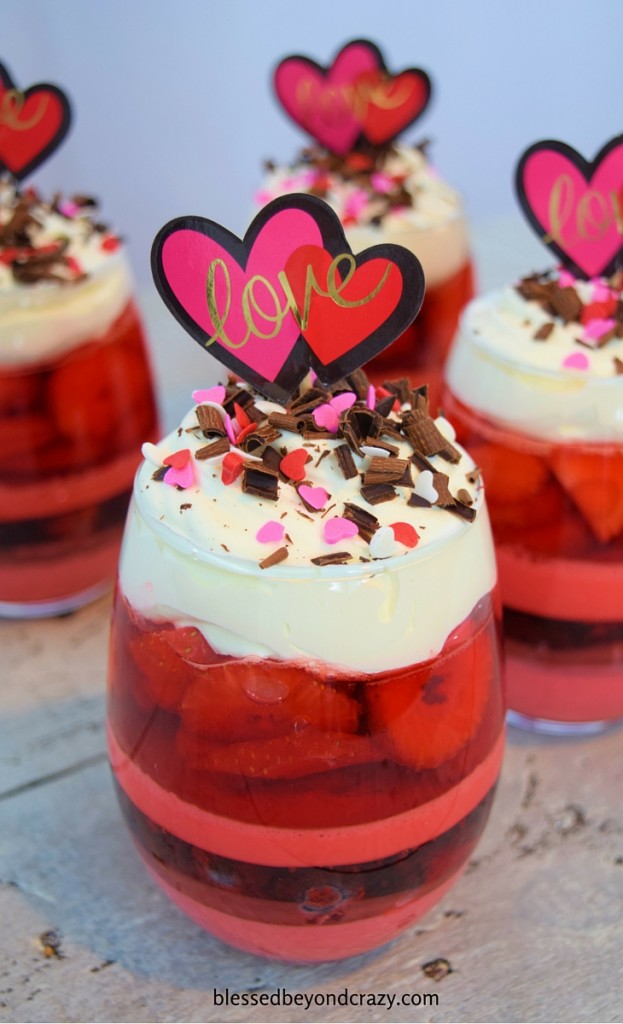 These gorgeous parfaits are great to serve any time of the year, but the colors lend themselves perfectly for Valentine's Day, don't you think? Here's how to make them: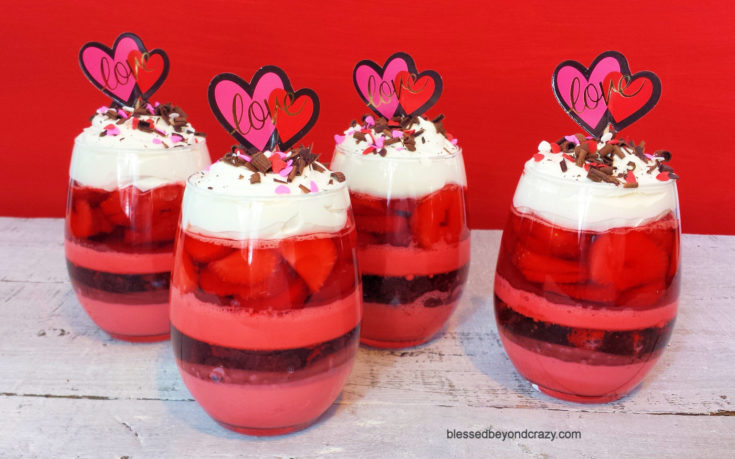 Yield:

Yields 4 Parfaits
Valentine's Day Parfaits
Prep Time:
1 hour
30 minutes
Total Time:
1 hour
30 minutes
Ingredients
2 package (3 ounce) regular OR sugar-free cherry gelatin, divided (*gluten-free version: use gluten free gelatin - I use Aldi's gelatin)
2 cup boiling water, divided
1 cup reduced-fat sour cream, divided (*gluten-free version: Daisy brand of sour cream is gluten free)
1/2 teaspoon almond extract, divided (*gluten-free version: use gluten free almond extract)
1 cup regular OR diet lemon-lime soda, divided
1/2 cup fresh blueberries
1 1/2 cups fresh strawberries, sliced
Garnish:
1/4 cup Reduced-fat whipped topping
Dark chocolate curls (with a potato peeler I shaved the ends of an unsweetened Godiva chocolate baking bar to make my curls)
Candy hearts (*gluten-free version: use gluten free candy hearts, or omit).
Instructions
In a small bowl, dissolve 1 package of gelatin in boiling water.
Transfer 1/2 cup of gelatin to another bowl and whisk in 1/2 cup sour cream and 1/4 teaspoon extract.
Divide among four parfait glasses or dessert dishes.
Refrigerate until firm, about 35 minutes.
Stir 1/2 cup soda into the remaining gelatin; cover and refrigerate until partially set.
Remove parfaits from the refrigerator and top the set sour cream/gelatin mixture with 5 -6 whole blueberries. Now add the gelatin/soda mixture, dividing it among the four parfaits.
Refrigerate until firm, approximately another 35 minutes.
Repeat the layering process as before, but instead of topping the sour cream/gelatin layer with blueberries, top with sliced strawberries and another layer of gelatin/soda mixture.
Just before serving, garnish with a dollop of whipping topping, dark chocolate curls, and candy hearts.
Serve.
Refrigerate leftovers.

I hope that you love these Valentine's Day Parfaits as much as my family does! 
Enjoy!
Linda
More great ideas: