Valentine's Day is quickly approaching so now is a great time to plan ahead. Surprise your love with one (or several) of these 10 Easy Valentine's Day Breakfast Ideas.
---
To help support our blogging activities, our site contains affiliate links. If you make a purchase from a link on our site, we may receive a small percentage of that sale, at no extra cost to you. Blessed Beyond Crazy is a participant in the Amazon Services LLC Associates Program, an affiliate advertising program designed to provide a means for sites to earn advertising fees by advertising and linking to amazon.com.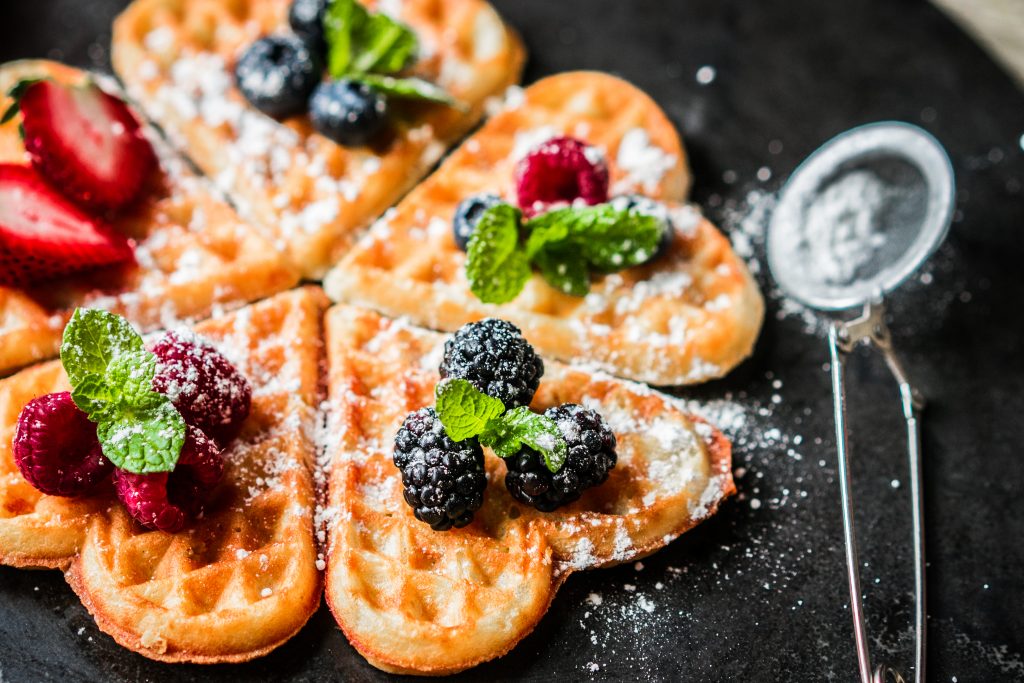 Valentine's Day is the perfect day to make easy and delicious heart-shaped waffles. Whip up a batch of your favorite homemade waffles or use your favorite waffle mix. Pour the batter into a heated and greased heart waffle maker and bake according to the manufacturer's directions. Garnish the waffles with a variety of fresh fruit, sprigs of fresh mint, and a sprinkle of powdered sugar. Easy peasy and so delish!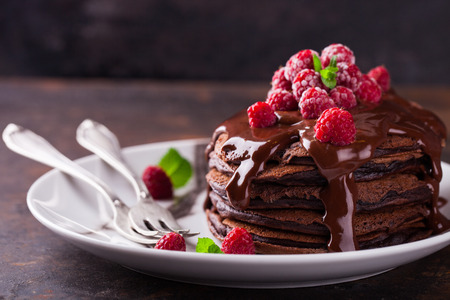 Anyone who loves chocolate will love this addition to our 10 Easy Valentine's Day breakfast ideas!
Grab a griddle and make a stack of scrumptious chocolate pancakes!!! Send the pancakes over the top by making a homemade chocolate sauce. Garnish with raspberries and fresh sprigs of mint.
Find a great recipe for Double Chocolate Pancakes with Chocolate Sauce HERE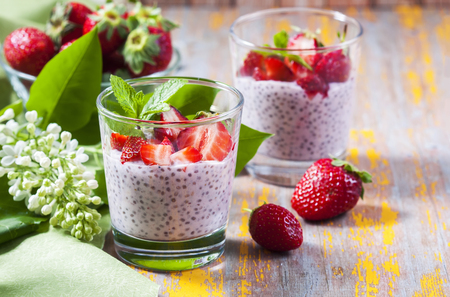 If you are looking for something a bit healthier and something you can make the night before, consider making homemade pink chia pudding with fresh strawberries and mint.
Pink Chia Pudding
1 cup milk (or coconut, almond, hemp, cashew, soy, almond, or oat milk)

3 1/2 tablespoons

chia seeds

2 tablespoons pomegranate juice

1/4 teaspoon vanilla

1 1/2 tablespoons honey, agave, pure maple syrup, or molasses (or to taste)

Garnish with fresh strawberries and fresh mint
Combine milk, chia seeds, vanilla, pomegranate juice, and honey; mix well. Spoon chia pudding into glass jars and place in refrigerator overnight. Before serving, garnish with fresh strawberries and sprigs of fresh mint. Enjoy!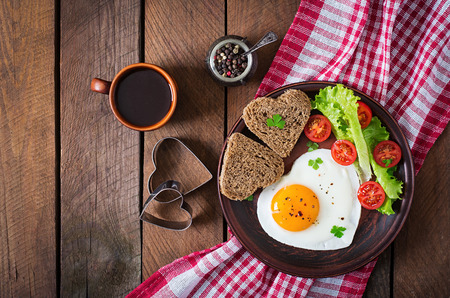 Get creative! A heart-shaped egg mold will quickly turn normal eggs into something extra special on Valentine's Day. In addition, heart-shaped cookie cutters can be used to cut out bread, toast, veggies, and much more.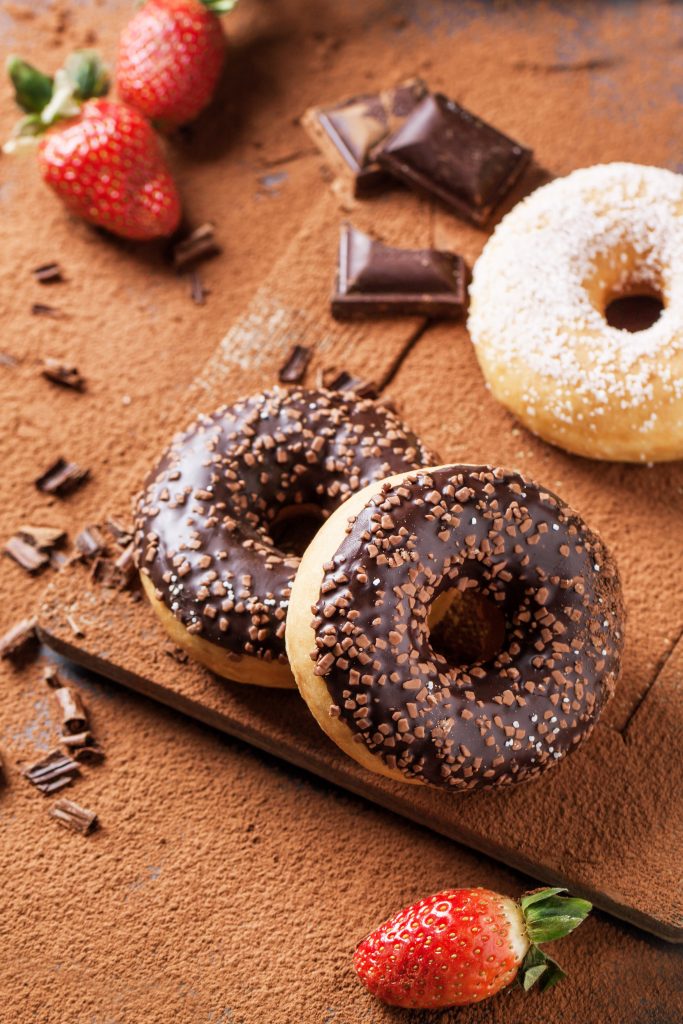 We've included a bite-size treat to this list of 10 Valentine's Day Breakfast Ideas. Tasty little mini doughnuts add a nice touch of sweetness! Dip them in melted dark chocolate and garnish with an additional sprinkle of chopped chocolate and a hint of sea salt. Or, simply use a light dusting of powdered sugar.
You can find an easy mini doughnut recipe HERE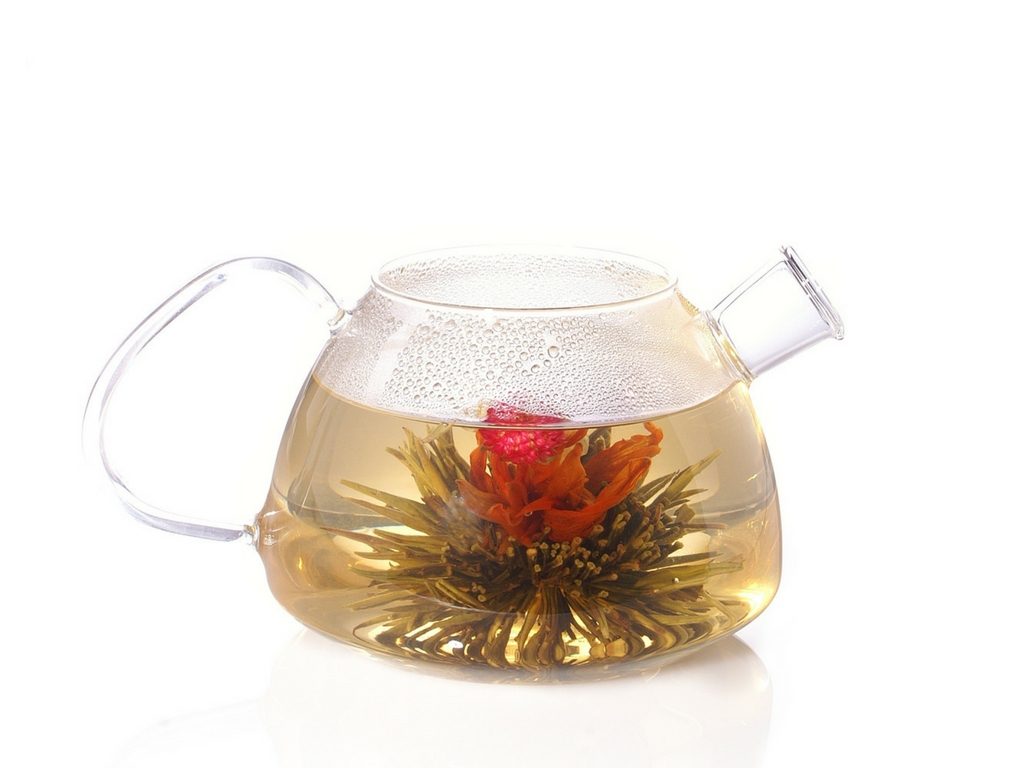 Looking for a fun Valentine's Day gift? Present your love a cup of flowering tea served from a unique see-through teapot! Any tea lover will appreciate the unique experience of observing a stunning display of blossoming tea flowers. This makes a perfect gift (and a perfect part of your breakfast) for tea lovers interested in trying a wide range of different flavors, and best of all, flowering teas can be used for multiple steeps!
There are numerous flavors of flowering teas to try: apple cinnamon, mango, strawberry, tangerine spice, peach, banana, vanilla, green tea, ginger jasmine, rose oolong, chamomile white, and more. Have fun trying all the flavors.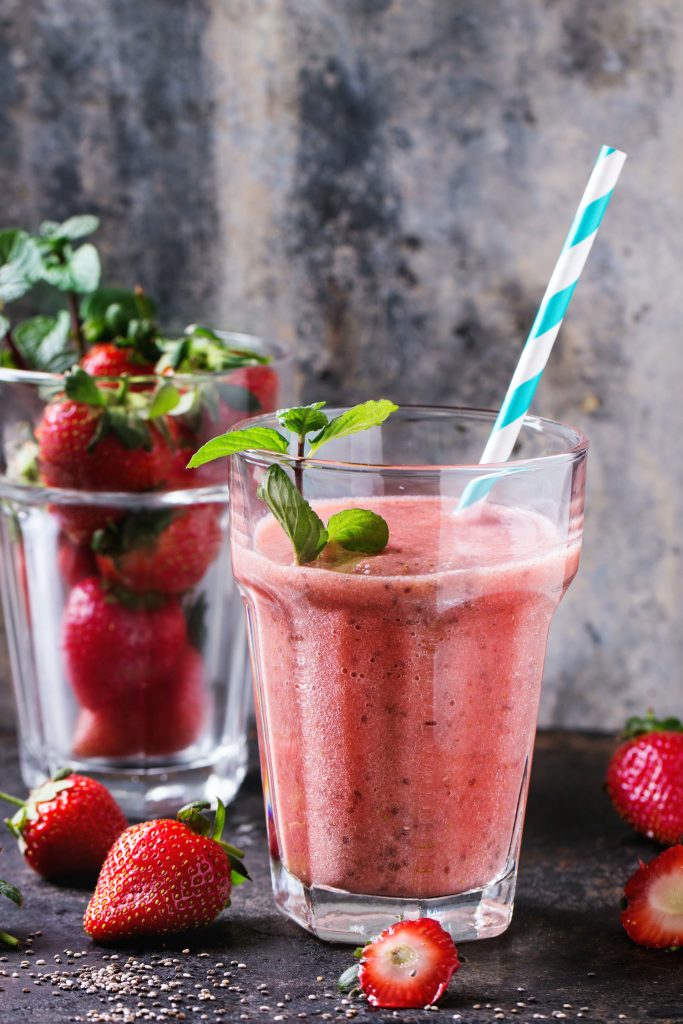 Strawberry smoothies are yet another easy and great way to start your morning!
Strawberry Chia Smoothie
1 cup fresh strawberries

3/4 cup low-fat strawberry or vanilla yogurt

1 teaspoon lemon juice

2 teaspoons honey, agave, maple syrup, or molasses

1 teaspoon chia seeds

3 -5 ice cubes (optional)
Place strawberries, yogurt, lemon juice, honey, and chia into a blender; blend until ingredients are combined. Add ice and pulsate until incorporated. Pour smoothie into glasses and garnish with fresh strawberries and fresh mint leaves. Serve. Enjoy!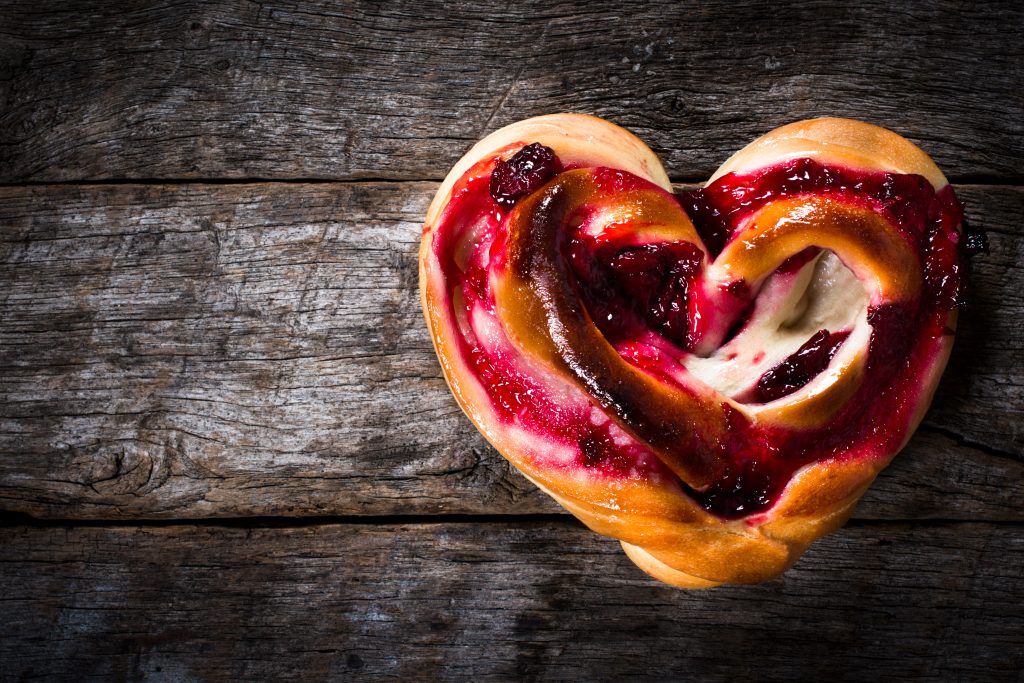 Heart-shaped breakfast pastries take about 50 minutes to prepare but they are definitely worth it and are a delicious addition to your Valentine's Day breakfast. The filling can be made with raspberries, strawberries, blueberries or a combination of the three.
You can find a delicious heart-shaped raspberry roll recipe HERE
Valentine's Day is the perfect day to make that special someone a plate full of delicious homemade crepes. Simply top them with fresh fruit, a dollop of strawberry preserves, and a dusting of powdered sugar. Consider filling the crepes with a dreamy combination of heavy cream, cream cheese, powdered sugar, and vanilla.
You can find a great recipe for Strawberry Creme Crepes HERE or how about this delicious recipe for Chocolate Crepes with Raspberry Sauce HERE.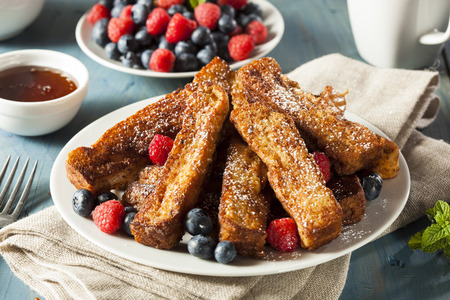 The final item on our 10 Easy Valentine's Day Breakfast Ideas list is finger-licking French toast sticks.
French Toast Sticks
4 slices of oat bread

2 eggs

1/4 cup milk (or almond, soy, oat, or coconut milk)

1/2 teaspoon vanilla

pinch of salt

1/2 teaspoon cinnamon

1 – 2 tablespoons butter for frying

Garnish: fresh fruit, powder sugar, pure maple syrup
Cut bread into strips. Combine eggs, milk, vanilla, salt, and cinnamon in a shallow mixing bowl. Dip bread strips in egg mixture, coating all sides. In a large skillet, toast bread strips in butter for 2 – 3 minutes on each side, or until golden brown. Garnish with fruit and sprinkle with powdered sugar. Serve immediately with syrup on the side.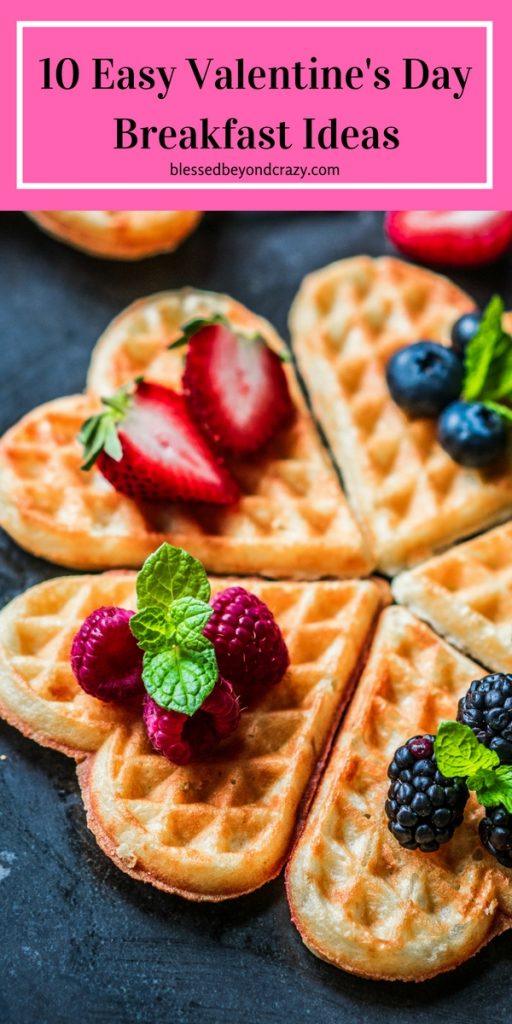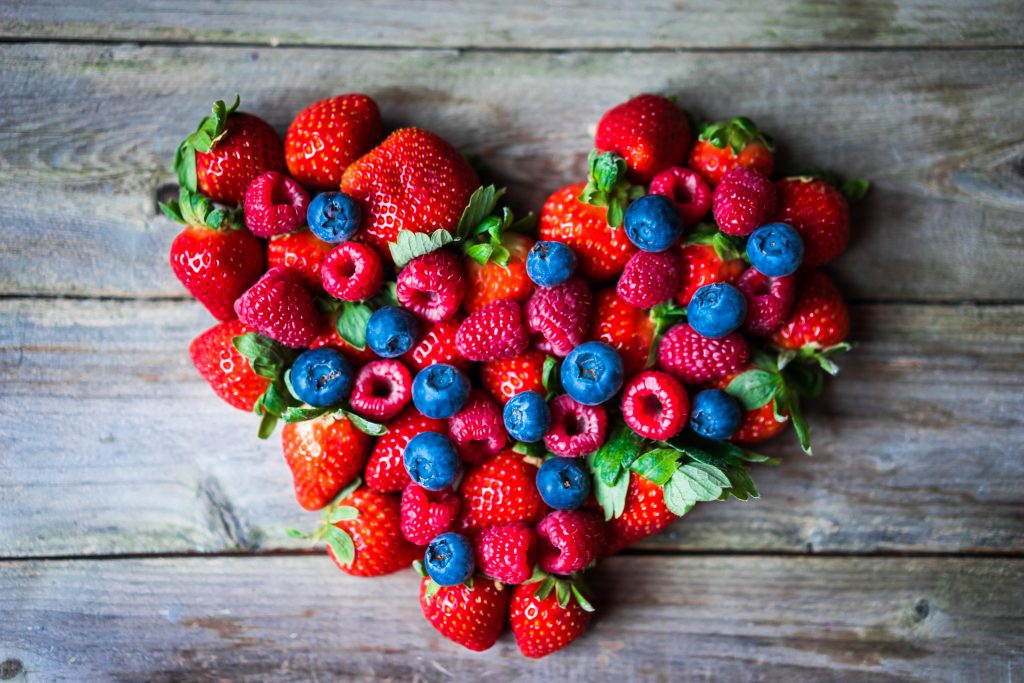 Fresh fruit is always a winner in my home and a great addition to any breakfast any day!!!
Happy Valentine's Day!
Linda
More great ideas: