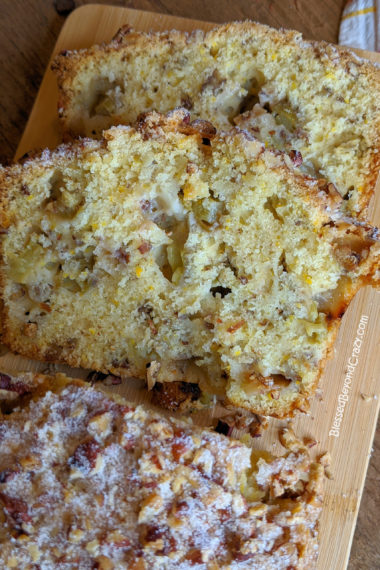 Yay!!! It's rhubarb season!!! That means it's time to make Rhubarb Pecan Orange Zest Bread!
This bread is deliciously moist, dense, and abundant with fantastic flavor and texture. Oh, by the way, the recipe is also ridiculously easy to make gluten-free! Make a couple of loaves, wrap one up, and give it to your mom or grandmother, a neighbor, or someone special in your life. 
Be sure to scroll all the way to the bottom of the post to see pictures of gluten-free Rhubarb Pecan Orange-Zest Bread!!
To help support our blogging activities, our site contains affiliate links. If you make a purchase from a link on our site, we may receive a small percentage of that sale, at no extra cost to you. Blessed Beyond Crazy is a participant in the Amazon Services LLC Associates Program, an affiliate advertising program designed to provide a means for sites to earn advertising fees by advertising and linking to amazon.com. As an Amazon Associate, I earn from qualifying purchases.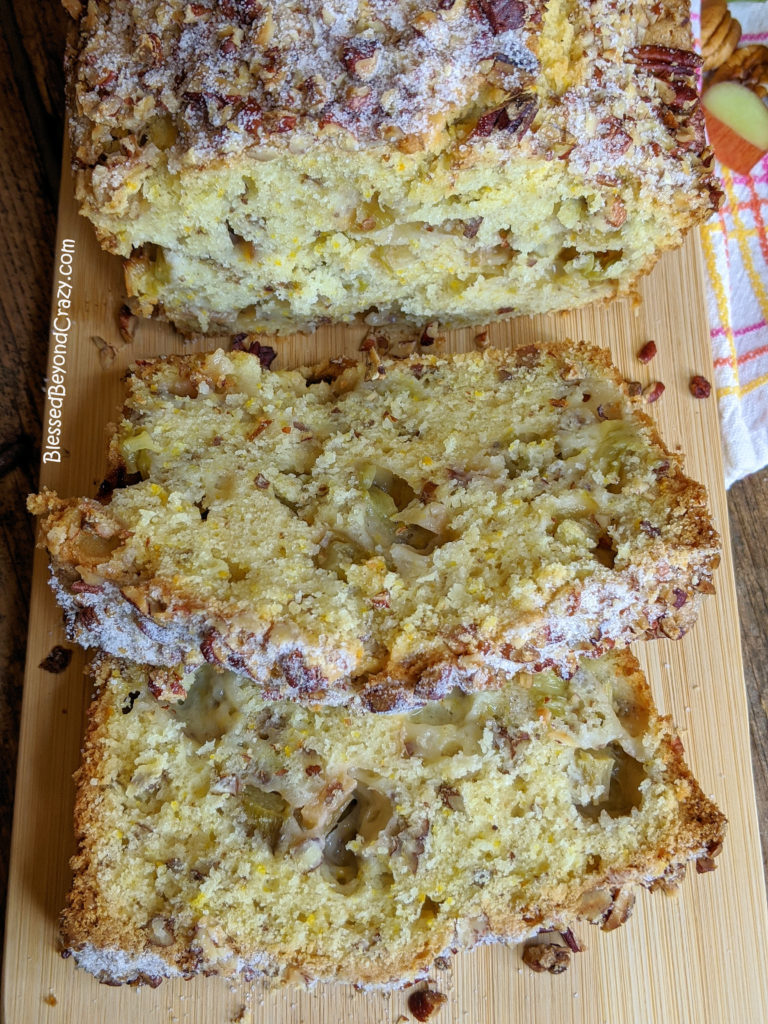 Fresh Bread
There's something about a loaf of fresh bread that puts a smile on my face. Probably because this stuff practically melts in your mouth! Especially when a pad of butter melts into a warm slice or when it's slathered with Homemade Pineapple Rhubarb Strawberry Jam. It really is delicious!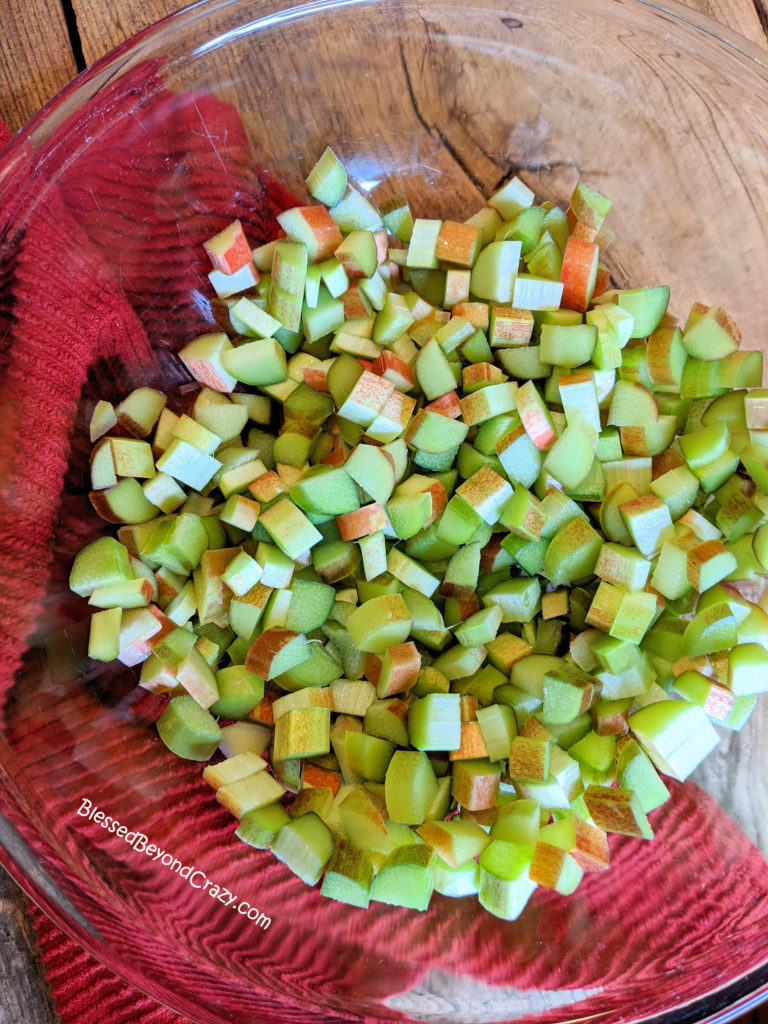 Rhubarb
Naturally, fresh rhubarb is a key ingredient and when baked, it helps make this bread incredibly moist.
See how to make a Rhubarb Pie > HERE!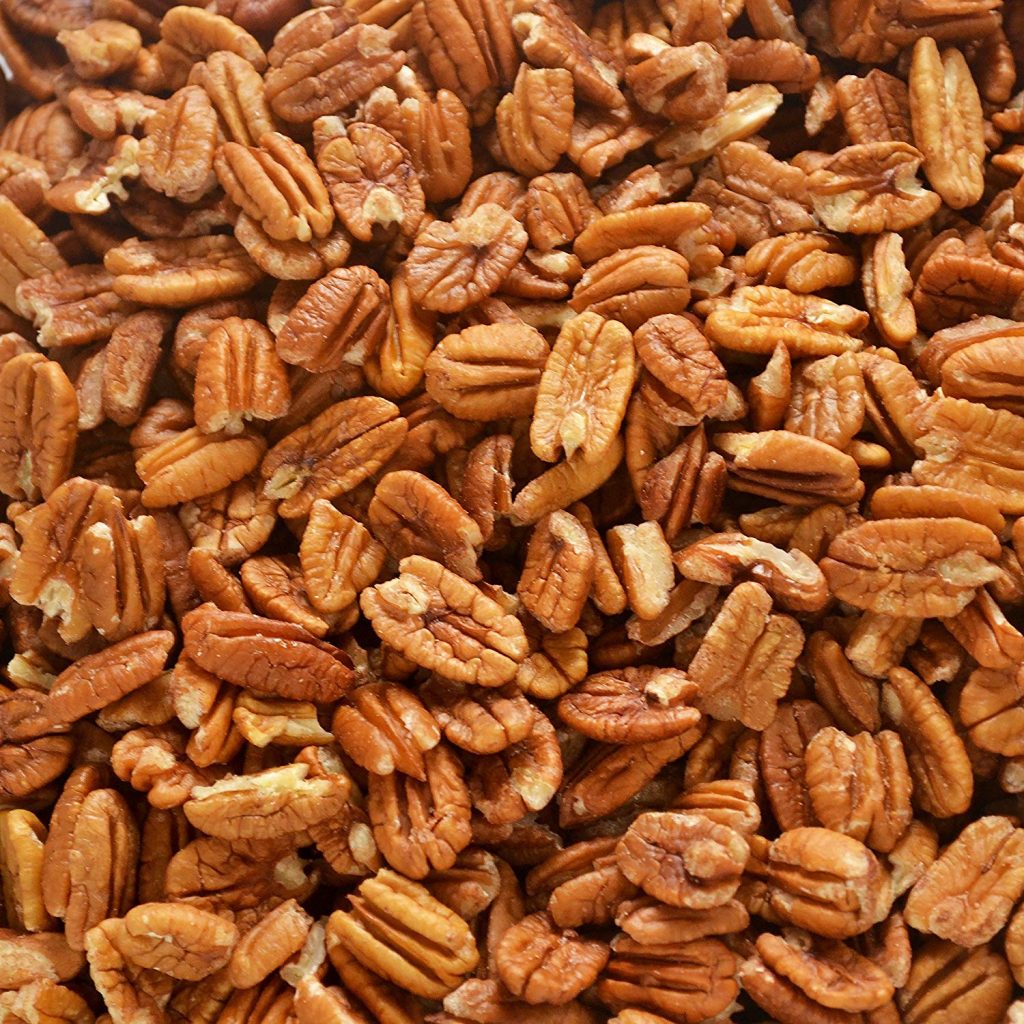 Pecans
Chopped pecans are another key ingredient and help add a lovely texture.
See how to make Sugar and Spicy Pecans > HERE!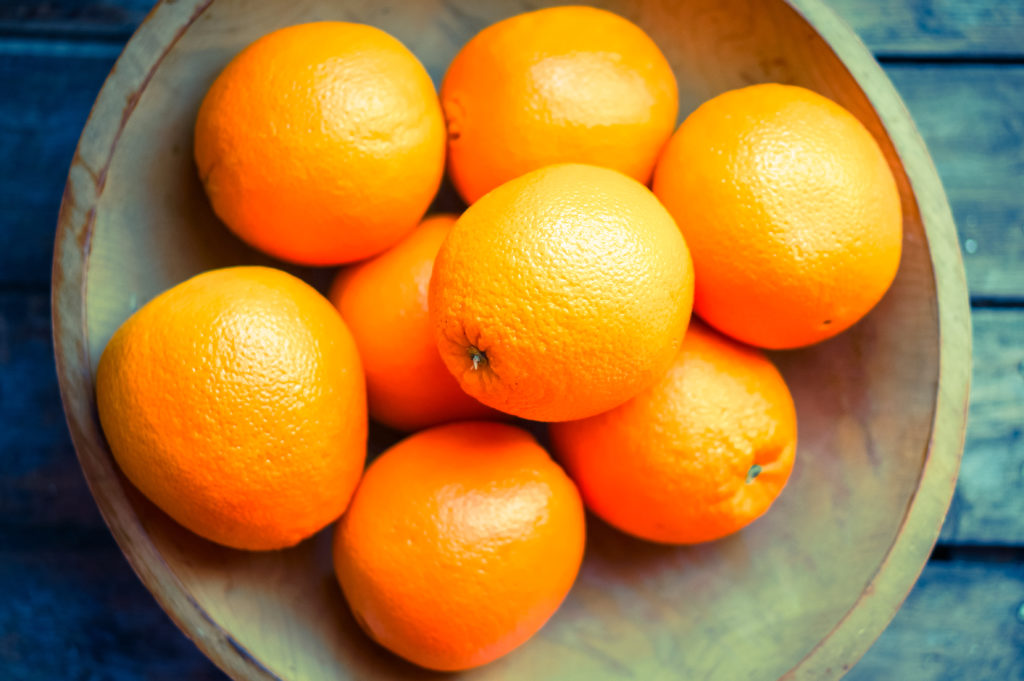 Orange Zest
The easiest way to add a hint of orange flavor is to use a zester to zest orange peel. (Don't skip this step because it really does add flavor to this bread!)
See how to make Refreshing Orange Smoothies > HERE!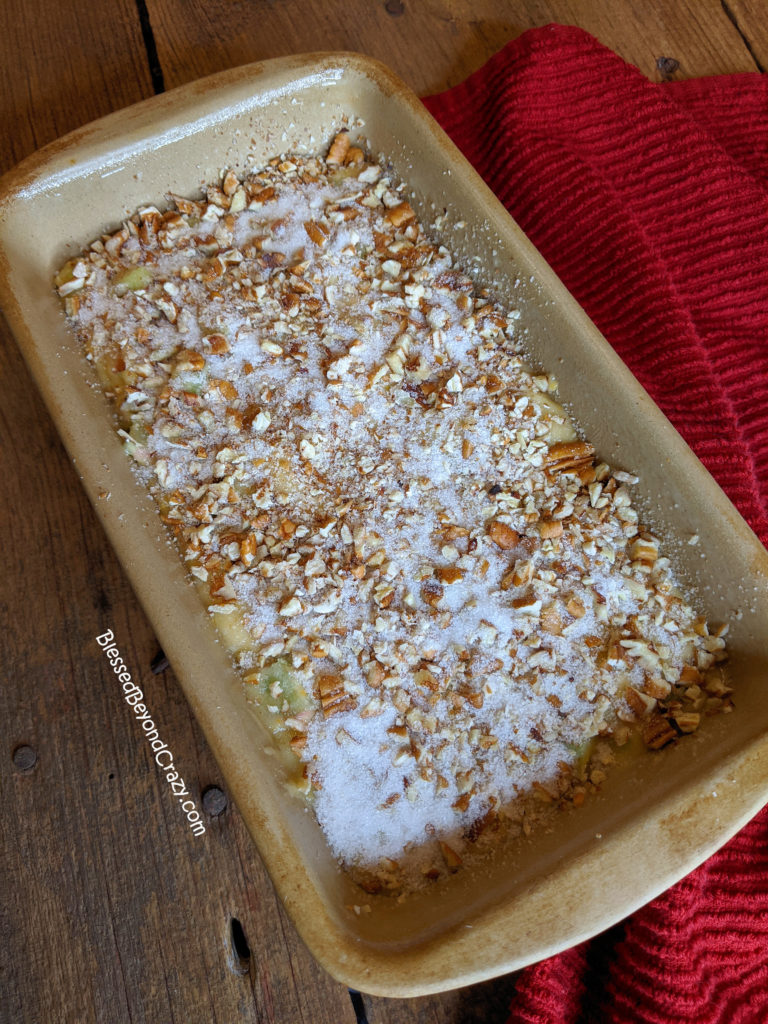 Two Different Sizes
As I previously mentioned, this recipe will make one large loaf or two smaller loaves. I use a 9 x 5-inch loaf pan to make one big loaf or two 8 x 4-inch loaf pans to make two smaller loaves of bread.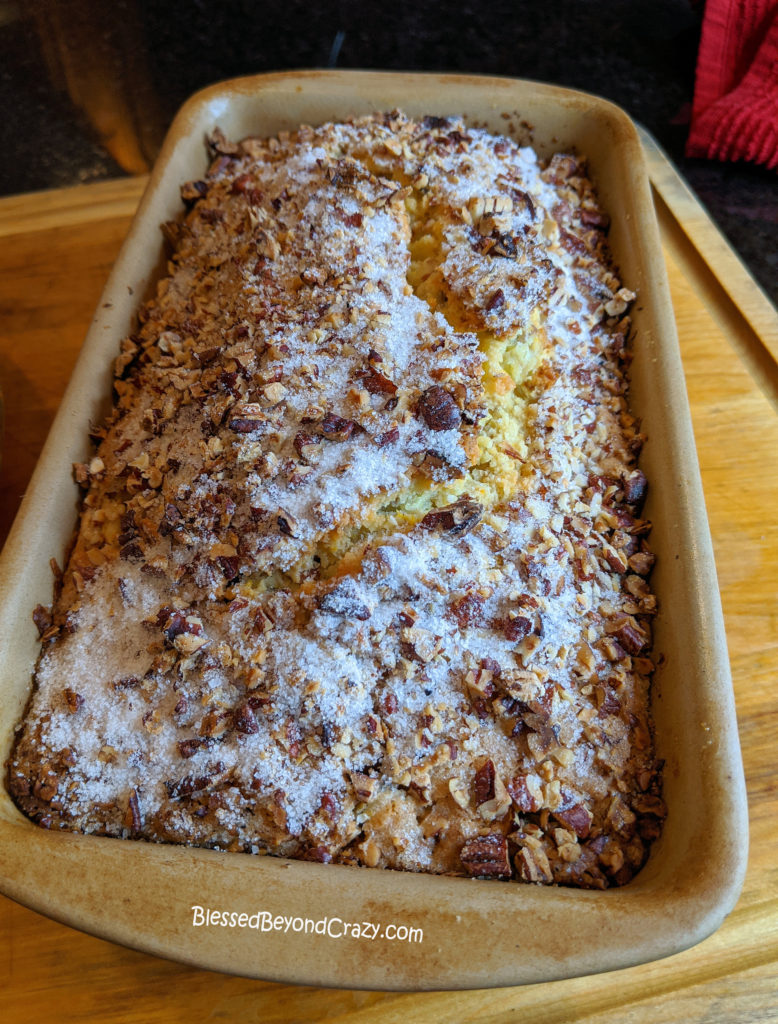 Character
In the picture above (a large 9x 5-inch loaf of bread), you will notice a crack in the top of the bread. This happens because of the moist, dense batter. When the baking process begins, the heat from the oven causes the top of the bread to form a crust while the inside of the bread is still rising. The top crust splits or cracks in order to make room for the bread to rise higher. I think that the splits add character to each individual loaf of bread.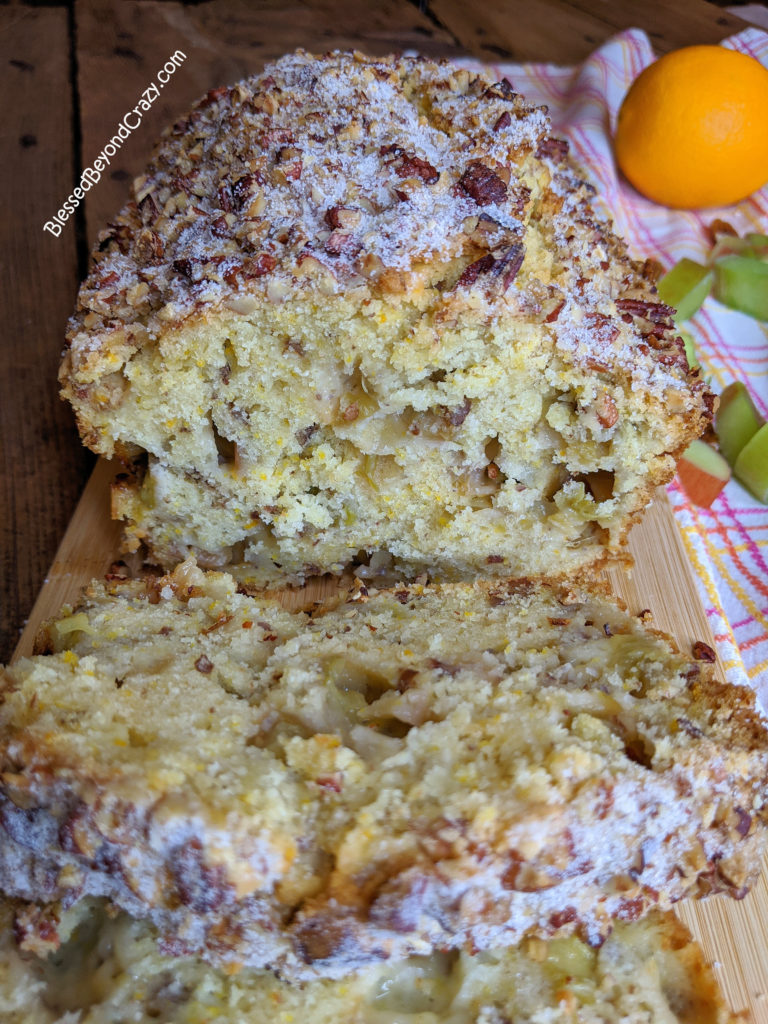 The Best Aroma
Oh, and let me tell you… your kitchen will smell incredible as a loaf of Rhubarb Pecan Orange-Zest Bread bakes in your oven!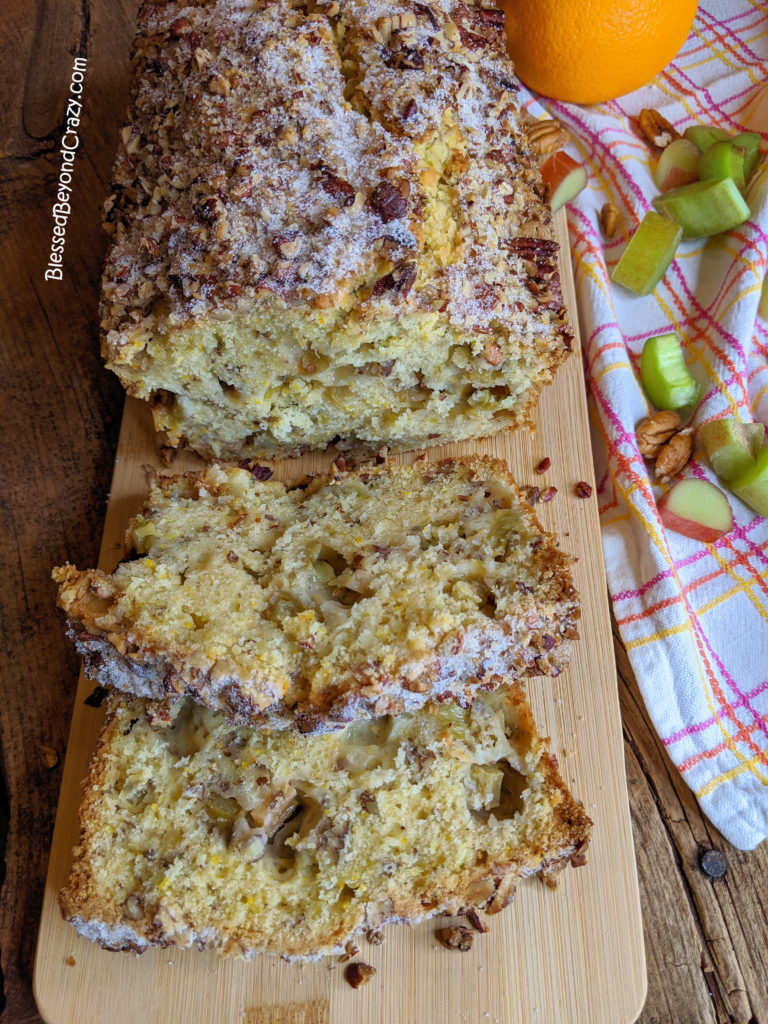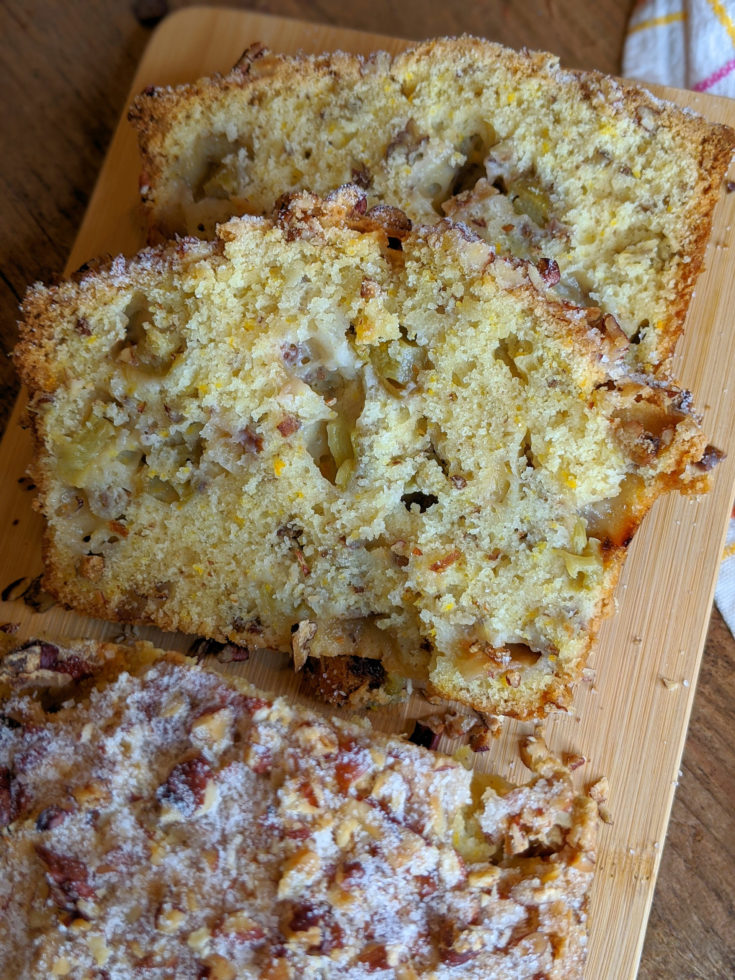 Yield: 9 x 5 Loaf
Rhubarb Pecan Orange Zest Bread
Prep Time: 20 minutes

Cook Time: 55 minutes

Additional Time: 10 minutes

Total Time: 1 hour 25 minutes

This bread is deliciously moist, abundant with flavor and texture, and extremely easy to make gluten-free.
Ingredients
1 cup granulated sugar
1/2 cup vegetable oil
2 eggs
1/2 cup milk (Dairy-Free Option: use coconut, soy, or almond)
2 teaspoons freshly grated orange zest
2 1/4 cups all-purpose flour (GF Option: use gluten-free flour + 2 teaspoons xanthan gum unless flour already contains it)
1 Tablespoon ground flax
2 1/2 teaspoons baking powder (GF Option: use a gluten-free brand)
1 teaspoon salt
2/3 cup pecans, chopped
2 cups fresh rhubarb, finely chopped
TOPPING:
1/4 cup pecans, finely chopped
2 Tablespoons granulated sugar
Instructions
Heat oven to 350 degrees F. Grease bottoms only of a (9 x 5-inch) loaf pan OR two (8 x 4-inch) loaf pans with shortening or cooking spray.
In a large bowl, beat together sugar, oil, eggs, milk, and orange zest. Add flour, flax, baking powder, and salt; stir just until flour is moistened. Stir in rhubarb.
Pour batter into a 9 x 5-inch loaf pan (OR... divide batter evenly between two 8 x 4-inch loaf pans). Sprinkle the top with 1/4 cup chopped pecans, (lightly press them into the batter) and 2 tablespoons sugar.
Bake 50 to 65 minutes or until a toothpick inserted in the center comes out clean. Cool 10 minutes; remove from pans to cooling racks. Cool completely, about 2 hours. Cut with a serrated knife and serve with butter.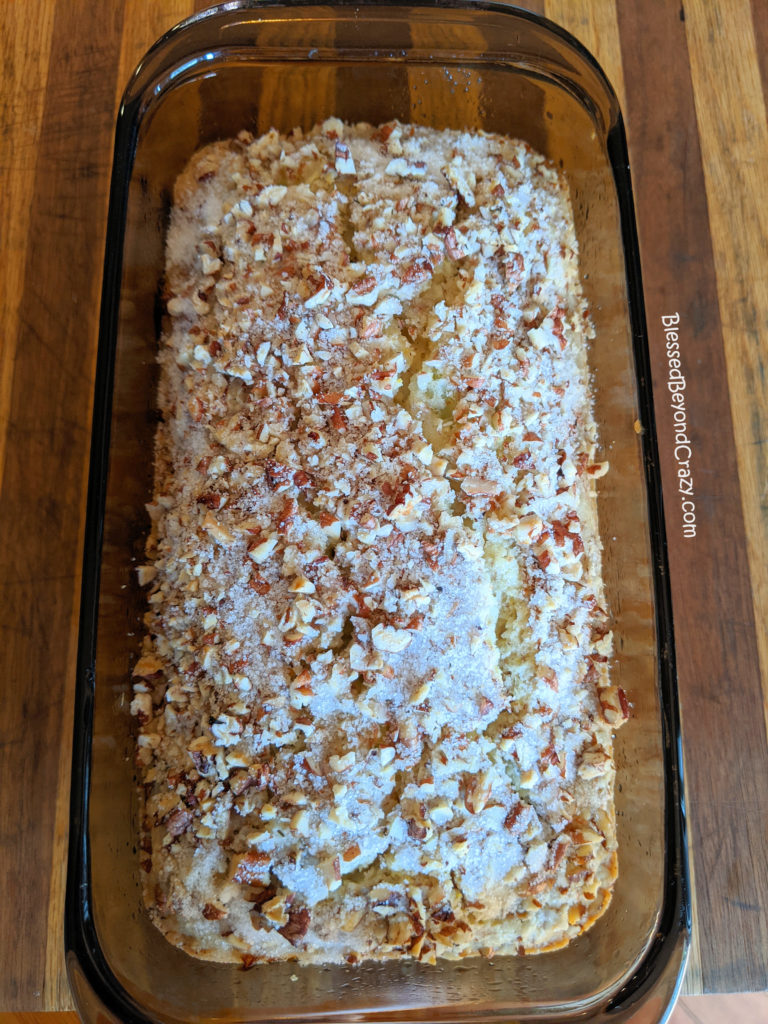 Gluten-Free
Remember, it's extremely easy to make this bread gluten-free. The picture above shows a smaller (8 x 4-inch) loaf of gluten-free Rhubarb Pecan Orange Zest Bread. (Notice it's split on top too?)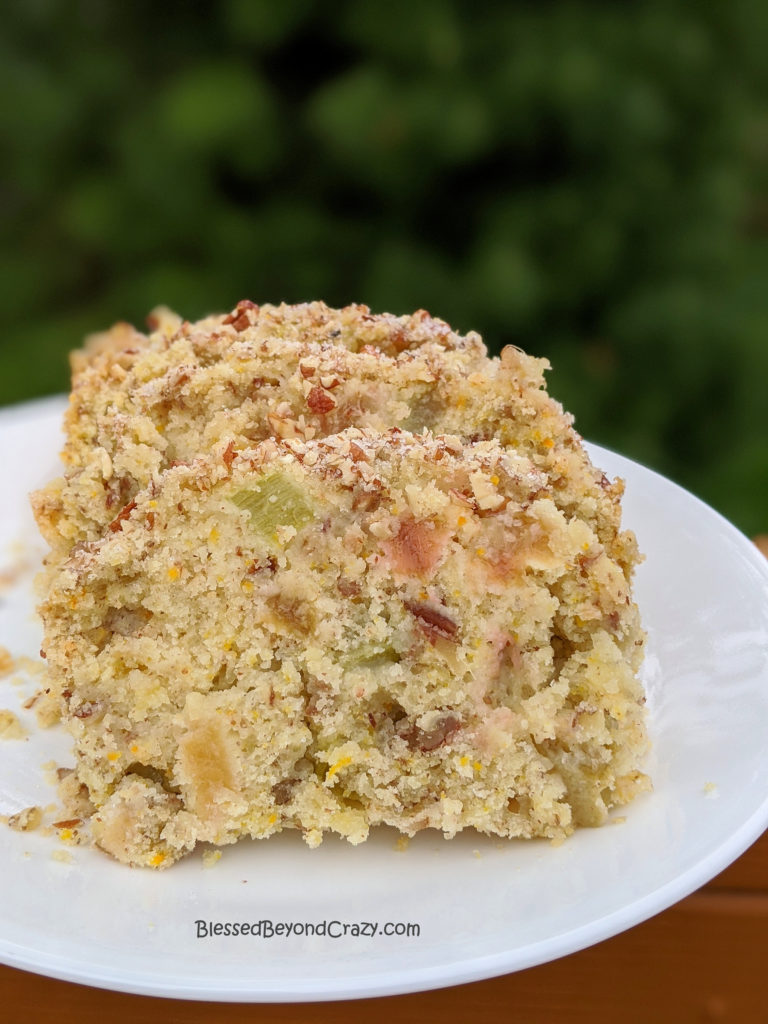 Slices of Gluten-Free Bread
You can quickly see just how dense and moist this gluten-free bread is just by looking at a slice. Can you see the chunks of rhubarb, chopped pecans, and orange zest? Fyi… I also added a little ground flax for extra fiber and nutrition.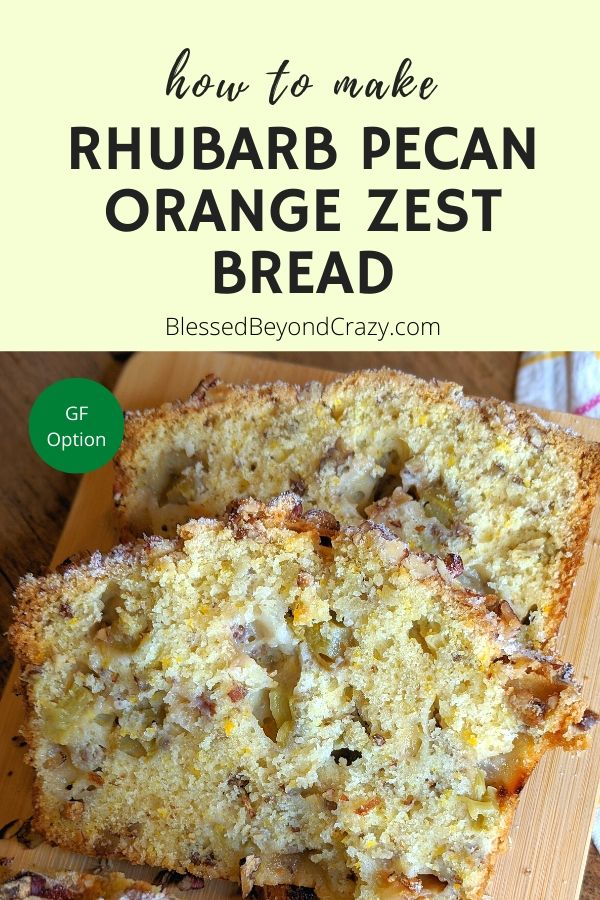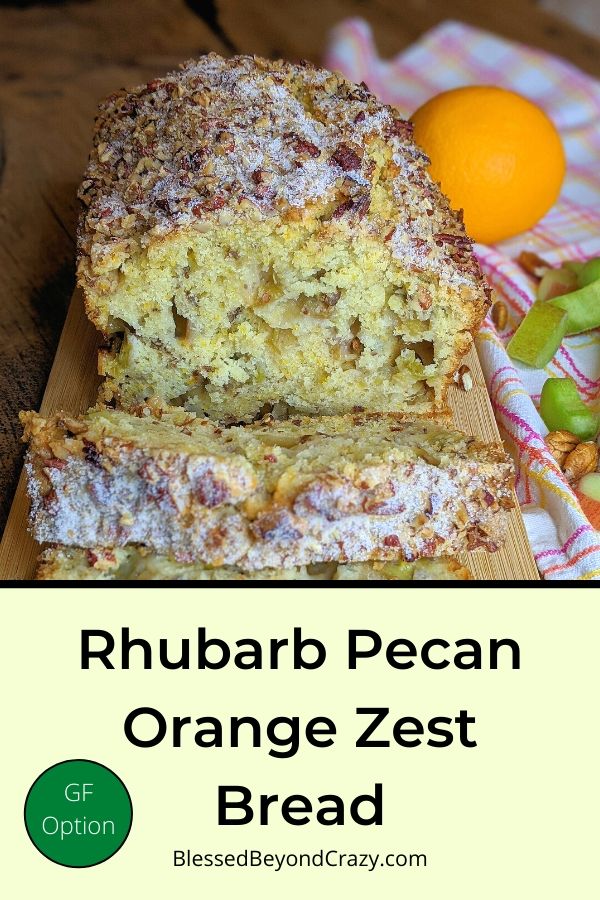 Thanks for sharing this recipe!
Enjoy!
Linda
More great ideas: