Taco Night Traditions, Plus Homemade Taco Seasoning makes every week better!
I love taco night! It's a meal and a tradition that many families partake in.
Taco night is a fast and easy throw-together meal and a great way to use up leftover meat and veggies. It is a meal that is all-inclusive just like a casserole–except without the long bake time. You have your meat, veggies, and carb all in one! It's very easy to make this a healthy meal. Plus each person can easily customize their own plate of food with their own favorite toppings.
To help support our blogging activities, our site contains affiliate links. If you make a purchase from a link on our site, we may receive a small percentage of that sale, at no extra cost to you. Blessed Beyond Crazy is a participant in the Amazon Services LLC Associates Program, an affiliate advertising program designed to provide a means for sites to earn advertising fees by advertising and linking to amazon.com.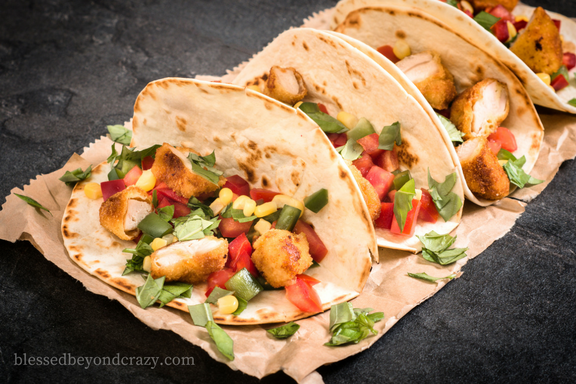 Make it fun! Make it a tradition!
Tacos are great for any day of the week but if you have to pick just one night- make it a Tuesday. Don't ask why… I don't know.
Make it a taco bar! Put out all the toppings and ingredients and let each person build their own meal.
Eat your tacos on fun Fiestaware, each family member can claim their own bold color! Eat your salsa out of a salsa bowl, just like a restaurant.
Keep the mess down by using a taco holder and keeping all those yummy toppings where they belong!
Have dessert nachos after supper!
Just because it is Taco Night doesn't mean you have to have tacos!
Seriously, this is the most versatile supper ever! Don't want tacos, go for burritos, nachos, fajitas, taco pizza, or taco salad!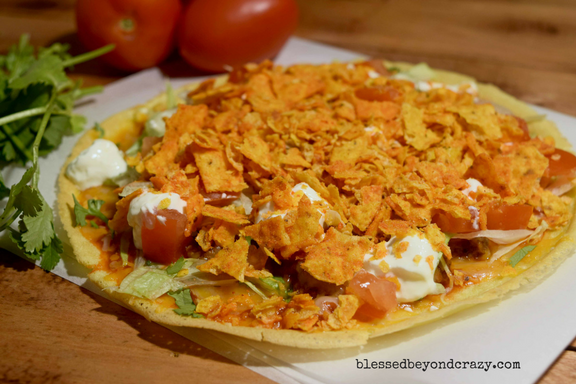 The combinations are really endless when it comes to toppings.
Obviously, you know what you like on your tacos/burritos/nachos. But sometimes we get stuck in a rut of always eating the same thing. I have tried to compile a huge list of everything I could think of that you could put on a taco just to help you come up with your own "taco bar" night and spice things up (no pun intended).
rice
sauteed onions, bell peppers, and/or garlic
tomatoes
jalapenos
lettuce/spinach (check out these sneaky ways to add more spinach to your diet)
cheeses
beans
sour cream or plain Greek yogurt
taco sauce or hot sauce
fresh cilantro
green onions
mango chunks
avocado chunks or guacamole
red onion
olives
corn
pico de gallo (combine tomatoes, cilantro, and red onion–best if made the day before)
refried beans
freshly squeezed lime juice

Meat
You can easily omit the meat entirely if you are a vegetarian. Add the taco seasoning to your veggies and rice instead of the meat. Or use whatever leftover meat you have in your fridge.
chicken
ground beef
ground turkey
shrimp
tilapia
lamb
steak
pulled pork
Making homemade taco seasoning is so super simple. If you do a lot of cooking you probably already have all the ingredients in your spice cabinet. I started making homemade taco seasoning when I couldn't find a gluten-free mix in the grocery store. A homemade taco seasoning mix is naturally gluten-free and healthier because it doesn't have all the added junk (like gluten) you know it contains just pure seasoning and nothing else.
The most important part of the homemade taco seasoning is the cumin and chili powder. If you are missing any other ingredient, go ahead and make this and it will turn out great!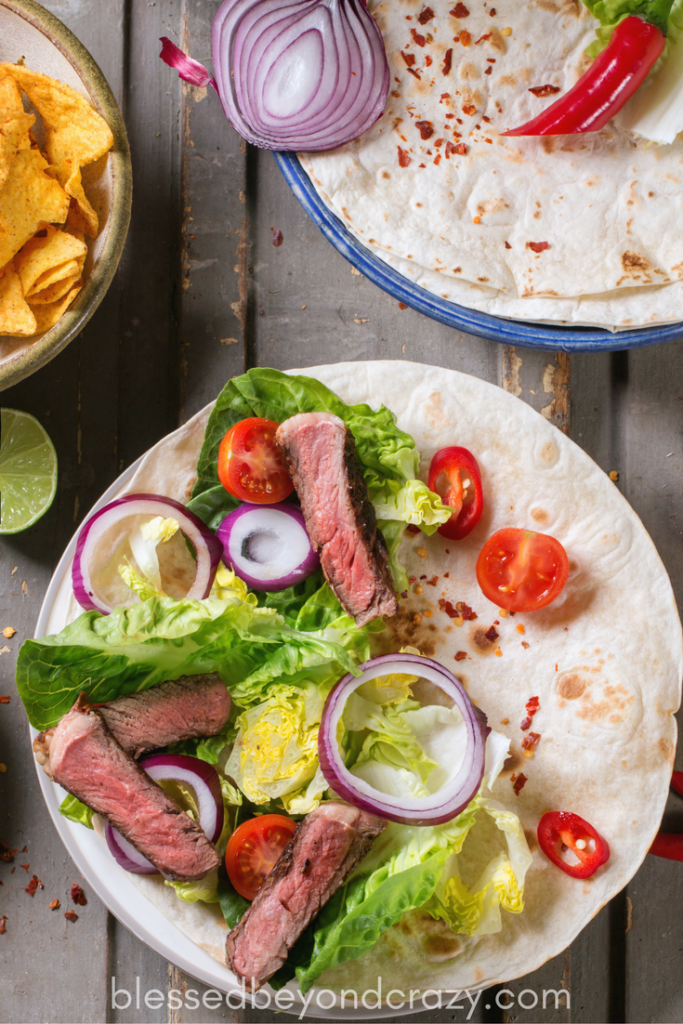 Homemade Taco Seasoning:
Ingredients
Instructions
Combine all ingredients.
Add to cooked meat of choice.
Store in an airtight container.
Homemade Taco Seasoning
---
1 minPrep Time
1 minTotal Time
Ingredients
2 tablespoons chili powder
2 tablespoons cumin
1-1/2 teaspoons onion powder
1-1/2 teaspoons garlic powder
1/2 teaspoon cayenne pepper (optional)
salt and pepper
Instructions
Combine all ingredients.
Add to cooked meat of choice.
Store in an air tight container.
Notes
Add more or less of each ingredient to taste. Naturally gluten free but check spice containers and brand to make sure.
7.8.1.2
157
https://blessedbeyondcrazy.com/taco-night-traditions-plus-homemade-taco-seasoning/
www.blessedbeyondcrazy.com
What's your favorite way to eat tacos?
Anna