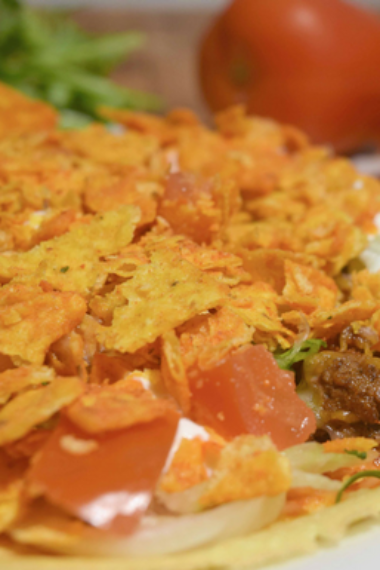 Pizza is definitely one of my favorite foods! When I was in high school I worked at a pizza restaurant. Now I'm trying to recreate all my favorite pizzas– gluten freestyle! This Homemade Taco Pizza is pretty simple to make. It's perfect for Taco Tuesday or any night you are craving Mexican food.
To help support our blogging activities, our site contains affiliate links. If you make a purchase from a link on our site, we may receive a small percentage of that sale, at no extra cost to you. Blessed Beyond Crazy is a participant in the Amazon Services LLC Associates Program, an affiliate advertising program designed to provide a means for sites to earn advertising fees by advertising and linking to amazon.com.
Best Pizza Crust!
You can use whatever crust you like: store-bought or homemade but the absolute BEST homemade gluten-free pizza crust is my deep dish pizza crust!
However, this time I used Paleo Wraps as my pizza crust because they are much faster to make and a bit healthier. They also ended up being individual pizzas since the crepes were smaller than a regular-sized pizza.
Hey, check out my BBQ Chicken Pizza!
You can also use whatever pizza sauce you like best or make your own homemade sauce.
Then I mixed about 1 Tablespoon of Taco Sauce to my pizza sauce (per individual pizza). For a larger pizza, I would add more taco sauce to my pizza sauce.
To start your pizza: Prepare your crust, and add your pizza sauce, taco meat, and shredded Mexican cheese. Bake at 350 degrees F for 15 minutes or until cheese is melted.
Now it is time for the fun part of adding all your favorite taco toppings!
I started with cilantro.
Then added lettuce, tomatoes, and small dollops of sour cream.
Lastly, top with crushed Doritos.
That's it! Now enjoy your taco pizza!
You can add other toppings to your taco pizza such as guacamole, olives, sauteed onions, peppers, and/or hot sauce.
Taco Pizza Ingredients:
Scroll to the bottom of this post for a Pinter Friendly Version.
Pizza crust
Pizza Sauce
Taco Sauce— 1 Tablespoon per individual pizza, more for a larger pizza.
Taco Meat (find how to make homemade (GF) taco seasoning here).
Mexican shredded cheese
Cilantro
Lettuce
Tomatoes
Sour cream
Crushed Doritos — 1/2 — 1 individual size bag of chips per individual pizza.
Other toppings such as guacamole, olives, onions, or hot sauce (if desired)
Taco Pizza Directions:
Add sauce, taco meat, and shredded Mexican cheese to the pre-made pizza crust.
Bake at 350 degrees F for 15 minutes or until cheese is melted.
Add toppings.
Enjoy!
Don't forget to Pin it!
Enjoy!
Anna
More great recipes!