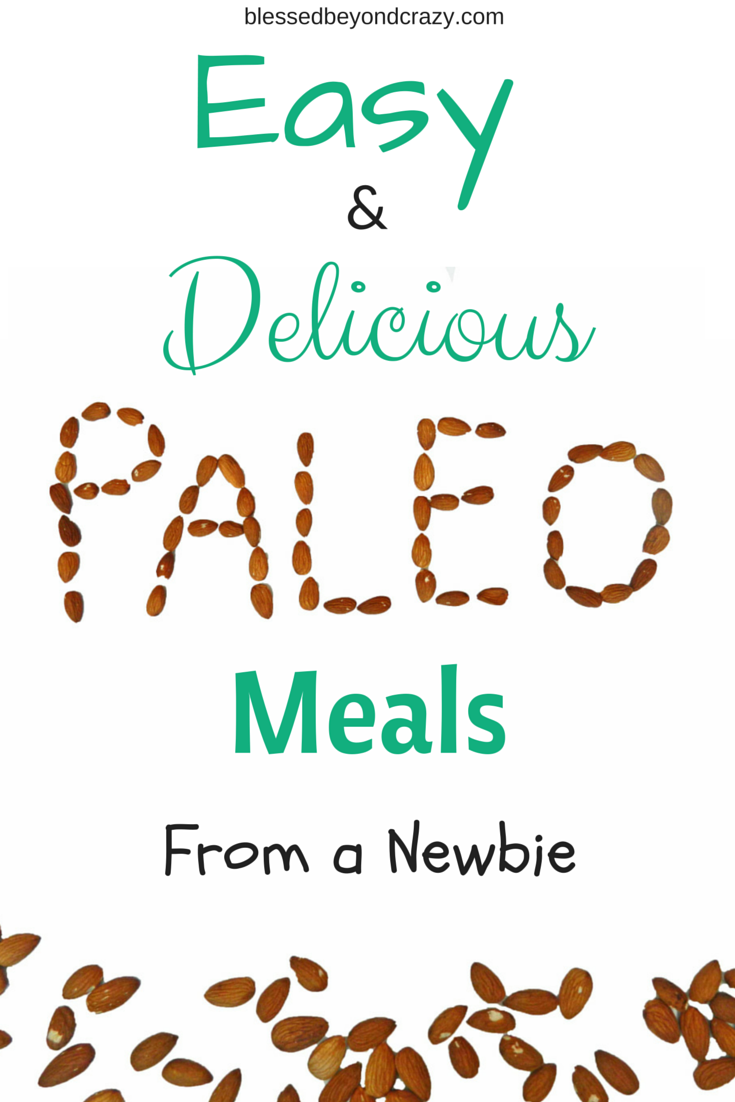 If you are a regular reader of this blog you already know that my husband, daughter, and Mom are highly sensitive to gluten. Since this is the case, almost every recipe we post on this blog will contain a gluten-free version of the recipe.
While I have known about the Paleo diet for a long time, I didn't know a lot about it. I knew it was a more restrictive and extreme diet than just being gluten-free. So I didn't research further into it.
Last month I was really in a reading mood and kept looking for a good book. All of the e-books I wanted to borrow from my library's website were all on a waiting list. I finally decided to read a book called: The Paleo Primer
by Keris Marsden and Matt Whitmore. I decided to read it just for fun and to learn more about this diet that I kept seeing all over Pinterest. It's a short and easy read. I finished the book the very same day I borrowed it. I don't know exactly what made me decide to start eating a Paleo diet, but the very next day I started on one.
The most basic explanation of a Paleo diet is that you avoid: gluten, grains, sugar and processed foods of any kind. You do eat lots of fruits, vegetables, meat, eggs. I found dairy was a bit iffy. Some people say it's okay while others say to avoid it.
Since most of our meals are Gluten Free, to begin with, stepping it up to Paleo wasn't difficult. The hardest part was refraining from snacking on junk food like chips and ice cream. Avoiding coffee creamer was nearly impossible.
So why would I put myself through this? Here are the positives I have experience and why I am continuing this diet:
Lost four pounds the first week (I was so shocked! I have never lost weight that easily or quickly!)

Lost four pounds the second week!

Food tastes better and sweeter, even though I'm not eating any sugar. I noticed this change happening during week number three. Fruit taste so much better once I had detoxed from sugar. Store-bought yogurt doesn't even taste good anymore because there is so much sugar added to it (33g per serving!!).

I have discovered many new healthy and delicious recipes that got me out of the typical food rut I had been stuck in for years.

It's a diet where you still get to eat bacon–I mean come on, that's a good diet to be on!
I've been on this diet for a month, and I'm hoping in time I'll start seeing clearer skin as well.
*I have found that Paleo diets tend to be adamant in saying that you should (always and forever) only eat free-range, steroid-free, 100% organic everything. While this concept is ideal and the best for your body, it isn't always available or affordable. My family of five lives off of one income. I buy normal meat from the grocery store. If the organic stuff is on sale, I'll buy it then. After all, I wouldn't want to give you the impression that if you can't buy organic meat/produce then you might as well go ahead and eat a frozen pizza. Eating any type of meat/produce is still going to be healthier than eating processed food.
Breakfast
I used to skip breakfast or eat a bagel– both were definitely making me fat. I think switching to eating eggs, sweet potatoes, and/or avocados for breakfast helped me lose weight.
One of my new all-time favorite breakfast is a Sweet Potato Skillet Recipe from Food Apparel! My husband requests this several times a week. We even eat it for supper sometimes. It is very filling, and sweet potatoes are now considered a normal breakfast food in our house.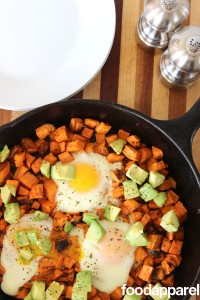 If I'm not in the mood for eggs and want more of a sweet breakfast I make Paleo "Tortillas" from Stupid Easy Paleo. I add vanilla and cinnamon. Then I top those with maple syrup and Fried Bananas from Rachel Schultz.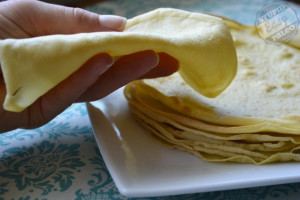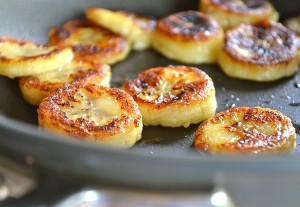 Another great pancake recipe is this simple and fast 3 Ingredient Pancakes from Recipe by Photo. It's just one banana, two eggs, and a pinch of cinnamon. These definitely have a banana taste to them so if you like bananas then these pancakes make a great breakfast!

Coffee Creamer was one of the most difficult things to cut out. I have to have coffee in the morning. I've tried lots of combinations using honey, coconut milk, almond milk, coconut sugar, coconut oil, butter, vanilla, cinnamon, even pure maple syrup. All of these were alright but nothing tasted quite as good as actually dairy creamer. After a month, I'm finally adjusting to drinking black(ish) coffee.
Speaking of almond milk, I found out how to make my own, and it's very simple! Homemade Almond Milk by Natures Nurture Blog. Plus you can use the leftover almond pulp to make homemade almond meal/flour.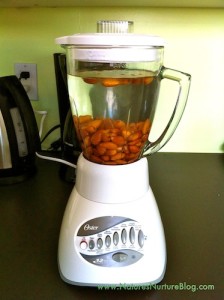 If I need a pick up in the afternoon I'll usually make this Iced Vanilla Coffee from Against All Grain. It is very good!

Paleo Meals for Lunch/Supper
This is where I really broke free from my normal food rut. The following recipes are now some of my go-to recipes when I'm tired of steamed fish and vegetables. These are almost too good to be healthy.
These Paleo Sweet Potato Sloppy Joes from Paleo Newbie made me very happy! I can't believe how well sweet potatoes go with Sloppy Joes; it was like they were made to be together! I add mustard and pickles to the top of mine and are fabulous as leftovers!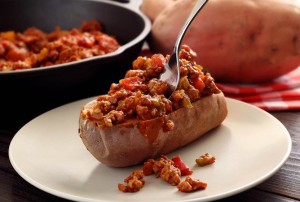 This Baked Honey Mustard Chicken from http://damndelicious.net. It isn't from a Paleo Blog but just happens to be Paleo. I discovered it while trying to do something new with chicken thighs. I was a little nervous making it but was surprised by how good it was. I currently have some chicken thighs in my fridge waiting for this recipe to be made again!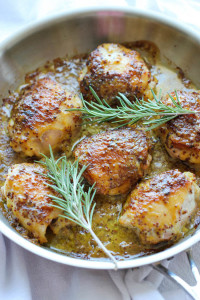 Snacks and Desserts
This was by far my biggest struggle. I was in the habit that every time my kids took a nap or went to bed at night I would break out the junk food! I always had a stash of the good candy hidden for stressful days (ahmm moments throughout every day).
I've replaced chips with fruit, almonds, and cashews. I still desperately miss BBQ chips.
One of my new favorite snacks is 3 Ingredient Energy Bars from The Kitchen. These are made from dates, dried fruit, and almonds. She used dried cherries, so that is what I used, and I highly recommend that combination.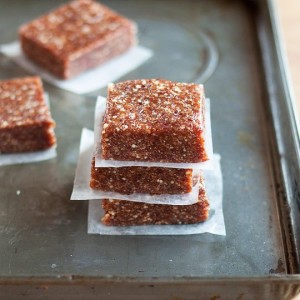 For dessert, I often make this Chocolate Orange Avocado Pudding from Food Doodles. At first, I really wasn't that crazy about it, but I found I kept making it over and over again. Once I became more sensitive to sugar this tasted much better. I always add fresh fruit and almond slivers to this pudding. I usually make this once a week now.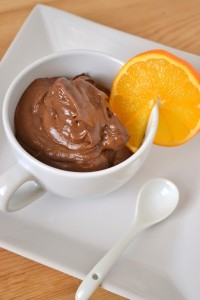 I'm still super new at this whole Paleo thing and I would love to hear from you in the comments. What are your favorite paleo recipes?
We would love to connect with you, so please remember to 'Pin It' so you can come back to this post and follow us on Pinterest to get our latest project pins.
Anna