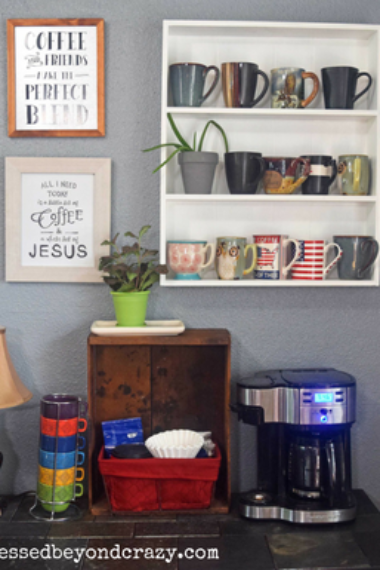 I would like to share with you my favorite corner of our kitchen…My Coffee Corner!
To help support our blogging activities, our site contains affiliate links. If you make a purchase from a link on our site, we may receive a small percentage of that sale, at no extra cost to you. Blessed Beyond Crazy is a participant in the Amazon Services LLC Associates Program, an affiliate advertising program designed to provide a means for sites to earn advertising fees by advertising and linking to amazon.com.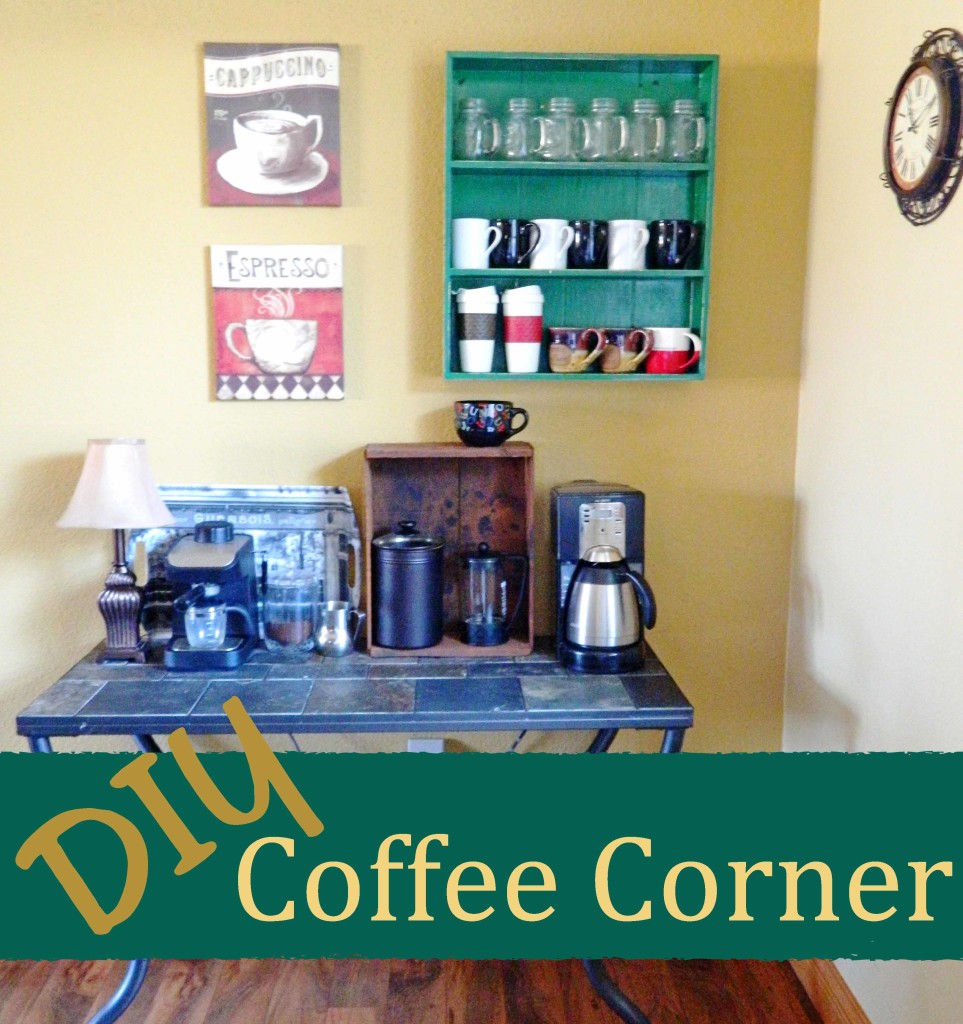 *Scroll down to see updated pictures of this corner!*
As you can tell, we are big-time coffee drinkers. I've debated on what to call it…my coffee corner, cafe corner, or as my husband calls it, "The caffeine portal."
I love this part of my kitchen so much. But honestly, it came together unintentionally!
When we first looked at our house (to buy) the couple that lived here before us, had a hutch sitting against this wall. When we moved in I kept looking at this big long wall in our kitchen and thought I need to obtain a hutch! This wall is perfect for a hutch, and I know that because I saw one sitting there before we bought the place.
Small problem: I didn't have a hutch and hutches are expensive.
Patience pays off!
Shortly after we moved (like maybe a month?) my aunt decided to completely redecorate her house. This means hand-me-downs!!!!
She gave me this awesome sofa table with a stone top.
The coffee maker ended up on top of the sofa table (so happy it's not taking up counter space!!!!)
Then the espresso maker.
Next, a lamp that my MIL found at a yard sale.
And then a canister to hold the coffee.
And so my coffee table corner was created by accident. I can't call it a coffee table because that's what you set your remotes on in the living room…
Something else that worked out perfectly: this sofa table has a stone top. I don't have to worry about spills, scratches, or hot items!
So after a few more months my Mother-in-law, (or aka -MIL), decided to clean out her basement. That means more hand-me-downs!!!!
She gave me a bunch of odds and ends and random stuff that she thought I could be crafty with and re-purpose. She had a lot of faith in me!
She gave me this small, ugly shelf thing. At first, I didn't even want to take it. It was her idea that I paint it to match the kitchen and put coffee cups on it. BRILLIANT!
After being on Pinterest, I had total faith in myself to turn this ugly shelf into something gorgeous. I was thinking weathered, rustic, aged. I could totally do this.
I sanded, spray painted it black, sanded, spray painted it green… It didn't look bad, just not what I had in mind.
Then one day, my husband attached it to the kitchen wall for me. Once we placed our coffee mugs on it, I changed my mind. It looks fantastic! The disappointment was gone!
Another gem I got from my MIL is the wooden box that holds the french press and the canister with the coffee inside. It was dirty and I think we originally tried keeping the children's shoes inside. Eventually, I wiped it off and slapped some stain on it, and added it to our coffee corner. It adds a great dimension and an added shelf. Plus it was already stained and rustic.
As for the rest of the table:
The black and white trey came from a yard sale for $5
I got the two signs on the wall from Big Lots for $5 a piece
The lamp came from a yard sale
I have to mention that I spent very little money on this whole corner! Most of these things came from family members, yard sales, or thrift stores.
Moral of this decorating lesson:
Patience, patience, patience! I originally wanted a hutch, I'm glad I waited and created my own original space.
Shop at yard sales, thrift stores, Craig's List, and Facebook area swap shops.
Check with family members for various items and furniture. People are always getting new stuff, maybe you can re-purpose their old stuff.
I don't think I spent more than $20… and that is a LOT cheaper than a hutch! Not that I have anything against hutches, but for me, this is more personalized and sentimental.
Now for a side note on my coffee maker: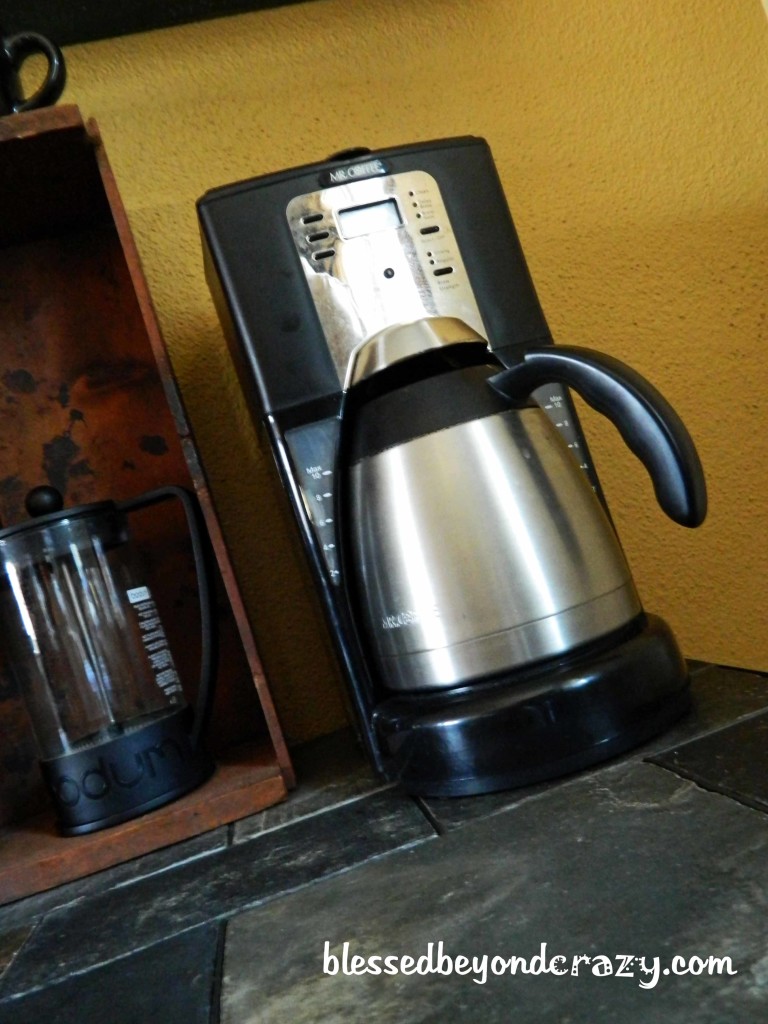 As you can see we have a stainless steel carafe. This carafe is so amazing. It keeps coffee hot All. Day. Long. Even after the coffee maker has turned off.
I am not exaggerating! Need a 2:00 pick-me-up? Leftover coffee from the morning is still warm! You also don't ever have to worry about the pot breaking!
If you are looking for a new coffee maker/carafe, I strongly recommend this one! We have had it for 3 years and we are still in love with it. Where to find it!
Another thing that every coffee enthusiast should have is a French press especially if you love strong coffee.
A french press is also great to take with you camping because it doesn't require electricity.
My husband is pretty picky when it comes to coffee, so he takes his french press with him to work on days that he has to work extra-long shifts. Then, he can have his coffee exactly the way he wants it.
There are a lot of options and sizes for a french press (just like any other coffee-making product). At one time we had 3 different sizes. I like the larger ones better…because I drink a lot of coffee…
Another example:
My sister-in-law loved our corner. She is a fellow coffee enthusiast!
She doesn't have space in her kitchen for a big table but she liked the idea of showcasing her coffee cups. Luckily for her, my brother is handy and created an in-the-wall shelf for their cups.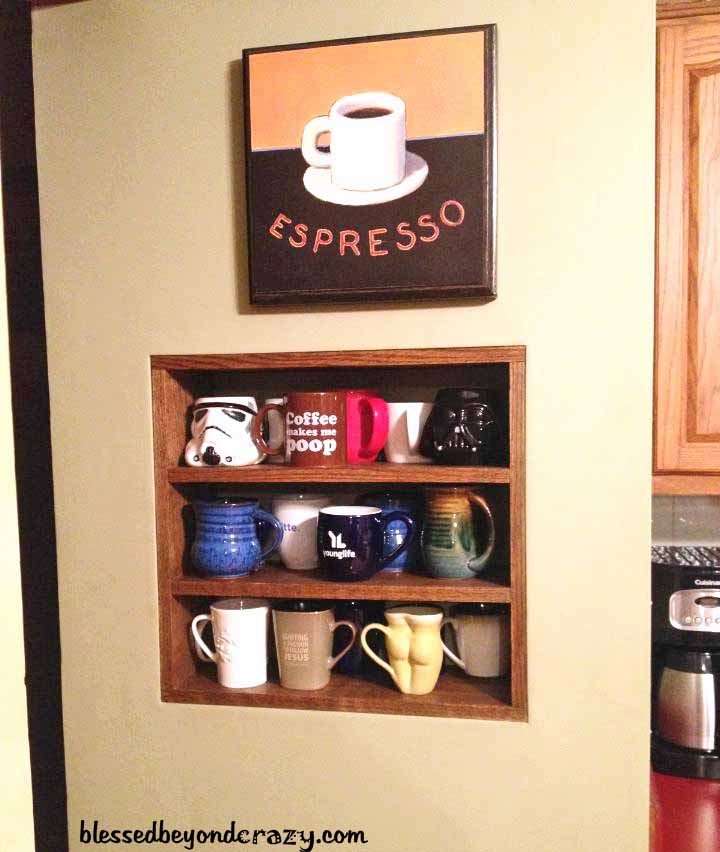 After all coffee cups can be a great representation of personality! Their coffee cup collection is awesome and fun… just like my brother and sister-in-law! (DO NOT go back and look at our cups now… or you might think that my husband and I are boring… or maybe a little OCD and have to have everything symmetrical…)
On the other side of this wall is a closet, so they were able to cut a hole in the wall to install this shelf. Their shelf is also deeper. (And if you look closely you can see that they also have a stainless steel coffee carafe).
If you don't love coffee, there are many other themes you can use. Like tea…
Just find what fits your personality, after all, that's what decorating is all about!
I would love to hear about how you display your coffee cups, or about how you decorated a long wall in a kitchen.
UPDATE!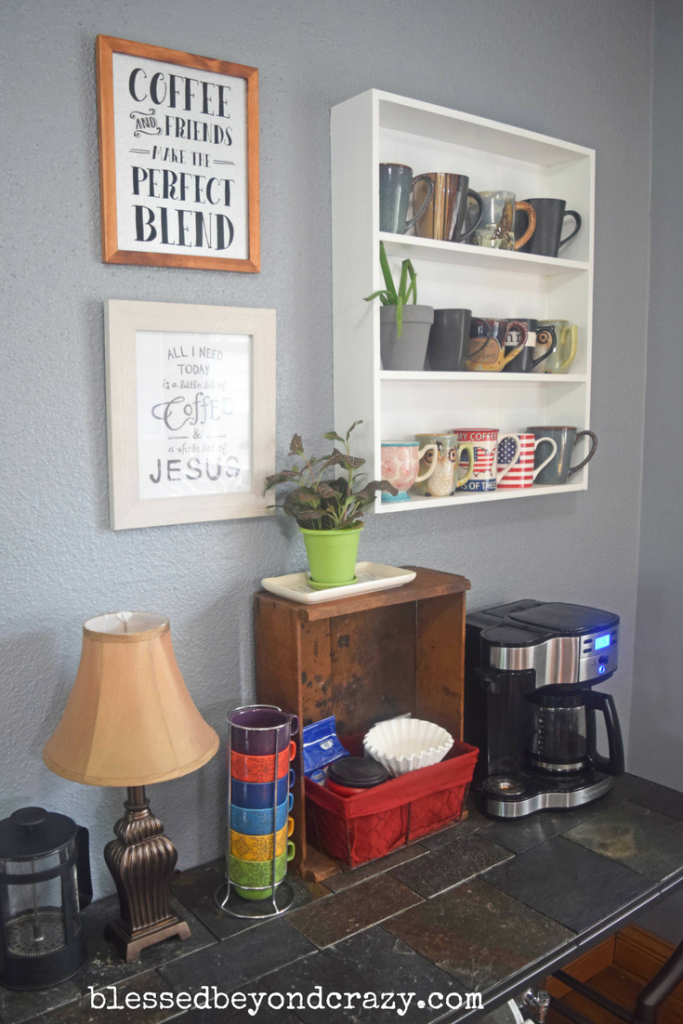 We (I) decided the kitchen needed a new color. Which led to a few updates. This space is mostly the same but I wanted to share how this coffee corner has evolved.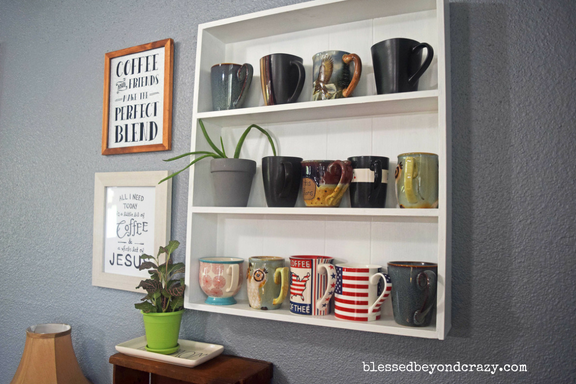 Obviously, the wall color is different (and I love it so much!). Which led to us repainting the shelf. Yep! That is the same shelf. I painted it pure white. I did not attempt to make it rustic this time.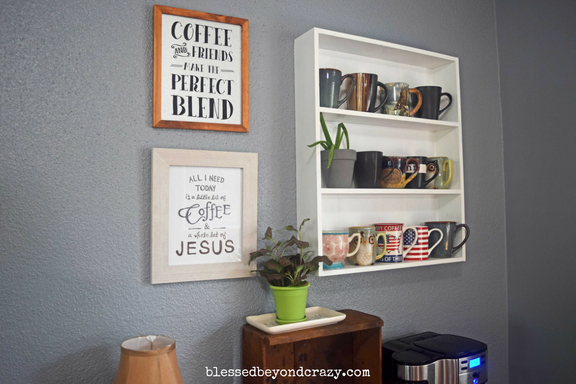 My mom and sister-in-law gave me some new coffee wall signs for Christmas. The same lamp, rustic box, and french press are there. We also have collected some more exciting coffee mugs through the years.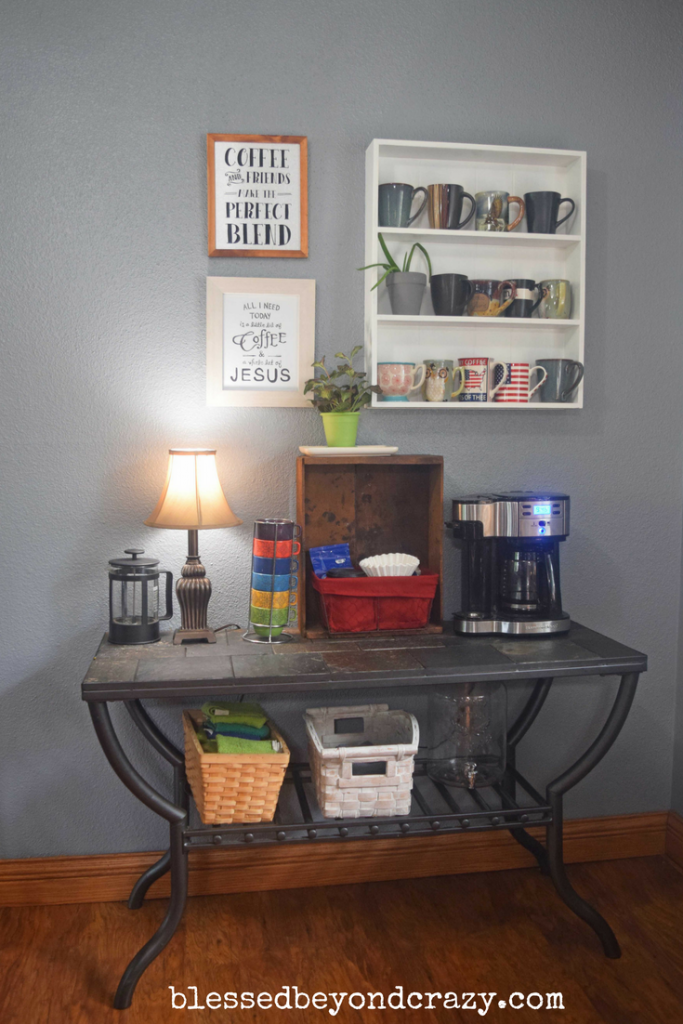 I keep baskets under my table for my dish rags and towels. There is also a large glass beverage dispenser. Unfortunately, one of my kids broke my beautiful black and white serving tray.
It has been fun to look back at how my style has changed and evolved over the years. I still love my coffee corner just as much (or more)
Anna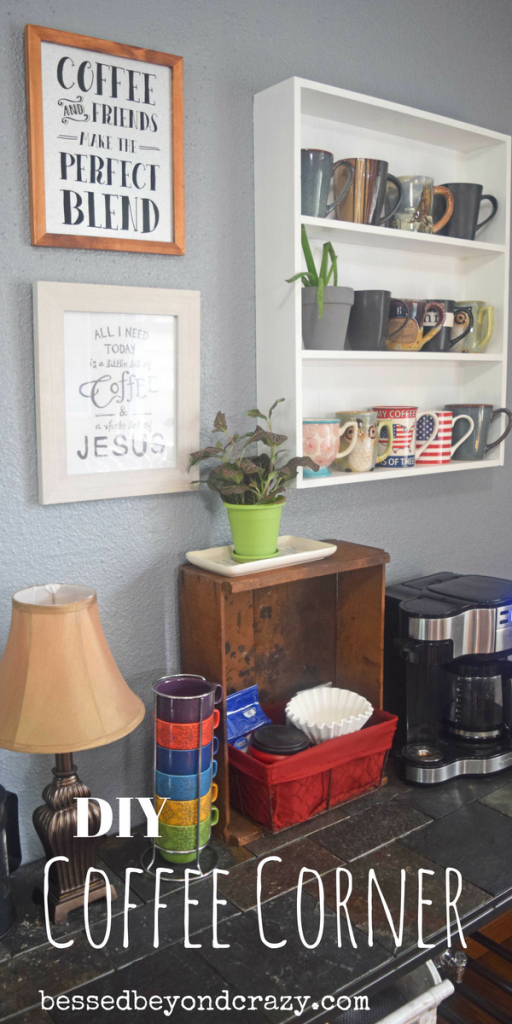 Find me on Facebook.
If you love coffee as much as we do be sure to check out these other great posts by Blessed Beyond Crazy: