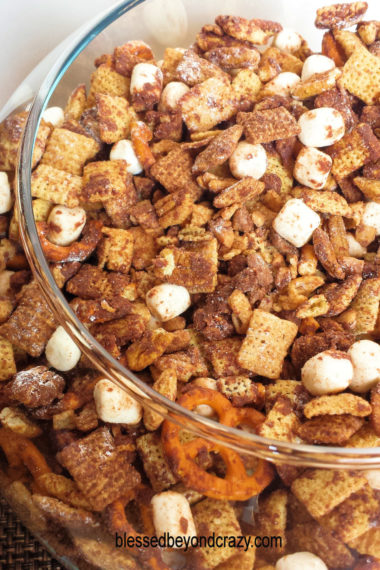 Delicious and easy-to-make Chocolate Coffee Toffee Puppy Chow is the perfect party snack! Everyone seems to love it because it has the perfect balance of sweetness, flavors, and crunch. 

If you love coffee then you'll love this yummy coffee-flavored snack. Because it's easy to modify this recipe, it's also a great gluten-free treat for all of your gluten-free guests.
To help support our blogging activities, our site contains affiliate links. If you make a purchase from a link on our site, we may receive a small percentage of that sale, at no extra cost to you. Blessed Beyond Crazy is a participant in the Amazon Services LLC Associates Program, an affiliate advertising program designed to provide a means for sites to earn advertising fees by advertising and linking to amazon.com.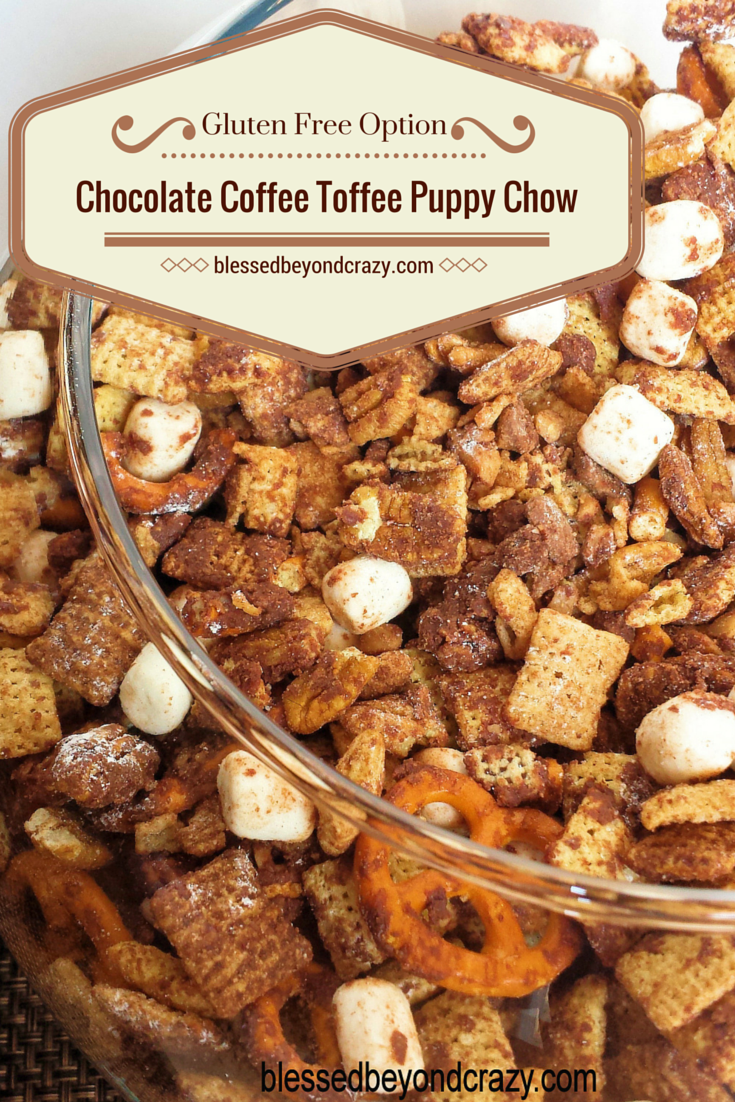 Ingredients:
We start by combining Chocolate Chex Cereal and Cinnamon Chex Cereal
with pretzels and pecans. (I used organic pecans from my parent's farm). Once these ingredients are mixed well it is topped with a coffee-flavored chocolate sauce.
Next, add miniature marshmallows and Health Bit candy. When everything is mixed well, divide the mixture and place it into two wax paper-lined jelly roll pan and cool. Top it all off with a sprinkle of powdered sugar; gently stir the sugar in.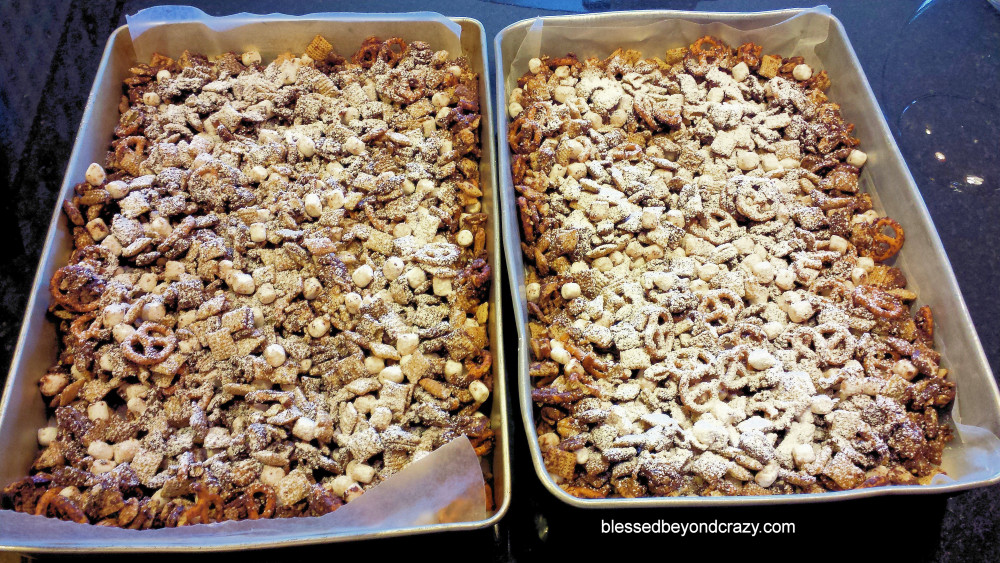 Coffee
It's really easy to adjust the coffee flavor. If you aren't a big fan of coffee you can simply leave the coffee out. However, if you love coffee, so go ahead and add a little extra to make a stronger coffee flavor.
This puppy chow makes a nice DIY gift idea. Simply place some of the Puppy Chow into clear plastic treat bags and give them as a yummy DIY gift. Surprise a co-worker, a sibling, a parent or grandparent, or anyone with a bag of this puppy chow. Furthermore, take along a cup of their favorite flavor of hot coffee and now you really have a great combo!!! It's sure to put a smile on their face.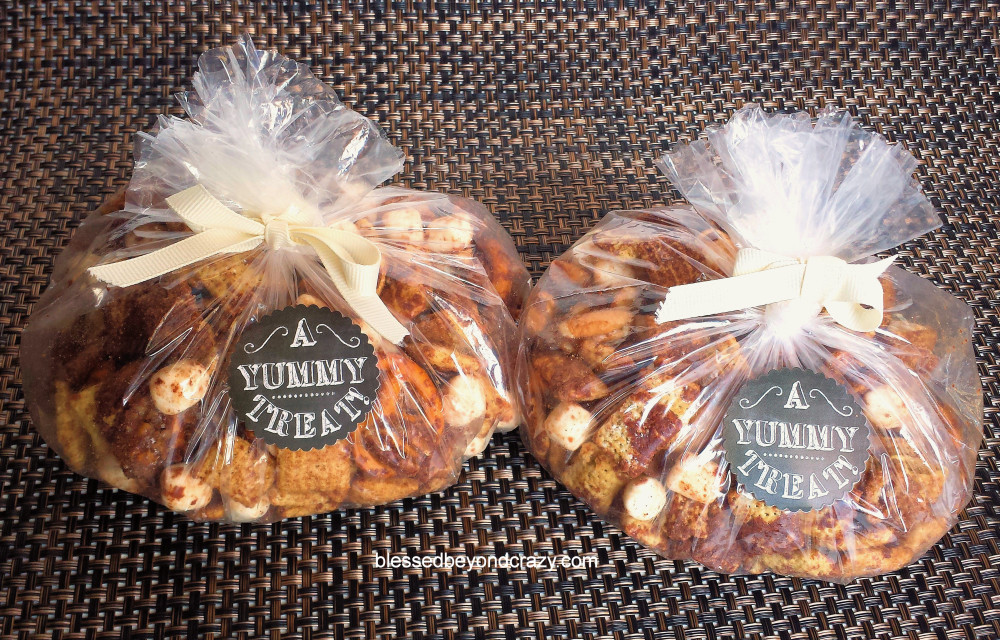 DIY Gift Idea
A fun way to serve this treat is to place the puppy chow into a clear glass bubble bowl and allow your guest to bag some up as a fun snack to take home with them.
I added fun stickers to my treat bags and topped them off with a cute little ribbon bow. I also found these super cute Chalkboard Labels that would be an adorable addition too! You can even write your own message on them and use them for any type of labeling.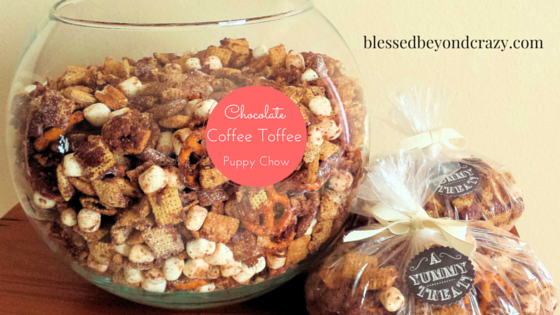 Kids LOVE it!
I gave some of this puppy chow to my grandchildren and thought maybe they would not like it because of the coffee. However, just the opposite! They didn't seem to mind the coffee flavor at all! Actually, they told me that they LOVE Chocolate Coffee Toffee Puppy Chow!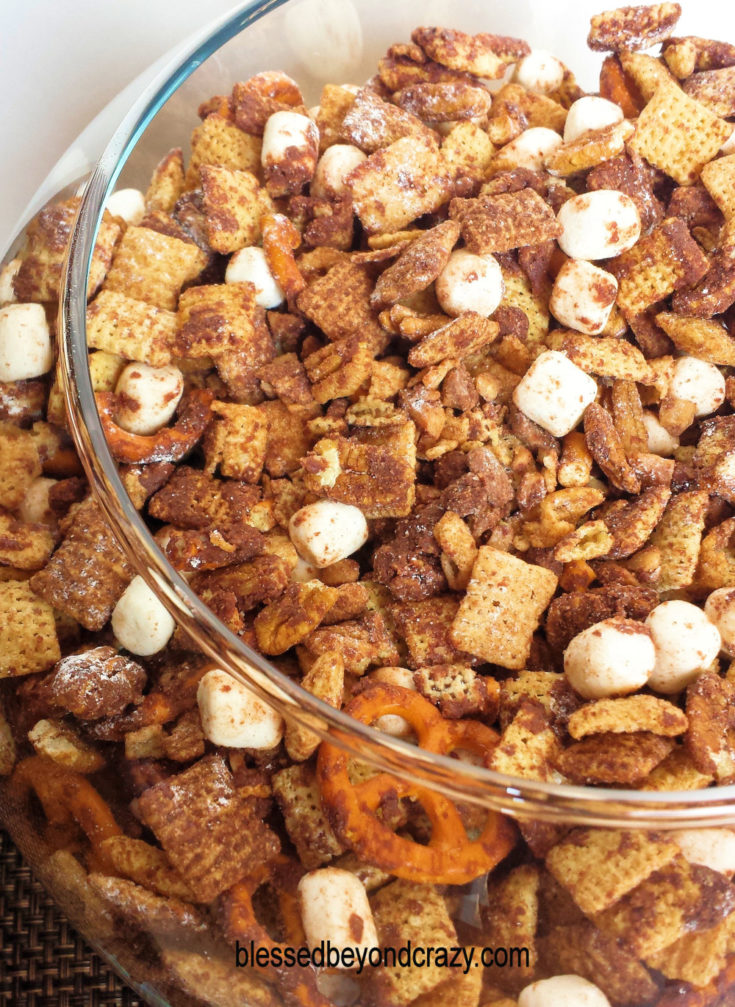 Chocolate Coffee Toffee Puppy Chow
Everyone, young and old, loves this flavorful snack.
Ingredients
4 cups Chocolate Chex ceral
2 cups Cinnamon Chex cereal
1 cup bite-size pretzel twists
1 cup pecan halves
1/2 cup toffee bits
1/2 cup toffee bits
1 tablespoon instant coffee granules
1 tablespoon instant coffee granules
1 teaspoon hot water
1 teaspoon hot water
1 cup semisweet chocolate chips
1 cup semisweet chocolate chips
1/4 cup butter
1/4 cup butter
1 cup powdered sugar
1 cup powdered sugar
Instructions
In a large mixing bowl, combine cereals, pretzels, and pecans.
Sprinkle toffee bits on top of the cereal mixture.
In a small microwavable bowl, stir coffee granules and water until coffee is dissolved.
Add chocolate chips and butter.
Microwave uncovered on High for 1-1/2 minutes, stirring after 1 minute until mixture is smooth. Pour over the cereal mixture, and stir until evenly coated.
Sprinkle powdered sugar over the mixture and stir or place powdered sugar in a large plastic bag, add cereal mixture to the bag, and shake.
Store in an airtight container.
Feel free to be creative and add additional ingredients such as M&M's, chopped peanut butter candy bars, candy sprinkles, flaked coconut, dried fruit, peanuts, etc…. but be sure to use gluten-free ingredients if you add additional ingredients and need this to be a gluten-free snack.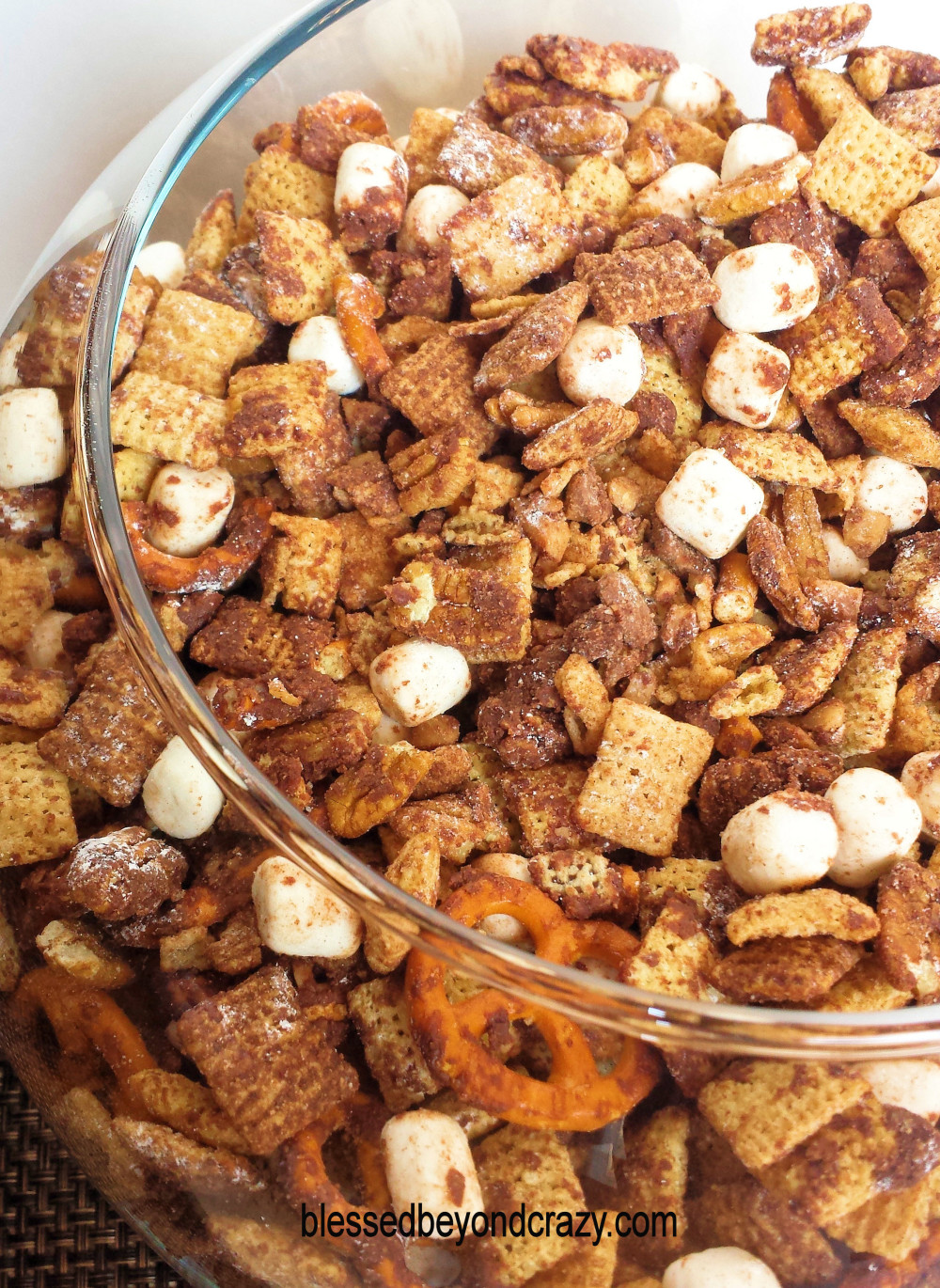 Puppy Chow is probably one of the most versatile snacks you can make because of the wide variety of flavor combinations.
What is your favorite puppy chow mix?
Linda
More great coffee post: