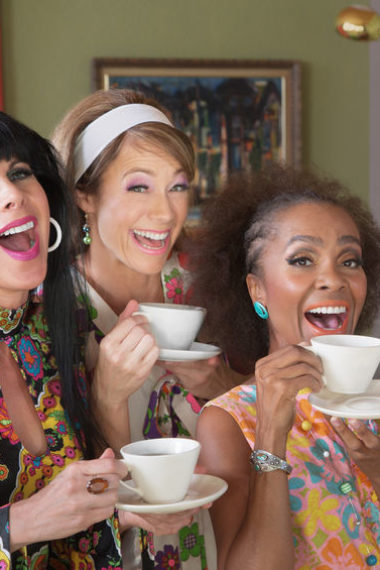 Have you noticed that coffee is everywhere? We see it in TV ads, on billboards, in shopping malls, on menus, in magazine ads, on Pinterest, etc… it literally is everywhere! Thousands of consumers ingest this delicious, invigorating beverage every single day. So, let's just go ahead and say it together, "Coffee is good!" Since this seems to be the case, today we are featuring 20 ideas that will inspire you to host a coffee party!
To help support our blogging activities, our site contains affiliate links. If you make a purchase from a link on our site, we may receive a small percentage of that sale, at no extra cost to you. Blessed Beyond Crazy is a participant in the Amazon Services LLC Associates Program, an affiliate advertising program designed to provide a means for sites to earn advertising fees by advertising and linking to amazon.com.
Recently, while looking through some family photos and I came across pictures from my daughter-in-law's bridal shower. It was a super fun, coffee-themed bridal shower. (Below is a picture of the cake that was served). A local bakery made the delicious cake that perfectly fit the whole coffee theme. When I came across this picture I started thinking about hosting a coffee party… just for fun! No particular occasion necessary.



Notice the cute decor on the sides of the cake?
DIY Coffee Themed Centerpiece
Anna and I also created coffee-themed centerpieces for Becky's bridal shower. A simple dessert plate + coffee beans + a coffee cup + wrapping paper + a red rose + Turtle Pecan Biscotti = an easy centerpiece that is not only cute, but it smells delicious!
Since so many people enjoy this glorious beverage, Anna and I wanted to share a few more ideas that might inspire you to host your very own coffee-themed party!
Coffee Beans and Mason Jars
Who knew coffee could be so adorable! Find directions here.

Coffee Favors
Send your guest home with cute Coffee Jar Favors. Find directions here.
Polka Dot Coffee Mug Gift
For a fun DIY gift, grab a cute mug and fill it full of coffee-related stuff. Find directions here.

Java Chip Smoothie
Because you really do need a healthy drink sometimes. This drink is also GF and Paleo; plus I think you'll be surprised at some of the ingredients. Make this in a large batch for a party. Find the recipe here.
Mocha Truffle Brownies 
Sometimes you just need a bit of chocolate to go along with your coffee. Find the recipe here.
Chilled Amaretto Coffee Affogato
How about a pretty drink to finish the day? Find the recipe here.
Mocha Crinkle Cookies
Did someone say "cookies" and "mocha" in the same sentence? Find the recipe here.
Mocha Puppy Chow
A new twist on puppy chow. Find the recipe here.
Chocolate-Covered Coffee Beans
Well, hello there, beautiful chocolate-covered espresso beans. Find the recipe here.
Chocolate Coffee Truffles
Need I say more? Find the recipe here.

Turtle Coffee Cocktail
Coffee: grow-up style. Find the recipe here.
Mocha Caramel Ice Cream Dessert
So refreshing. So delicious. And it's gluten-free. Find the recipe here.
Chocolate Espresso Caramels
Tasty little morsels. Find the recipe here.
Edible Coffee Cups
And then there's these. Find the recipe here.

Chocolate Chip Mint Cupcakes
Everything tastes better with a hint of green. Find the recipe here.
Coffee Buttercream Frosting
Because frosting tastes good on just about everything. Find the recipe here.
Salted Caramel Mocha Nutella Brownies
A new twist on a favorite dessert. Find the recipe here.
DIY Coffee Corner
Every day is a coffee day! Make your very own Coffee Corner in your own home. Find directions here.
No matter how you incorporate it, coffee can make the day much more enjoyable!
Cheers!
Linda and Anna
Other great coffee ideas: