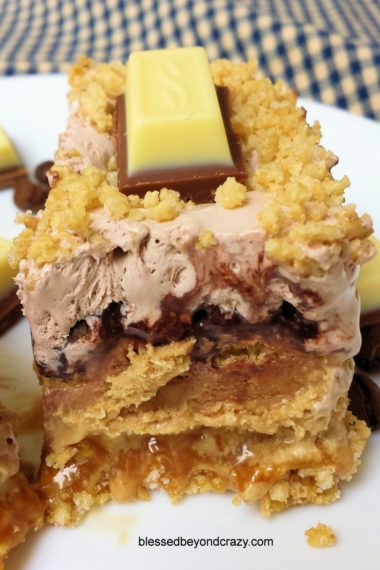 If you love mocha and caramel then hold on to your hat! You are gonna LOVE this easy no-bake, Mocha Caramel Ice Cream Dessert!!! Plus, it's gluten-free! 
To help support our blogging activities, our site contains affiliate links. If you make a purchase from a link on our site, we may receive a small percentage of that sale, at no extra cost to you. Blessed Beyond Crazy is a participant in the Amazon Services LLC Associates Program, an affiliate advertising program designed to provide a means for sites to earn advertising fees by advertising and linking to amazon.com. As an Amazon Associate, I earn from qualifying purchases.
I have a confession. I do not drink coffee. Nope. Never. Ever. Never.
Now having said that several years ago my children kept encouraging me to try a mocha frappuccino. They all thought that if I just TRIED one I would be sold. Since I didn't like the taste of coffee I balked at the thought. Yet one day I finally shared a frappuccino with my daughter, Anna. The rest is history. (I just love that my children know me so well – lol). With those first few sips of that creamy, delicious, chocolaty, cold beverage, (with a hint of coffee), I fell in love. Yep!
The strange thing is that I still do not drink coffee, but at least now I truly enjoy any food or beverage with a hint of coffee. Maybe someday I'll take the big plunge and start drinking the real deal. My kids tell me that frappuccinos are the "gateway" to drinking coffee… and they are probably right! 
While shopping for groceries last week I just happened to be strolling down a frozen food aisle. There was a nice young man unloading a cart of ice cream that happened to be on sale that week. I wasn't particularly looking to buy ice cream that day, but something caught my eye. Was that a bright green gluten-free label I saw on a carton of Breyers coffee ice cream???? Why, yes it was!
Needless to say… a carton of ice cream jumped right into my shopping cart! Because of that one single carton of ice cream, I went home, looked at all of my gluten-free supplies, and started creating this dessert.
Here's how to make this delicious dessert.
First, place the gluten-free rice Chex, into a zip-lock baggie and crush it with a rolling pin. Next, place the crushed cereal into a bowl, add sugar and melted butter, and pat it into the bottom of a 9 x 13 pan. (You could also use a baking dish). Finally, place the entire pan into the freezer for 15 minutes and let the cereal crust chill and firm up a bit.
After 15 minutes, remove the pan from the freezer, heated up a jar of salted caramel topping, and spread it over the cereal crust.
NOTE: I personally called Smucker's and verified that this product is gluten-free. They told me that the regular Smucker's caramel topping contains barley and is not gluten-free, however, Smucker's Simple Delight Salted Caramel Topping
 is gluten-free, (as of the writing of this post).
*If in doubt, always, always call a company to check if a product is gluten-free. Many times I find that a product itself is gluten-free but becomes contaminated in the packaging process. Never hesitate to check because most companies are great at assisting you.
Next, spread the entire carton of coffee ice cream over the caramel/crust. Place the dessert back into the freezer for 15 more minutes to allow the ice cream to firm up again.
After 15 minutes, remove the dessert from the freezer and drizzle the dark chocolate syrup all over the ice cream, spreading it around with the back of a spoon.
Drizzle a little chocolate syrup into the carton of whipped topping chocolaty, then spread it over the entire top of the dessert.
Next, sprinkle a few extra cereal crumbs all over the top of the dessert. For the final touch, add squares of gluten-free Choceur Coffee and Cream, Milk Chocolate Combined with White Chocolate on the top. Ummm, so good!
Once the entire dessert is assembled place it back into the freezer for 24 hours. Before serving, cut the scrumptious dessert into squares and serve it with (you guessed it), hot coffee! 
Because this Mocha Caramel Ice Cream Dessert was such a hit, I think that I will be making this recipe again soon! To my amazement, even my mother, who has hated coffee her whole life, said she really liked this dessert! In addition, she told me that she would like for me to make a pan of this for her and Dad sometimes. The rest of my family who actually does love coffee agreed. This recipe is a keeper! 
Excuse me while I go grab a slice…
Linda
More great recipes: