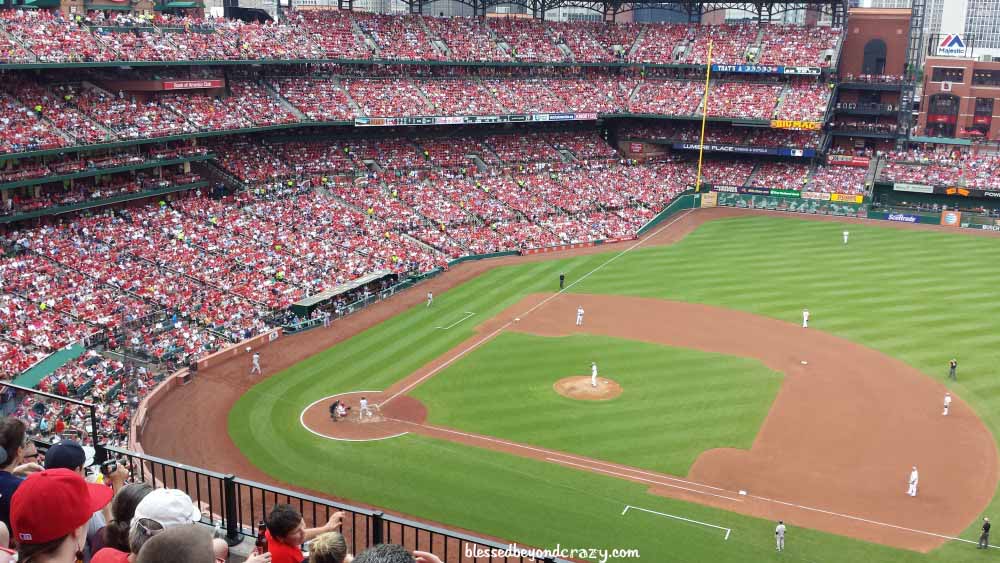 If you are looking for the perfect Father's Day gift this year, you'll probably find just the thing to make his dad extra special!
Here are a few ideas:
The perfect DIY Gift That Anyone Can Make! The Father's Day gift below was given to my boss by his 20-year-old daughter. It truly is a gift that anyone can make.
For the SPORTS Dad:
Buy him tickets to a game
Most men are sports guys. It is always so much fun to watch their eyes light up whenever they have the opportunity to attend a game; like this one between the Cardinals and Yankees on Memorial Day at Bush Stadium.
buy him sports MEMORABILIA
Through the years, sports-themed pictures, tee-shirts, or an autographed baseball by Yadier Molina, make wonderful gifts.
Check out these ideas:
buy him sports gear
Does he golf? Play baseball, ride a bike, or like to work out?
Check out these ideas:
For the MUSIC lover:
FRAME HIS FAVORITE MUSIC ALBUM
My son found a vinyl record album that he really liked and framed it. He now uses this as a piece of art on his wall.

You can find many vintage and inexpensive items at garage sales, thrift stores, specialty stores, or ask your family and friends if they have what you are looking for.
Check out these ideas:
buy him cool music stuff
If music is a big part of his life then he will probably appreciate a good set of headphones, earbuds, a gift card to iTunes, a vintage album, etc…
Check out these ideas:
For the FOODIE:
make him a meal
Recipe Ideas:
and his favorite dessert
Recipe Ideas:
Check out these ideas:
For the TOOL Dad:
What guy doesn't like toys… um, I mean tools? Any guy I know has a few tools on hand, even if he isn't that handy with them.
Check out these ideas:
For the TECHIE Dad:
In today's world, gadgets are almost necessary, everyday items.  From phones to tablets, computers, GPS, sound systems, and much, much more. These things can be super helpful in our everyday lives and they can be fun to play with.
Check out these ideas:
For the OUTDOOR Dad:
Make wall art out of one of their favorite outdoor photos
Last fall my sons, Isaac and Ben, went on a mini-vacation together. They met up and went camping in the Grand Canyon. They had a blast! Of course they took a bunch of super neat photos. Ben recently told me that he had a canvas print made out of one of the panoramic pictures he had taken while in the canyon. He had a quote placed at the top of the canvas and it has become a very personal work of art.
Buy them outdoor / hunting / sports gear.
Since my son, Isaac, and his wife like to camp, they often times receive camping equipment as gifts. One Christmas, Isaac received a cast-iron cooking skillet that they use to cook their meals over an open fire.
Check out these ideas:
Fishing equipment
Check out these ideas:
hunting equipment
Check out these ideas:
For the CAR Dad:
take him to a car show
There are many areas around the country that have car shows during Father's Day weekend. Often times they are the old vintage cars, however, often times they have futuristic cars as well.
Check out these ideas:
For the SENTIMENTAL Dad:
Make ART WORK FROM OLD PHOTOS
Last year, my son Ben, uploaded a bunch of old photos from my Dad. They were pictures of my Dad when he was in the Air Force. Ben made a collage of these photos and then turned several of them into a canvas print through Shutterfly and gave it to my Dad as a gift. Needless to say, my Dad loves it, and what a thoughtful and personalized gift!
Last year my daughter, Anna, gave her husband, Seth, a triple picture frame with a picture of him and each of their 3 children when they were a baby.
frame old magazines

Don't forget to add a sentimental letter
Give a great article of clothing
Clothing Ideas:
For the Dad who likes to travel:
surprise him with a trip to visit a brewery or winery
Many breweries and wineries give tours.  Some tours are free, or there may be a minimal cost, and usually they have a taste sampling at the end of the tour.
VISIT HISTORICAL PLACES
A lot of guys like history so why not take a road trip and visit a few historical places?
VISIT A MUSEUM
You can find all kinds of wonderful museums across this country. I have personally been to many different kinds, such as Art, Sports, Historical, Music, Car, Presidential and many, many more. I have even been to a Miniature Museum where everything was super tiny. So many great places to visit.
GO ON A DRIVE AND SEE THE
COUNTRYSIDE
Take Dad on a relaxing drive through the countryside and stop and visit unique sites, shops, and eating places.
For the Dad who has EVERYTHING:
Buy him a few months' worths of razors or even a whole year!
Dollar Shave Club has super cheap razors! 
Give HIM AN AMAZON GIFT CARD
Shop Amazon – Father's Day Gift Cards
I hope we have been helpful to you in your search for the perfect Father's day gift!
Linda
*This post contains affiliate links, which help support our blogging activities*