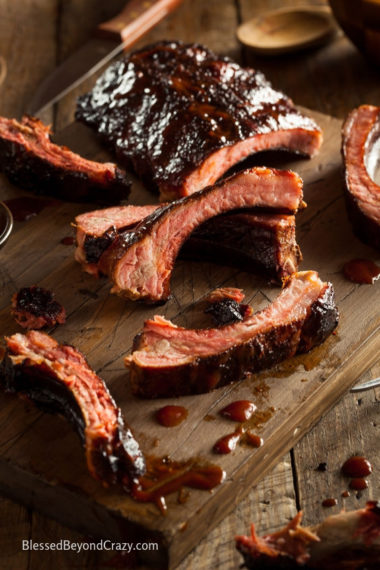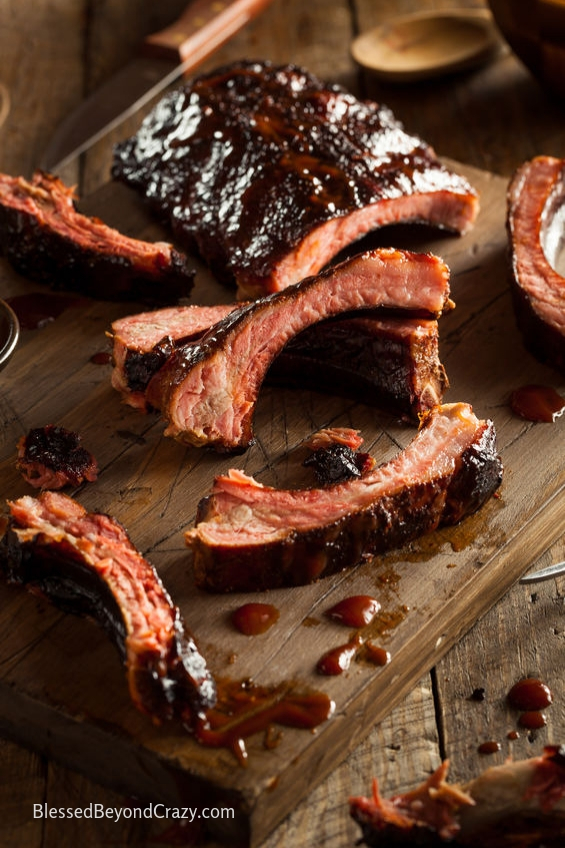 Oh my! Words cannot describe how absolutely delicious Smoked Honey BBQ Baby Back Ribs are! The ribs are cooked nice and slow which results in meat that falls right off the bone. You may also be happy to learn they are naturally gluten-free!
Use this smoking technique for nearly any type of pork ribs, e.g., baby back, St. Louis, and/or spare ribs.
To help support our blogging activities, our site contains affiliate links. If you make a purchase from a link on our site, we may receive a small percentage of that sale, at no extra cost to you. Blessed Beyond Crazy is a participant in the Amazon Services LLC Associates Program, an affiliate advertising program designed to provide a means for sites to earn advertising fees by advertising and linking to amazon.com.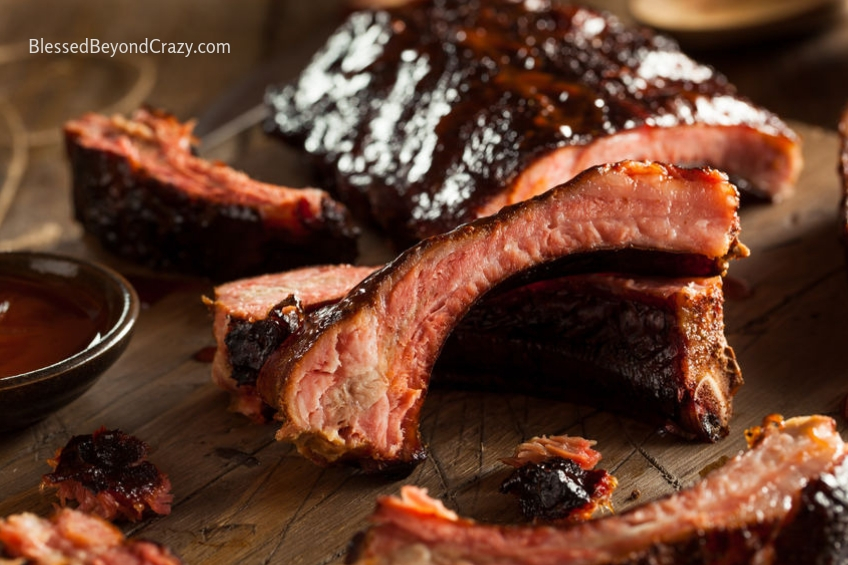 New Hobby!
Recently my husband has taken up a new hobby. Rather than simply grilling, he is trying his hand to use a smoker to smoke a variety of meats. Although his grilling ability is exceptional, his techniques have improved with time and experience. By far, Smoked Honey BBQ Baby Back Ribs are the most requested food he made to date!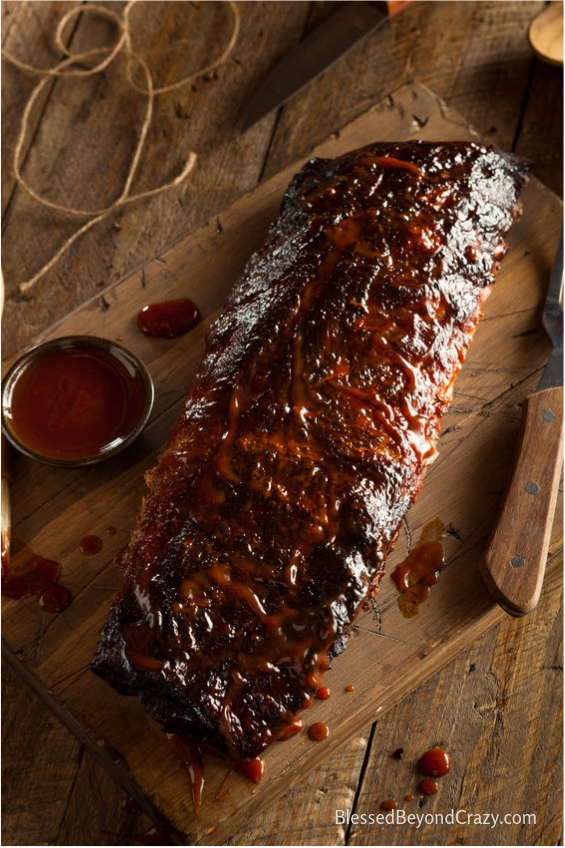 Baby Back Ribs
Although baby back ribs are more expensive, they are by far our favorite type of ribs. I am a very frugal person, so if I suggest the more expensive option, you know it's going to be worth it!
You will also notice a difference in quality between a grocery store versus a butcher shop. Therefore we usually buy baby back ribs fresh from a local butcher shop.
Preparing the Ribs for Cooking
Remove the ribs from the packaging. If you notice they are a little slimy, wipe them down with a paper towel. Cut off any extra meat or skin flaps that are loosely connected (if you leave them on they will burn while cooking).
Babyback ribs have an attached membrane. If the membrane is not removed before cooking, the ribs will be chewy and hard to separate.
The easiest way to remove the membrane is to use a butter knife. To loosen the membrane, run the edge of the butter knife underneath it.
When you have one edge of the membrane loosened, slowly lift up to tear the membrane away from the ribs. If you have difficulty holding onto the membrane simply use a paper towel to grab it. Once detached, discard the membrane.
In the picture above, the ribs on the left show the membrane removed and the ribs on the right show the membrane attached. You can see that the attached membrane appears wet and shiny.
The next step is to slather mustard all over the surface of the ribs. Make sure mustard covers EVERYTHING, including the ends and rib tips. Don't worry… the mustard simply acts as a binding tool and the flavor does cook off. I promise these ribs do not taste like mustard!
Next, generously sprinkle the ribs with your favorite seasonings. My husband and I recommend John Henry's Pecan Rub or Three Little Pigs BBQ Rub. We have used both and LOVE both! Finally, drizzle honey over the top.
Cover your ribs and refrigerate overnight or for a full 24 hours. Remove the ribs from the refrigerator and allow them to reach room temperature before cooking.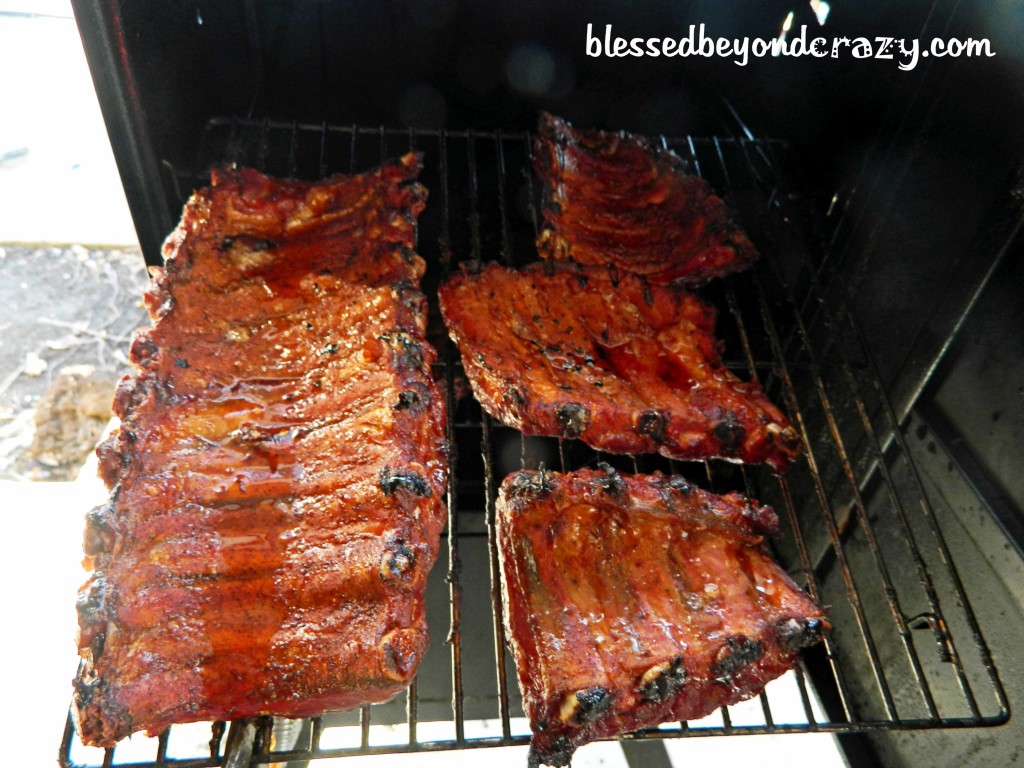 Cooking the Ribs
You can use whatever smoker you have access to. My husband uses a Brinkman Vertical Charcoal Smoker.
He likes to use lump charcoal and cherry wood chips and keeps the smoker at a consistent 225 degrees for four hours. Every hour, he adds more wood chips to keep the smoke at just the right temperature.
He also uses a 50/50 mixture of water and apple juice in his water pan (this is important to keep the smoke 'wet' so the ribs don't dry out while cooking).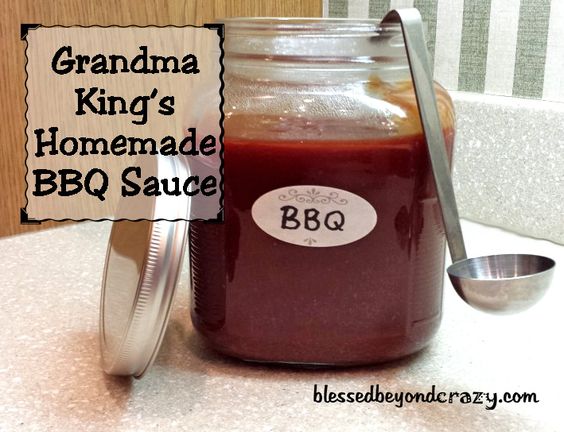 Cook with the meat side down, and bone side up. After cooking for 3 hours, flip the ribs and brush on your favorite BBQ sauce. We like to use Grandma King's Homemade BBQ Sauce (which is delicious and happens to be gluten-free). 
Allow the Smoked Honey BBQ Baby Back Ribs to cook for another hour.
My mouth is seriously watering just looking at these pictures!!
After four hours of cooking time, remove Smoked Honey BBQ Baby Back Ribs from the smoker. Place the ribs into a pan and cover the pan with foil. Next, bake them in the oven for an additional 30 minutes at 350 degrees.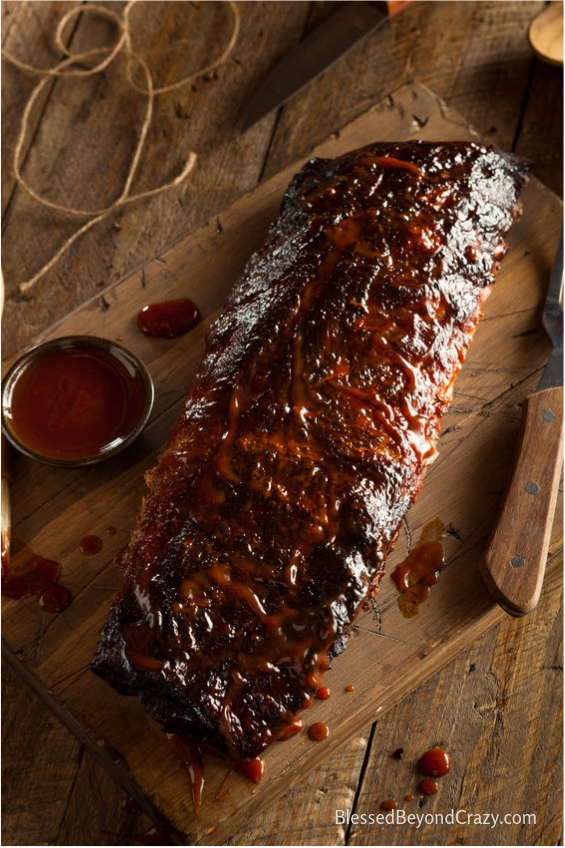 We like our ribs to fall off the bone so bake them until the meat easily pulls away from the bones. NOTE: If you like chewy ribs then skip the baking step.
Finally, drizzle honey and more BBQ sauce on top of the ribs and serve them up hot.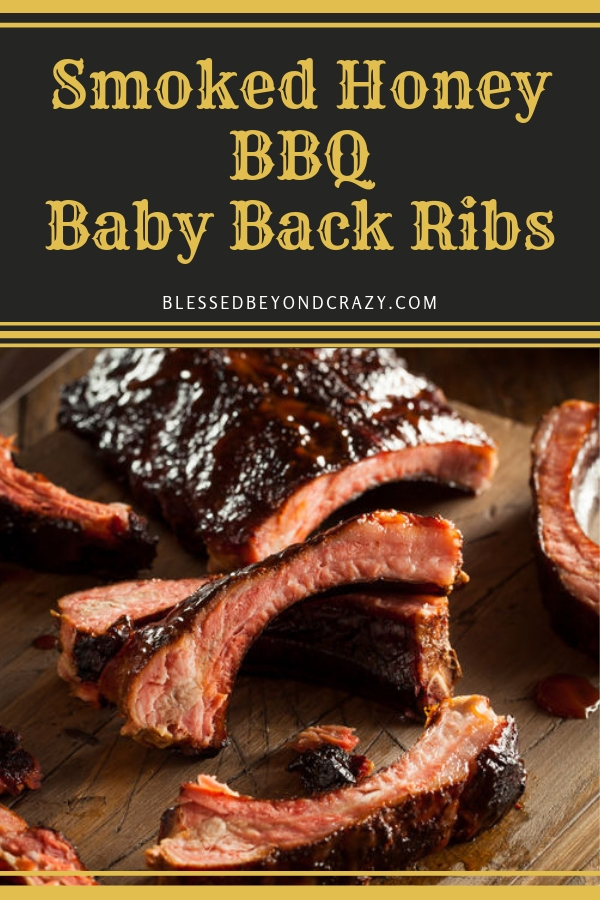 Enjoy!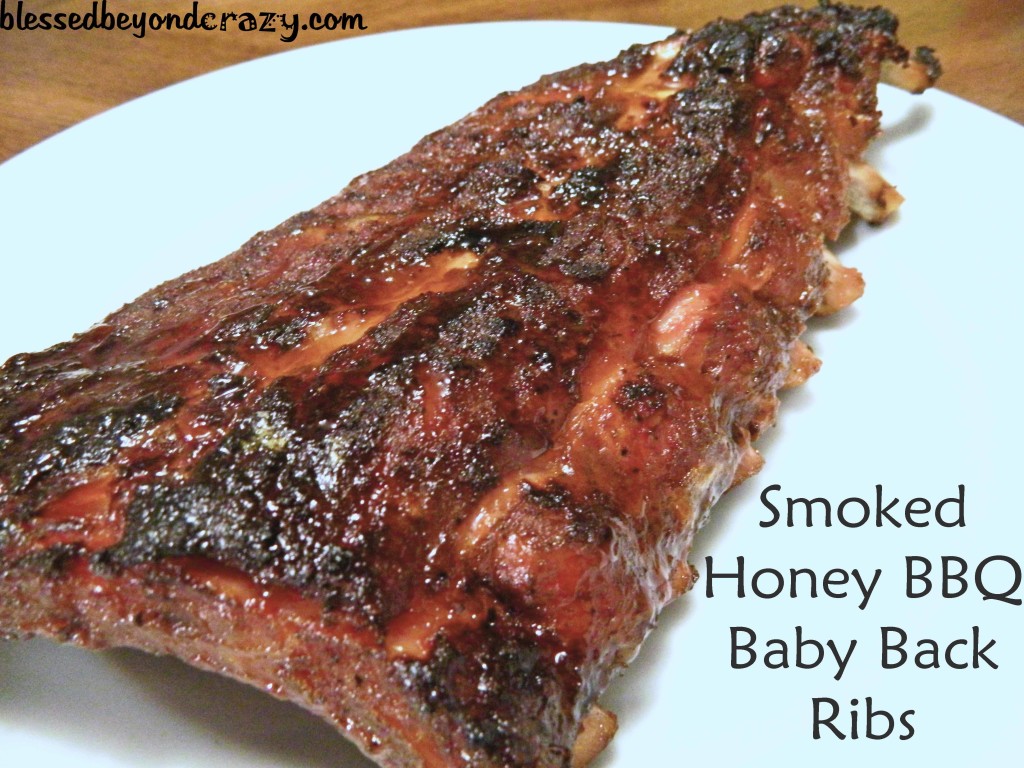 Anna
More great ideas: