If you love potatoes then you'll probably agree with me that these are the most addicting pan fried potatoes, ever!
First, I should tell you that my family has a slight obsession with hashbrowns.
Like, it's our go-to bedtime snack.
The problem is that in our house my husband is the hash-brown master! He is the only one that can get them perfectly crispy. So we don't make hashbrowns unless is he is home to make them. Which makes us all a little sad that we can't eat them all day every day!
So I started making fried potatoes! And they are just good as my husband's hashbrowns!
To help support our blogging activities, our site contains affiliate links. If you make a purchase from a link on our site, we may receive a small percentage of that sale, at no extra cost to you. Blessed Beyond Crazy is a participant in the Amazon Services LLC Associates Program, an affiliate advertising program designed to provide a means for sites to earn advertising fees by advertising and linking to amazon.com.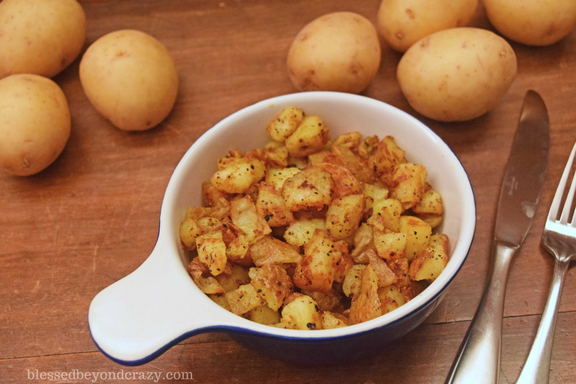 There are only 3 ingredients total! Including the potatoes.
These fried potatoes are so easy to make! Plus, they are naturally gluten-free and vegan!
First of all, I like to use golden potatoes because they are definitely the best at frying (and also my favorite for baked potatoes — find out the Secret to Fluffy Baked Potatoes).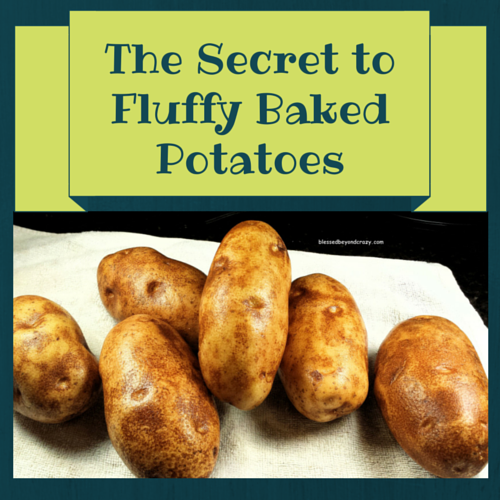 Second, you need to bake the potatoes. If you have leftover baked potatoes from a previous meal then this is the perfect way to use those leftovers up! If you don't have leftover potatoes then pop them in the microwave (after you have washed and stabbed them, of course).
Third, dice the potatoes (skin and all!) into very small cubes. Seriously, make them small! The smaller the crispier! If you are using any type of potato besides golden then you might want to peel them first.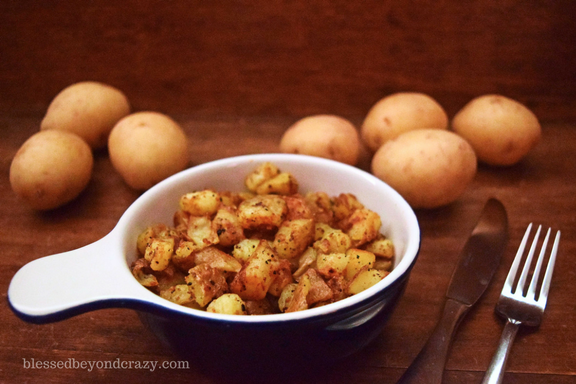 Fourth, using your favorite skillet add some olive oil (the amount depends on how many potatoes you are making at one time) and get the oil hot. I never measure my oil but I would guess about a tablespoon for 3-4 potatoes. Once you start frying them if you skillet starts to look dry, add some more oil or butter.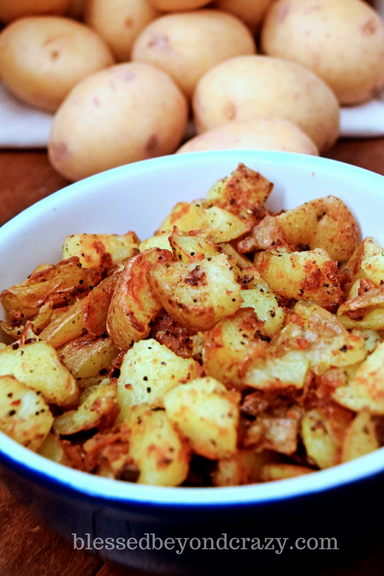 Once the oil is hot add the diced potatoes. Sprinkle the potatoes with Mrs. Dash seasoning. Once again, I don't measure the Mrs. Dash. Just sprinkle it on like you would salt and pepper. More or less depending on your taste.
Turn the heat down to medium.
Let the potatoes fry for about 1 minute then, using a spatula, flip the potatoes over to their other side.
Continue letting the potatoes fry for a minute then flip until they are as crispy as you desire them. It usually takes me about 7-10 minutes. But the more potatoes the longer it will probably take.
Add more oil and/or butter as needed if the skillet starts to look dry or your potatoes are burning instead of getting crispy.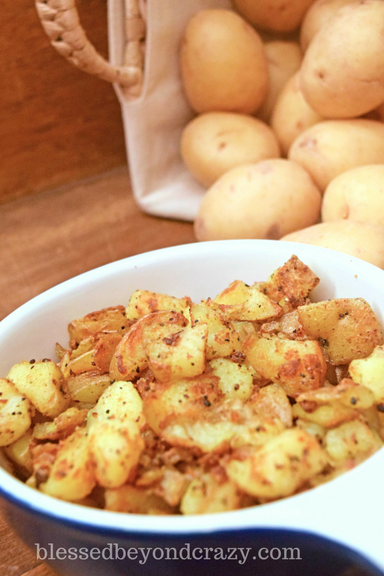 Fried Potatoes are perfect for breakfast! They are also a great side dish, especially with meat such as Smoked Honey BBQ Baby Back Ribs, Rib Eye with Garlic Mayonnaise Sauce, Smoked BBQ Meatloaf, or hamburgers.
Of course, these are also amazing all by themselves! You can even jazz them up by adding crumbled bacon or fried onions and peppers.
These fried potatoes will be sure to satisfy any potato craving! That is until they are all gone… then you will immediately want more!
The Most Addicting Pan Fried Potatoes
---
Anna Martin
Super easy, Gluten-Free, Vegan.
2 minPrep Time
10 minCook Time
12 minTotal Time
Ingredients
Diced Baked Golden Potatoes
Olive Oil (enough to cover the bottom of the skillet)
Mrs. Dash original seasoning
1-2 Tablespoons butter (optional)
Instructions
Add olive oil to skillet and turn on high heat until oil is hot. Add diced potatoes. Add seasoning to taste.
Let potatoes sit and fry for 1 minute. Flip with spatula.
Turn heat down to medium-low.
Continue letting potatoes sit and fry for 1 minute then flipping with spatula for 6-10 minutes depending on the amount of potatoes.
I like to add a tablespoon of butter half-way though frying. Add more oil or butter as need if the potatoes start to burn or the skillet looks dry.
Notes
Add bacon pieces or fried onions and peppers. Goes great with breakfast foods or as a side dish!
7.8.1.2
176
https://blessedbeyondcrazy.com/pan-fried-potatoes/
www.blessedbeyondcrazy.com
Enjoy!
Anna