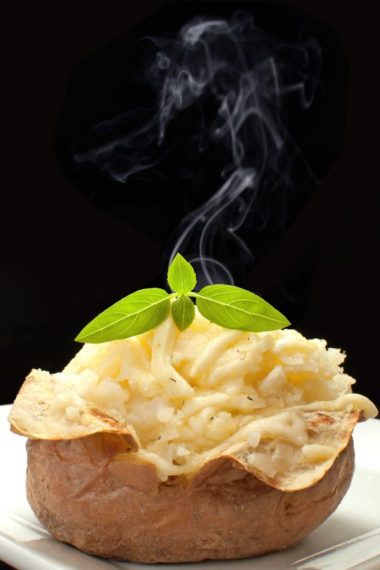 Shhhh….today I want to let you in on a secret. Doing this one thing will change the way you make fluffy baked potatoes forever! Read on to find The Secret to Fluffy Baked Potatoes!
Most people like a good fluffy baked potato, myself included. It's something that I love to order at a restaurant, and a simple baked potato is naturally gluten-free.
To help support our blogging activities, our site contains affiliate links. If you make a purchase from a link on our site, we may receive a small percentage of that sale, at no extra cost to you. Blessed Beyond Crazy is a participant in the Amazon Services LLC Associates Program, an affiliate advertising program designed to provide a means for sites to earn advertising fees by advertising and linking to amazon.com.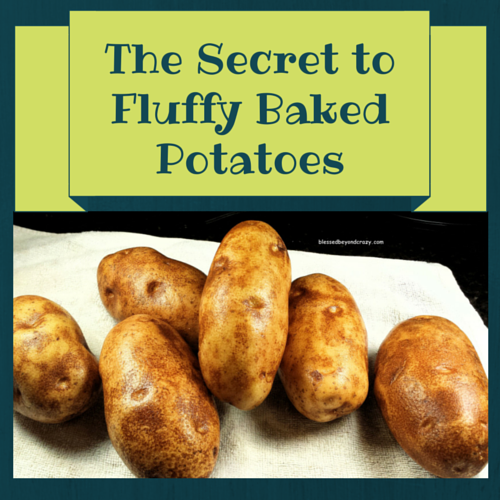 I recently did a search on Pinterest to see how other people make baked potatoes. I was amazed to find that not one single post mentioned a key step to making a great fluffy baked potato. Therefore, let me fill you in on the secret to fluffy baked potatoes.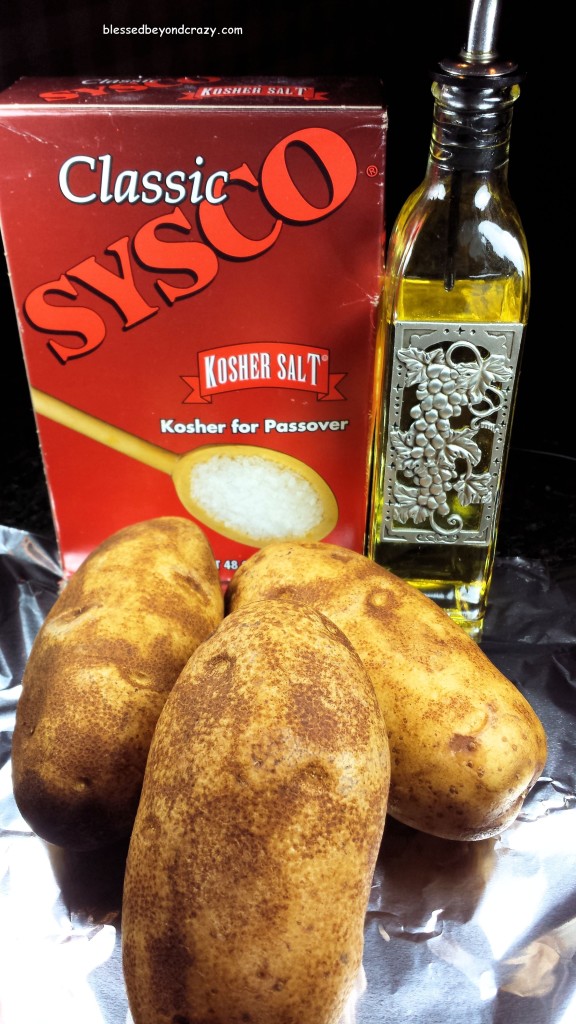 What You Need
You need just a few things to make perfectly fluffy baked potatoes: potatoes + water + olive oil + kosher salt + aluminum foil.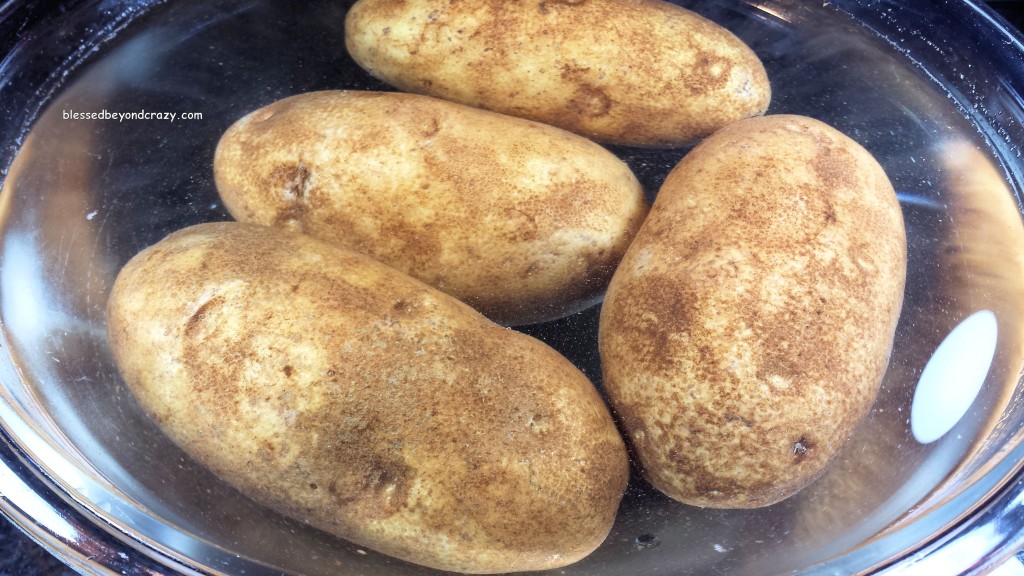 Water Bath
Ok, here is the secret…. soak your potatoes in room temperature water for 2 hours before you bake them.
Yep! It really does make a difference. While resting in the water bath, the potatoes will soak up some of the water and this, in turn, will help make them fluffy inside when you bake them.
NOTE: Soaking them longer than 2 hours may make the potatoes become too waterlogged so I recommend sticking to the 2-hour time frame.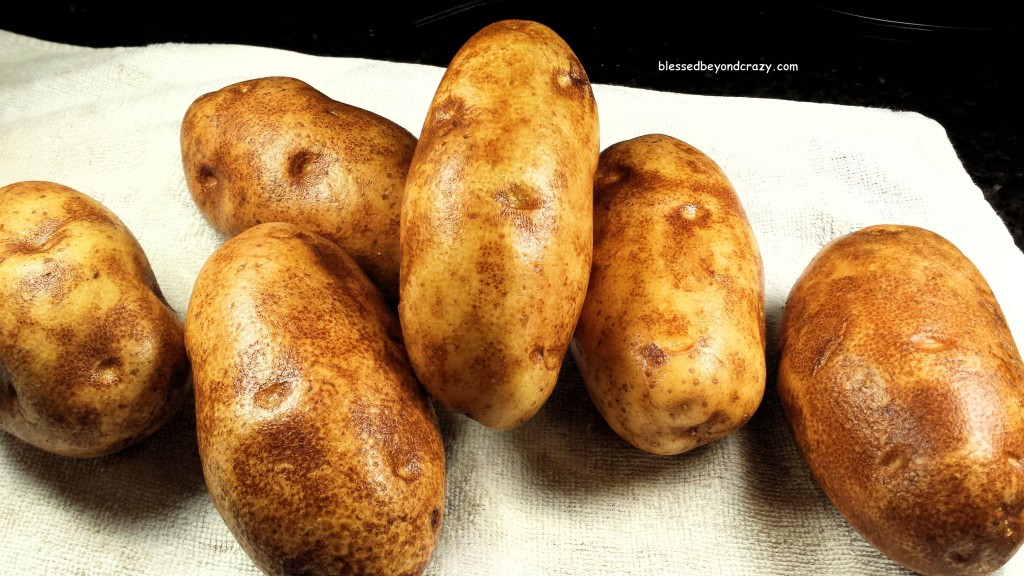 Clean Potatoes
After the potatoes have soaked for two hours in the water, simply rub a soft vegetable brush all over the potatoes while rinsing them under clean running water. Any dirt will slide right off.
Next, place each potato on a square piece of aluminum foil that is big enough to wrap around and cover the entire potato.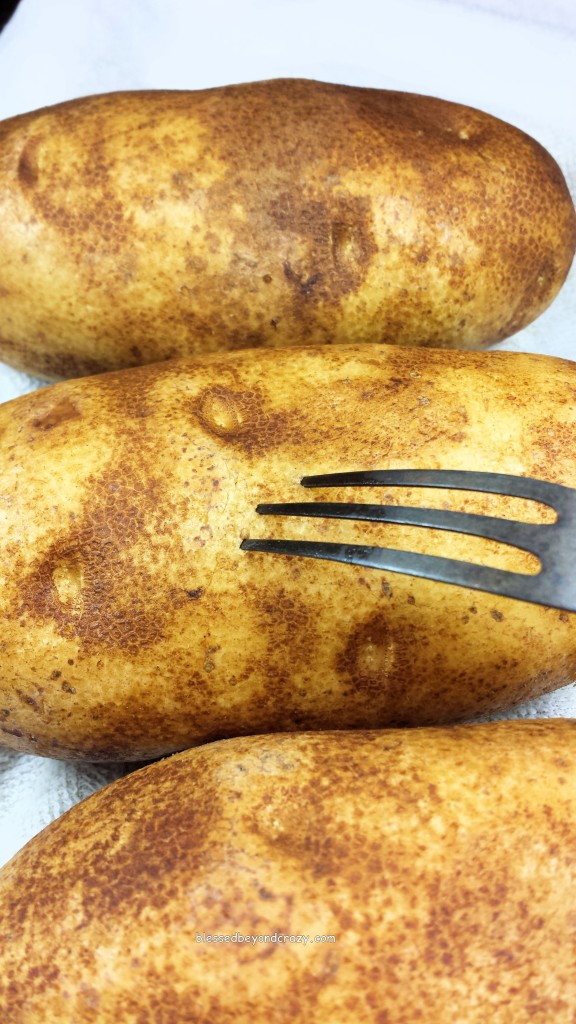 Poke
The next step is to gently poke a few holes in the potatoes with a fork. I poke mine a few times on each side of the potato.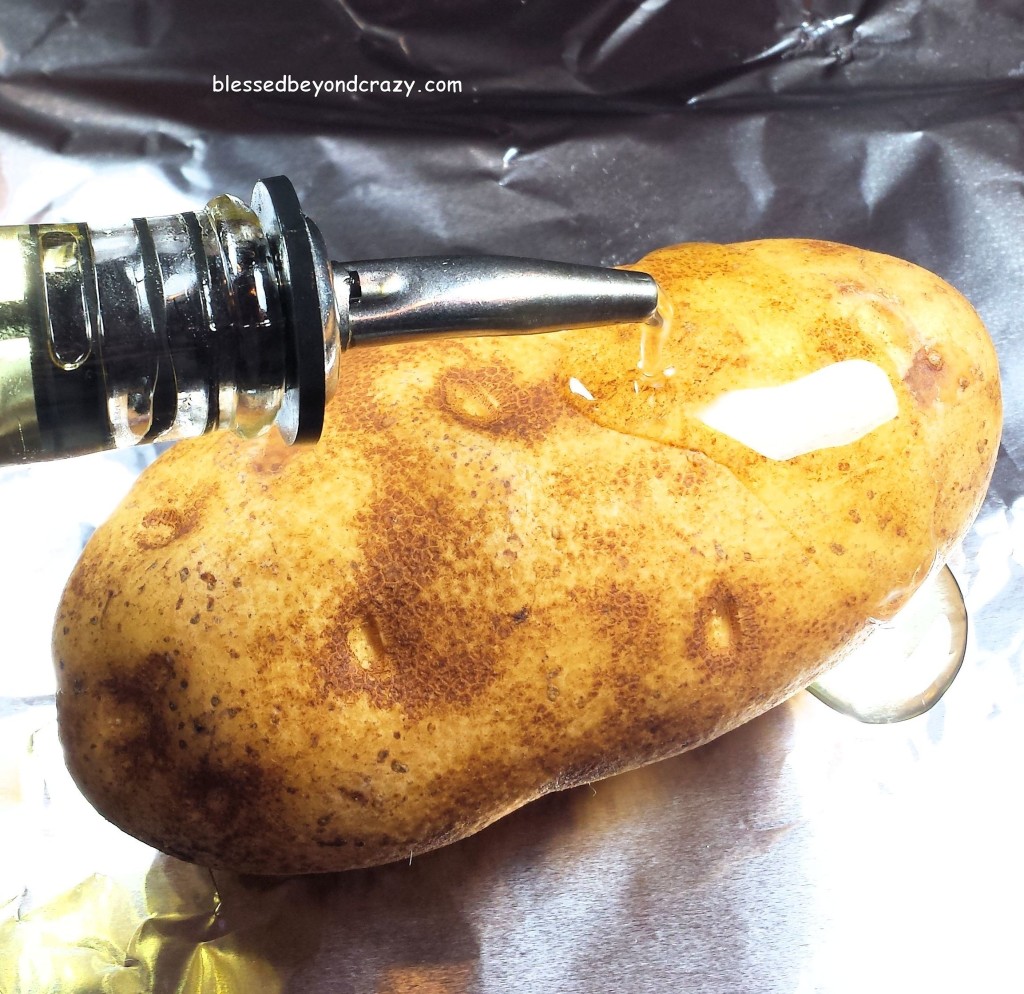 Additional Step
To take your fluffy baked potatoes up another notch, drizzle them with virgin olive oil. It only takes a tablespoon or two of oil to cover the entire surface. Try to make sure that the entire potato is covered with oil.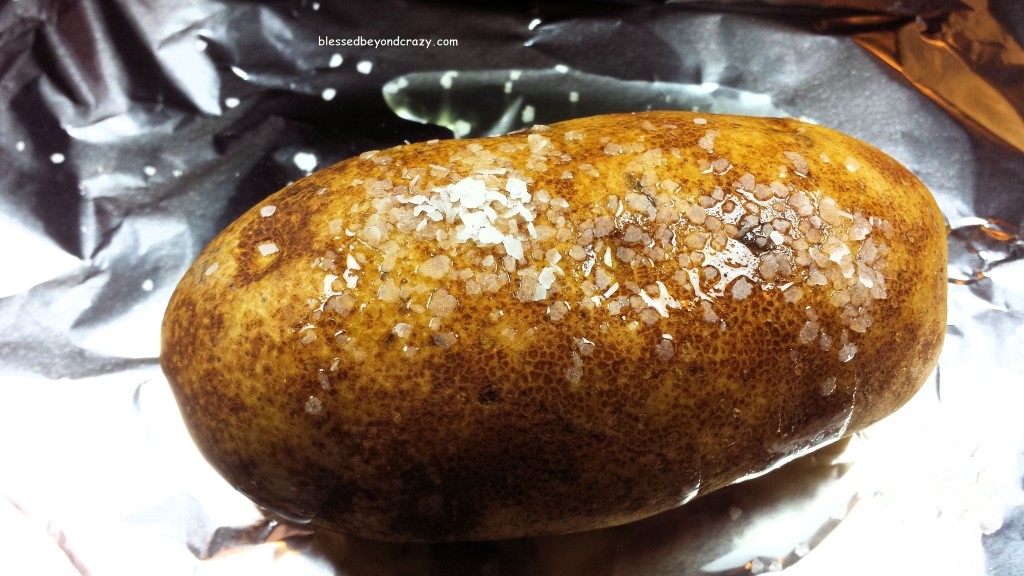 Salt
Sprinkle a little coarse salt on both sides; top and bottom.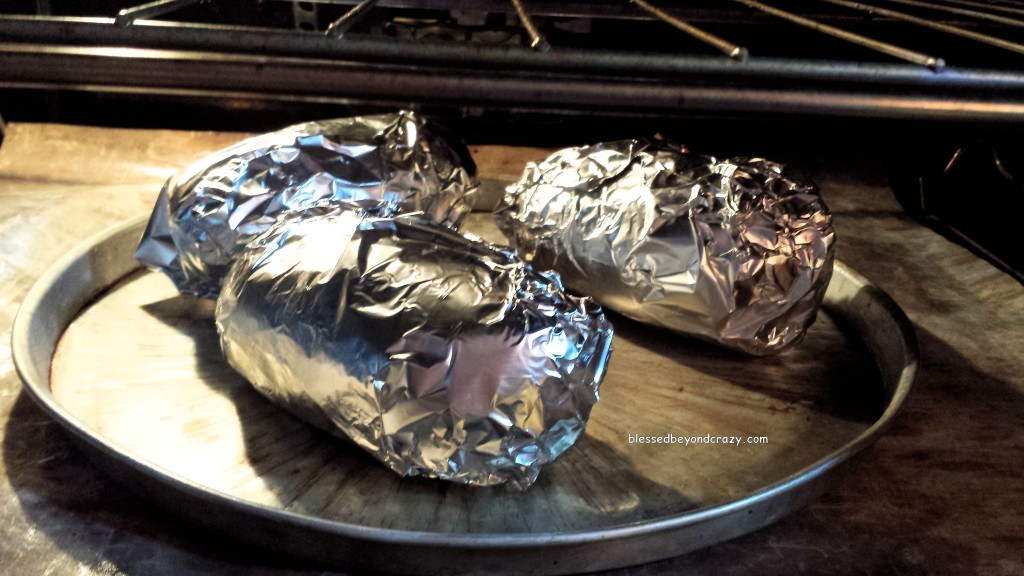 Wrap & Bake
Completely wrap the potatoes in foil and place them on top of a baking pan. This will prevent any olive oil that might leak out of the foil from dripping in the oven.
Bake in a preheated 350-degree oven for 45 to 60 minutes. Depending on the size of the potatoes will depend on how long you bake them. The bigger the potato, the longer it will need to bake.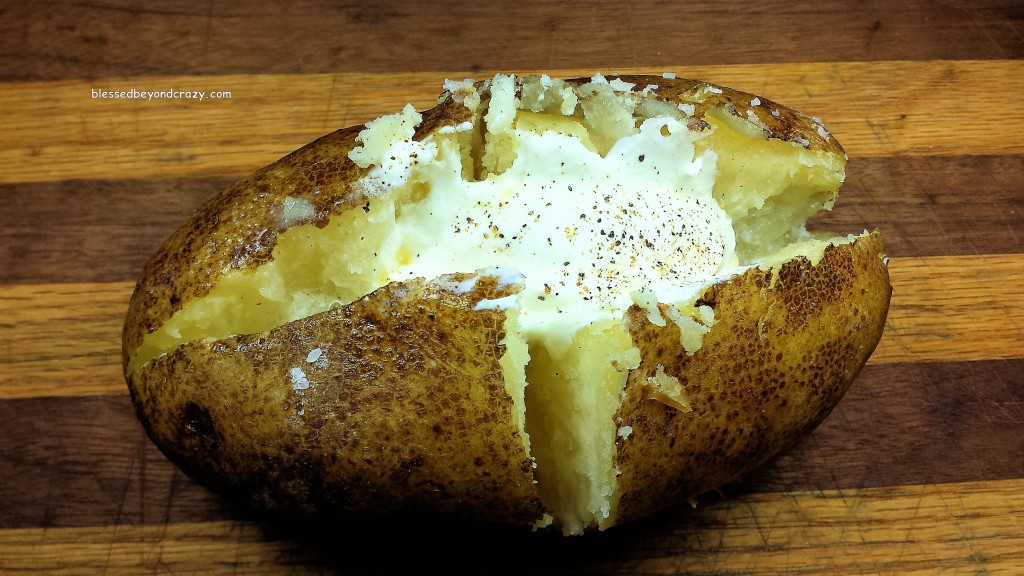 Serve
Serve the potatoes with your favorite toppings. I cut mine open and add a dollop of butter, gluten-free sour cream and a dash of salt and pepper.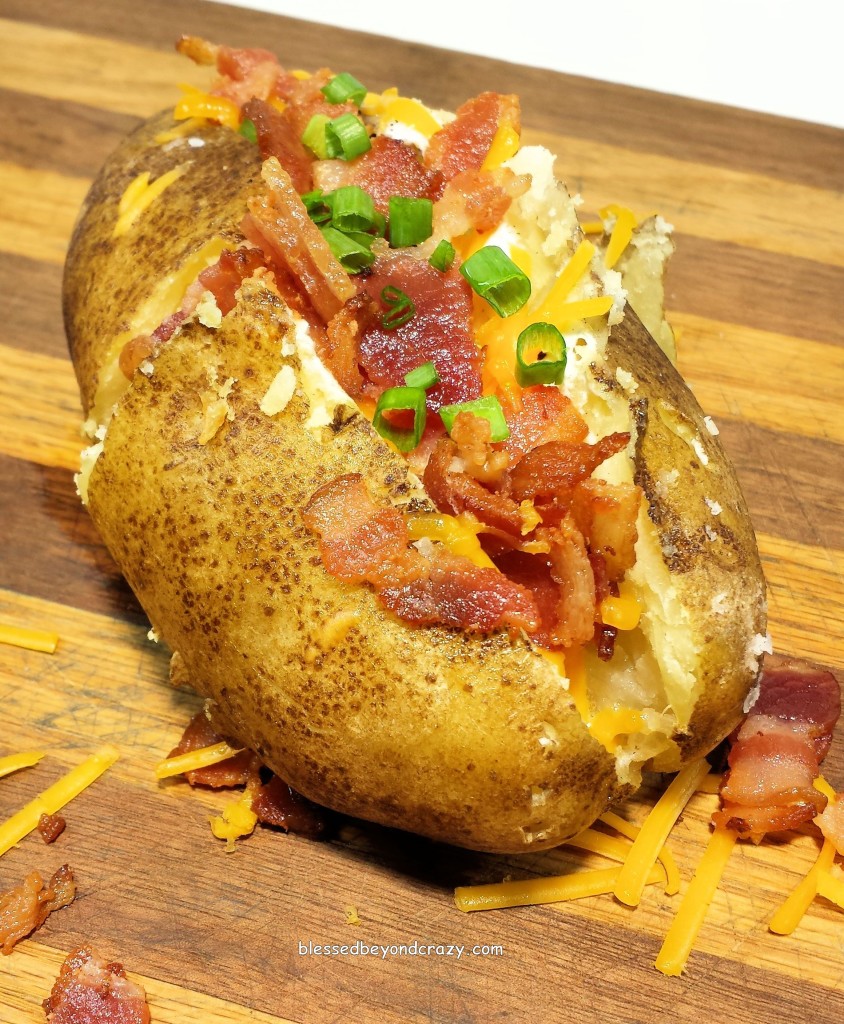 Leftovers
Baked potatoes are a great way to use up a few leftovers. Sometimes I will add some cooked bacon pieces, shredded cheddar cheese, and fresh parsley or chives if I have these ingredients on hand.
These potatoes are also great with leftover cooked broccoli, chili, black beans, etc…
Use your imagination and see what combinations you can come up with. A baked potato bar is always a good option when hosting parties too.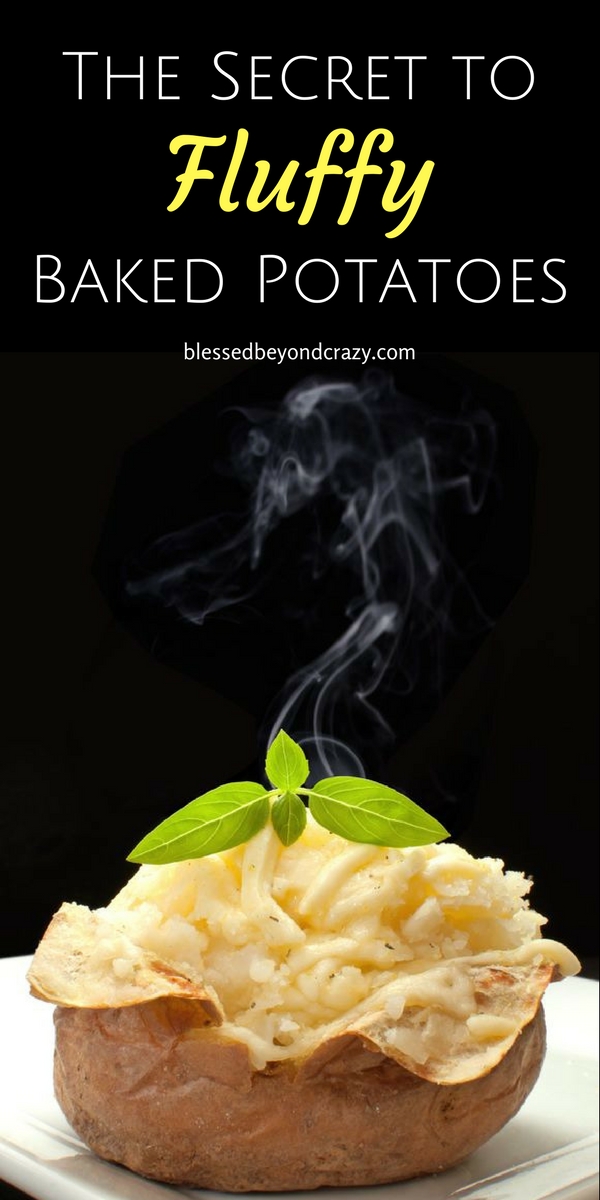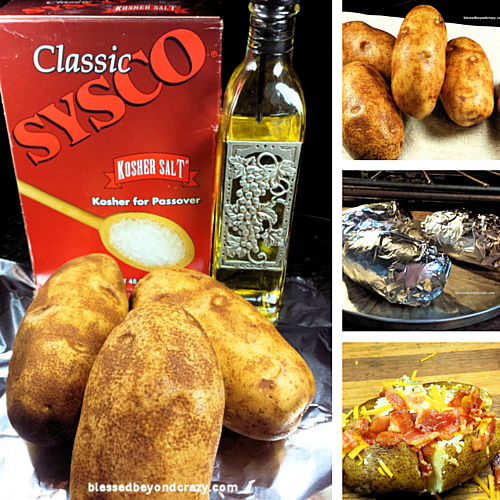 For other delicious potato recipes check these out: Easy Microwave Twice Baked Potatoes, Loaded Baked Potato Soup: AKA Bacon Soup and Old Fashioned Potato Salad.
Here's to creating the perfect fluffy baked potatoes!
Enjoy!
Linda
More great recipes:
Old Fashioned German Potato Salad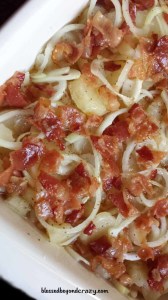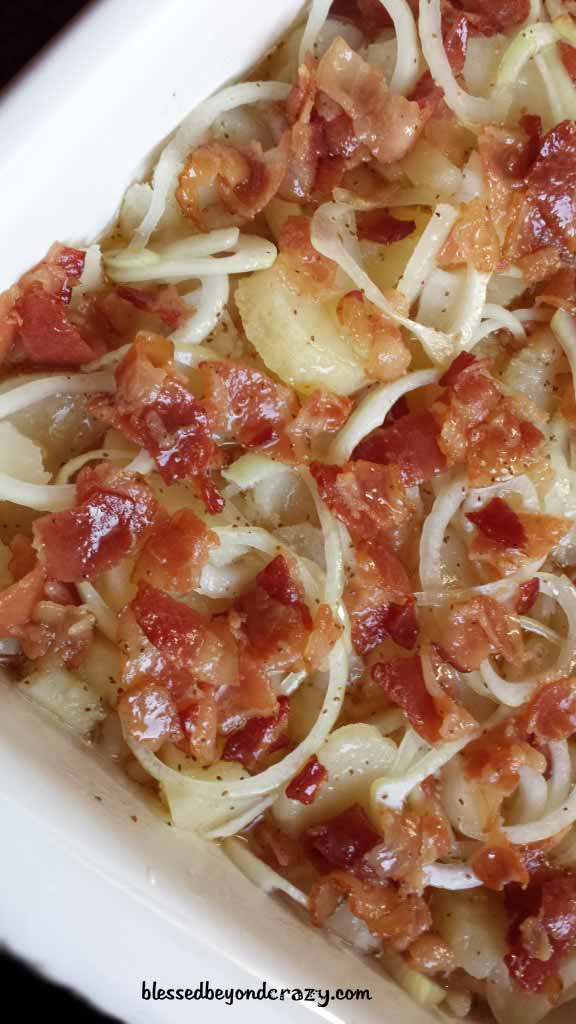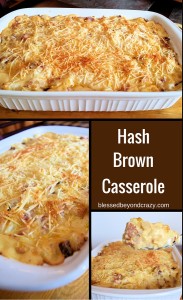 Microwave Twice Baked Potatoes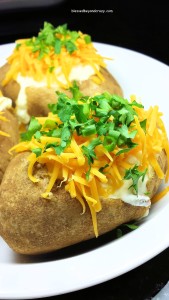 The Most Addictive Fried Potatoes