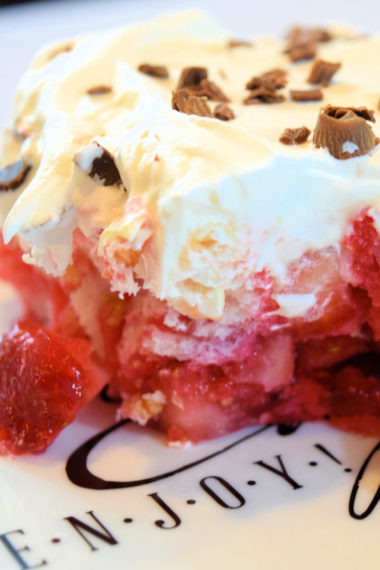 Since school is out, the air conditioners are humming and no one wants to heat up the kitchen, this easy No-Bake Strawberry Dessert is a great dessert to serve your family and guests. 

To help support our blogging activities, our site contains affiliate links. If you make a purchase from a link on our site, we may receive a small percentage of that sale, at no extra cost to you. Blessed Beyond Crazy is a participant in the Amazon Services LLC Associates Program, an affiliate advertising program designed to provide a means for sites to earn advertising fees by advertising and linking to amazon.com. As an Amazon Associate, I earn from qualifying purchases.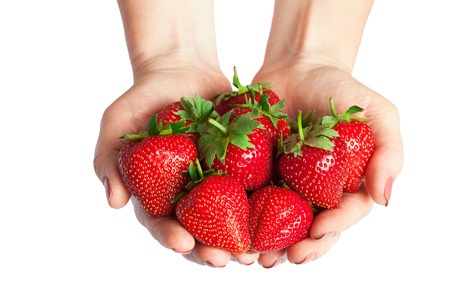 Gluten-Free
This scrumptious dessert starts with just a few ingredients and can easily be modified to be gluten-free. This particular recipe calls for several sugar-free ingredients so it is naturally going to be lower in sugar than many desserts.
It's also a tasty dessert to make for parties, family gatherings, potlucks, and family reunions… plus you can make it the day before your party. (I love recipes that I can make the day before!)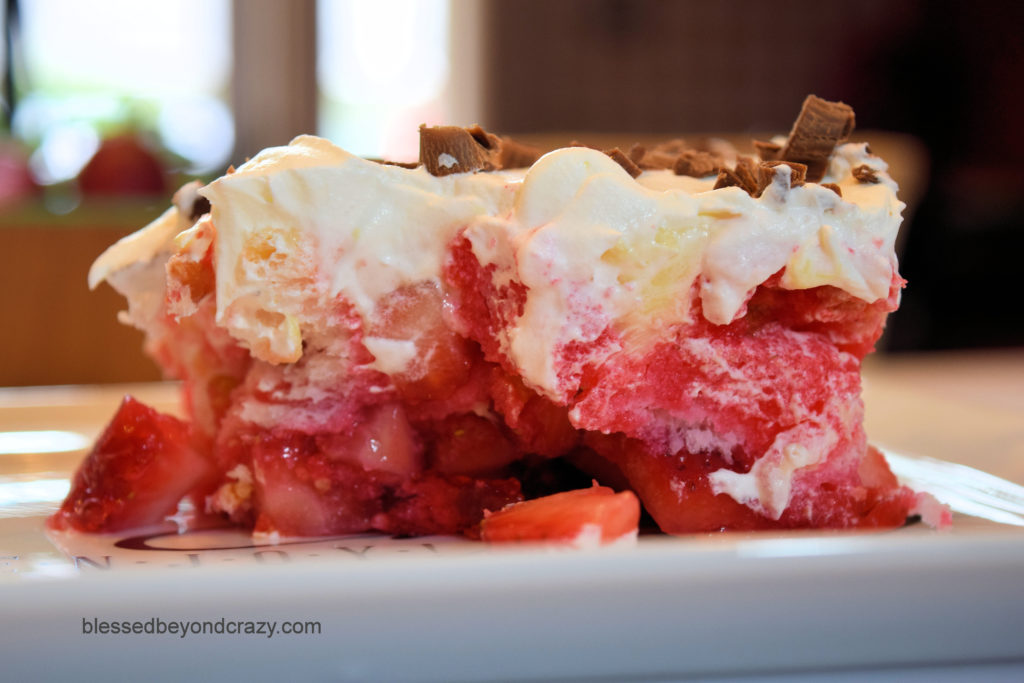 Easy-to-Make Dessert
It really takes very little effort to make this no-bake strawberry dessert. You simply need one angel food cake, a couple of boxes of strawberry gelatin, a box of vanilla pudding, some milk, a carton of whipped cream, and fresh strawberries. The chocolate garnish is optional. Although, seriously… who wouldn't want a touch of chocolate with their strawberries????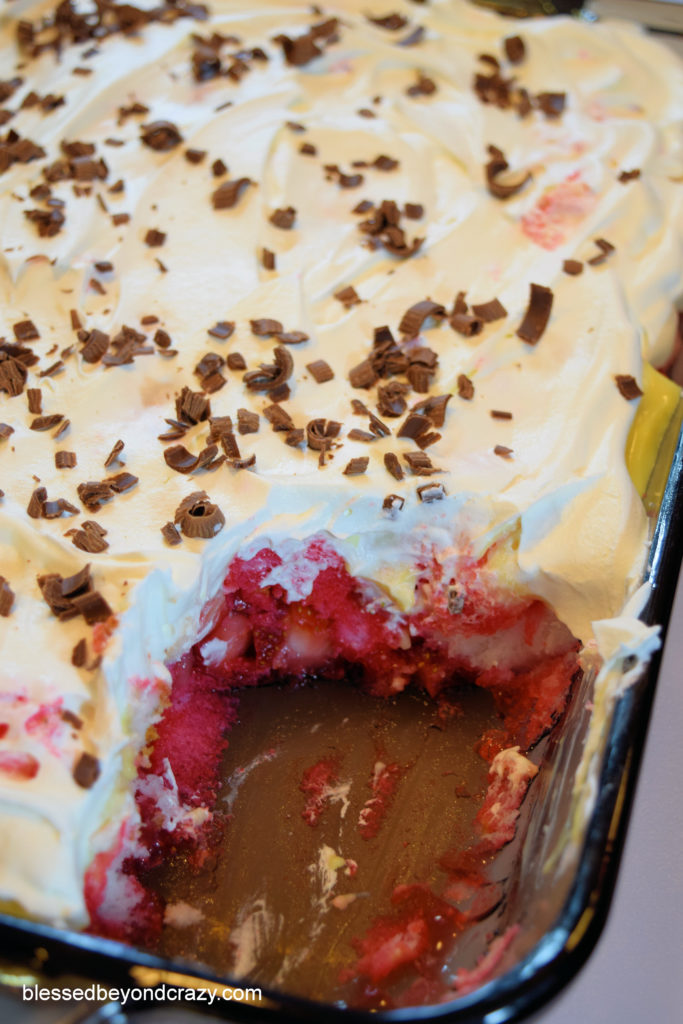 Curious what brands I use to make this recipe gluten-free? My favorite angel food cake mix is Kinnikinnick Gluten Free Angel Food Cake Mix. I have used this particular mix for years because I like the flavor, it freezes well and it works great in a wide variety of desserts, such as this Triple Berry Angel Food Trifle. I also use Aldi's brand of pudding mix and their brand of gelatin called "Baker's Corner" (as of the writing of this post these products are labeled gluten-free). Interested in Jello brand gelatin? You can read about their gluten-free policies here.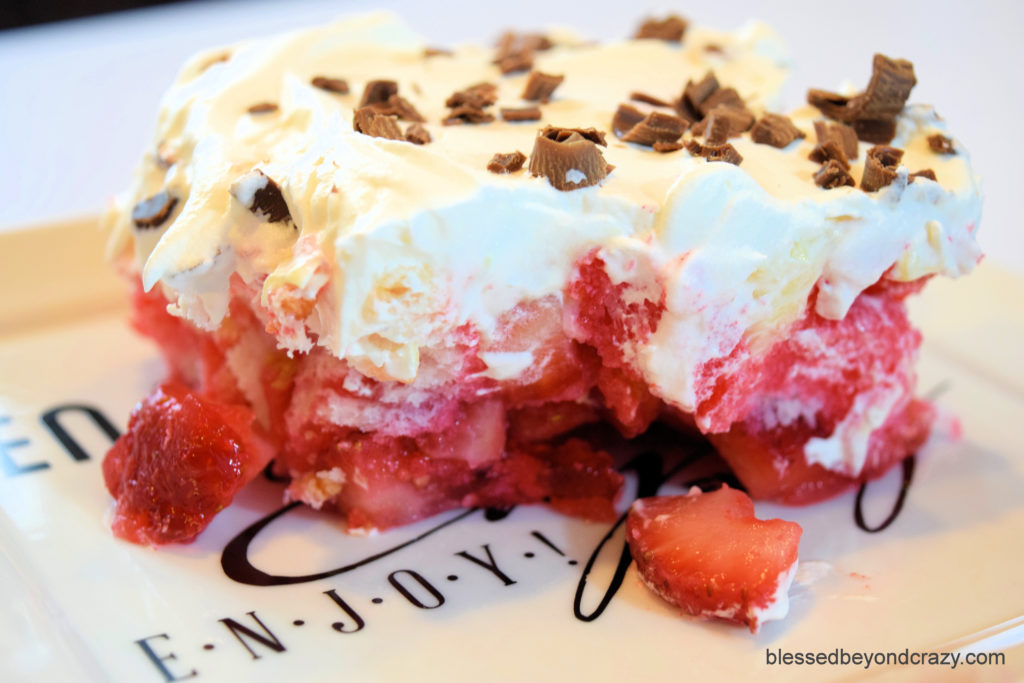 No-Bake Strawberry Dessert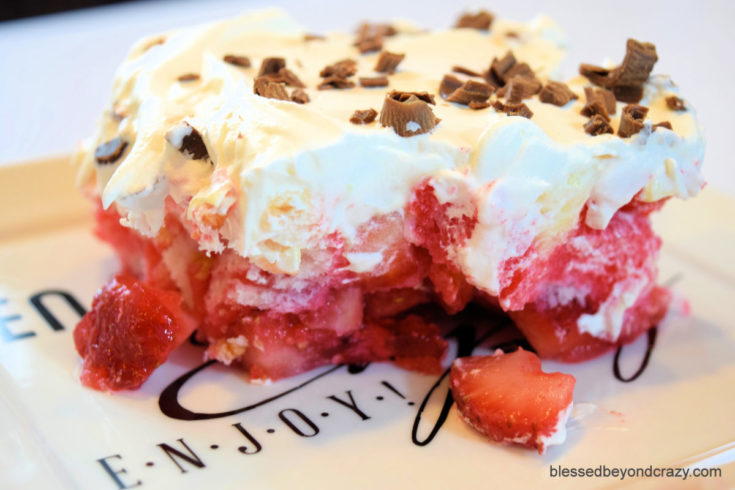 Yield:

Serves Approx. 16
No-Bake Strawberry Dessert
Total Time:
1 hour
15 minutes
An easy and delicious no-bake dessert.
Ingredients
1 regular prepared angel food cake, cut into 1 inch cubes
2 packages (.3 ounce, each) sugar-free strawberry gelatin
2 cups boiling water
1 quart unsweetened whole strawberries, washed and sliced
2 cups cold 1% milk
1 package (1 ounce) sugar-free instant vanilla pudding mix
1 carton (8 ounces) frozen reduced-fat whipped topping, thawed
*(Gluten Free Recipe: use a gluten free angel food cake, gluten free gelatin, gluten free pudding and use freshly whipped heavy cream)
Instructions
Arrange cake cubes in a 13" x 9" dish.
In a bowl, dissolve gelatin in boiling water; cool to room temperature.
Stir in sliced strawberries.
Pour over the cake and gently toss.
Refrigerate until set, about 1 hour.
In a bowl, whisk milk and pudding mix for 2 minutes or until slightly thickened. (See note below)
Spoon over gelatin layer.
Spread with whipped topping.
Refrigerate until serving.
Notes
Feel free to use Sugar-Free Cook & Serve pudding mix. Just be sure to let the pudding reach room temperature before adding it to your dessert.
This no-bake strawberry dessert is so easy to make those older children might enjoying helping. It's perfect for your Memorial Day or 4th of July BBQ's and it's especially yummy made with newly picked, fresh organic strawberries!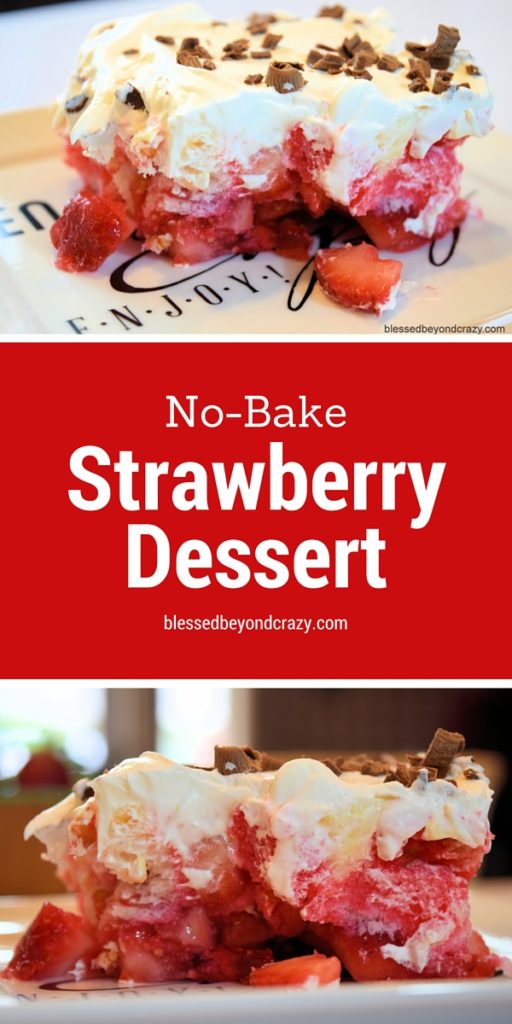 Finally, consider adding fresh blueberries and/or raspberries to the strawberry mixture. Garnish with more sliced strawberries and chopped pecans or walnuts. Since there are many great fruit combinations let your imagination go wild and see what other flavors you can create.
Here's to a happy, safe and fun summer!
Enjoy!
Linda
Disclaimer: Manufacturers formulations and policies may change at any time. Therefore it's important to always read product labels yourself and contact the manufacturer with concerns. We have found that most companies are eager to help answer your questions.
For more strawberry recipes be sure to check out these: