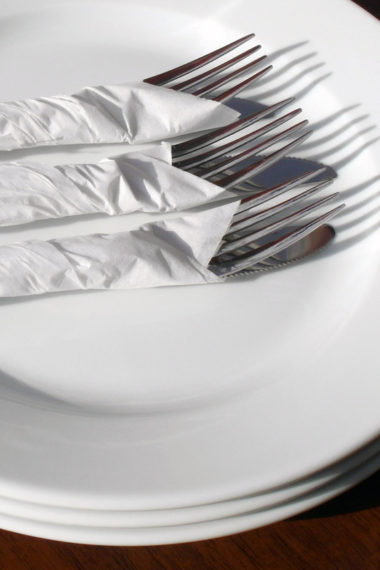 Last year my mother gave me a set of solid white plates. I knew that I would use the plates but I never dreamed just how much I would enjoy having them. Let me tell you why investing in a set of white plates is a really good idea!
To help support our blogging activities, our site contains affiliate links. If you make a purchase from a link on our site, we may receive a small percentage of that sale, at no extra cost to you. Blessed Beyond Crazy is a participant in the Amazon Services LLC Associates Program, an affiliate advertising program designed to provide a means for sites to earn advertising fees by advertising and linking to amazon.com.
By all appearances, a simple white plate is boring. There isn't anything unique or special about it. Just white. Solid. Boring. White.
Ah, that is exactly what I thought too. However, there really is something magical about owning a set of plain white plates. Let me explain what I mean.
Question: Did you ever wonder why most restaurants serve your food on white dishes?
Answer: It's because most food is best shown off against the color white.
In the picture above, notice how the red color of the strawberries "pops" against the white bowl. That's why most bloggers and recipe developers love displaying their food creations using white dishware. 
White plates are extremely versatile and work well with any holiday or event. It's easy to change the entire feel of your tablescape. Simply by changing a few accessories such as a tablecloth, napkins and napkin rings, silverware, and placemats. Allow me to show you a few examples.
A set of white plates can instantly be transformed into something very romantic simply by adding an elegant tablecloth, gorgeous roses, formal silverware, silver napkin rings, linen napkins, and place cards. This lovely table setting would be perfect for Valentine's Day, Mother's Day, a special birthday, or an anniversary. It's amazing that it revolves around two white plates! (Notice the rose design around the edges of the plates.)
Here is an adorable idea for an Easter or spring tablescape. This sweet table setting features a charming ceramic rabbit napkin ring, a red and white gingham napkin, a set of vintage silverware, and a touch of spring flowers and greenery, all displayed on a rustic wooden table. This earthly tablescape feels so warm and inviting! (Notice the simplistic design on these plates.)
Because of outdoor activities, parties, family reunions, vacations, and soaring temperatures, summer is definitely a "no-fuss" season. You can still add a creative flair to your dining experience by using a burlap/linen tablecloth, adding a cute summery napkin, a few seashells, and perhaps a candle or two. This beach theme would be perfect for a semi-casual beach party, a beach wedding, or just a romantic dinner for two down by the waterfront. (Notice the graceful scallops around the edges of the plates.)
Fall is a favorite time of year with all of the spectacular colors, the toasty warm bonfires, hay-rack rides, apple cider, hot chocolate, and of course – S'mores! This sweet table setting features a beautiful white embroidered napkin tied with pieces of raffia, acorns, and fall leaves. What's not to love? All you need now is the turkey and trimmings. (Notice the slightly weathered and antique design of the plates.)
The holidays are always a festive time of year and certainly a time to bring out those beautiful winter accent colors. Of course, red is high on the popular color list and looks amazing against white plates. Tie a couple of pretty napkins with ribbon and a touch of greenery. Bring out those wine goblets and uncork your favorite bottle of wine. (Notice the pretty edging on these plates.)
Adding a colorful charger plate is a great way to add extra color, highlight white dishware and upgrade your tablescape to feel a bit classier. Charger plates come in a wide variety of colors and styles and can be used for any holiday or occasion. (Notice the festive flair of this tablescape using a red charger plate, a red napkin and bow, a touch of green, unadorned silverware, and a simple white plate.)
Think pink or blue chargers for a birthday party or baby shower, black or gold chargers for a formal event such as a wedding, anniversary, engagement, or New Year's Eve party, or perhaps a navy blue charger with a red napkin for a patriotic flair. (Notice the pattern on the white plate and gold charger plate.)
Here's a fun way to change things up a bit. Square white plates look lovely topped with a colorful round plate and a few accents. You can use any solid color for accent plates or perhaps add plates or napkins that have a pattern.
There really are unlimited options!
The most basic set of white plates can become part of an elegant table setting when paired with a few key pieces. This classy engagement party features silky napkins secured with an oversized diamond ring napkin ring, a full display of silverware, fluted champagne and wine glasses, and framed dinner trays. I love how simplicity meets elegance in this tablescape.
White dinnerware can possess a ton of character. There are many different designs you can select from, such as the ribbed design in the plates shown above. This particular set of plates would be great for the cold months and would work well for any winter party! The cute little present, the greenery, and the pine cones, along with the twisted stemmed silverware and linen napkin give this table setting an overall cozy rustic feel.
This set of heart-shaped white plates would work well for Valentine's Day, Mother's Day, an anniversary or bridal shower, baby shower (as shown above), birthday party, or just for a romantic dinner at home.
Investing in a set of white plates really is a good idea. It's easy to "dress them up or down" for any holiday, event or occasion and you can easily change color schemes.
Have fun decorating your tablescape.
Linda
More great ideas!