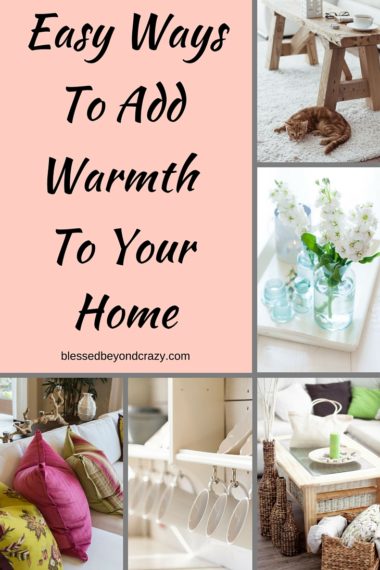 Your home should be a place where you are comfortable, relaxed, and safe. It should be somewhere that you absolutely love to be. Here are Easy Ways to Add Warmth to Your Home.
So what makes a home feel cozy, warm, and inviting? In today's post, I'll show you easy ways to add warmth to your home. Just a few minor adjustments in your decor can make all the difference.
To help support our blogging activities, our site contains affiliate links. If you make a purchase from a link on our site, we may receive a small percentage of that sale, at no extra cost to you. Blessed Beyond Crazy is a participant in the Amazon Services LLC Associates Program, an affiliate advertising program designed to provide a means for sites to earn advertising fees by advertising and linking to amazon.com.
Color plays an important role when it comes to your decor. Bright colors tend to have an invigorating effect whereas neutrals, soft blues, light grays, and warm pastels have a calming and relaxing effect. Use overall neutral shades on your walls and with furniture, then add pops of color by using colorful throw blankets and throw pillows. This also helps make it easy to change your color scheme, (with curtains, pillows, blankets, and nick-knacks) depending on the season and/or holiday. For example: use bright colors for spring, pastels for summer, warm rich golds/browns/oranges for fall, and of course, red and green for winter. You can also interchange various fabric prints as well.
When investing in furniture, be sure to find pieces that "fit" you well. For example, I am only 5′ 4″ tall so many sofas and recliners are way too "deep" for me. As a result, when seated, my feet never touch the floor and therefore I'm not comfortable. I end up feeling like a little kid sitting there with my feet dangling over the edge. The reverse holds true. Taller people would be extremely uncomfortable sitting on a sofa or recliner that fits me well. When shopping for furniture, it pays to take your time and find the right pieces for your family members.
Lighting is a great way to add warmth to any room. The mixture of recessed
and track lights, along with unique lamps and fixtures help create a cozy environment. Your light bulbs also make a difference. There are many different styles, wattage, and options to choose from, such as soft white, incandescent, clear, daylight, and fluorescent.
Adding a large wall or floor mirror helps to reflect light, creates the feeling of depth, and helps the room appear larger than it really is. Artwork offers a focal point and visual appeal throughout your home. Choose pieces that reflect your personality and interest.
Mix textures and materials whenever possible; wood, glass, fabric, tile, etc… Wicker baskets are a fun way to add warmth, plus they are great for storage. You can find some super cute inexpensive wicker baskets if you watch for sales at your local craft store. Garage sales and thrift stores are also great places to find wicker baskets.
For aromatic appeal use scented candles or an Aromatherapy Essential Oil Diffuser. Lavender essential oil is known to be good for relaxation.
Incorporating a few vintage pieces throughout your home equals a touch of timeless romance. Add pieces such as a weathered wooden tray, Vintage Glass Bottles, a vintage perfume atomizer, an old rustic lantern, a display of old keys – the list is endless…
Pretty open cupboards with beautiful kitchenware give an old-fashioned farmhouse gracefulness and warmth. (Most people enjoy hanging out in a cozy, relaxed kitchen.)
Your bedroom should be your romantic oasis and the little extra things count here too. Accent your bedroom with interesting and inviting pieces such as a bamboo tray, Egyptian cotton sheets, and a charming decorative candle holder. Remember, music can also help set the tone for a relaxed and warm atmosphere.

Bring a touch of nature inside with bowls/baskets of fresh fruits and vegetables, fresh flowers, twigs, and pebbles in a vase. There is something memorizing about the sight and sound of slow-moving water so consider an indoor waterfall.
Wooden furniture pieces exude both comfort and stateliness, while an area rug adds warmth. (Of course, this helps our furry little friends relax too.)
Vintage pieces or heirlooms, such as a handmade quilt, crocheted doilies, your great-grandmother's apron or her handkerchief, etc…. add a touch of historic exquisiteness. The quilt shown in the picture is a handmade quilt that my mother made. My husband and I have it on our bed and snuggle underneath it every night. It will be something I treasure forever.
Fresh green plants and delicate greenery help your dwelling feel calm and homey. Plus, plants help to cleanse the air in your home and another "pop" of color. (Notice the wicker baskets?)
Have fun creating a warm, inviting, and cozy retreat in your very own home.
Linda