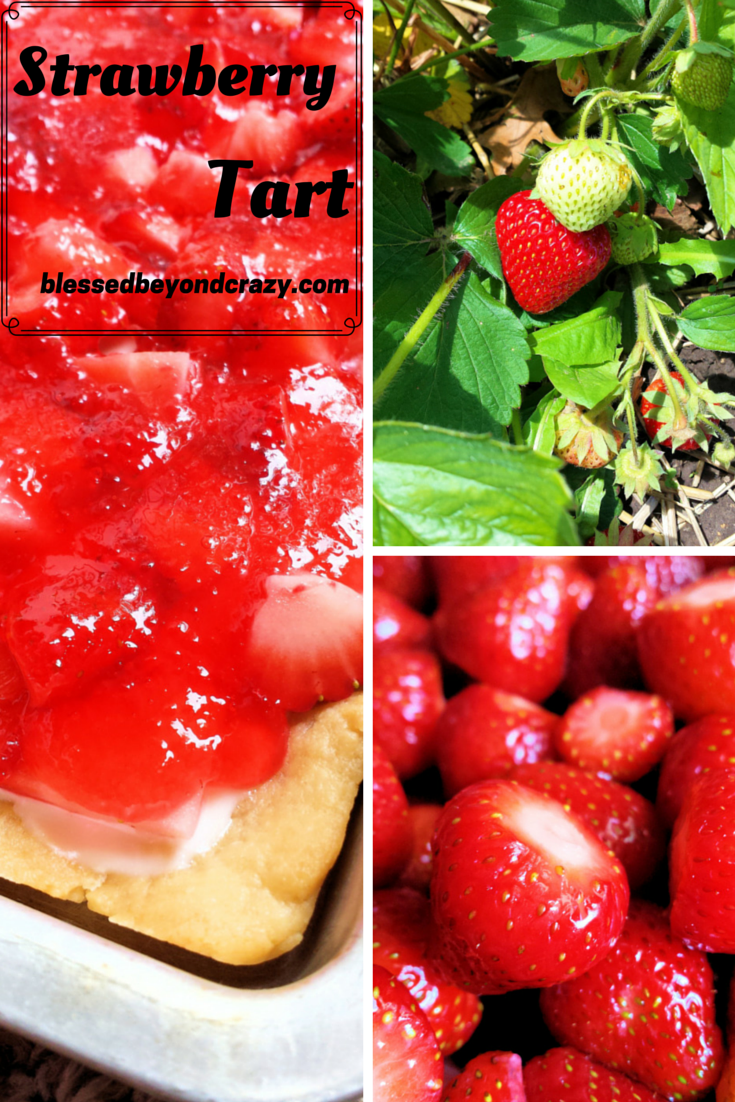 Our Strawberry Tart is easy to make and reminds me of a union between a strawberry pie and a strawberry fruit pizza. What's even more impressive is that everyone who tries this tasty dessert always asks for a second serving!

To help support our blogging activities, our site contains affiliate links. If you make a purchase from a link on our site, we may receive a small percentage of that sale, at no extra cost to you. Blessed Beyond Crazy is a participant in the Amazon Services LLC Associates Program, an affiliate advertising program designed to provide a means for sites to earn advertising fees by advertising and linking to amazon.com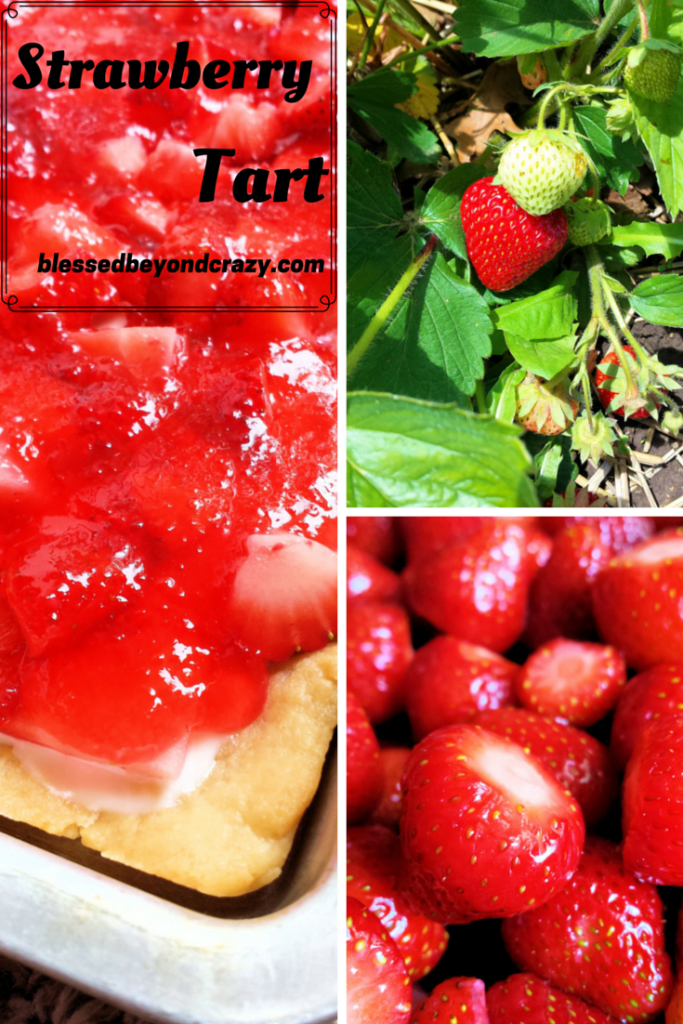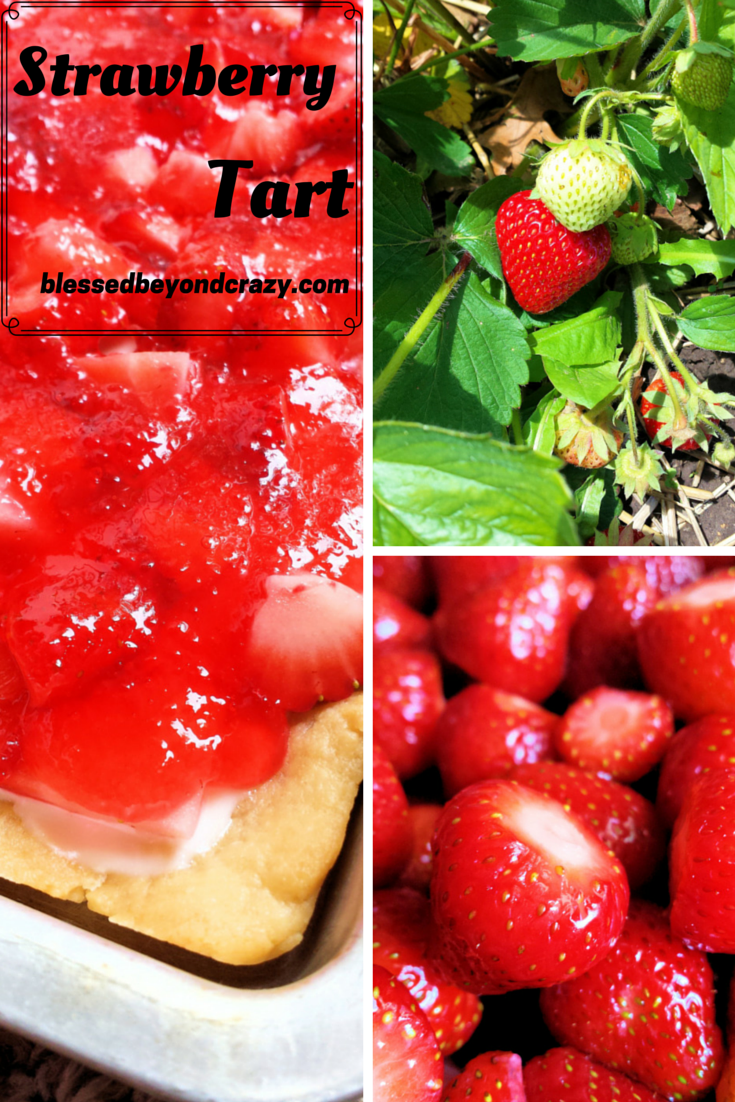 The strawberries in my parent's garden are doing great this year. The berries are large, sweet, super juicy, and ripen right on the vine. Plus, these berries are as organic as you can possibly get. No pesticides, herbicides, or chemicals on these beauties!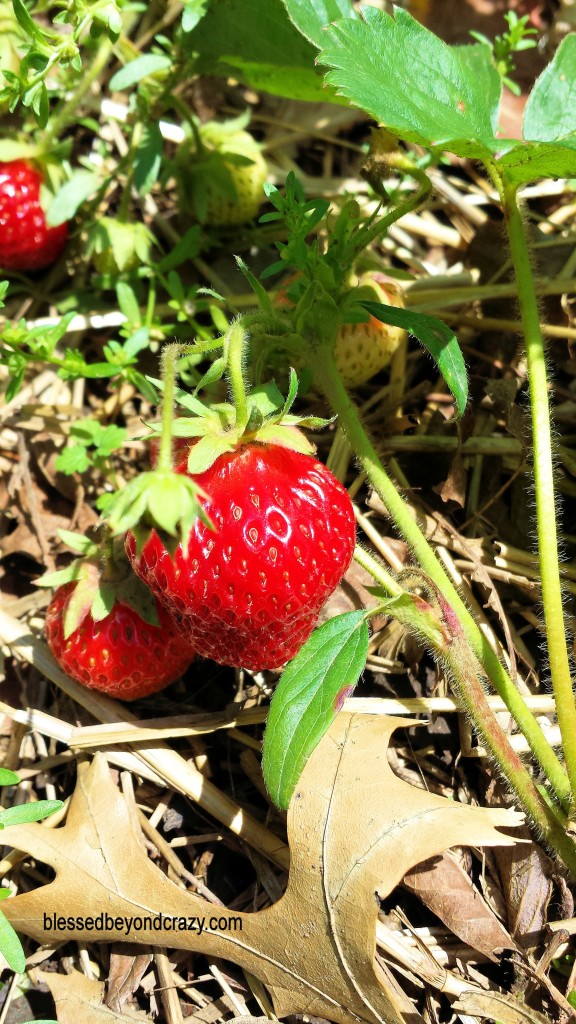 Tasty Organic Strawberries
First, after picking the strawberries, we cut the stems off and soak them in cool tap water for just a few minutes. This helps loosen any dirt or garden debris on the berries. We then place the berries in a strainer and rinse them two or three times with cool tap water.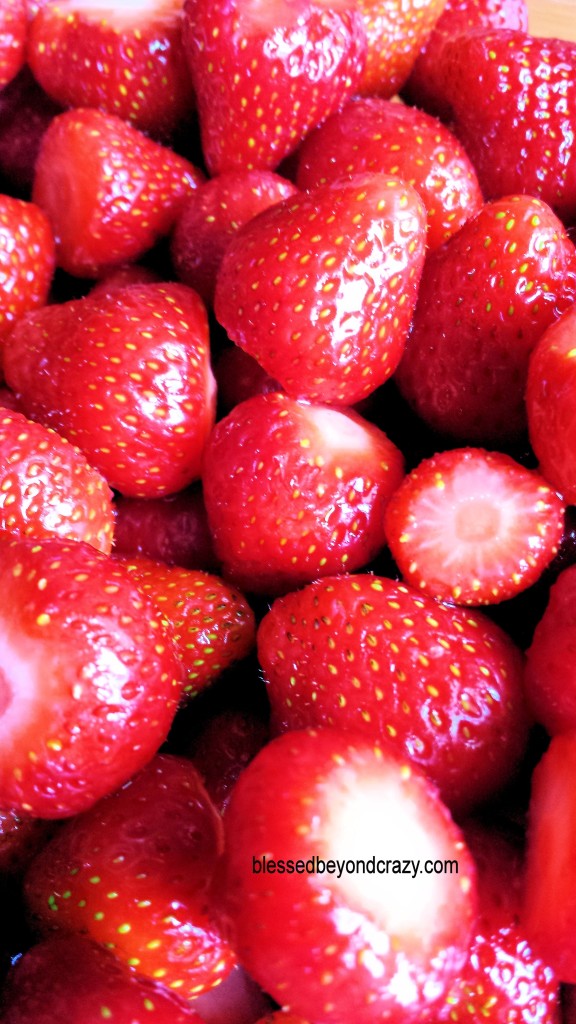 We use whatever fresh berries we need and freeze the rest. To freeze the berries we simply smash them, add some sugar and freeze them in plastic Pint Freezer Storage Containers.  These are the same containers that we use to freeze our fresh Sweet Corn.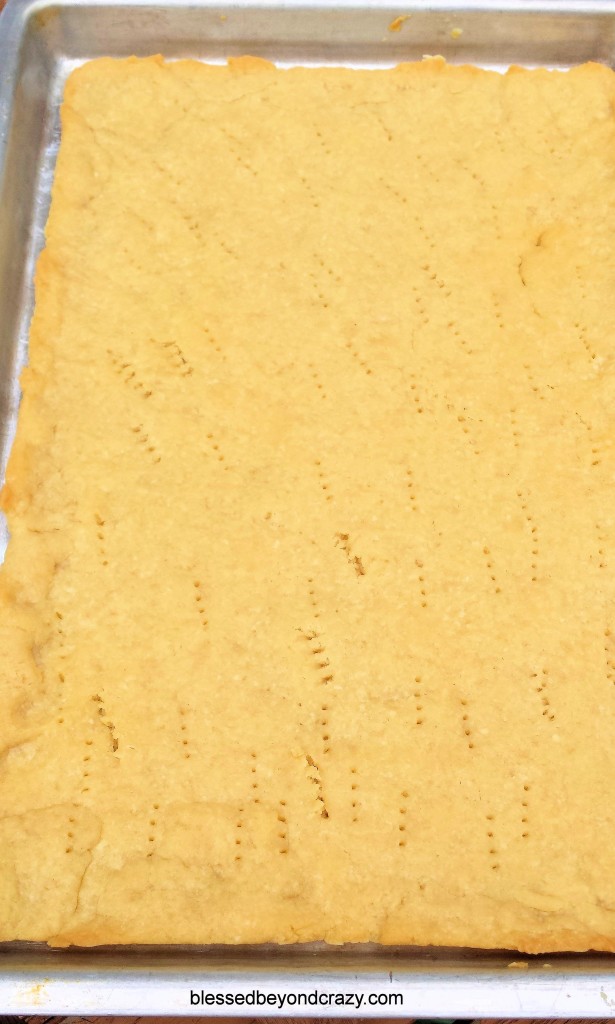 Last weekend when I made a Rhubarb Pie for a family gathering I decided to make a double batch of pie crust dough. I used part of the dough to make the bottom crust of the pie and the other half to make a Strawberry Tart.
Yet another option is to make a gluten-free tart. When doing so, be sure to use Gluten Free Pie Dough.
Place the dough into a greased 18″ x 13″ Jelly Roll Baking Pan and bake in a preheated 350-degree F oven for 20 minutes or until golden brown.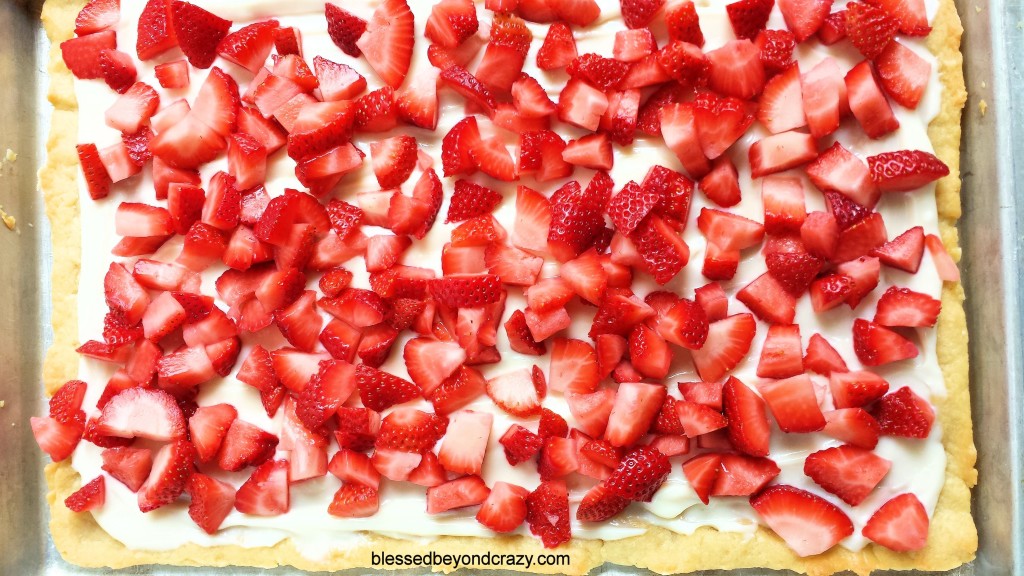 Note: I love my jelly roll pan and use it all the time. The lid fits tight and therefore it's perfect when taking a dessert to a picnic, party, or family gathering. If you don't have a Jelly Roll Pan with a lid, you really need to invest in one. 
Next, after the pie crust has cooled, spread a layer of cream cheese mixture on top spoon chopped strawberries onto the cream cheese mixture.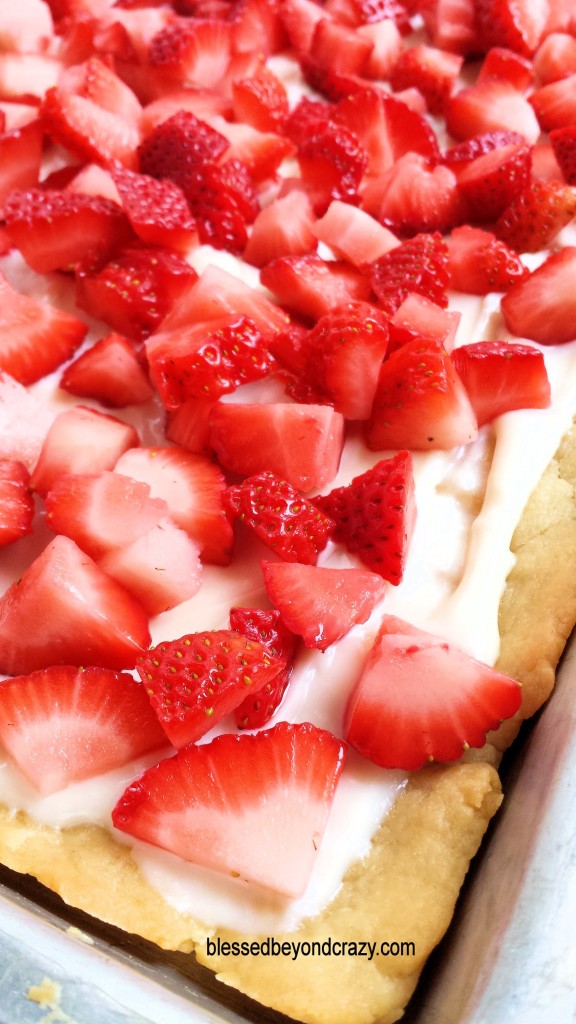 This dessert would be wonderful just like this, however, I like to add a drizzle of strawberry sauce on top.
Although it's best to refrigerate the dessert for several hours before serving, you can serve it immediately. You may also garnish each serving with a dollop of whipped topping or vanilla bean ice cream.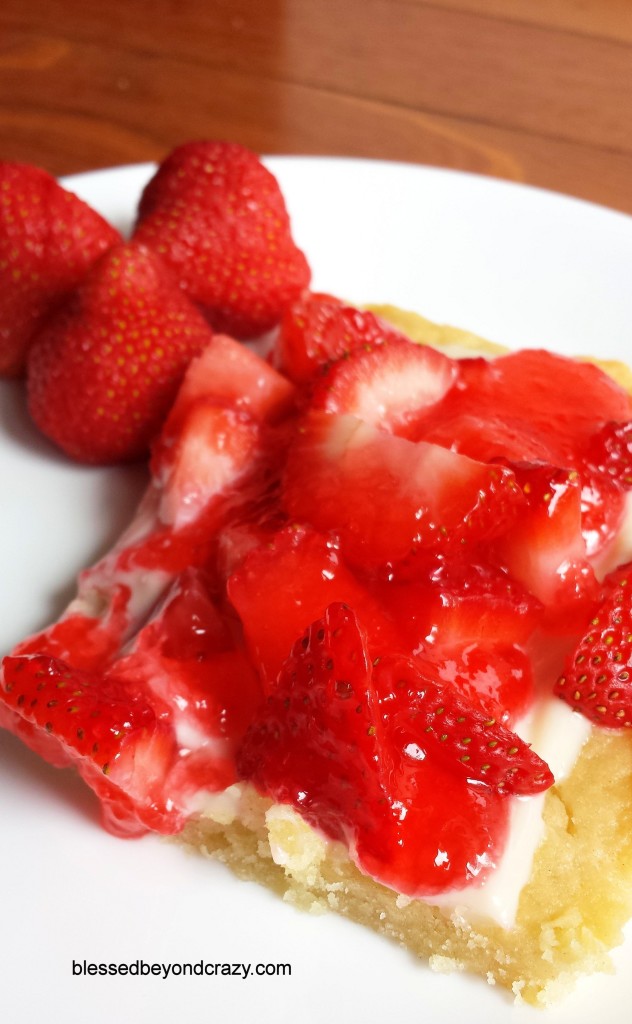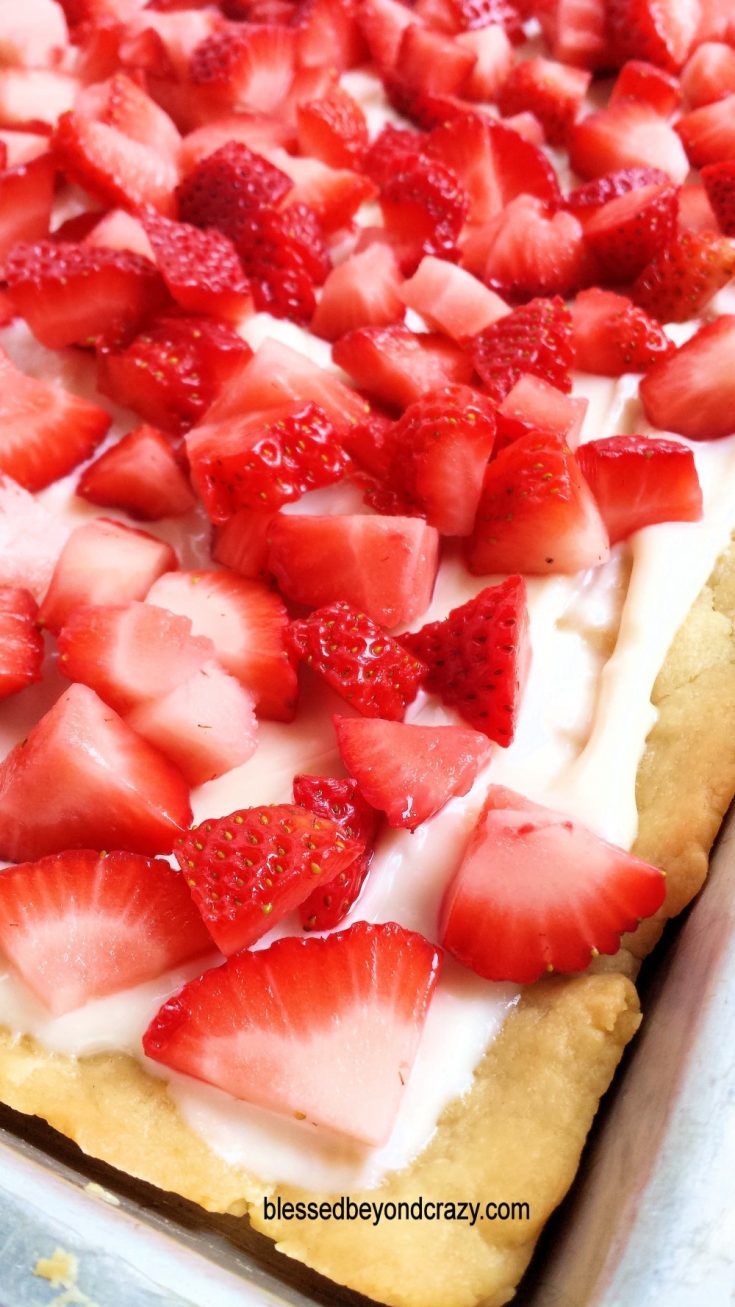 Yield:

Yields approx. 18 servings
Strawberry Tart
A delicious and easy-to-make strawberry tart recipe.
Ingredients
CRUST:
2 cups all-purpose flour
1/2 cup vegetable oil
1/4 cup milk
1/2 teaspoon salt
***GF CRUST OPTION - I use 1 package (16-ounce) of Bob's Red Mill Gluten-Free Pie Crust (make according to package directions)***
FILLING:
1 (8-ounce) package cream cheese, softened
1/2 cup granulated sugar, or to taste
1 teaspoon vanilla extract (GF Option: use gluten-free brand of vanilla)
TOPPING:
1 pint fresh strawberries
GLAZE:
3 tbsp cornstarch
1 cup sugar
3 tablespoons strawberry jello (GF Option - use gluten-free brand of gelatin)
1 cup water
Instructions
In a mixing bowl, combine flour, vegetable oil, milk, and salt. Mix all ingredients well and pat into the shape of a ball. Place dough between two layers of waxed paper. With a rolling pin, roll dough out to the shape of a 13" x 18" jelly roll pan. Lightly grease the pan and place the dough in the pan. Pat the dough to fill the pan.
Bake in a preheated 350-degree F. oven for 20 minutes or until golden brown. Remove from oven and allow to cool completely.
Combine softened cream cheese, sugar, and vanilla. Spread on top of cooled crust.
Top with sliced fresh strawberries.
In a saucepan, combine cornstarch, sugar, strawberry jello, and water. Heat on medium-low heat until sauce starts to thicken. Remove from heat and allow to cool until room temp. Drizzle over top of strawberries.
Cut into squares and serve.
Refrigerate leftovers.
Don't you just love a good strawberry recipe? I certainly do!
Enjoy!
More great ideas: