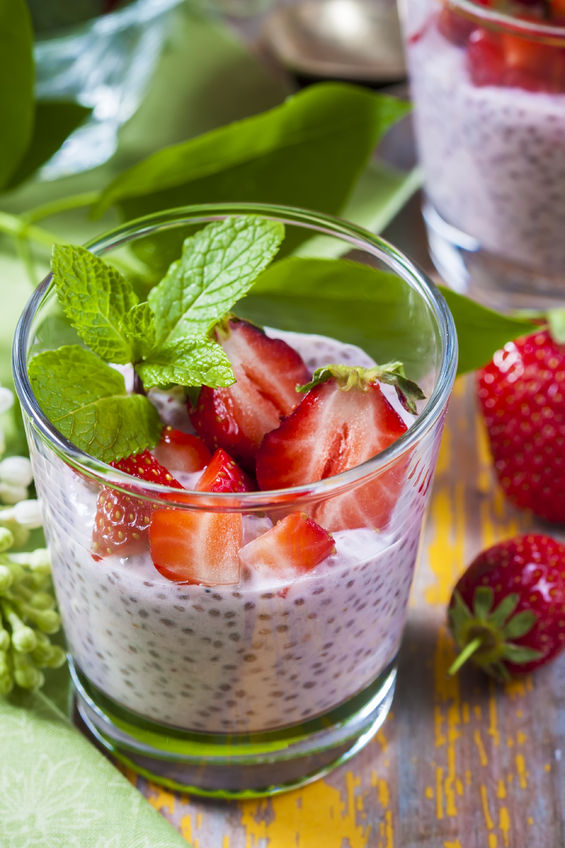 It's funny how quickly I have fallen in love with chia pudding. Maybe it's because chia pudding is so easy to make. Perhaps it's because chia pudding is a tasty breakfast, dessert, or delicious snack option. Or, maybe it's because chia is so nutritious. One thing I know for sure, a cup of Strawberry Pink Chia Pudding is certainly something to look forward to.

To help support our blogging activities, our site contains affiliate links. If you make a purchase from a link on our site, we may receive a small percentage of that sale, at no extra cost to you. Blessed Beyond Crazy is a participant in the Amazon Services LLC Associates Program, an affiliate advertising program designed to provide a means for sites to earn advertising fees by advertising and linking to amazon.com.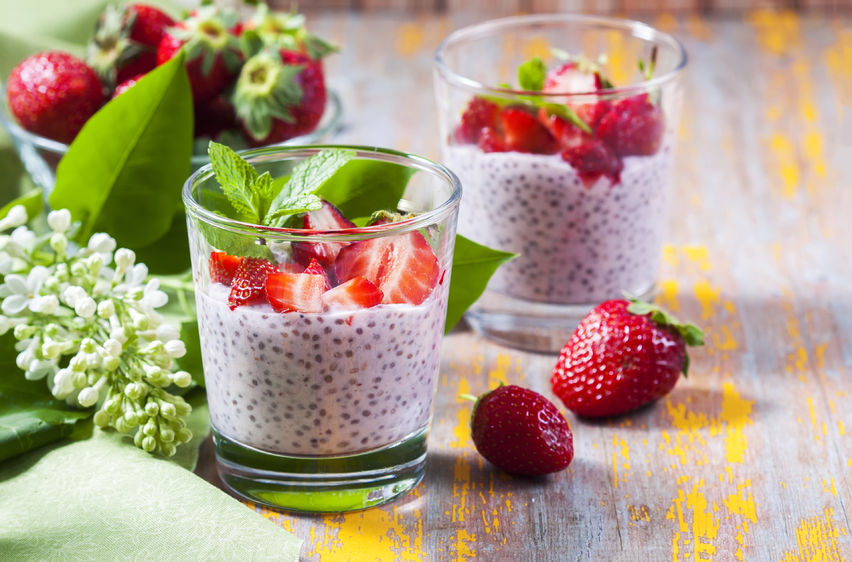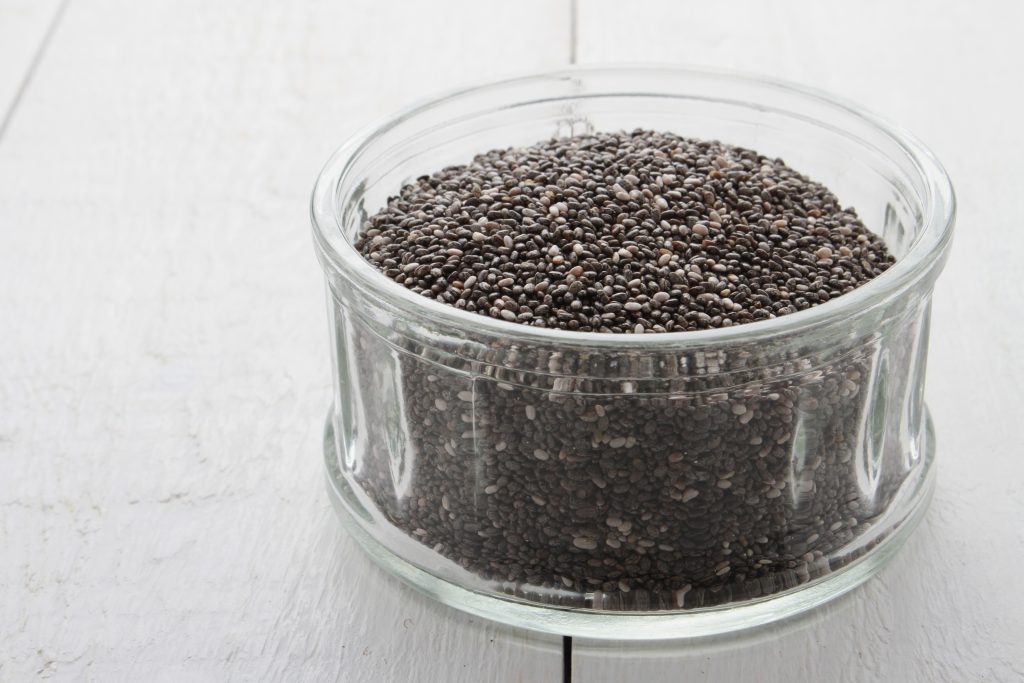 Not only is Strawberry Pink Chia Pudding delicious, but it is also naturally gluten-free, dairy-free, vegan, vegetarian, paleo, and Whole30 compliant – (see notes for Whole30 options).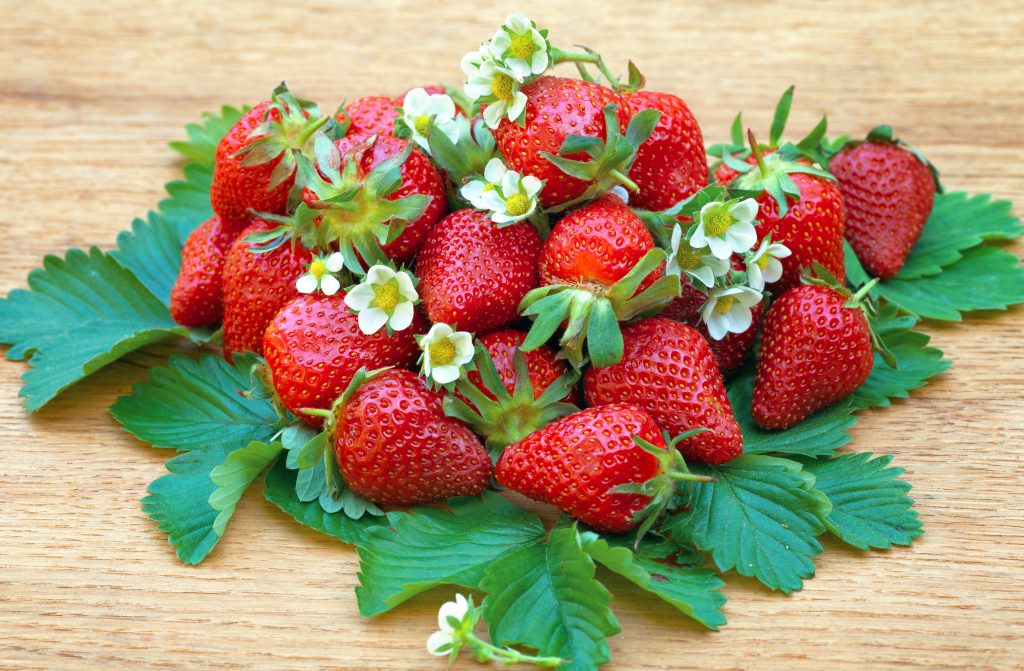 First, let's talk about chia seeds. These tiny seeds are a member of the mint family and come from a flowering desert plant called Salvia hispanica. Chia seeds are a good source of omega-3 fatty acids and contain fiber, protein, and minerals. When you soak chia seeds in liquid, the seeds soften and resemble tapioca pudding; which is perfect for making Strawberry Pink Chia Pudding.
By now you know that every year my entire family looks forward to the strawberry season because my parents always have a row of juicy, red strawberries growing in their garden.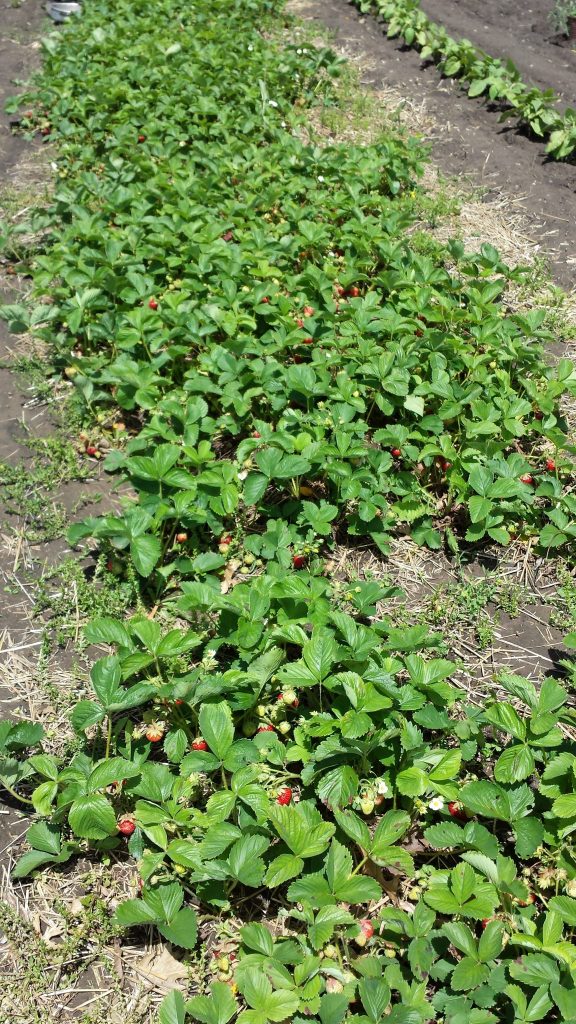 Not only do we enjoy eating whole, fresh strawberries, we also enjoy them in recipes such as Strawberry Spinach Salad, Strawberry Shortcake, Strawberry Lemonade Popsicles, and Strawberry Smoothies.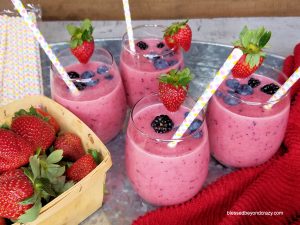 Strawberry Pink Chia Pudding is a great treat and can be made with, or without, adding any additional sweetener. Now, for full disclosure… our homegrown strawberries naturally seem to be sweeter and juicier than any berries we have ever boughten in a store. Ours are also organic and have a much better, sweeter flavor than storebought strawberries. Hence, we usually leave out sweeteners.

Strawberry Pink Chia Pudding
---
Linda Wiseman
Yields 1 Serving
A simple, delicious, and healthy strawberry chia pudding recipe.
5 minPrep Time
1 hr, 5 Total Time
Ingredients
3 Tbsp. chia seeds
5-6 fresh, ripe strawberries, stems removed
1 cup unsweetened coconut milk (For Whole30 diet - use unsweetened canned coconut milk. *See note at the end of post for list of compliant brands)
1 Tbsp pure maple syrup (Omit for Whole30 diet)
Garnish with strawberries and fresh mint
Instructions
Place chia seeds in an 8-ounce glass container.
Rinse strawberries under cool water and pat dry with clean towel. Place berries in a high-speed blender. Add coconut milk and maple syrup. Blend until mixture is smooth; pour over chia seeds and stir well. Refrigerate for at least 1 hour or overnight.
Garnish with strawberries and mint.
Serve.
Notes
Optional: chopped walnuts or pecans.
7.8.1.2
259
https://blessedbeyondcrazy.com/strawberry-pink-chia-pudding/
www.blessedbeyondcrazy.com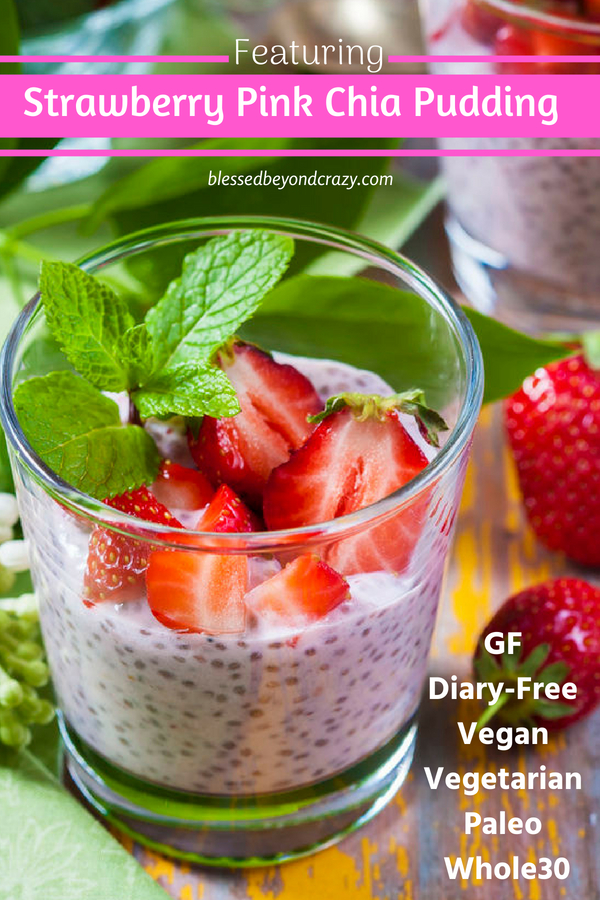 Personally, I like to make Strawberry Pink Chia Pudding before I go to bed so when I wake in the morning I can enjoy breakfast without any hassle. It's also a great "grab-n-go" breakfast for mornings when I'm rushed for time. Occasionally, I add a few chopped walnuts or pecans for a little crunch factor and additional health benefits.
Now, don't you want to grab a spoon and dig right in? Yeah, me too!
Enjoy!
Linda
Click HERE for a list of Whole30 compliant brands of coconut milk.
More great ideas: