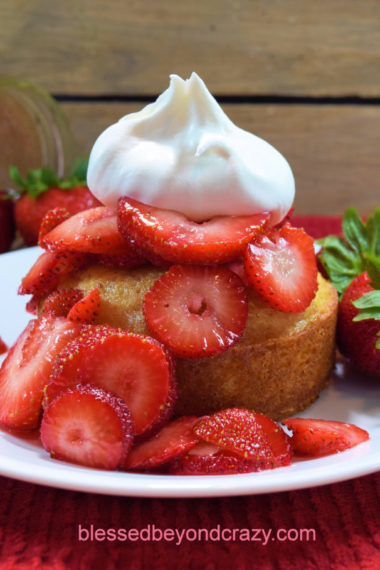 What makes this Grandma's heart smile really big on a hot summer's day? One of these Mini Strawberry Shortcakes smothered with fresh strawberries and a huge dollop of whipped cream! (Did I say a HUGE dollop?)

To help support our blogging activities, our site contains affiliate links. If you make a purchase from a link on our site, we may receive a small percentage of that sale, at no extra cost to you. Blessed Beyond Crazy is a participant in the Amazon Services LLC Associates Program, an affiliate advertising program designed to provide a means for sites to earn advertising fees by advertising and linking to amazon.com. As an Amazon Associate, I earn from qualifying purchases.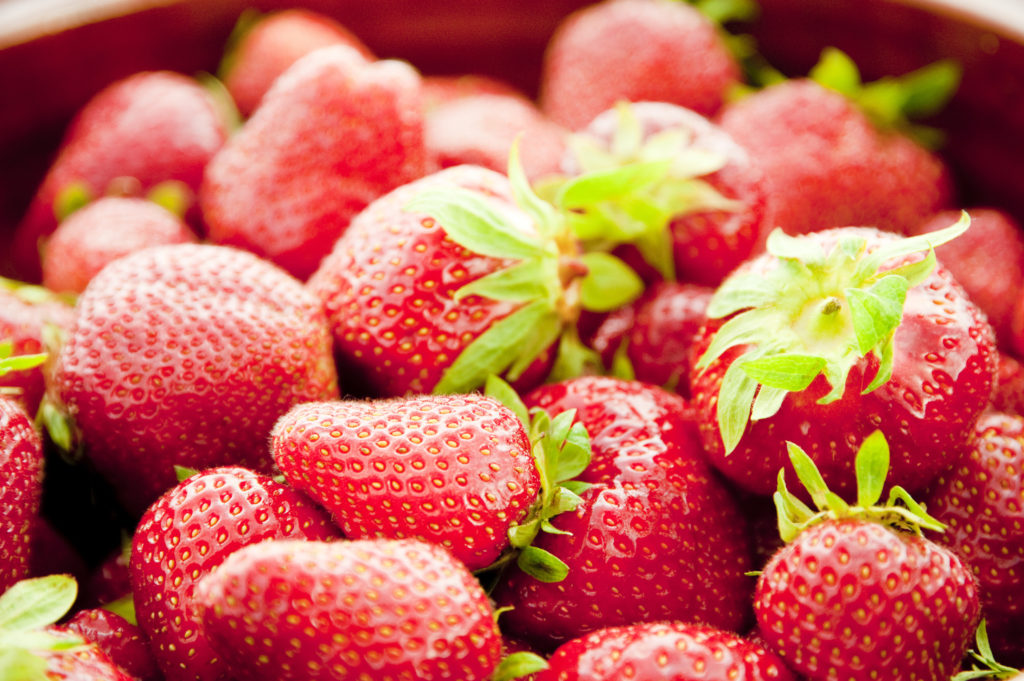 Strawberry Lovers!
My family is probably like most families. We almost all love, love, love fresh strawberries! These wonderful berries are so versatile and can make any recipe better.
For example, an Italian dessert called Strawberry Zabaione, a No-Bake Strawberry Dessert, or perhaps delicious Strawberry Lemonade Popsicles, plus many, many more!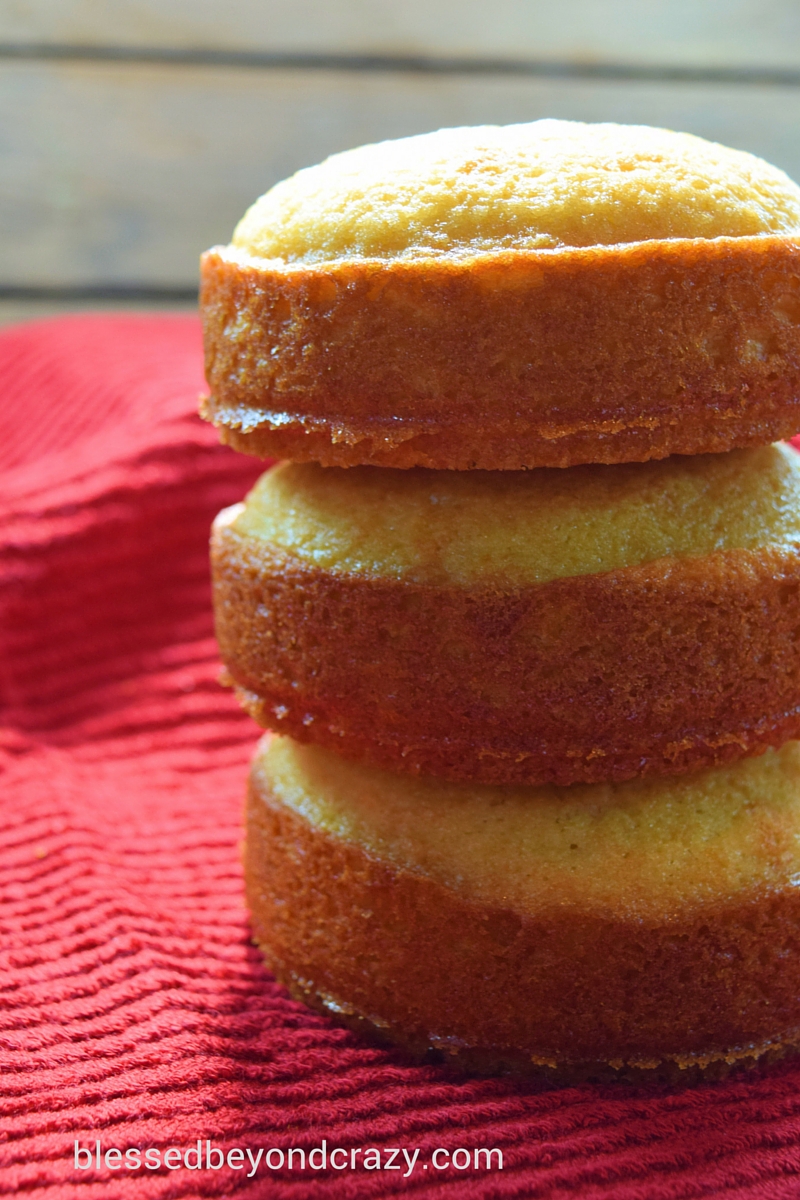 Strawberry Shortcake Recipe
I'm not sure who originally created this recipe, but my mother tells me that my paternal grandmother gave her the recipe years ago. (That's just one of the many reasons why I love this dessert so much.)
Consequently, as far back as I can remember, my mother has been making this particular recipe for Strawberry Shortcakes. She always topped her cakes with fresh organic strawberries, (straight from her garden) and a big dollop of whipped topping.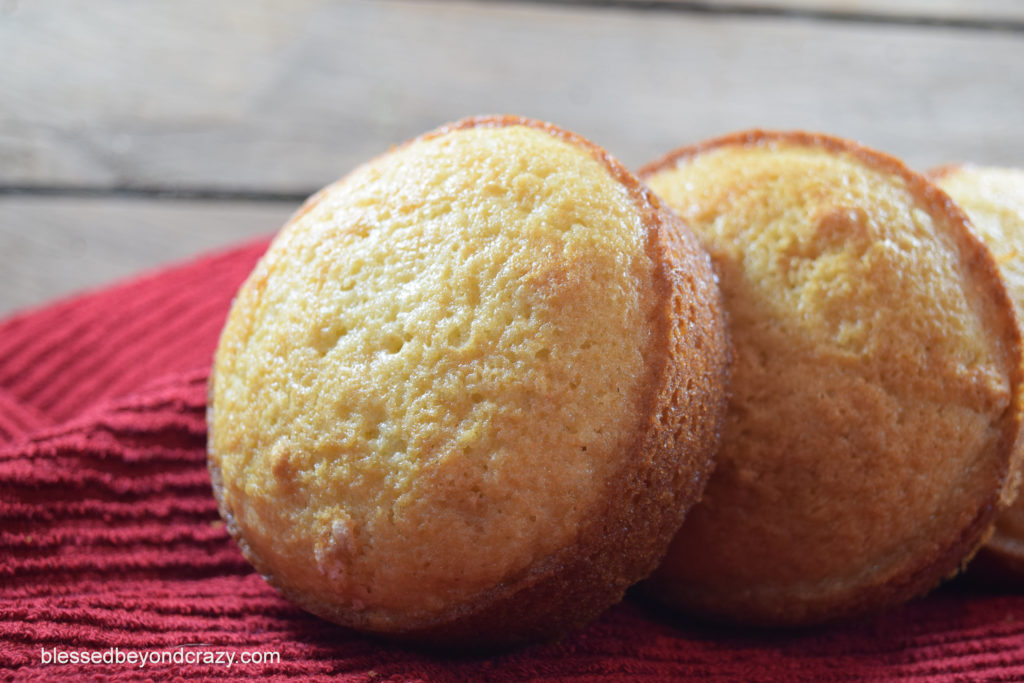 Mini Version
Mom always spooned the batter into an 8-inch cake pan, then cut pie-shaped slices. I've always made it that same way… until today. I guess I was feeling a little creative so I made my Strawberry Shortcakes by dividing the batter between four mini springform pans.
One of my Christmas gifts was two sets of mini springform pans. I just love using them to create all kinds of individualized desserts, like these Mini Caramel Pecan Chocolate Cheesecakes!
It seems that owning mini springform pans makes baking rather entertaining for me. Seems like it brings out some creativity in me too. Therefore, I'll probably be creating more foodstuffs in them soon.
Fabulous Dessert!
This recipe for Mini Strawberry Shortcakes is super easy, hence you can serve this dessert in approximately 45 minutes: (creation: 10 minutes + baking: 25 minutes + cooling: period 10 minutes = devouring time)!!!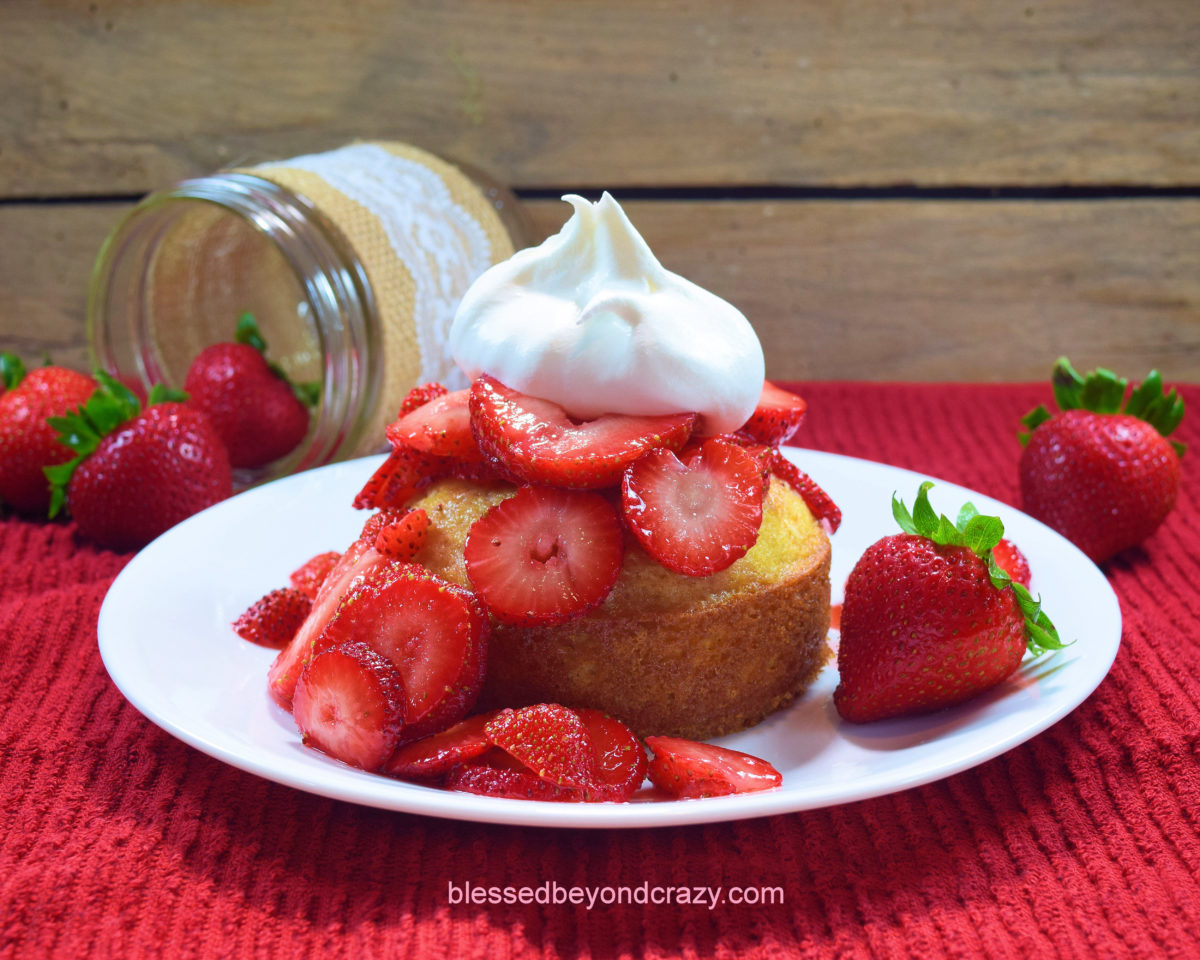 While my Mini Strawberry Shortcakes were baking in the oven, I went to work washing, stemming, and slicing a quart of fresh strawberries.
Once the shortcakes were finished baking and completely cooled, my berries were ready to go right on top! Finally, I garnished each shortcake with a generous amount of whipped topping. Yummy!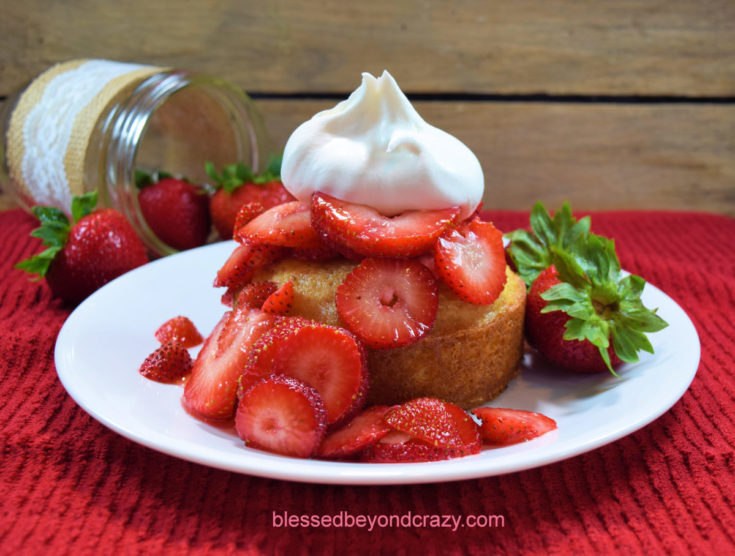 Yield:

Yields 4 Mini Shortcakes
Mini Strawberry Shortcakes
Not only do these shortcakes pair perfectly with strawberries, but they also go well with all kinds of berries!
Ingredients
1/4 cup shortening
3/4 cup sugar
1 lage egg
1/2 teaspoon vanilla
1/2 cup milk
1/2 teaspoon salt
1 cup + 2 tablespoons all-purpose flour
1 1/2 teaspoon baking powder
*GF Option: replace all-purpose flour with 1 cup gluten free flour blend + 1/2 teaspoon Xantham Gum. Use gluten free baking powder and vanilla.
Instructions
In a large mixing bowl, combine shortening, sugar, salt, egg, vanilla, and milk.
Add flour and baking powder.
Spoon into 4 well-greased mini springform pans (size 4.75 x 6.25 x 4.25 -length, width, height) or an 8-inch baking pan.
In a preheated 375-degree F oven, bake for 25 minutes.
Cool 5 minutes, then remove from pans.
Cool completely.
Top with fresh strawberries.
Garnish with a dollop of whipped topping.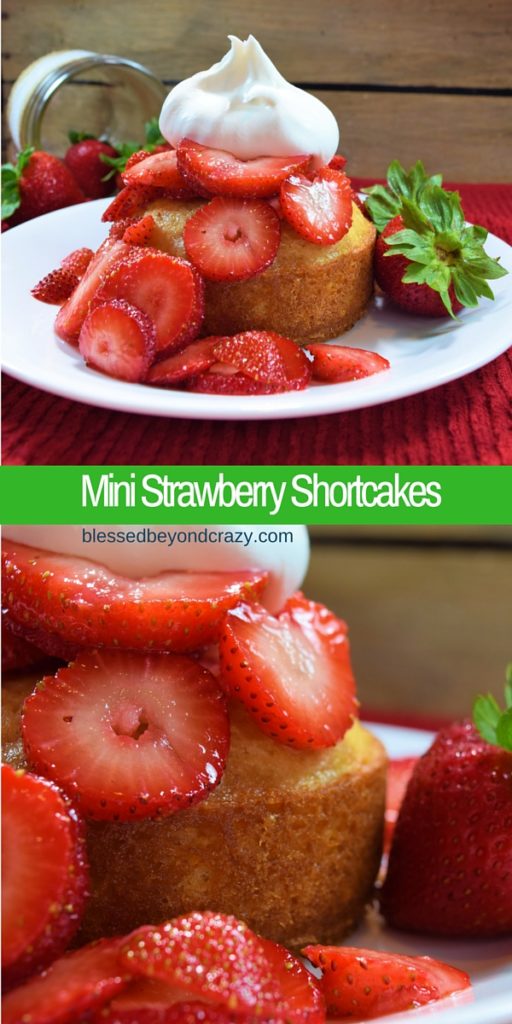 In conclusion, I'm totally convinced that once you try this recipe, you will agree with me that it's an especially quick and easy recipe, as well as one that is a definite keeper!
Here's to enjoying some wonderful summer-fresh produce! (If you like these Mini Strawberry Shortcakes, then you will probably love the recipes listed below!)
Enjoy!
Linda
Disclaimer: Manufacturers formulations and policies may change at any time, therefore it's important to always read product labels yourself and contact the manufacturer with concerns. We have found that most companies are eager to help answer your questions.
Check out more great recipes!