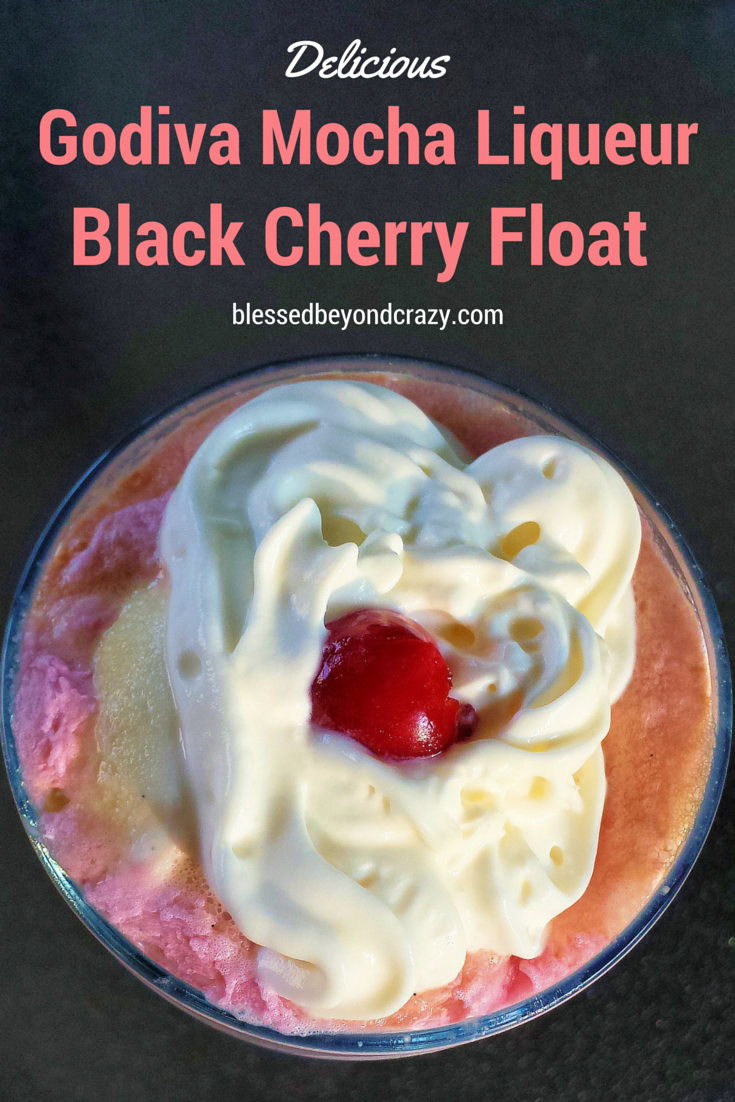 A Godiva Mocha Liqueur Black Cherry Float is a scrumptious adult beverage/dessert that comes together in mere minutes.

To help support our blogging activities, our site contains affiliate links. If you make a purchase from a link on our site, we may receive a small percentage of that sale, at no extra cost to you. Blessed Beyond Crazy is a participant in the Amazon Services LLC Associates Program, an affiliate advertising program designed to provide a means for sites to earn advertising fees by advertising and linking to amazon.com.
Isaac & Becky
Last weekend was a super fun weekend. We spent it visiting with my oldest son, Isaac, his wife, and their 5-month-old daughter. It's always fun getting together with family and hanging out, playing games, and eating great food. Isaac and Becky are always great about making sure we are all comfortable and having a good time.
Before traveling to see them, Isaac told me about a great drink recipe that he had created. It only calls for 3 ingredients and it's a perfect adult drink for a hot summer day. While he gathered the ingredients to make this yummy concoction, I grabbed my camera and started snapping pics. Let me show you how he made delicious Godiva Mocha Liqueur Black Cherry Floats.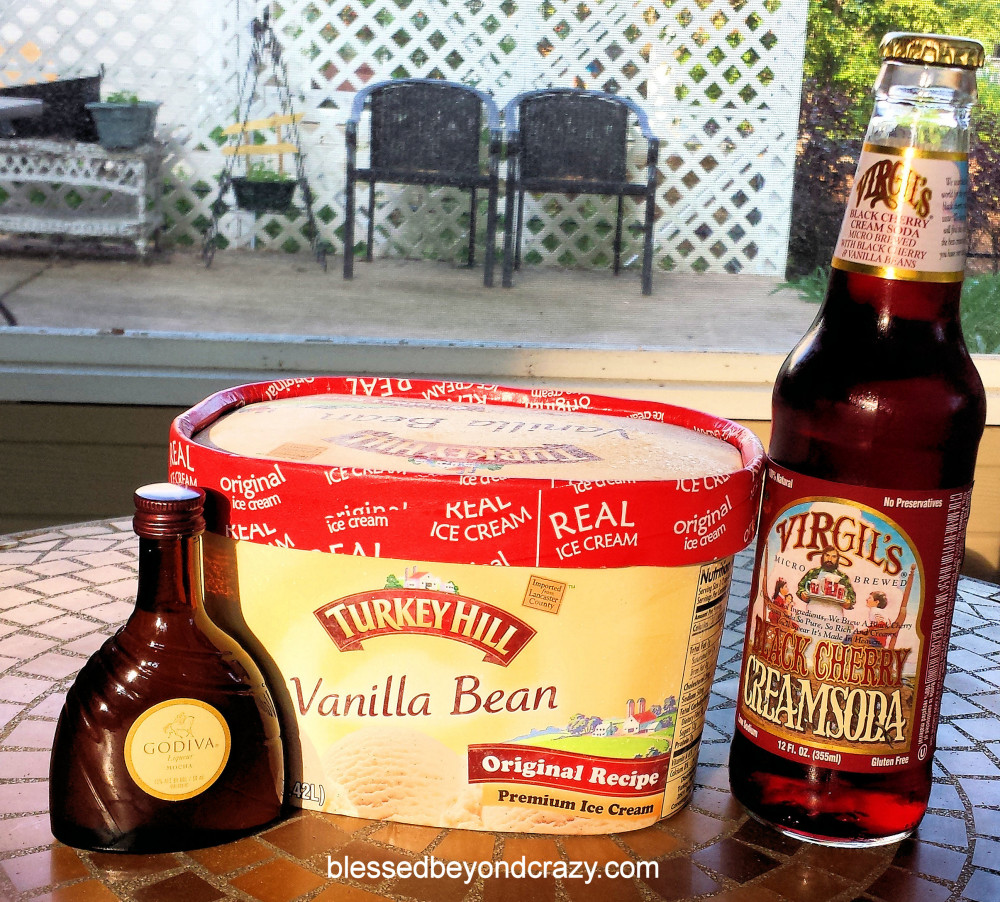 Ingredients:
The recipe calls for Godiva Mocha Liqueur, Vanilla Bean Ice Cream, and Black Cherry Cream Soda.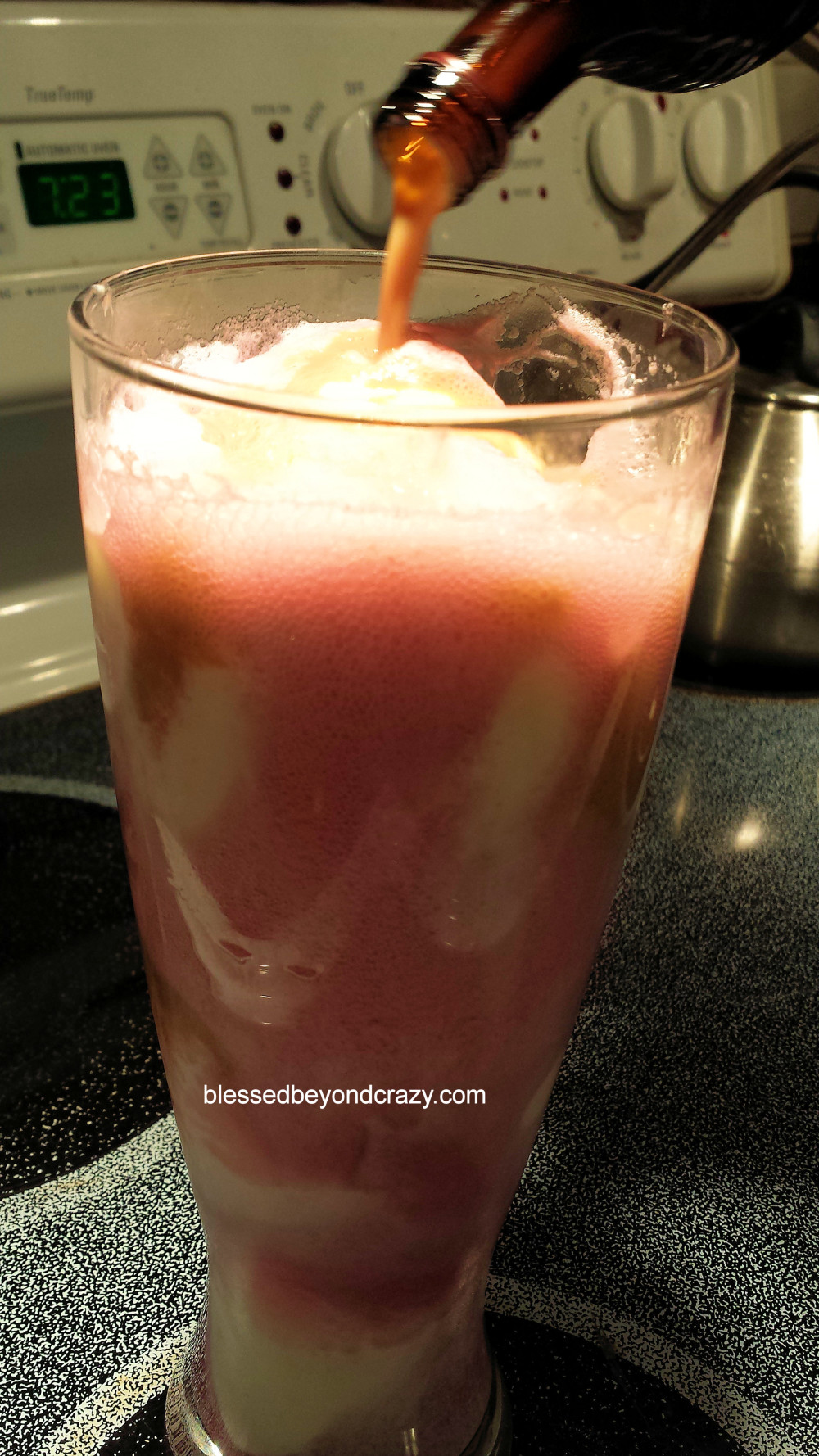 Assembly
First, Isaac started by scooping some vanilla bean ice cream into one of his large glass beer mugs. Next, he alternated pouring the Godiva Mocha Liqueur and Black Cherry Cream Soda over the ice cream until the glass was totally full.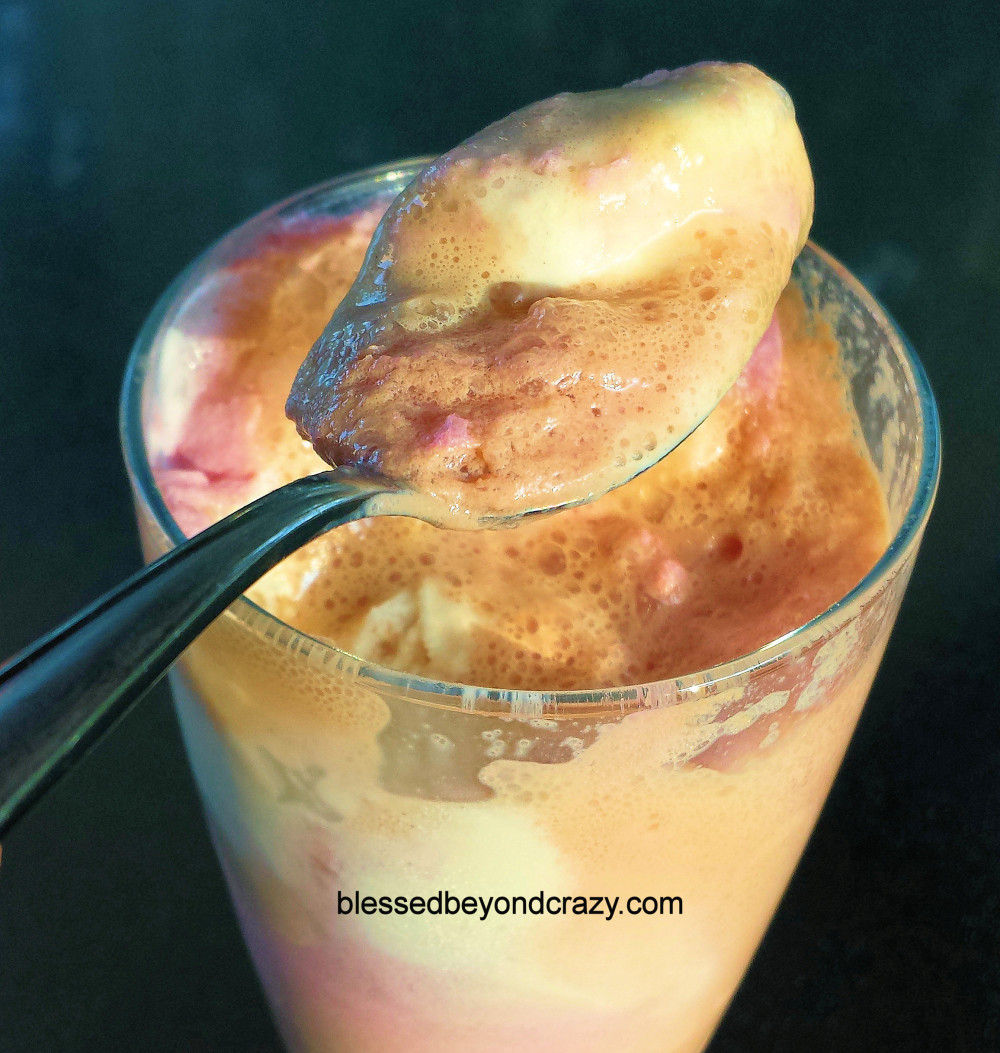 Yum!
The combination of vanilla ice cream, chocolate liqueur, and cherry soda makes a very pretty drink. Can you see the different colors in the picture? This Godiva Mocha Liqueur Black Cherry Float truly is as delicious as it looks.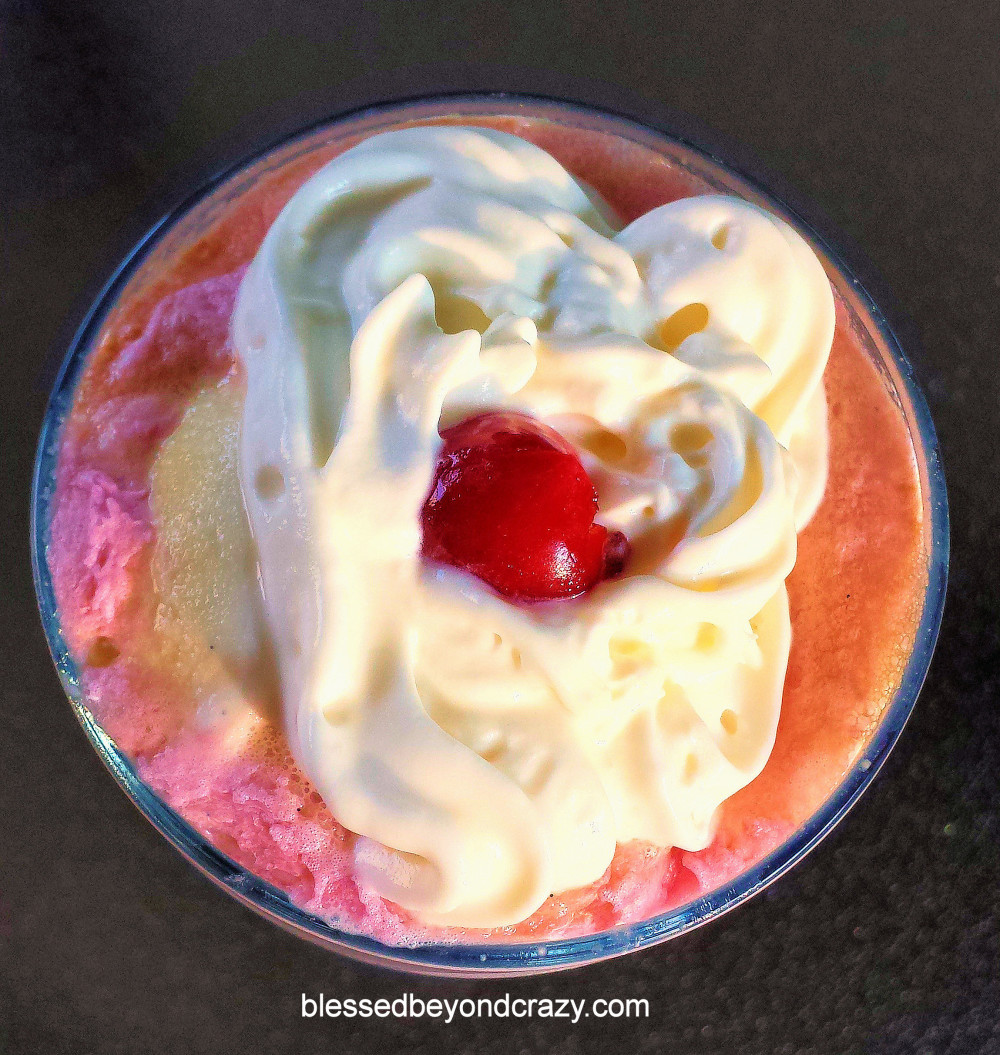 Garnish
Finally, to make this float a little fancier, Isaac topped it off with some whipped cream and a cherry. (My Mom and Dad took Isaac and Becky some fresh organic cherries from their cherry trees).
We originally planned on using a fresh cherry with its stem still on for the picture but soon realized that we had pitted all of them. Thus we had to settle for a freshly pitted cherry instead. Of course, it was every bit as delicious.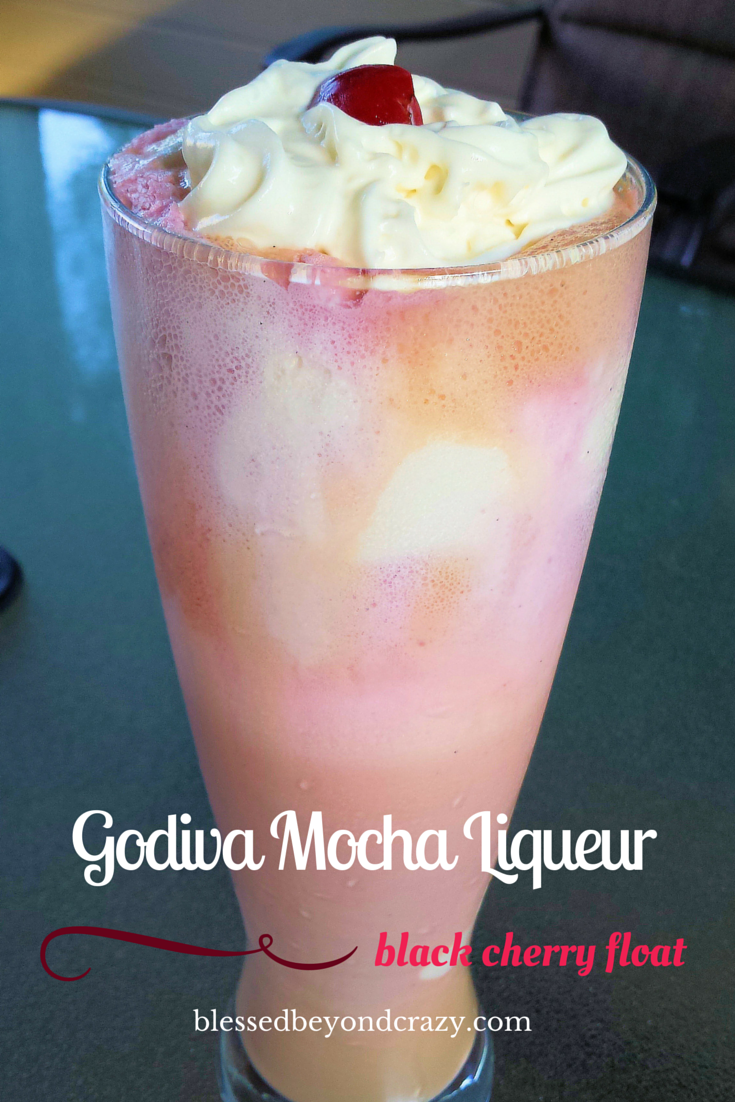 One of the nice things about this recipe is that you can easily control the chocolate liqueur/cherry soda ratio.
Isaac used 4 large scoops of vanilla bean ice cream, a whole bottle (50 ml) of Godiva Mocha Liqueur, (*this liqueur is not gluten-free), and a little over half a bottle (approximately 7 ounces) of Virgil's Black Cherry Creme Soda, (labeled as gluten-free), to make one 16 ounce float.
You could also use Zevia All Natural Black Cherry Soda that has No Artificial Sweeteners; Sweetened with Stevia, Vegan, Kosher and Gluten-Free, Zero Calories; All Natural.
For directions on how to make Gluten Free Homemade Chocolate Liqueur click here and here.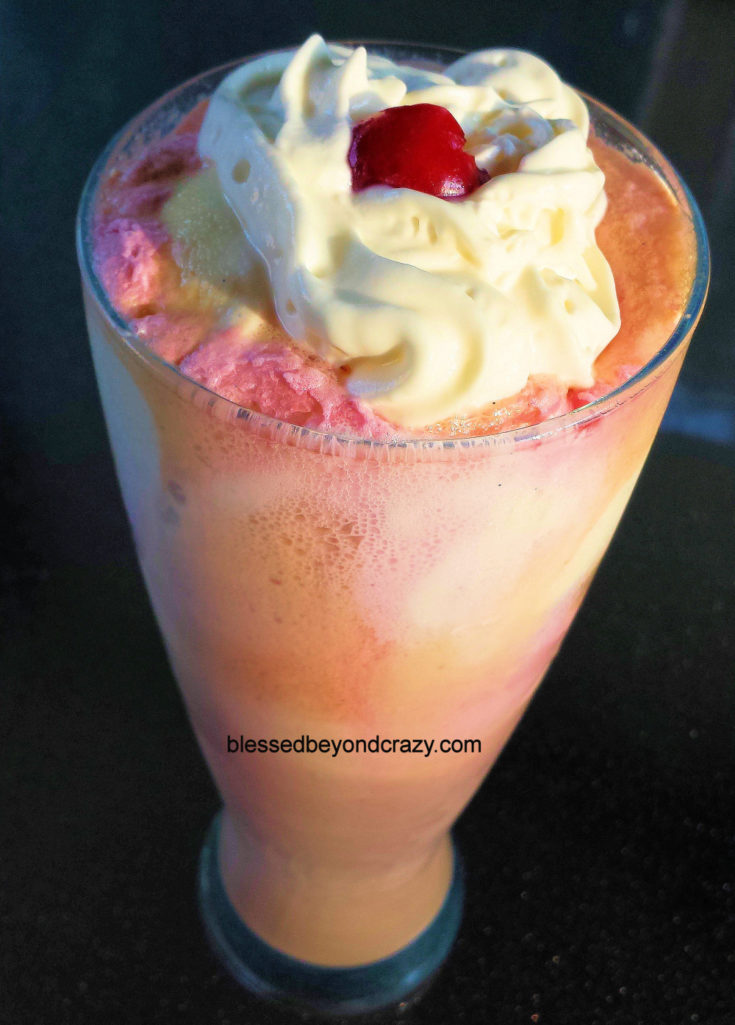 Godiva Mocha Liqueur Black Cherry Float
Ingredients
Vanilla Bean Ice Cream
Godiva Mocha Liqueur
Black Cherry Cream Soda
Instructions
Scoop ice cream into a dessert glass.
Pour soda over ice cream.
Pour Godiva Mocha Liqueur ( to taste) over ice cream.
Serve.
This is truly a beautiful and delicious drink! Make one large glass full and share it with your sweetie, or divide it into a couple of glasses and have your very own! Either way, I think that you will agree it is an amazing creation!
Thanks, Isaac for getting us hooked on Godiva Mocha Liqueur Black Cherry Floats!
Be sure to check out Isaac's Grilled Cedar Plank Salmon Recipe.
Enjoy!
Linda
More great recipes: