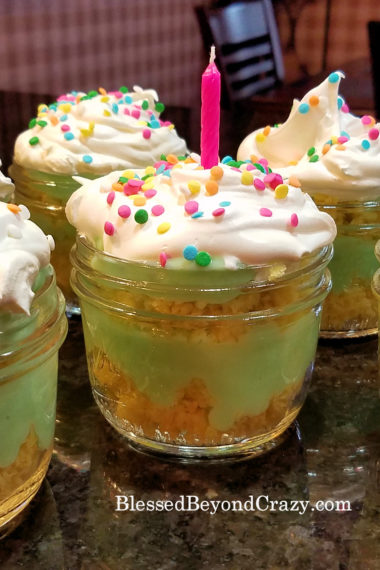 Festive Mini Dessert Party Parfaits are impressive, yet quick and easy to make.  I know this because I made them for my granddaughter's sleepover birthday party and everyone loved them. The next weekend, I made them again for my other grandchildren. They loved them too. So much so, that they said I should blog about them! Yay!!! 

To help support our blogging activities, our site contains affiliate links. If you make a purchase from a link on our site, we may receive a small percentage of that sale, at no extra cost to you. Blessed Beyond Crazy is a participant in the Amazon Services LLC Associates Program, an affiliate advertising program designed to provide a means for sites to earn advertising fees by advertising and linking to amazon.com.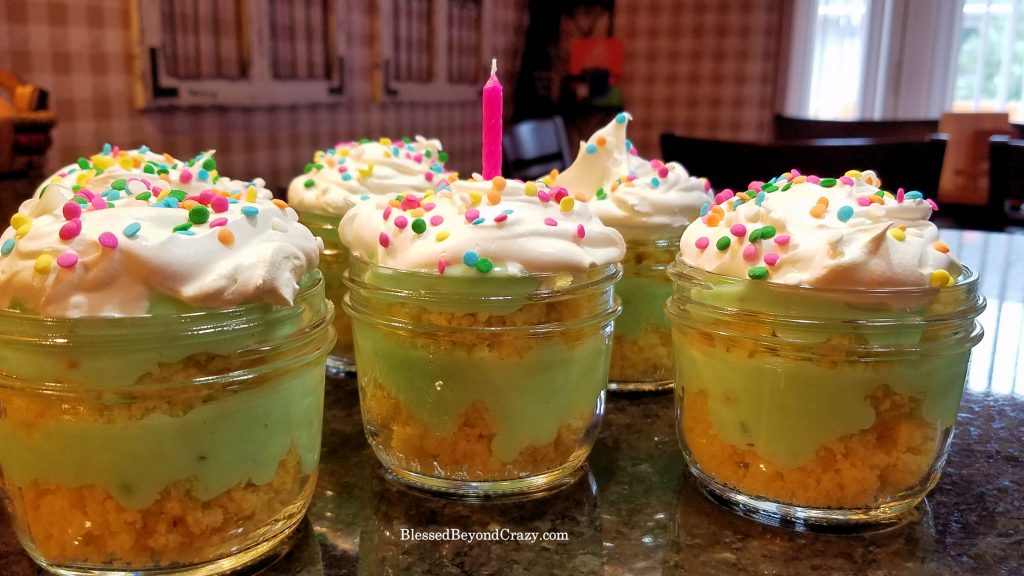 Several years ago I started a tradition with my grandchildren. I invite them over for a "special sleepover" whenever it's close to their birthday. Naturally, we do fun activities and eat a lot of their favorite foods. I also like to surprise them with a very special birthday dessert.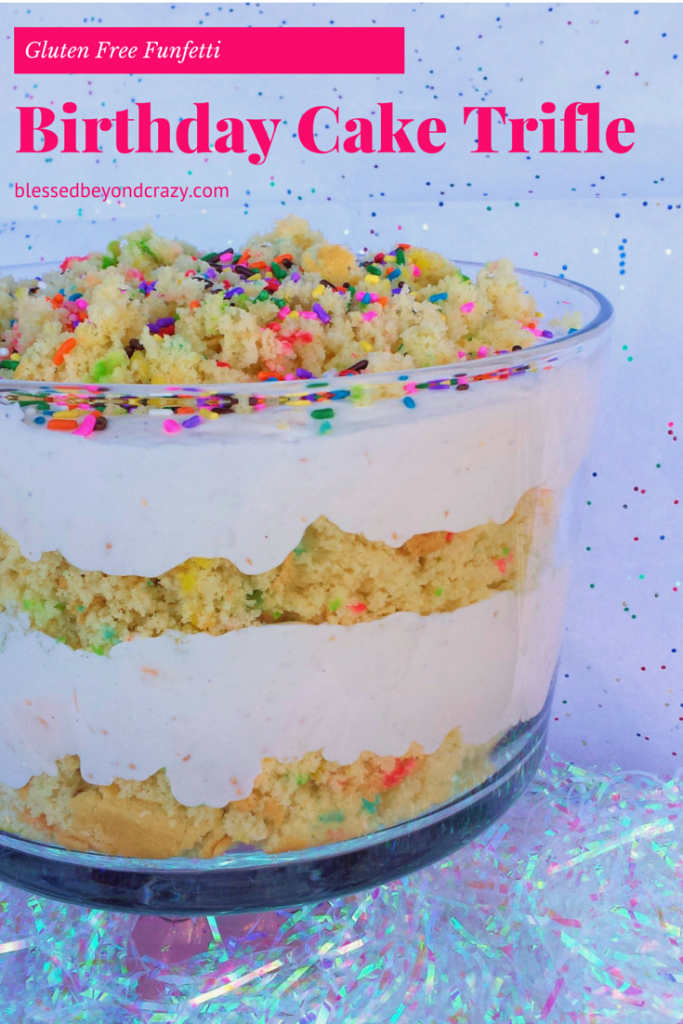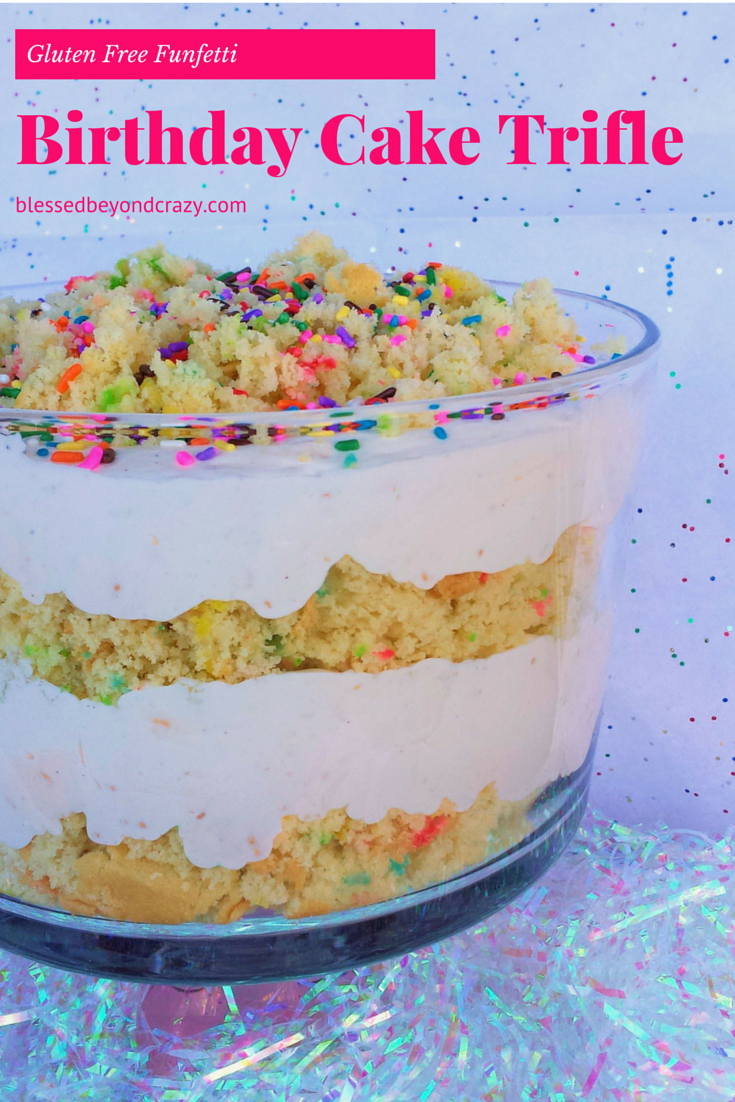 One year I made my granddaughter a Gluten-Free Funfetti Birthday Cake Trifle for her special sleepover party. This is also a super easy recipe and a great alternative to a regular birthday cake.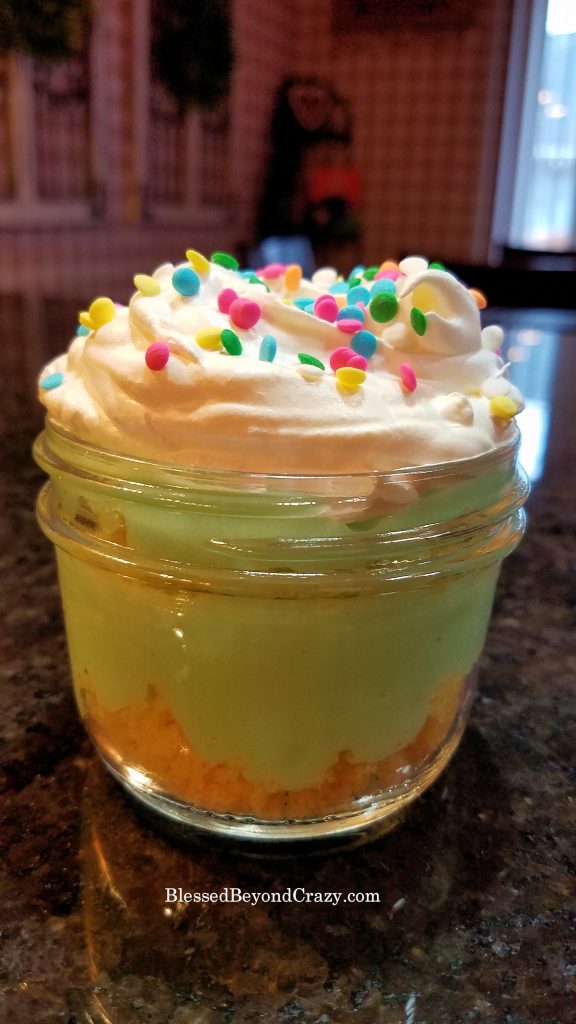 Recently another granddaughter celebrated a birthday and thus, Festive Mini Dessert Party Parfaits were born!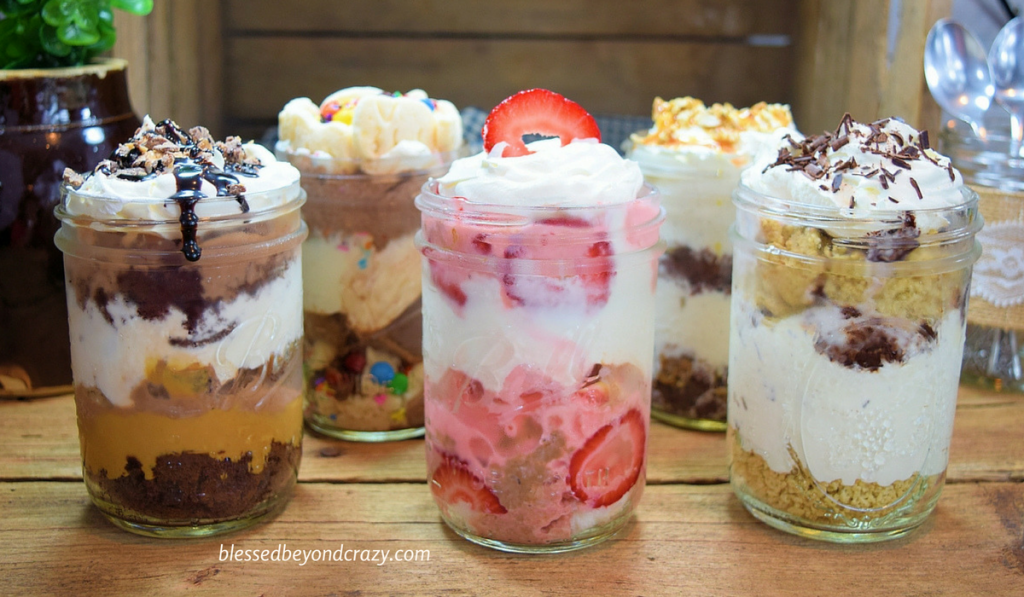 Another unique dessert option is Frozen Parfaits You Can Literally Make in 2 Minutes. These parfaits are especially refreshing on a hot, humid day.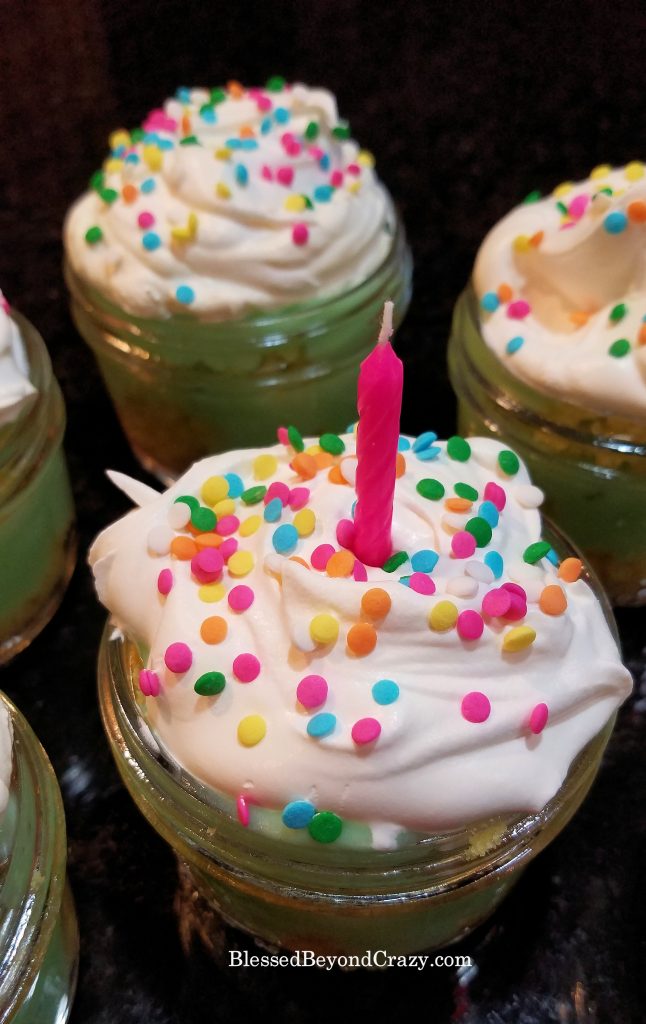 Birthday Fun!
For these colorful and Festive Mini Dessert Party Parfaits, I chose a vanilla/pistachio combo for a base. Next, I garnished each with whipped topping and colorful candy confetti sprinkles. Since it was for my granddaughter's birthday, I also added a pink birthday candle. I'm happy to report that my granddaughter loved it!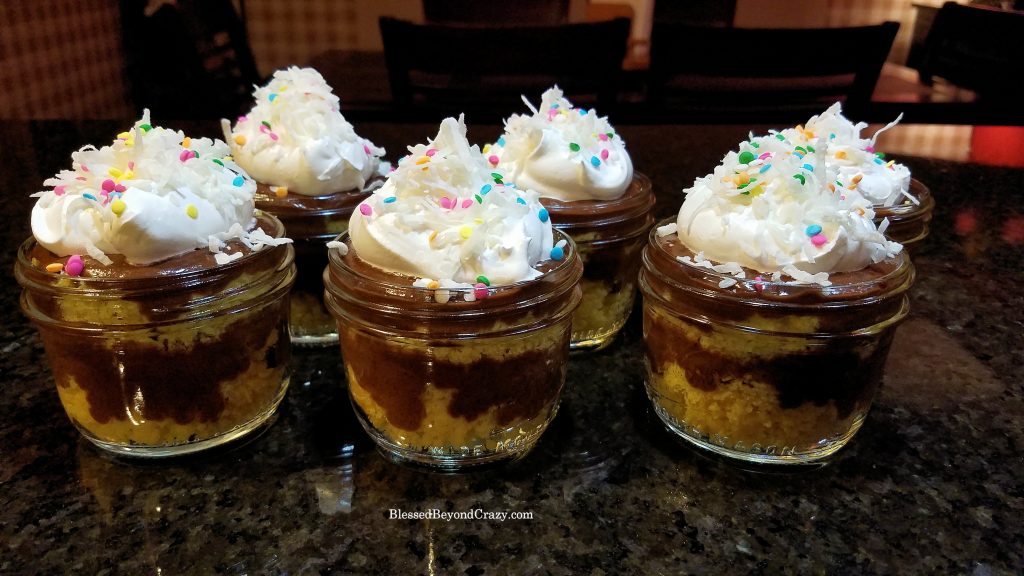 There are unlimited flavor options when it comes to making these tasty parfaits. For example, use chocolate instead of pistachio and add a touch of shredded coconut.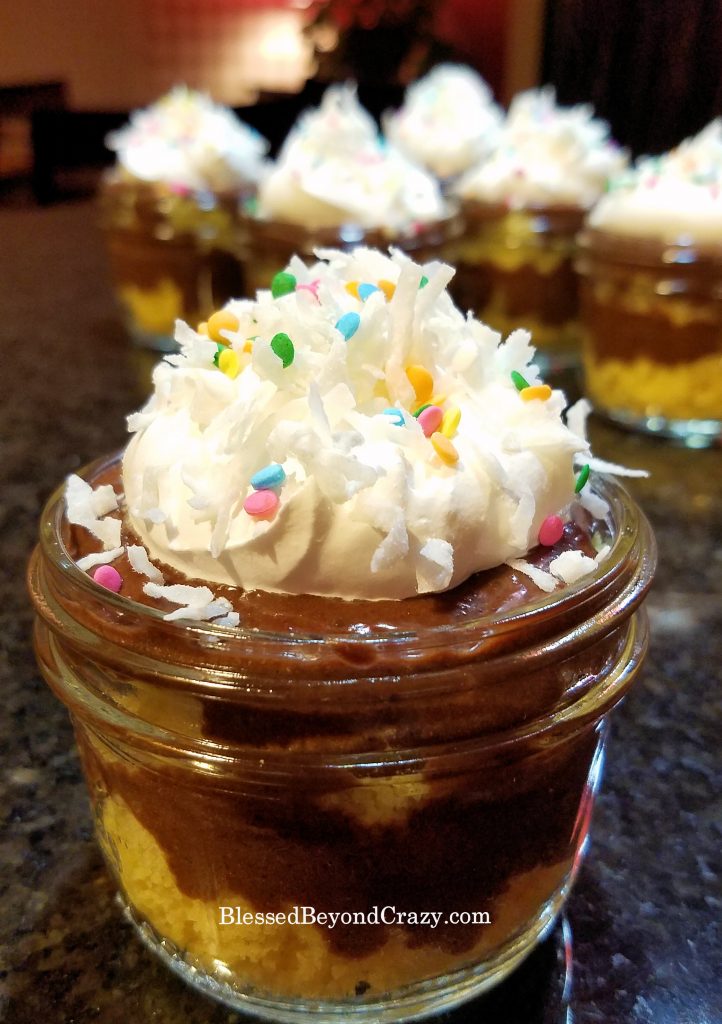 I have found that 8-ounce wide mouth mason jars work best when making any type of mini parfait. It seems to be a nice serving size and the jars look darling displayed on a table or serving tray.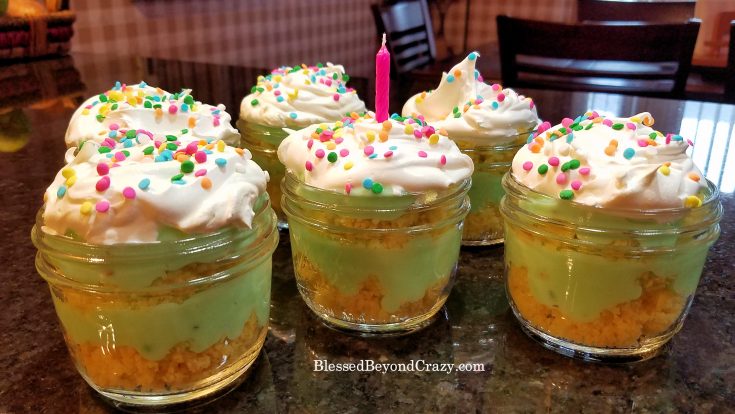 Yield: 6 - 7 Parfaits (8-ounces/each)
Festive Mini Dessert Party Parfaits
Prep Time: 15 minutes

Total Time: 15 minutes

These colorful parfaits are impressive, yet quick and easy-to-make. Perfect for all types of parties!
Ingredients
1 (15.25-ounce) yellow cake mix. (GF Option: use a gluten-free yellow cake mix)
2 (3.4-ounces/each) boxes of pistachio or chocolate pudding (3.9-ounces/each) (GF Option: use a gluten-free brand of pudding)
4 cups cold milk
8-ounce tub Cool Whip (GF Option: 1 cup heavy cream, whipped)
Candy confetti sprinkles (GF Option: use a gluten-free brand)
Additional Garnish Options: shredded coconut, chopped nuts, crushed or chopped candy bars, or sliced fresh fruit
Instructions
Bake cake mix according to packing directions. Cool completely. Place cake in a large mixing bowl and crumble. Set aside.
Make pudding according to packing directions. Set aside.
Place approx. a 1-inch layer of crumbled cake in the bottom of each mason jar. Add a layer of prepared pudding. Repeat process.
Garnish with whipped topping, candy sprinkles, and any other desired toppings.
Refrigerate until ready to serve. Parfaits keep well in the refrigerator up to three days.
Notes
1 cake mix makes approximately 12 - 14 mini parfaits. When using the entire cake, please note - you'll need 3 to 4 boxes of pudding mix.

Sometimes I make the cake ahead of time and freeze it for later. Other times, I use half the cake to make 6 - 7 mini parfaits, then freeze the remaining cake for use later.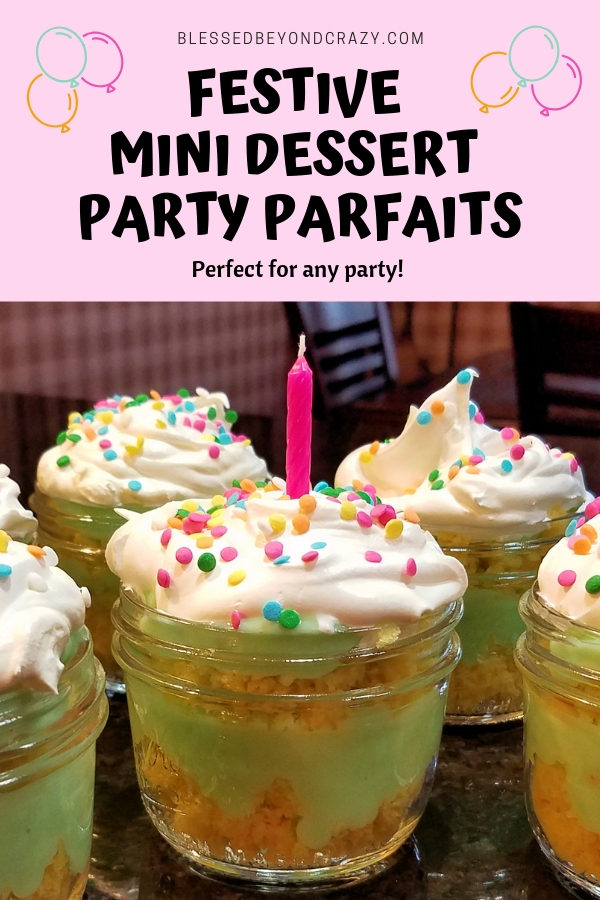 Use your imagination to create your very own Festive Mini Dessert Party Parfaits!
Enjoy!
Linda
More great ideas: