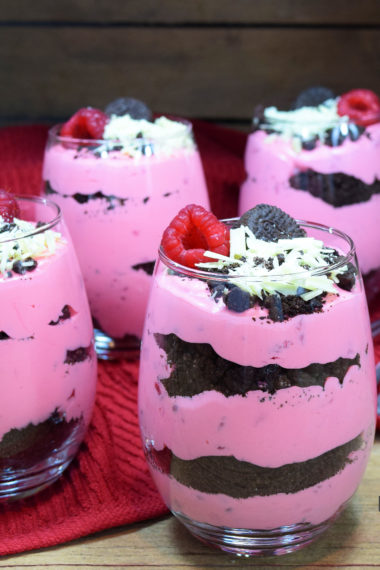 Anna and I are super excited to introduce you to these yummy No-Bake White Chocolate Raspberry Cheesecake Parfaits! 

We are also pumped about being included in a special 30-Day Recipe Challenge! Each contributing blogger created a delicious brand-spanking-new No-Bake Dessert recipe and today we are all sharing them with the entire world!!! You can find all of the recipes and links at the very end of this post.
---
To help support our blogging activities, our site contains affiliate links. If you make a purchase from a link on our site, we may receive a small percentage of that sale, at no extra cost to you. Blessed Beyond Crazy is a participant in the Amazon Services LLC Associates Program, an affiliate advertising program designed to provide a means for sites to earn advertising fees by advertising and linking to amazon.com.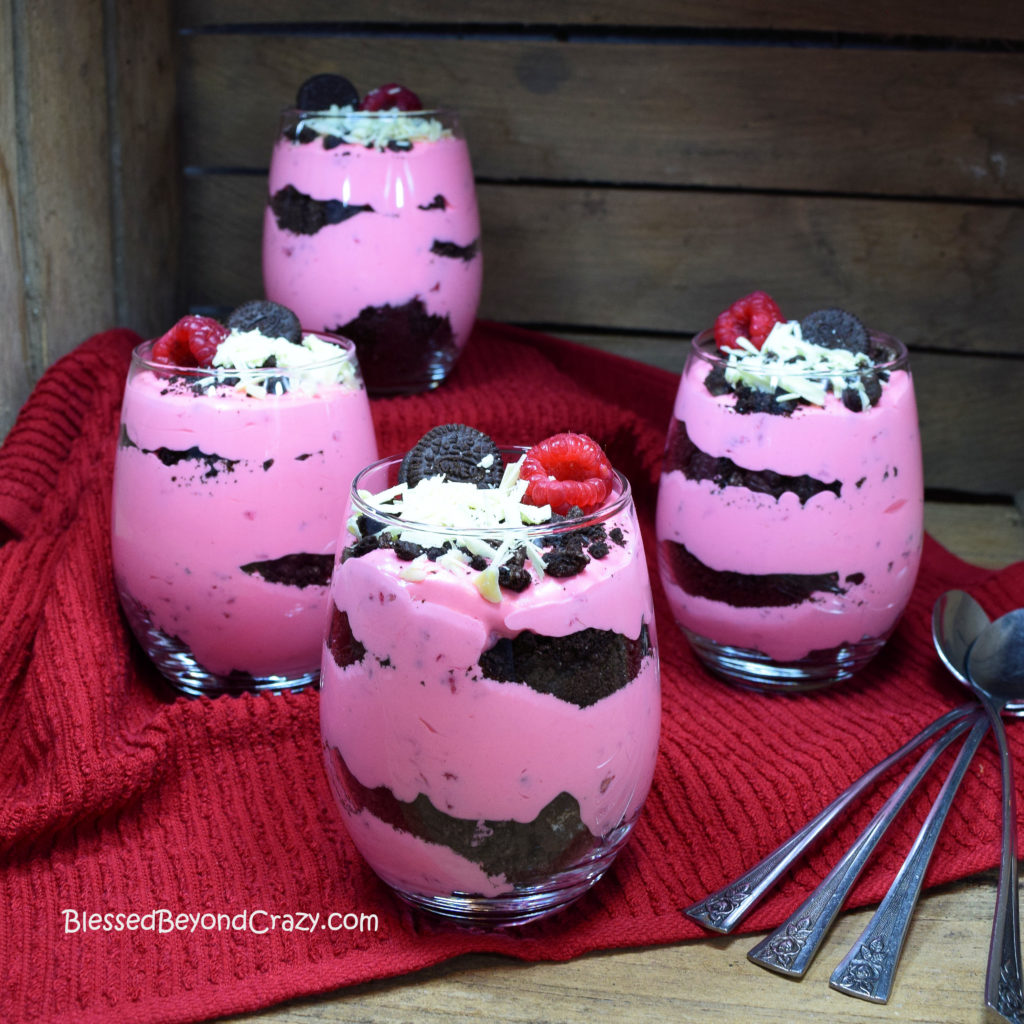 Easy No-Bake!
Summer official started a few days ago and the temperatures have been reflecting that. Today's high is supposed to be somewhere around 105 degrees F in my neck of the woods. As much as I enjoy warm weather, it's definitely not a good day for turning on the oven!
Consequently, no-bake recipes like these No-Bake White Chocolate Raspberry Cheesecake Parfaits are simply perfect for today! No need to make our air conditioner work harder than it has to, right?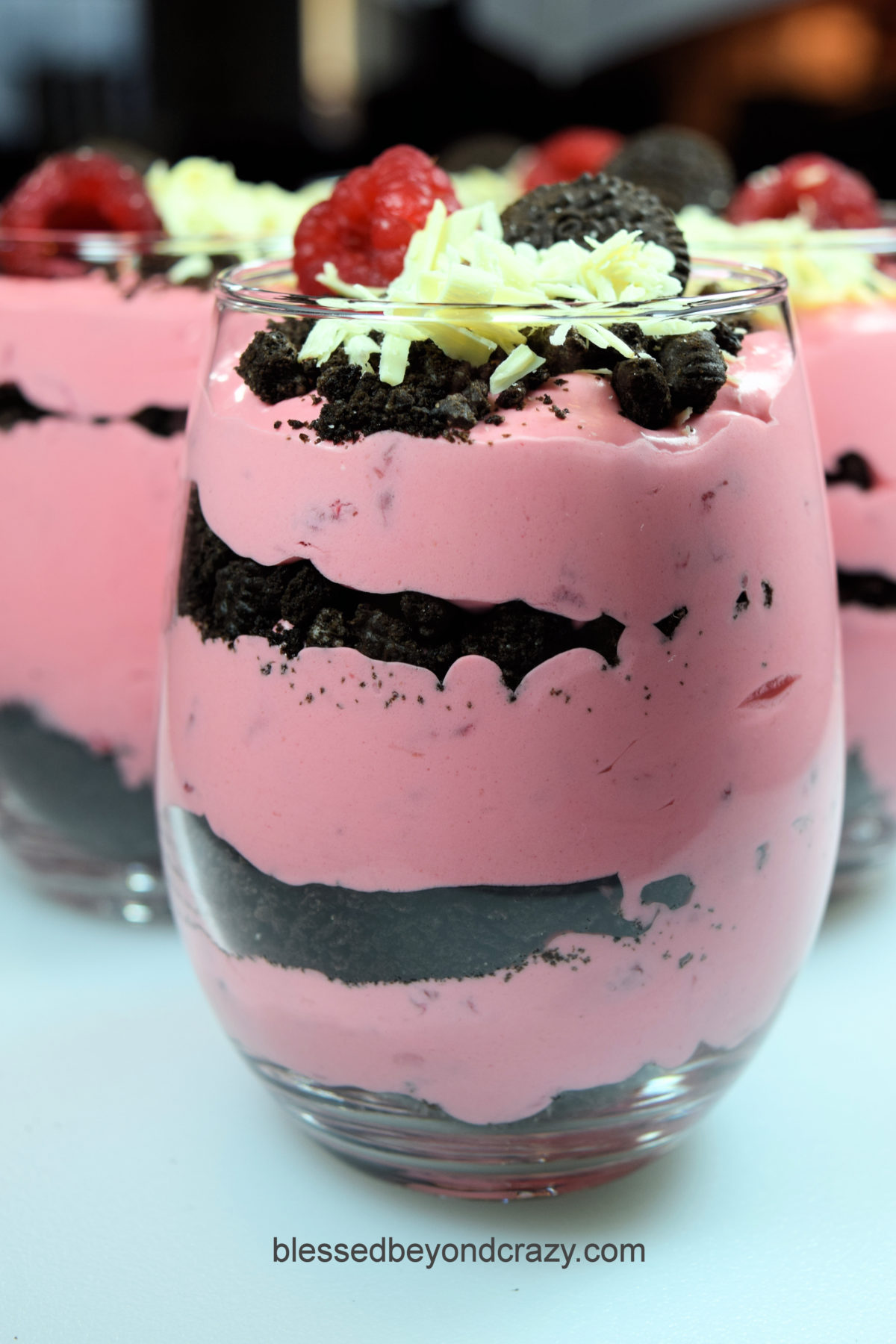 Leftovers!
If you have been following our blog for long, then you know that I am all about using up leftovers and whatever I have on hand to make many of my recipe creations. These No-Bake White Chocolate Raspberry Cheesecake Parfaits are no exception! Allow me to explain…
These parfaits are super simple to make and all of the ingredients I had on hand. Since it's summer, I usually have an abundance of fresh fruits in my refrigerator, such as fresh strawberries, blueberries, raspberries, cantaloupe, and watermelon.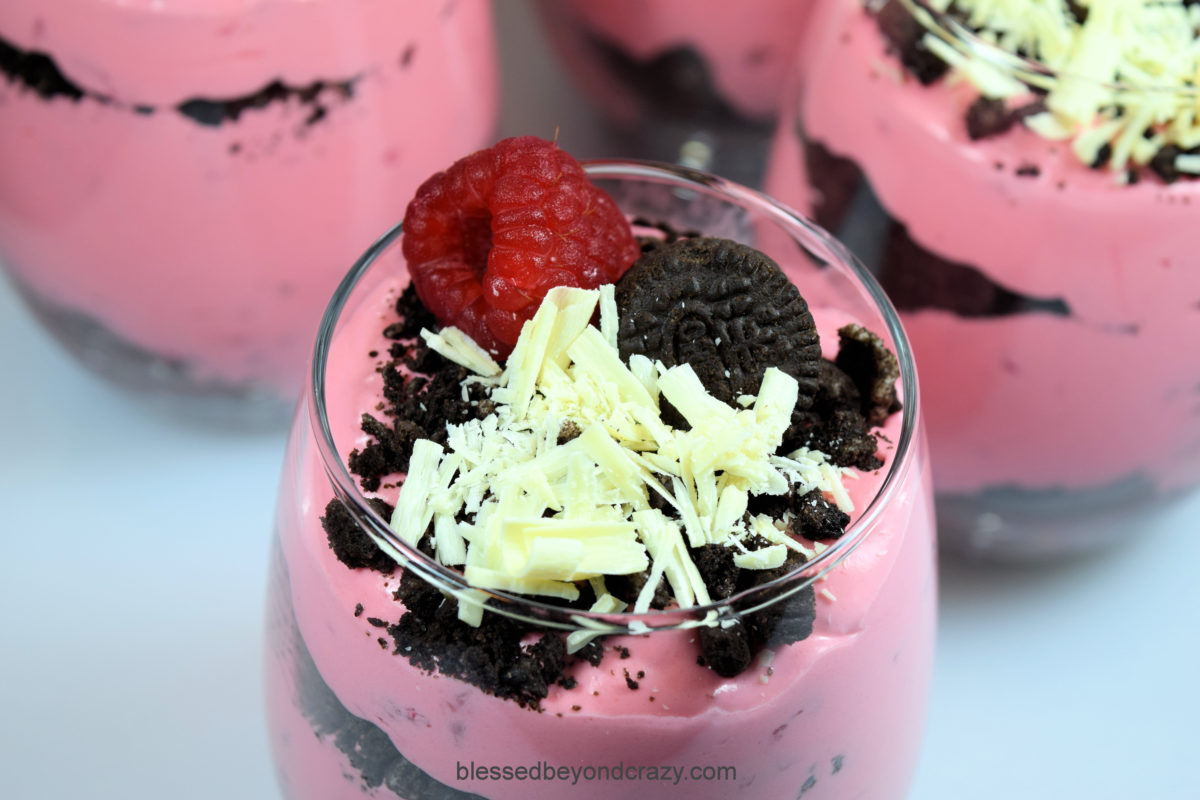 Delicious Parfaits!
These No-Bake White Chocolate Raspberry Parfaits are made with simple, everyday ingredients: chocolate sandwich cookies, cream cheese, white chocolate, whipped topping, gelatin, and of course, fresh raspberries.
I considered making a no-bake pie with these ingredients, however, I love the presentation of individual parfait servings. As you can tell, I really do enjoy creating parfaits such as these: Gluten-Free Butterfinger Parfaits, Gluten-Free Salted Caramel Cashew Parfaits, Frozen Parfaits You Can Literally Make in 2 Minutes, Strawberry Vanilla Cream Parfaits, and these Valentine's Day Parfaits. They are each yummy in their own way.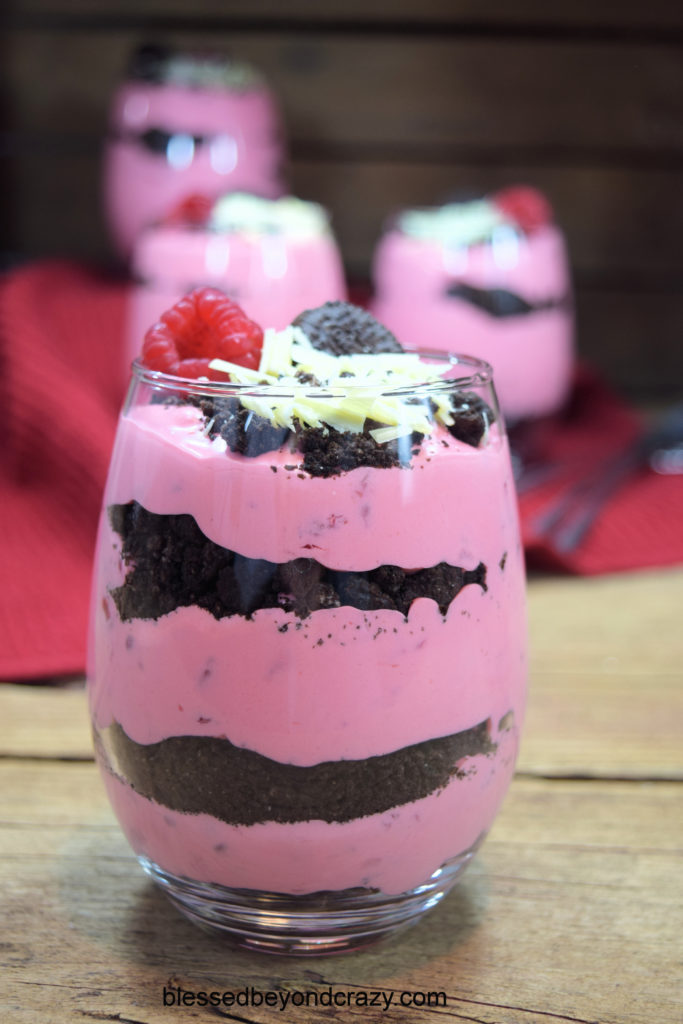 Yummy Layers!
In this recipe for No-Bake White Chocolate Raspberry Parfaits, you can see the different layers all topped with a sprinkle of crushed cookies, fresh raspberries, and a few shavings of white chocolate. Yum! Yum! Good!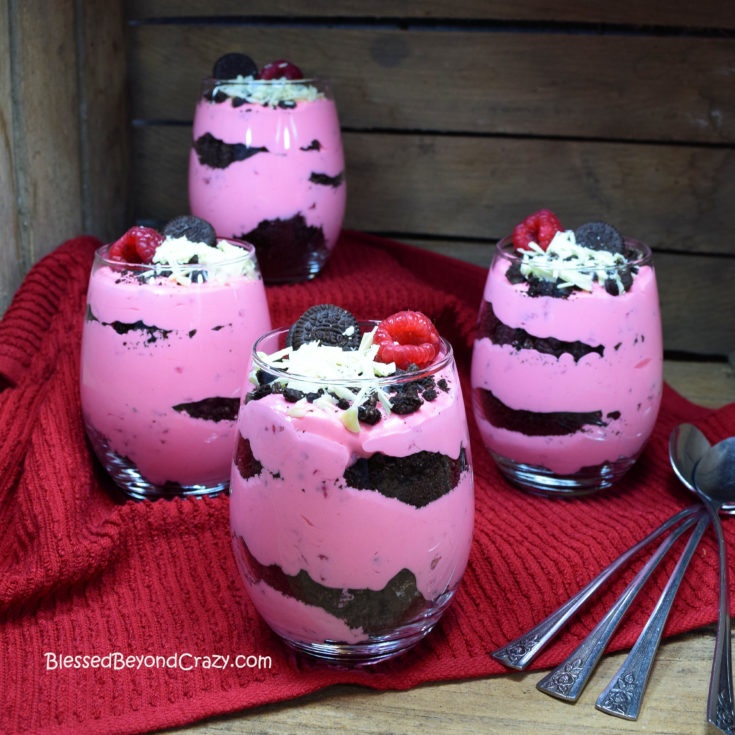 Yield:

Serves Approx. 8
No-Bake White Chocolate Raspberry Cheesecake Parfaits
Total Time:
1 hour
40 minutes
A delicious no-bake dessert.
Ingredients
1 (8 ounce) package Oreo Mini Chocolate Sandwich Cookies (GF Option: use gluten-free Oreos)
1 (4 ounce) Ghirardelli Chocolate Premium Baking Bar
1 (0.30 ounce) package Sugar Free Jello
1/2 cup water
2 packages (8 ounces each) cream cheese, softened
1 pint fresh raspberries
1 carton (8 ounce) frozen Lite Cool Whip, thawed
Garnish:
Fresh raspberries
Mini Oreo Cookies (GF Option: use gluten-free Oreos)
1/2 ounce white chocolate bar
Instructions
Place Oreo cookies in a zip-lock baggie, and crush with a rolling pin. Place in a bowl, set aside.
In a microwave-safe bowl, melt chocolate; stir until smooth and set aside.
Bring water to a boil, add gelatin and stir until dissolved; set aside.
In a large microwave-safe mixing bowl, soften cream cheese; stir until smooth.
Add chocolate to cream cheese, and whisk until well incorporated.
Stir in Jello; whisk until well incorporated.
Slightly smash raspberries, add to cream cheese mixture; stir.
Fold in whipped topping.
Layering:
Place 2 heaping Tablespoons crushed Oreo cookies into the bottom of parfait glasses.
Add 3 heaping Tablespoons of cream cheese mixture.
Sprinkle on 1 heaping Tablespoon of crushed cookies.
Add another layer of cream cheese mixture.
Top with a final sprinkle of crushed cookies.
Garnish with fresh raspberries, Mini Oreo Cookies, and white chocolate shavings.
Cover and refrigerate for 1 hour, or until set.
Serve
gluten-free. Simply substitute the Oreos with gluten-free sandwich cookies.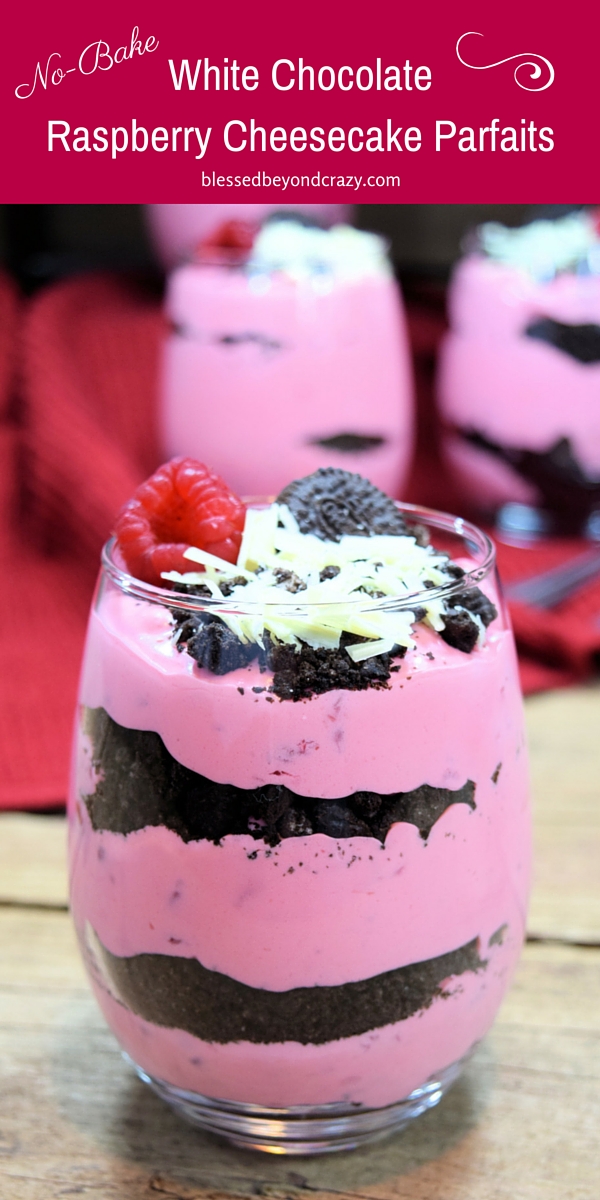 Have fun this summer and I hope you enjoy making these scrumptious No-Bake White Chocolate Raspberry Parfaits! Also, be sure to check out all of the No-Bake Dessert recipes featured below!
Linda
P.S. – Besides creating parfaits, I also love making trifles.
Disclaimer: Manufacturers formulations and policies may change at any time, therefore it's important to always read product labels yourself and contact the manufacturer with concerns. We have found that most companies are eager to help answer your questions.
Check out all the other lovely NO BAKE recipes below from bloggers who took part in our 30 Day No Bake Dessert Challenge.