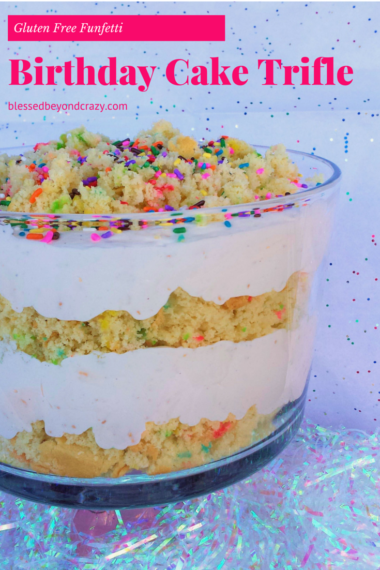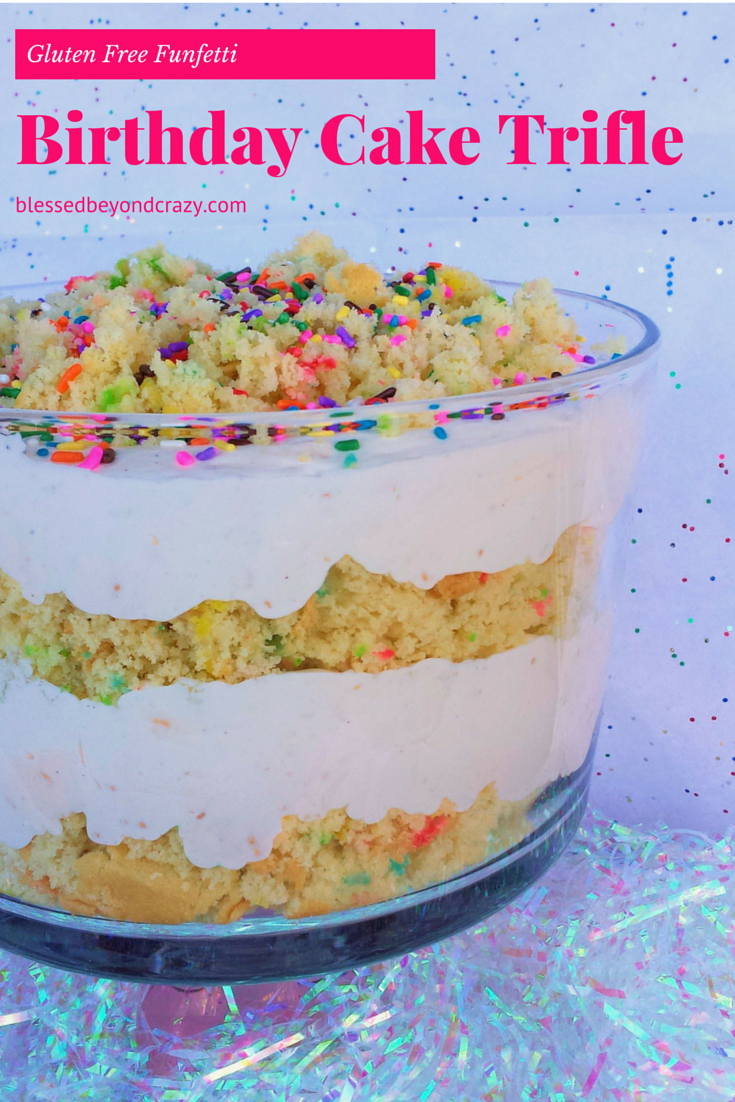 Trifles are one of my favorite desserts to create. I love how easy and fun they are to construct and how they add a bit of festivity to any event or occasion, particularly birthday parties. Since my granddaughter just turned 2-years-old, I (a.k.a. Grandma Linda), wanted to create a very special treat to help her celebrate her very special day. Thus, a Birthday Cake Trifle was born!
To help support our blogging activities, our site contains affiliate links. If you make a purchase from a link on our site, we may receive a small percentage of that sale, at no extra cost to you. Blessed Beyond Crazy is a participant in the Amazon Services LLC Associates Program, an affiliate advertising program designed to provide a means for sites to earn advertising fees by advertising and linking to amazon.com.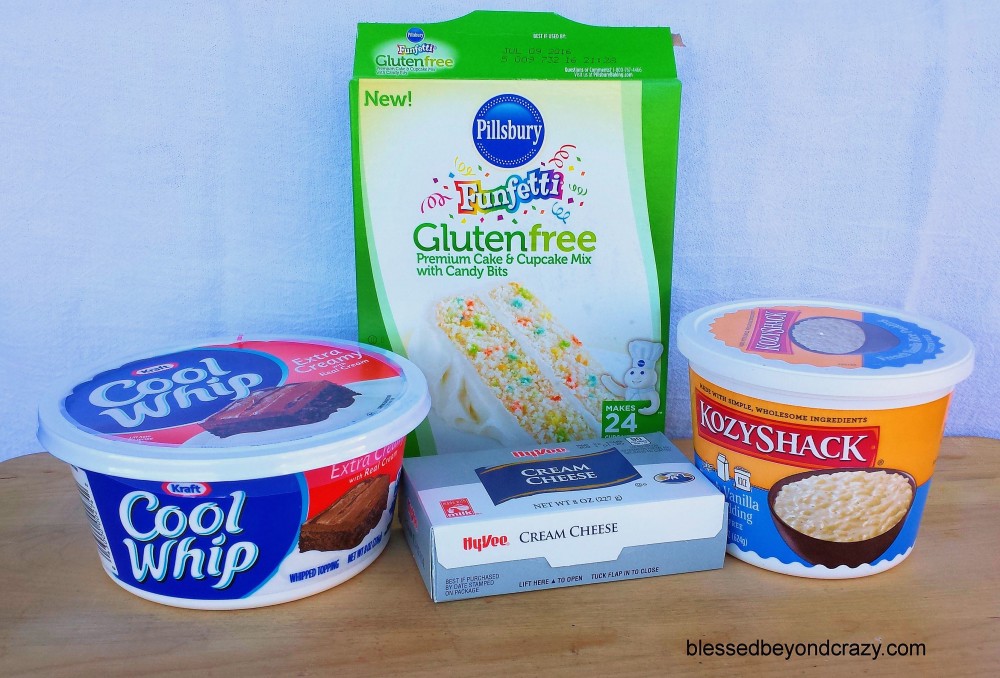 Ingredients to make a Birthday Cake Trifle: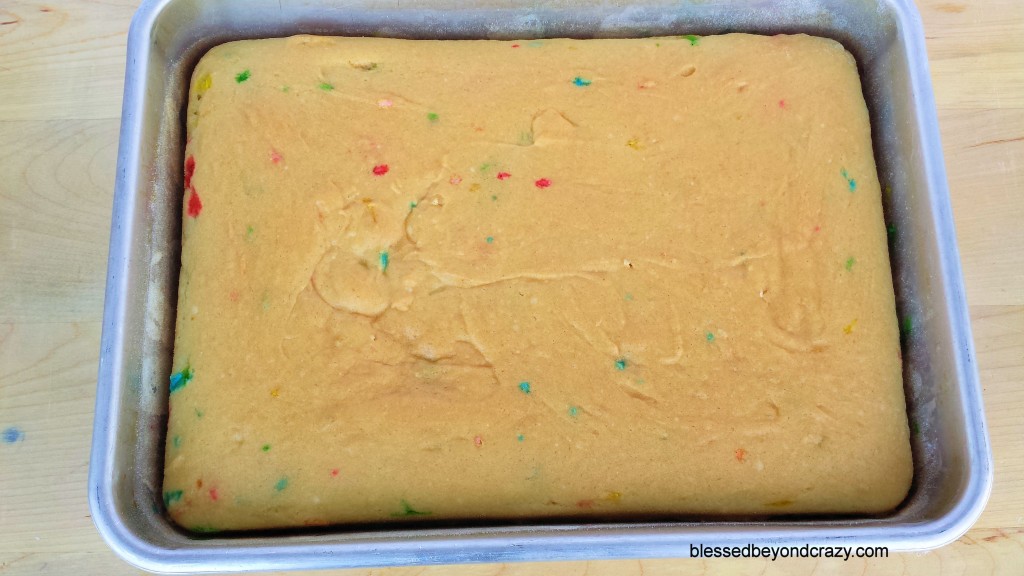 Start by making the cake according to the directions on the box. When finished baking, cool completely.
Next, make a creamy filling by combining together whipped topping, softened cream cheese, and gluten-free rice (or tapioca) pudding. (This is so good!)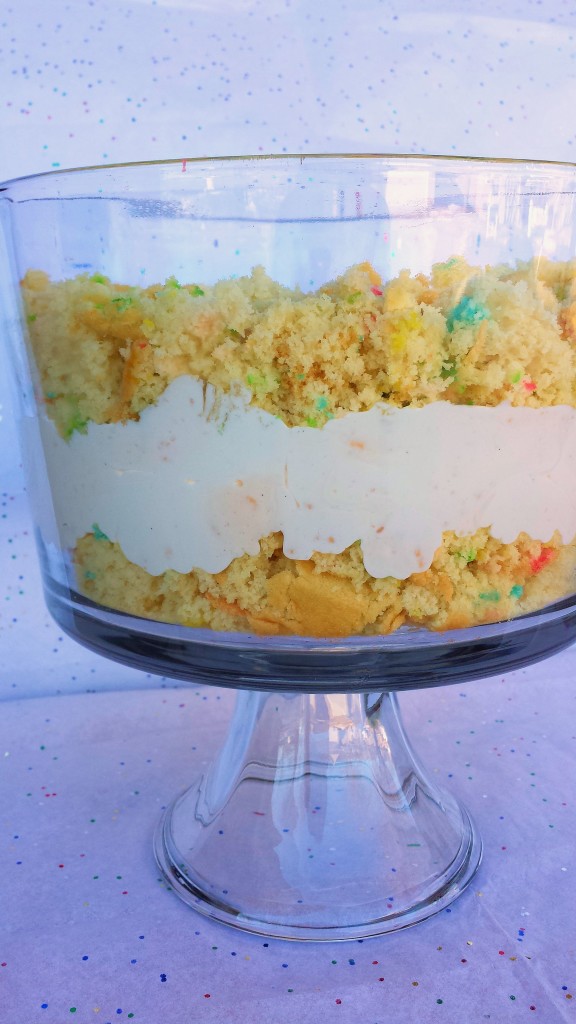 It's amazing how easy it is to construct a trifle because it's all a matter of layering the cake and a creamy filling. Start by crumbling part of the cake into the bottom of a trifle bowl, then add a layer of the creamy filling. Repeat the process until the bowl is filled to the top.

Almost the entire Funfetti cake was used to create this trifle (approximately 2 cups of cake crumbs were leftover). I think a garnish of sprinkles adds to the festive flair of this fabulous dessert.
Birthday Cake Trifle (GF)
---
Linda Wiseman
A creamy and delicious gluten-free trifle recipe that everyone will love.
20 minPrep Time
25 minCook Time
45 minTotal Time
Ingredients
1 (17-ounce) box gluten-free Funfetti cake mix
12-ounce container gluten-free whipped topping
8-ounce package cream cheese, softened
22-ounce tub premade gluten-free rice or tapioca pudding
gluten free sprinkles
Instructions
Make cake according to the directions on the box. Cool completely.
Mix together whipped topping, cream cheese and gluten free rice or tapioca pudding.
Crumble part of the cake into the bottom of a trifle bowl. Top with a layer of filling. Repeat layering of cake and filling until trifle bowl is full. Garnish with gluten free candy sprinkles.
Refrigerate for at least 2 hours, or overnight.
Serve.
7.8.1.2
66
https://blessedbeyondcrazy.com/birthday-cake-trifle-gf/
www.blessedbeyondcrazy.com
Anna and I have made several trifles and each one is delicious in its own right.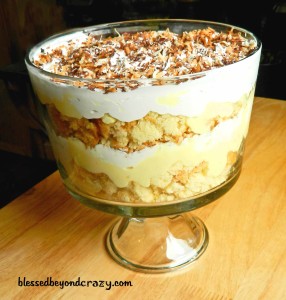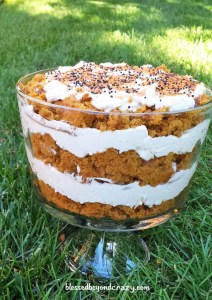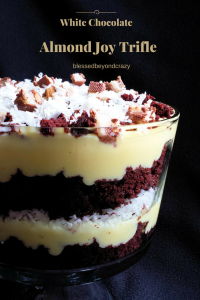 You can have fun celebrating any birthday with a Happy Birthday Trifle!!!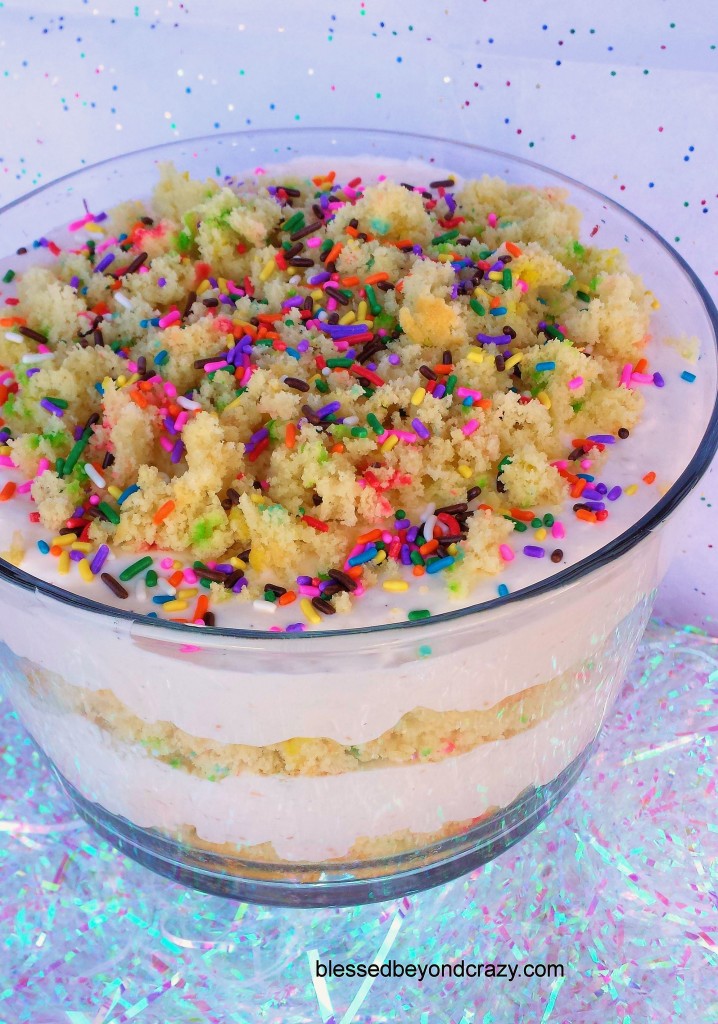 My grandchildren loved this Birthday Cake Trifle, especially my little birthday girl! She chowed down on this special treat and asked for seconds! Yay! Happy Birthday!
Linda
More great ideas: