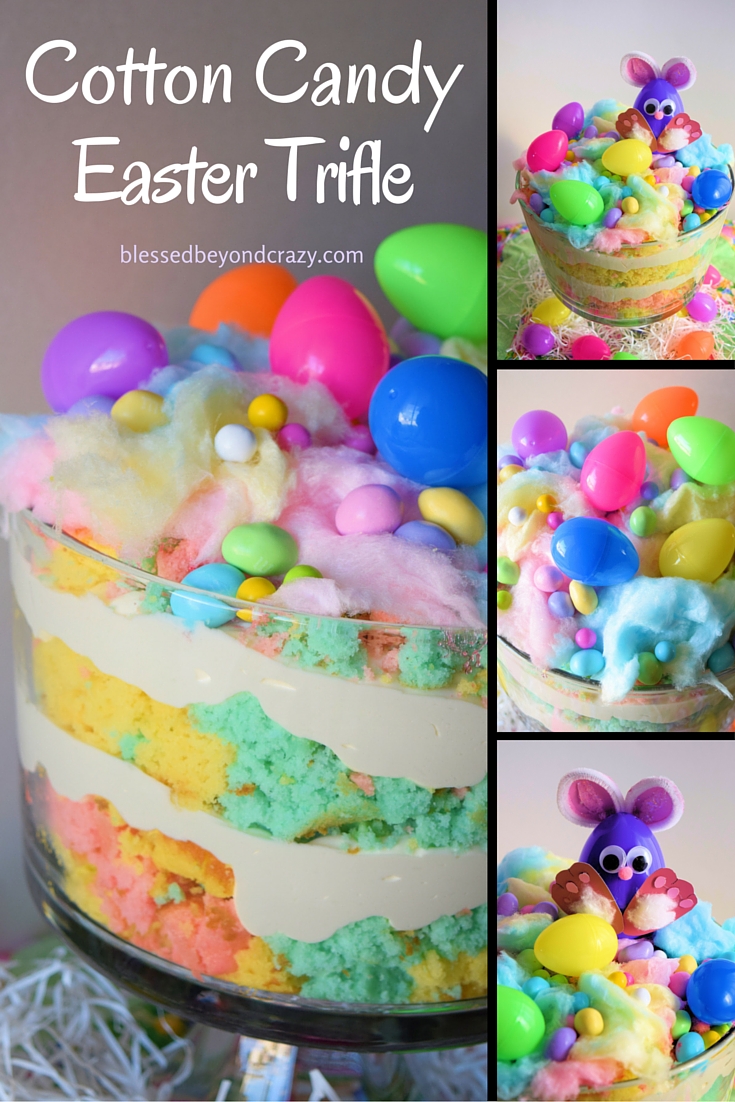 Easter is fast approaching. That means it's time for a fabulous dessert! Thus, I present to you Cotton Candy Easter Trifle! It's easy to make gluten-free and kids of all ages love it!

To help support our blogging activities, our site contains affiliate links. If you make a purchase from a link on our site, we may receive a small percentage of that sale, at no extra cost to you. Blessed Beyond Crazy is a participant in the Amazon Services LLC Associates Program, an affiliate advertising program designed to provide a means for sites to earn advertising fees by advertising and linking to amazon.com. As an Amazon Associate, I earn from qualifying purchases.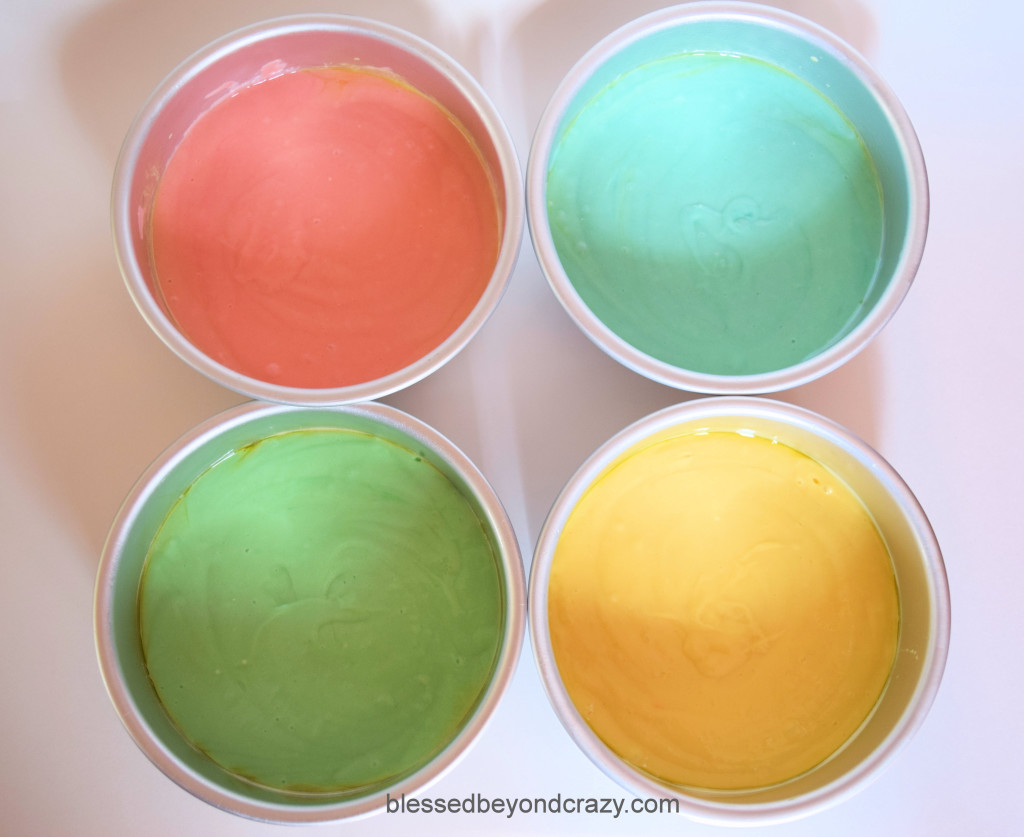 This colorful dessert starts with one white cake mix, made according to packaging directions.
Divide the cake into four equal parts. Next, add a drop or two of blue, red, green, and yellow food coloring. When the batter is ready it is placed into four 6 inch cake pans. (I love these mini cake pans and use them to make all kinds of great desserts.)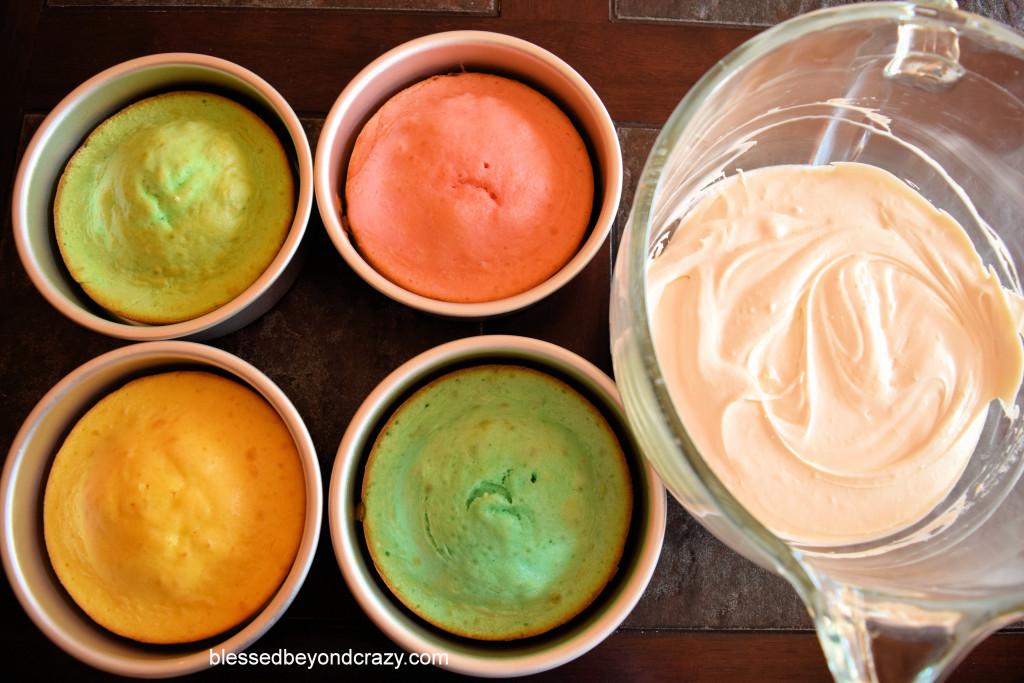 While the cakes cool, make the yummy filling. It's a mixture of cream cheese, heavy whipped cream, powdered sugar, granulated sugar, and vanilla.
Now comes the fun part! Assembling this delicious Cotton Candy Easter Trifle.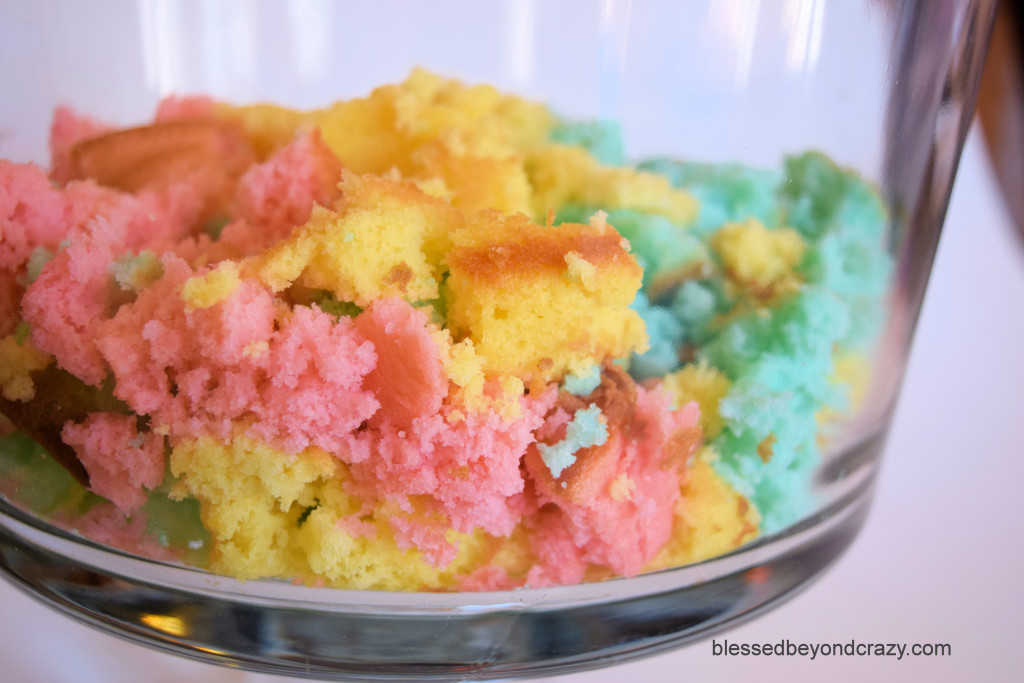 When the cakes are completely cool, crumble them and place part of the crumbles into the bottom of my favorite trifle bowl. (As seen in the photo above.)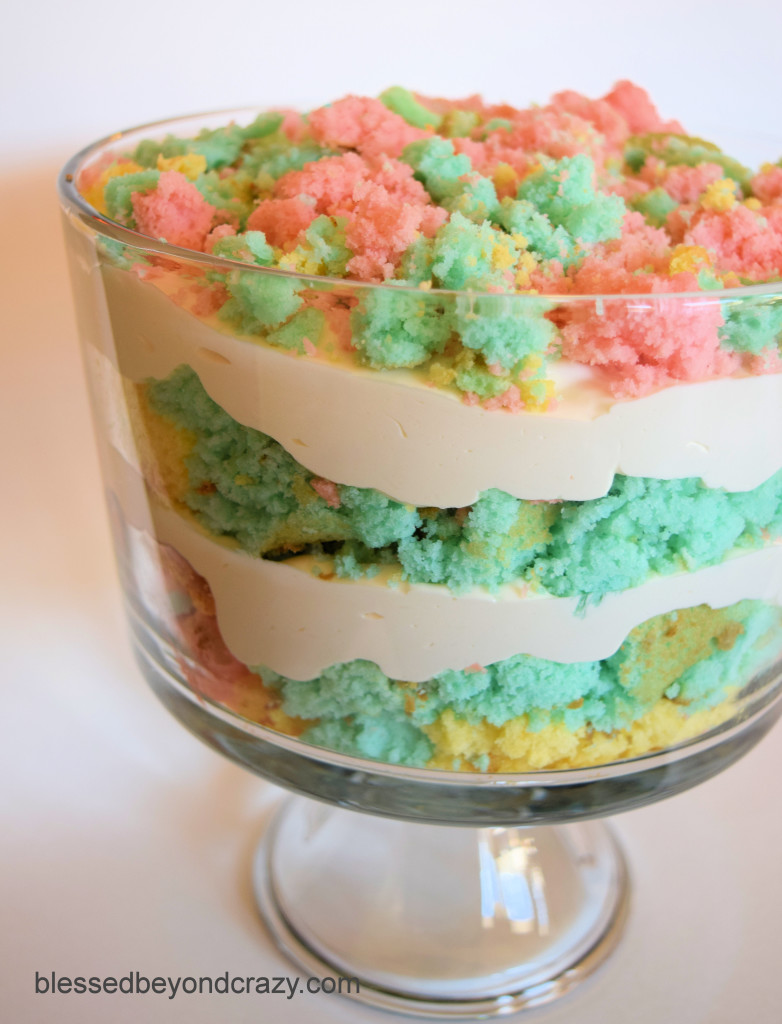 Next, place a layer of filling, another layer of crumbled cake, one more layer of filling, and a final layer of cake.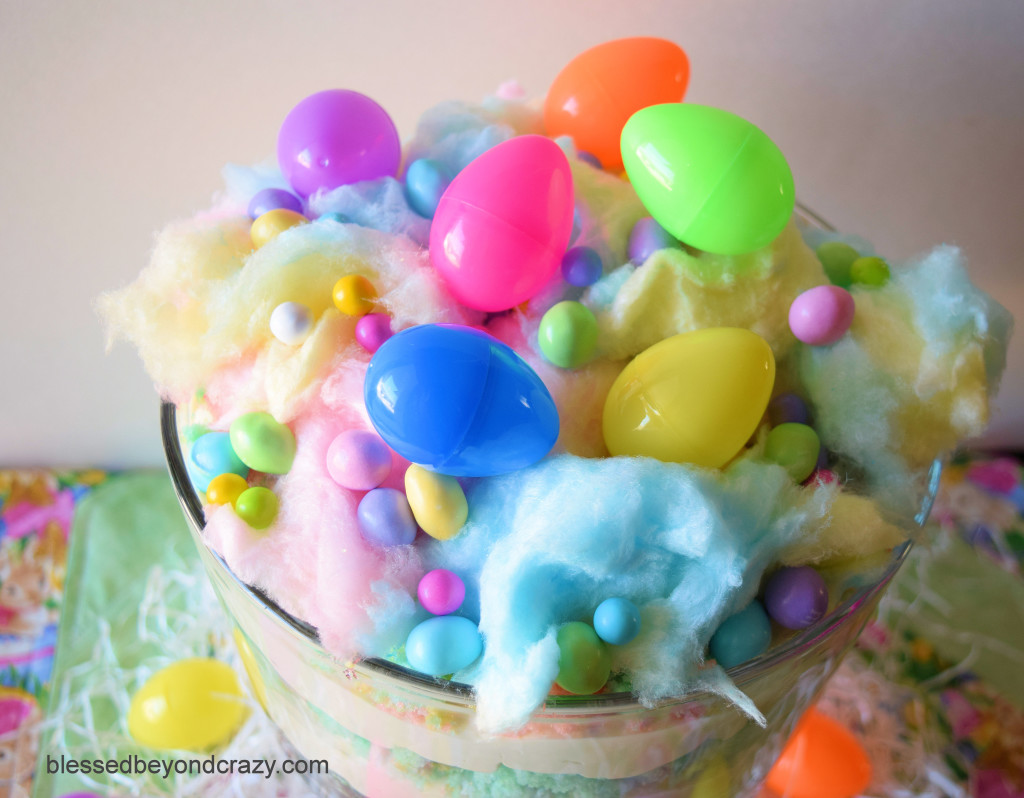 Garnish the top of the Cotton Candy Easter Trifle with colorful cotton candy, pastel-colored peanut M&M's, and Sixlets.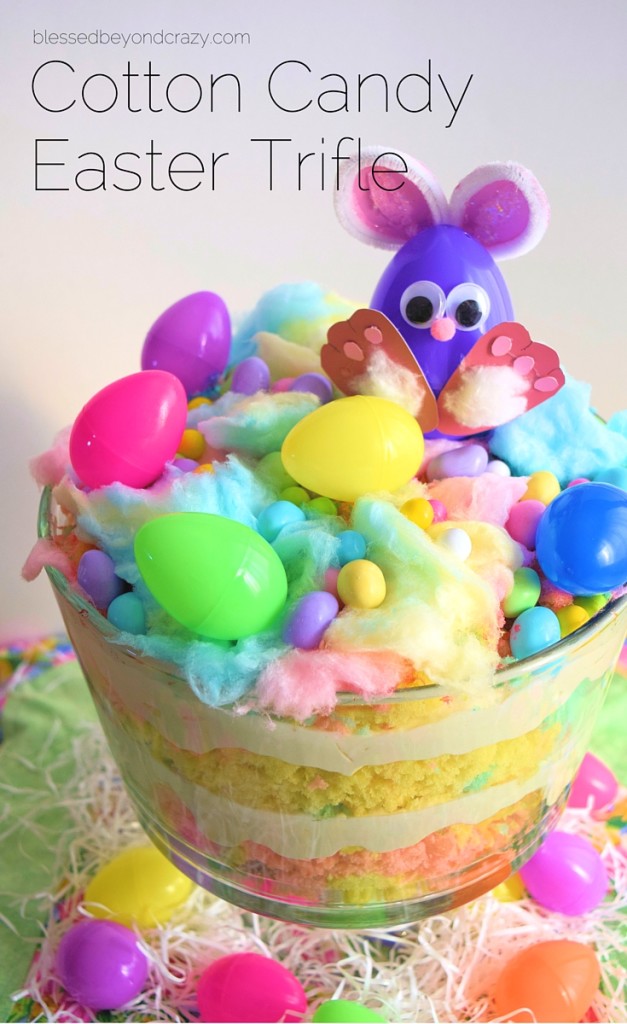 Last Easter I crafted Easter Egg Bunnies, so I planted one right on top of this Cotton Candy Easter Trifle. I think he adds a fun whimsical touch that my grand-babies will love! Adding edible marshmallow chickens would be cute as well.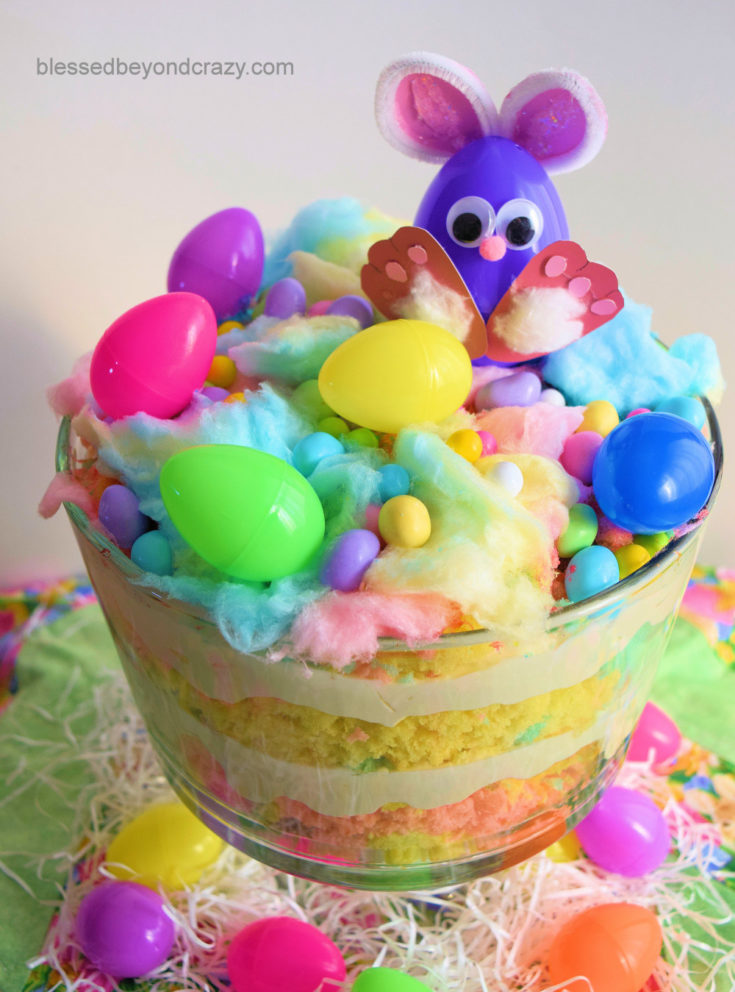 Yield:

Serves Approx. 10
Cotton Candy Easter Trifle
Total Time:
1 hour
15 minutes
A delicious and colorful trifle that is easily made into a gluten-free dessert.
Ingredients
1 white cake mix (*GF version: use one 17 ounce box Pillsbury Funfetti Gluten Free Cake Mix)
Filling:
1 (8 ounce) package of cream cheese, softened
1 1/2 cup heavy cream, whipped
1/2 cup powdered sugar
1/2 cup granulated sugar
1 teaspoon Cotton Candy Extract OR vanilla extract (*GF version: use gluten free extracts).
Garnish: Various candies.
Instructions
Make the cake according to the packaging directions. Divide the cake batter equally into four mixing bowls. Add 2 - 3 drops of food coloring to the cake batter (I used blue, yellow, red, and green); one color per bowl. Mix well.
Lightly grease 4 (6-inch) mini cake pans; pour batter into each pan. Bake at 350 degrees F for 18 - 22 minutes, or until the cakes are done.
Remove from oven; set aside and allow cakes to cool completely. While the cakes are cooling, make the filling.
Filling: In a mixing bowl, beat the cream cheese and vanilla until smooth. Add powdered sugar and granulated sugar.
In a separate mixing bowl, whip the heavy whipping cream until stiff peaks form.
Fold whipped cream into the cream cheese mixture.
Tear each cake into bite-size crumbles.
Cover the bottom of the trifle bowl, alternating with the various colors of cake crumbles. The layer should be approximately 1 1/2" - 2" in depth, depending on how big you make your cake crumbles.
Spoon half of the filling on top of the first layer of cake; gently spread around to cover all of the cake.
Repeat the layering process - being sure to leave enough cake crumbles for the very top.
Refrigerate.
When ready to serve place chunks of cotton candy on top of the final top layer of cake crumbles. Add M&M's and Sixlets.
 
Happy Easter!
Linda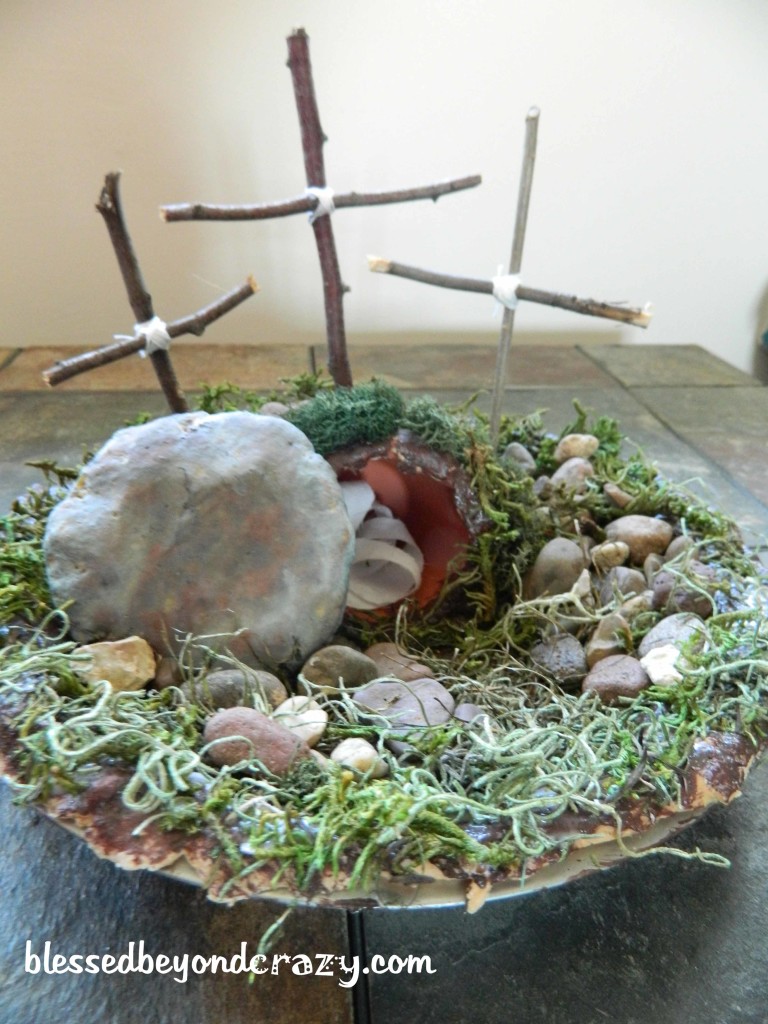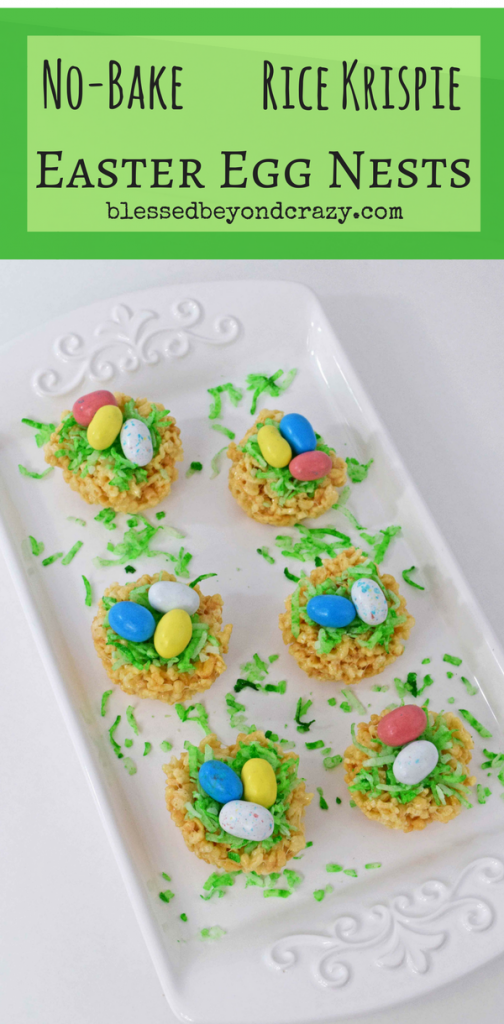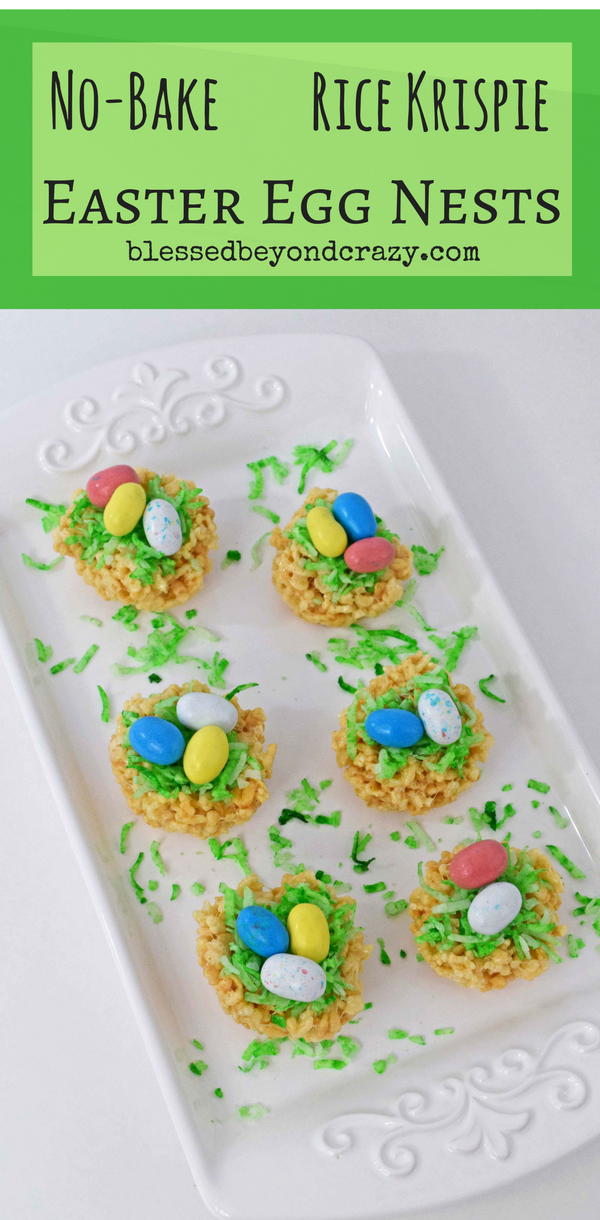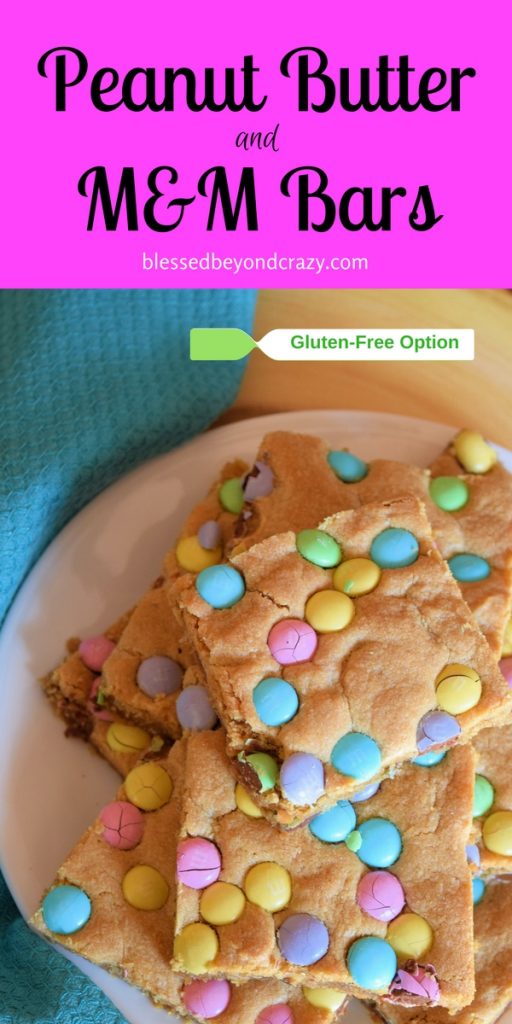 For more great ideas: