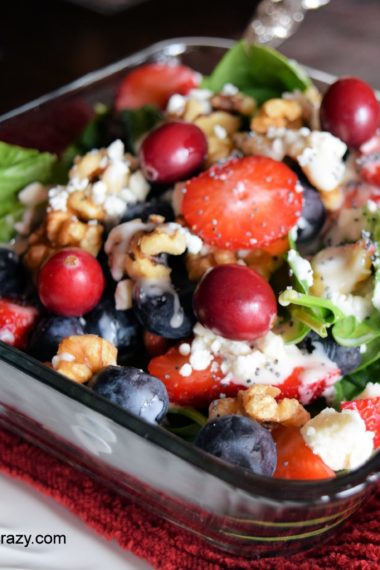 Spinach is definitely one of my favorite vegetables. Probably because I grew up eating the best, most tender, and delicious organic spinach, grown right in our own garden! If you love spinach too, then I predict you'll love this delicious and beautiful Berry Spinach Salad that's easy to make and amazingly satisfying! 
To help support our blogging activities, our site contains affiliate links. If you make a purchase from a link on our site, we may receive a small percentage of that sale, at no extra cost to you. Blessed Beyond Crazy is a participant in the Amazon Services LLC Associates Program, an affiliate advertising program designed to provide a means for sites to earn advertising fees by advertising and linking to amazon.com. As an Amazon Associate, I earn from qualifying purchases.
Now if you or your children are not fans of spinach, you might want to consider getting a little creative. Anna wrote a great blog post titled: 10 Sneaky Ways to Add Spinach into your Family's Diet. By sneaking it in, along with other delicious foods, your family probably won't even realize they are eating it. However, they will be receiving all of the wonderful nutrients. (Spinach is packed with iron, calcium antioxidants, and essential vitamins like A, B, and C.)
My mother often plants spinach in both the spring and fall. Since spinach prefers mild to cool climates, (35 – 75 degrees F) it's one of the first vegetables she plants in the spring and one of the last she plants in the fall. Although it loves full sun, it does not fare well in hot temperatures.
The picture above shows a row of fresh organic spinach growing in my parent's garden. This is what it looks like right before we snip off the spinach leaves. The plant reproduces spinach leaves again and again during the growing season (typically 4 to 6 weeks). As the growing season comes to an end, the spinach starts to produce seeds, becomes tough and slightly bitter to the taste. At this point, we pull the plants and discard them. Next, we wait until the next growing season and then plant spinach seeds again for yet another crop.
Spinach tastes delicious raw or cooked however I personally prefer it raw. I often top omelets with chopped spinach, use it in a chicken or ham wrap, in Savory Sausage Spinach Casserole, in Strawberry Spinach Salad, and in today's recipe for Berry Spinach Salad.
This recipe for Berry Spinach Salad couldn't be easier. It all starts with a bed of fresh spinach, topped with fresh blueberries, strawberries, walnuts, feta cheese, and a homemade dressing. Once in a while, I throw on a few fresh cranberries or raspberries if I have them on hand.
The dressing is super simple to make as well and is a tasty combination of flavors. Because I am on a gluten-free, dairy-free and soy-free diet, I use either Canola Mayonnaise or Avocado Mayonnaise as my base. Next, I stir in a pinch of salt, some sugar or honey, and a little Bragg Apple Cider Vinegar. I've also been known to add a few poppy seeds if the mood hits me.
Feel free to modify this recipe to suit any dietary needs to may have. If you are on a paleo or vegan diet, simply omit the feta cheese and use your favorite vegan salad dressing. 
I love this Berry Spinach Salad and therefore I have it for lunch on a fairly regular basis. I often hear compliments such as, "Wow, that looks so good!" or "That salad looks delicious!" whenever I take it to work.
Berry Spinach Salad is quick, easy, colorful, healthy, and absolutely delicious!
Enjoy!
Linda
More great ideas: